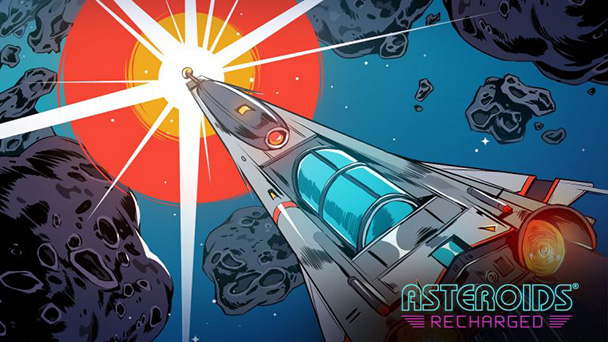 The 1979 arcade classic returns with a wonderfully revamped control scheme and invaluable power-ups. Those UFOs are still jerks 42 years later, though.
Asteroids: Recharged
Platform:
PC, PlayStation 4/5, Switch
Developer:
Adamvision Studios, SneakyBox
Publisher:
Atari
Release date:
December 14th, 2021
Price:
$9.99 via digital download
Availability:
eShop
and other digital marketplaces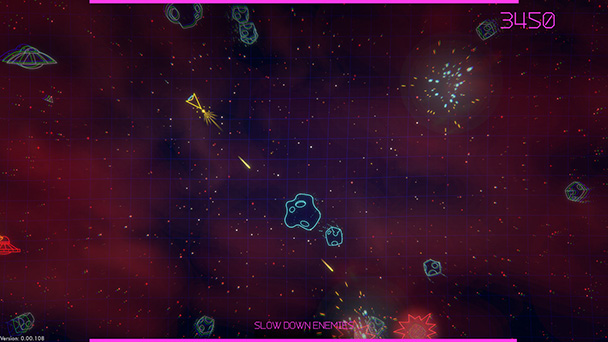 When a remake of a beloved Atari classic is announced, disappointment all too often follows. Sure, there's the occasional outlier, with Llamasoft's handing of Tempest 4000 building on the strengths of its source material. But too often, the results fall closer to the disappointing quartet of Atari remakes released a decade ago. Modernizations of Haunted House, Star Raiders, Yars' Revenge, and Star Raiders are best left forgotten, with each digressing from the simple enjoyment of their source material.
As a brand, Atari is a shadow of its former self, with ambitions scattered across a hotel chain, the blockchain, and a console that lacks direction. The sole glimmer of hope has been the company permitting Nickervision Studios, the indie developer behind Ding Dong XL, Orbt XL, and Bit Blaster XL to reboot a number of their key properties.
Recharged and Refreshed
So far, the results have been positive, with Missile Command, Centipede, and Black Widow all receiving a modernization across the Recharged series. Unlike previous reboots, Nickervision have largely preserved the play of the original games, while adding a smattering of contemporary conveniences like weapon power-ups.
Overdue for an energizing update, 1979's Asteroids is the latest game to receive a renovation- and it's one of Nickervision's best efforts. Heading into the game's Arcade Mode places players in a recognizable context, where their ship is situated in a field of shifting space rocks. Like the original, anything that ventures off one side of the screen appears on the opposite side. As such, you'll probably want to keep your spaceship around the center of the screen to make threat assessment easier.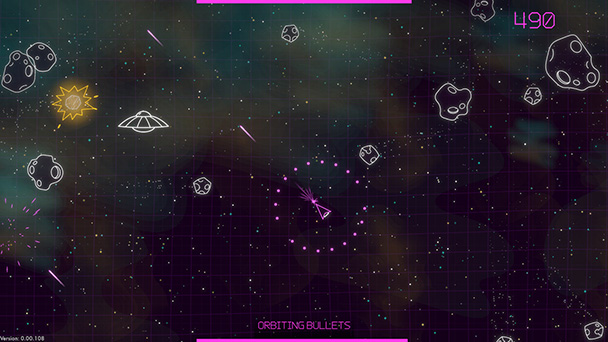 Breaking Rocks and Scoring Records
In keeping with tradition, shooting an asteroid break it apart. Larger rocks separating into medium ones, and medium ones split into two smaller ones. A dependable strategy is targeting and eliminating the smallest rocks, otherwise the screen becomes chaotic jumble of perilous objects. The original arcade machine used a somewhat unwieldly five-button control scheme to rotate your ship, activate your thrusters, shoot, and randomly reposition your ship.
But Asteroids Recharged is far friendlier. Rotation is mapped to the analog stick, while auto-fire provides finger fatigue and probably keeps your Switch's 'A' button from becoming prematurely slack. While the original game let your shots wraparound the screen, here the range of your gun has been extended.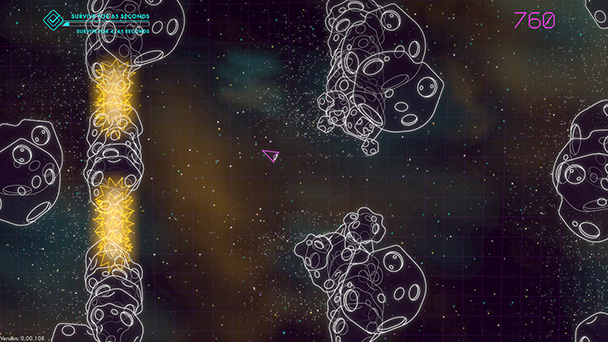 Identified F'ing Objects
In keeping with the Nickervision formula, there's also an ample number of power-ups. Eliminating UFOs can yield temporary perks like three-way firing, shielding, or even a powerful laser than sear through a cluster of threats after a brief charging period. You'll definitely want to target the game's large and small saucers, as their precise gunfire is often more dangerous than a screenful of asteroids. Pleasingly, power-ups are automatically attached to your ship and it's amusing to try to elude them in an effort to maximize your offensive output.
Power-ups aren't the only worthwhile addition. Asteroids: Recharged has both moving and stationary mines. Destroying one of these creates a momentary explosion that will eliminate nearby objects. Co-operative is another worthwhile add-on. Arcade Mode provides a single opportunity for scoring, so having an extra gun extends playtimes. In keeping with formula, there are also a collection of thirty challenges to beat. From trying to eliminate specific numbers of small asteroids to staying alive when UFOs are positioned in the corners, these add a bit of longevity. Likewise, chasing a spot on the leaderboards can increase Asteroids longevity, if the developer can fix the online functionality.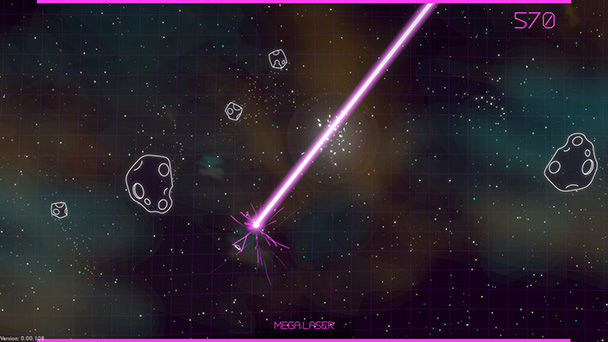 Conclusion
Asteroids: Recharged aims to recreate the vector graphics look of the original game. Pleasingly, the rocks are rounded, have visible creator, and occasional exhibit a saucer that has smashed into them. Instead of the backdrops that reflect the emptiness of space, there are color patterns that evoke the appearance of a nebula. Like previous Recharged entries, Megan McDuffee offers an understated soundtrack that adds texture without overpowering the action.
Asteroids: Recharged was played on Switch with
review code provided by the publisher. 
Review Overview
Summary : Save for the whole 'single mistake ends your game' approach, The Recharged formula helps bring Asteroids to a new generation of players.