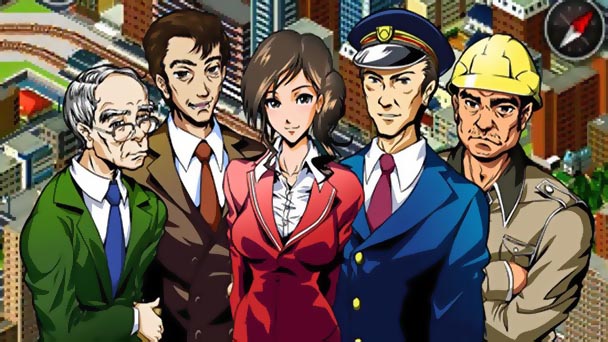 Much of the world uses watches and clocks to anticipate the appearance of a train. But in Japan, the railway system operates with such precision that timepieces can be set by the arrival of its passenger cars. For a country with pockets of extremely high population density and where rail is the predominant means of transport, this type of efficiency is nothing short of miraculous. Of course, achieving this level of precision requires a number of sacrifices- as any conductor who has faced financial penalty for running late will tell you.
Maintaining Artdink's thirty-year legacy of public transportation simulations, the release of A-Train 3D: City Simulator for the Nintendo 3DS tasks players with an even larger responsibility. Immediately after downloading the 2809 block file, they are thrust into a position as chief executive officer for a leading transportation company. Soon, they'll learn that their duty extends far beyond just keeping a railway running on time- they'll be responsible for the construction, operation, and even financial outcome of not only the rail, and bus systems, but their decisions will also affect the financial prospects of the communities served by passenger and freight lines. With a doubt, this is one of the densest simulations to ever grace a portable system, with a complexity that rivals a sophisticated PC game.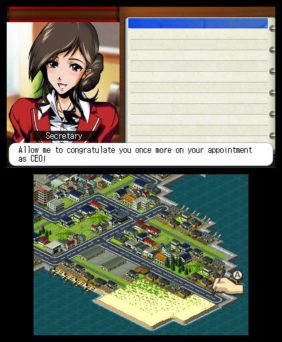 Fortunately, your assistant secretary Mika Redmond is on-hand to help you acclimate to the new job. This multi-part tutorial isn't for the impatient, requiring players to digest a mountain for information and engage in hands-on lessons that span more than eight hours. As such, this kind of commitment will turn off all most the most die-hard simulation enthusiasts. But for those who revel in the depth of real-world reproduction, A-Train 3D can provide weeks of engagement before players can begin to master its intricacies. Think of it as the Dark Souls for the management set, with an understanding of the nuances of urban engineering and a grasp of the fundamental of financial success as its distinguishing upshot.
As much as the game's daylong instruction details the rudiments of A-Train 3D, offering a hands-on lesson on how the game's user interface and components work, the title often neglects the larger perspective. As such, you'll likely wade through the tutorial with a myriad of a questions- "what are the advantages and disadvantages of this type of train platform or passenger car?" or more importantly "After studying the profit-and-loss statement, which kind of changes do I need to make?" Suffice to say, you'll discover the answers on your own across A-Train's collection of long-term scenarios, which span from 1960 to present day. Unfortunately, beyond the tutorial, you'll find little assistance. Ideally, the title would have offered an in-game encyclopedia for when an urban development impasse is reached- instead of forcing a trial and error approach where players can lose hours of prudent planning.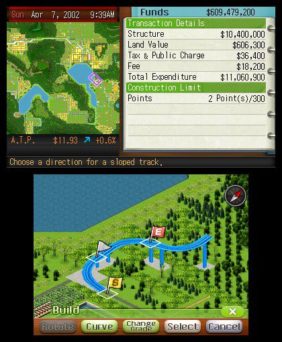 Yet once A-Train's tipping point is reached, with players grasping how they can influence the variables in the symbiotic relationship between transport and industry, a sensation of contentment is likely to occur. Here, strategic decisions not only maximize efficiency, leading to rush hour trains filled to the cusp of capacity, but can also stimulate the growth of industry in the area. Naturally, an upsurge in commuters urges additional adjustment, requiring the player to play an active role, offering both short- and long-term solutions to the ever-changing transportational climate. When you factor in the construction of freight trains, separate platforms, and warehouses into the equation, A-Train 3D can become sadistically strenuous. But like any game with an elevated level of challenge, satisfaction is correlated to the level of challenge. Master the tension between overcrowding and profitability, read your charts and spreadsheets correctly, and you'll turn your sleepy hamlet into a bustling metropolis, which effectively feels like winning an eight-hour long boss fight.
Once you've finally conquered the tenets of city planning, players can even create their own scenarios by establishing a set of strategic goals. Thoughtfully, these customized objectives can be shared with others by sharing generated images that are written to the 3DS' SD card and posted online. While the internal location of memory cards in the New 3DS creates a bit of a hurdle, it's delightful that Artdink included the feature with the game. For players who do exhaust challenge from the game's scenarios, there's DLC to extend A-Train's longevity.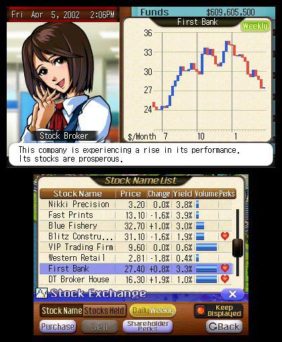 Aesthetically, it's the limitations of the 3DS hardware that impair A-Train's visual delivery. Largely, landscapes are comprised of simple buildings and tiny vehicles, with the trains themselves are endearing convoys of sprites that scuttle down tracks in a cute but unconvincing manner. Players can opt to switch to a first-person perspective to admire their labors, but the limited number of polygons and simple texturing make this trek uneventful. While 3D is part of the game's moniker, stereoscopic deliver is barely used, which makes for a peculiar incongruity. Of course the upside of the simplistic visuals is twofold: not only does it elevate visual acuity, but the city doesn't slow to a dawdling grind when it grows to the periphery of every expansive map. Beyond the overlook of your metro municipality, the title offering respectable renderings of your advisors. While they aren't as gracefully animated as a visual novel, their expressions help to produce the perception of a team of concerned advisors, rather than making you feel as the lone instrument of change.
Largely, speed is the game's unexpected virtue, with players able to adjust the tempo, pausing progress or fast-forwarding into the future. Likewise, credit should be given to the game's user interface, which given the game's complexity, allows for a multitude of city plotting possibilities with a minimum of error. The sole transgression here is that A-Train 3D doesn't always articulate what are viable areas for laying track with coastal areas often stymying plans. One other small sticking point is Natsume's localization, which while functional, removes much of the original flavor when choosing to Westernize every name.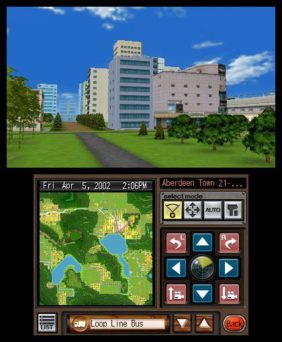 Undoubtedly, A-Train 3D: City Simulator isn't for the players seeking a frothy railroading diversion. With one of the longest tutorials and a learning curve as steep as Mount Fuji, the title is an incredibly involved simulation of Japanese transport. But for those seeking a high level complication, A-Train 3D stands unchallenged, offering an immersive, MBA-level case study that costs a fraction of actual, real-world tuition. Skip Stanford and enroll at Artdink U if you're seeking the definitive business management challenge.
A-Train 3D was played on the 3DS with review code provided by the publisher
A-Train 3D: City Simulator
Platform:
 3DS
Developer:
Artdink

Publisher:
Natsume
Release date:
 April 14th, 2015
Price:
$29.99 via
eShop
Review Overview
Summary : A-Train 3D: City Simulator is hands-down, the most complex simulation found on portable screens. Conquer its near-insurmountable nuances, however, and you'll discover an intensely gratifying replication of Japan's transportation network, that will indulge the cravings of control freaks.