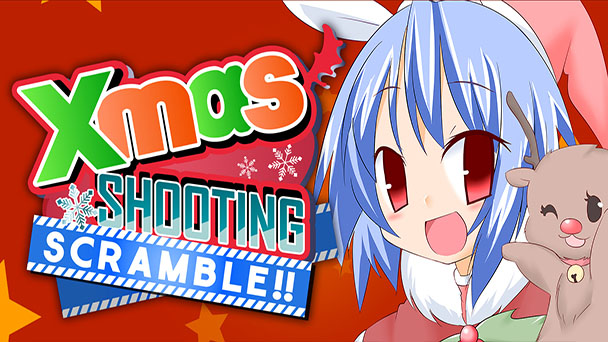 Much like 1996's Christmas NiGHTS into Dreams extended a holiday-themed remix for SEGA Saturn owners, Orange Juice's Xmas Shooting – Scramble !! offers a festive offering for PC owning shoot 'em up fans. Build upon the framework of QP Shooting Dangerous, Fruitbat Factory's Steam release tasks Aru, a bunny-eared Santa, with saving the holiday, following a theft of presents that were destined for all the world's children. Much like Saint Nick's famous flock of reindeer, Aru is accompanied by a formation of ReBits, who manage to outshine even bright-nosed Rudolf, by emitting a glowing flood of firepower.
Longevity stems from the appropriate arrangement of the Rebits. Initially, the stalwart Santa-girl can position her assistants in three ways, offering a spread of shot, a focused beam, or for when enemies ascend from the bottom of the screen, a rearward field of fire. Switching between the trio of modes is required for success in Xmas Shooting, as the game sends clusters of weaker opponents from the top and bottom of the screen, as well as the sporadic robust rival that can resist several seconds of your uninterrupted attack.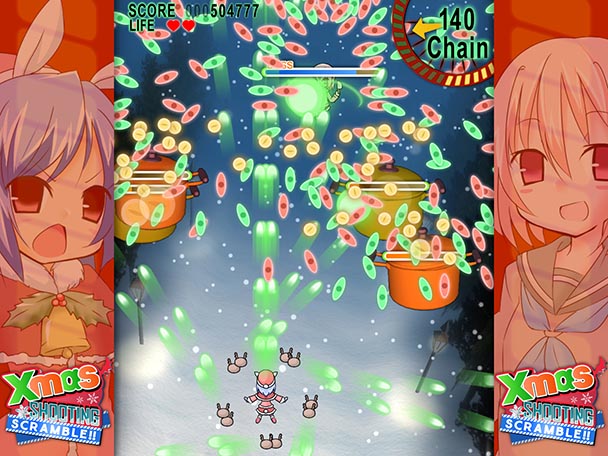 But these aren't the only offensive options available to players. Each playthrough rewards players with RePoints, a currency that can be used to purchase twenty-eight unlockable formations. From a three-way shot to a ReBit chainsaw that can cleave through enemies, assembling this trio of arrangements fundamentally changes the way you'll approach Scramble's three stages. Beyond the pattern and power of player projectiles, formations affect how fast Aru moves and the types of bonuses earned when opponents are destroyed.
These bonuses feed into your Hyper Gauge, a ring that encircles Aru. Once the aura turns green, you can trigger Hyper Mode, which not only increases your attack power but also always players to escape death, eliminating enemy projectiles once one of them comes in contact with Aru's hitbox. Beat one of the game's bosses will in Hyper Mode and you'll also earn a satisfying score bonus, extending a tempting risk/reward proposition for score chasers.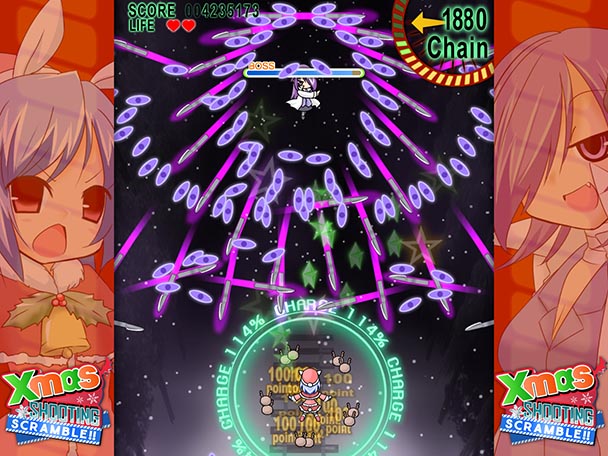 While the game's four difficulty stages might make Xmas Shooting – Scramble!! seem accessible to danmaku newcomers, a high level of adversity exists throughout. Early on, novices might be able to make their way through the first few stages, eliminating an undemanding sequence of mochi bunnies, snowmen, and toy trains that travel across the screen. But soon, claw cranes descend with deadly cables, parachutes drop with perilous payloads, and rings of bells encircle players with a band of bullets. Getting though Scramble's stages can be an exercise in patience for those who lack experience with bullet hell shooters. I'm moderately proficient in the genre and I had to confront the game's final stage no less than thirty times.
But as aficionados already know, that's the point of any good shoot 'em up. Sure, a play-through can be completed in about half an hour, but the journey of getting to that level of expertise will likely require a solid week of unremitting dedication. Even when you do get to that level, besting you're own score offers additional involvement. And while Scramble!! extends both leaderboard and reply functionality, both are undermined by being offline. Being able to challenge to the scores of others and learn technique by watching others can be accommodated by YouTube, but it would have been pleasing in both components were integrated inside the game.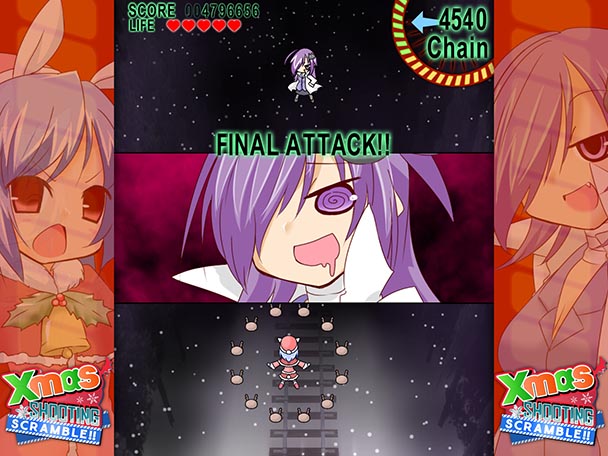 Like most doujin, Xmas Shooting – Scramble!! is exceedingly tolerant when it comes to system requirements. Running the game on an ultrabook with integrated graphics allowed the title's torrent of shifting shot to fill the screen without breaking a sixty-frame per second threshold. Resolution wise, the game retains its kawaii charms when upscaled, although on multiple machines we could get the title to exploit the native fidelity of each monitor. Sonically, the game delivers a soundtrack filled with insistently cheerful melodies, although a few more sounds like bells and choir tones would have captured the holiday mood.
Given Xmas Shooting – Scramble!!'s equitable five-dollar price and exhibition of polish, only grinches wouldn't want to add the title to their holiday wish list. Build upon a solid shooting foundation, the game excels by offering a multiple of play methods via its ReBit system, ensuring enjoyment long after the holidays have passed.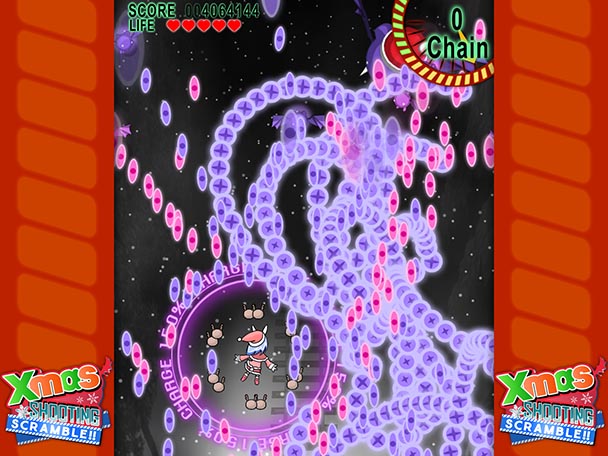 Xmas Shooting – Scramble!! was played on the PC with review code provided by the publisher.
Xmas Shooting – Scramble!!
Platform:
PC
Developer:
 Orange Juice
Publisher:
 Fruitbat Factory
Release date:
 December 16th, 2016
Price:
$4.99 via
Steam
, on sale for $4.49 until 1/2
Review Overview
Summary : Xmas Shooting – Scramble!! is a festive reworking of Orange Juice's QP Shooting Dangerous, converting its dog girl into a snowman-shooting Santa who's able to enthrall bullet-hell fans.