The original Wii Fit couldn't have arrived at a better time. Preceding the title's 2008 release, disparagers were lobbing video games down the slippery slope, claiming that the pastime contributed to a sedentary lifestyle, which in turn led to obesity. Although Nintendo's bundle of balance board peripheral and collection of lightweight activities wasn't an alternative for a gym membership, it certainly helped to reduce the alleged connection between interactive entertainment and inactivity. Both Wii Fit and its 2009 sequel, Wii Fit Plus benefited from a positive buzz- subsequently selling over 20 million copies, and stimulating a wave of titles which gamified exercise.
The release of Wii Fit U extends the experience even further. Beyond adding twenty activities, the title also attempts to incentivize exercise- adding elements such as communities, unlockables, as well as providing new goal-setting methods. While these new elements are admirable, many aren't fully realized. As such, Wii Fit U's success emanates from its itinerary of creative, compelling calisthenics.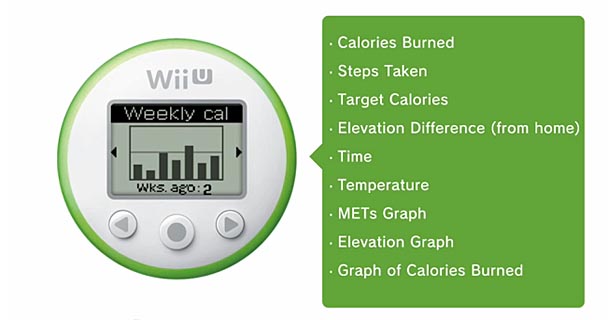 That said, Nintendo should be commended for its delivery system. While the company could have gouged gamers by positioning the game around an expensive new peripheral, instead Wii Fit U is mercifully affordable. For players who already own the Balance Board which shipped with the Wii iteration, Wii Fit U can be downloaded for free and tried for thirty days (through January 31st, 2014). Purchasing and synching the $20 Fit Meter unlocks the game, removing the trial period. For those without a Balance Board, the entire setup will be available as a retail bundle this December.
A purchase of the Fit Meter is an easy recommendation. Essential an enhanced pedometer, the small device can be clipped onto belts or dropped into pockets to record your daily mobility. For the most part, the Fit Meter is able to distinguish between a bumpy drive and a stroll- although a few erroneous steps were recorded on a shuddering subway trip. Beyond pressing a button to view your progress on the small LCD screen, the gadget also reports elevation changes and purports to show the temperature (although my gauge was enduringly stuck in the eighties). While the device is great for measuring activity outside of Wii Fit U, I'd love to see creative uses for the Fit Meter. Much like the Pokéwalker paid dividends in Pokémon HeartGold and SoulSilver or how Boktai: The Sun Is in Your Hand used sunshine to augment the power of the game's main weapon, it would be great to see other games grant amenities by tracking movement or elevation.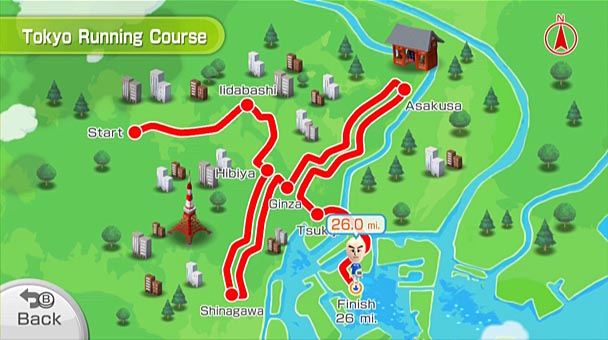 When Wii Fit U asks, bringing the Fit Meter adjacent to the top of Gamepad transfers a week's worth of movement data in about ten seconds. Right now, the transfer has two benefits- it deposits credits into your Wii Fit U bank and well as exhibits progress toward eight level virtual hikes or eight simulated climbs. While these Walking and Altitude Challenges help incentivize activity, with unlockables like Mii costumes for the completion of a course, mid-goals are a bit paltry. When walking the 26 miles of the Tokyo tour, small landmark and factoids pop-up, but the component does little to convey the natural beauty of each locale. With picturesque destinations which include Oahu, The Eiffel Tower, and London, it would have been pleasing if Wii Fit U delivered a better sense of setting, perhaps offering geographic imaging similar to Wii Street U's output.
Although the simulated tours may lack visual perks, there's plenty of indulging pictographs to be found in Wii Fit U's charts. Although the Fit Meter can deliver a truncated exercise overview, your Gamepad or television screen shows a wealth of information. From changes in elevation, colored coded levels of intensity and distance covered, the title's delivers a wealth of clean, intuitive data. Another interactive graph allows players to distinguish fluctuations in weight, BMI, Wii Fit Age as well as view calories burned, fit credits earned, or steps walked. Other notable displays show an itinerary of in-game achievements as well as an album which holds screenshots taken during activities.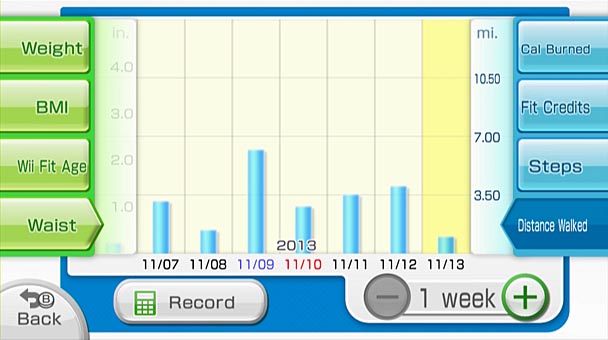 One of the weaknesses of Wii Fit and its success was that most exercises seemed designed to get players moving, rather than produce an effective, calorie-consuming workout. With Wii Fit U, that oversight has been remedied, increasing the number of aerobic oriented activities. A dance option allows players to enjoy multiple difficulty levels of Hula, Jazz, Hip-Hop, Locking, Flamenco and Salsa rhythms, as they step on and off the Balance Board and mimic hand motions with a pair of Wiimotes. While Balance games are usually innocuous, the Core Luge offers an amazingly intense workout. Sitting on the Balance Board participants steer a simulated sled by moving their mid-section, leaning back to accelerate. After a few runs, our abs were in agony, verifying the effectiveness of the drill. Dessert Course uses the gyroscopic function of the Gamepad along with the Board, tasking gamers to serve pastries to hungry customers by simultaneously walking in place, pivoting, and balancing. While not physically strenuous, the activity is an enjoyable test of coordination.
For those looking for less exhausting exercises, options abound.  Puzzle Squash plays like Wii Sports Tennis, only players have to walk in place to get their character to move around. Hosedown duplicitously has gamers doing lunges, as they regulate water pressure with weight. Using the Gamepad's gyro functionality, players spray water an encroaching attackers. Naturally, Wii Fit Plus' Strength Training and Yoga routines return, this time with the ability to use the Gamepad's camera to project the player's form on-screen. For participants looking for extended sessions, Wii Fit U offers a selection of prebuilt routines as well as the ability to create your own. The one niggling complaint is the set-up for different routines; transiting from Wall Climbing to Rhythm Boxing to Running compels players to plug and unplug with Nunchuck controller.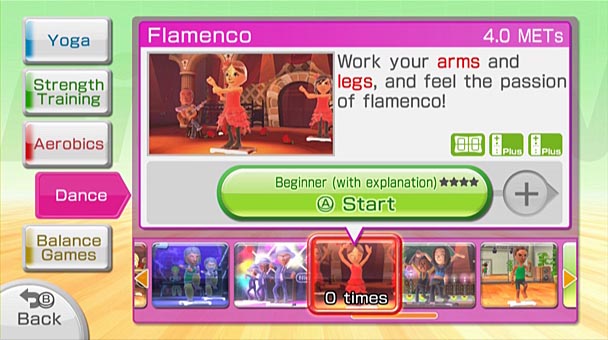 Although Gym Communities could have been a powerful motivational tool, Nintendo seems to have underdeveloped this component of Wii Fit U. After joining one of the game's groups (based on activity level), players are privy to a Mii Universe-style environment, where they can examine the amount of calories burned and training history of other participants. Understandably, sensitive data such as weight, BMI, and age isn't shared (although your Mii's rendering reveals your general physique). But any competitive element has also been excised. Players can't really complete with friends, or even contribute to the goals of groups- the only comparison is a calorie count of each exercise. Ideally, the game would have teams which could clash for calories burned or miles walked.
Hopefully, the Wii U's ability to download software updates can mend some of Wii Fit U's shortcomings. Already, a patch mended the ability to import user data from Wii Fit and Wii Fit Plus. However, even if Nintendo doesn't improve their Walking Challenges and Communities, for a very reasonable expense, Balance-Board owning players have access to a one of the best exercise titles found on any console. If Wii Fit U's goal is to make activity innocuous, the title is unequivocally triumphant.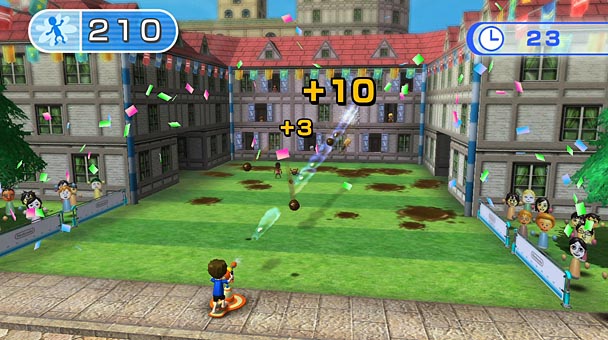 Review Overview
Summary : For Wii U owners hoping to break a sweat while chasing high scores, Wii Fit U is an enjoyable, beneficial purchase.