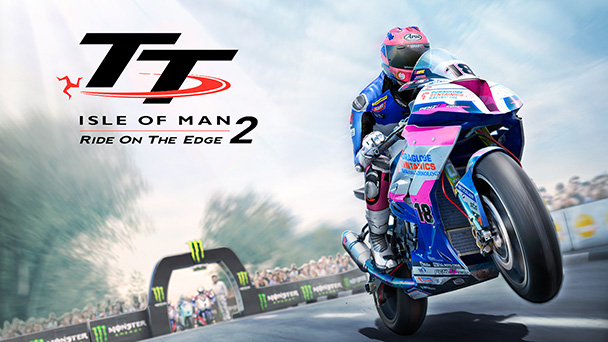 Fall down seven hundred and ninety-nine times, stand up eight hundred should be TT Isle of Man: Ride on the Edge 2's mantra. If you're looking for a two- wheeled simulation that offers a brutal challenge, Isle of Man should be your next stop.
TT Isle of Man: Ride on the Edge 2
Platform:
Switch, previously on PlayStation 4, Xbox One, PC
Developer:
Kylotonn
Publisher:
Nacon
Release date:
May 14th, 2020
Price:
$55.99 via digital download
Availability:
Nintendo
eShop
Few sporting events pit man against nature as starkly as the Isle of Man Tourist Trophy. Since 1907, motorcycles have careened across the treacherous Snaefell Mountain Course, situated in the Irish Sea between Great Britain and Ireland. Tragically, the event has claimed the lives of 261 competitors, some of whom have had corners named in their honor across the snaking 37.7-mile route.
The Switch release of TT Isle of Man: Ride on the Edge 2 aptly communicates the sense of peril associated with the annual event. As such, don't expect anything that even remotely resembles the accessibility of Super Hang-On, or even Milestone srl's Ride series. No, TT Isle of Man handles like a staunch simulation, daring you to surmount its intricacies and its definitive test of prolonged concentration.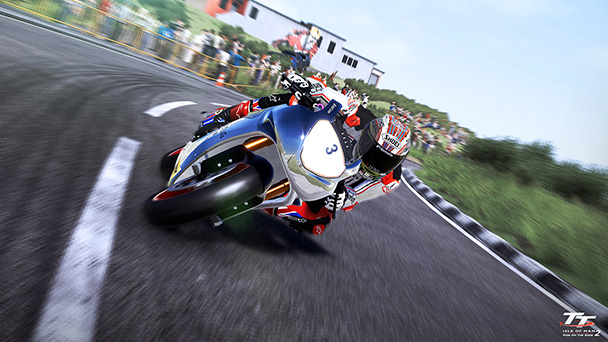 There's a Rocket Engine Between my Legs?
Your first couple of starts will likely feel like atop a fuming bronco, resolute on launching you into the ground in the most humiliating of ways. Open up the throttle on one of these 1000cc superbikes, and the front wheel will probably jerk skyward, demonstrating the raw power of the machine that you are straddling.
Eventually, you might master acceleration from a dead stop and might find yourself rocketing down the asphalt. Should you opt for it, they'll be color-coded marketing on the course, warning you of one of the courses 200+ bends. Sooner or later, you'll react just a moment too late, propelling your rag-doll self into the environment. But there will be no re-christening of the corner with your surname. Instead, Ride on the Edge 2 inaudibly laughs at your naïve ambition, temporarily resetting your bike. If not, your life expectancy would be measured in minutes, if not seconds. Here, the game refuses to let you role-play as human flesh, seemingly interested in preserving the sanity of players.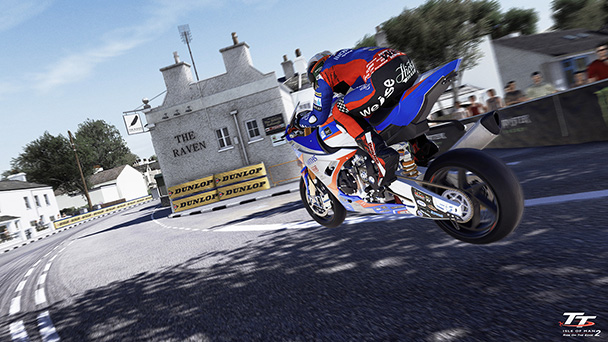 Picturesque Setting but a Framerate that Struggles
Unlike most racing games that take place of closed-courses, Isle of Man takes place on public roads, rising over seaside hills, through dense forests and meandering meadows, and past quint villages. While the reproduction of bike handling is immersive, it's the creation of topography that's the real star. Snaefell's gradients and cambers are all here, eager for an iota of carelessness to send a rider tumbling. Undoubtedly, Paris-based developer Kylotonn's experience with the WRC series helped the team to capture the intricacies of a varied topography.
Unfortunately, the Switch strains to match the visuals of the previously released PlayStation 4, Xbox One, and PC iterations. The target is a thirty frames per second, but corners persistently shave a few digits from the performance level. Ride on the Edge 2 seldomly drops into full sputter but rather spends protected stretches just below the threshold of fluidity. This often presents a slight impairment top control, which is disheartening for a game that absolutely demands razor-sharp reflexes. Still, you'll appreciate the extended draw distance and the environmental variety when you whizz by at 125mph. Play in docked mode, an arms' length from your television, and the first-person mode conveys a convincing sense of speed, with sound design that recreates the powerful drone of your bike and the rush of air blowing past you.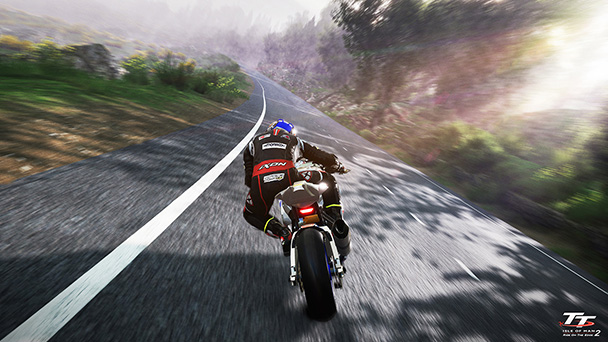 Learn the Road or Become Part of It
Pleasingly, Ride on the Edge 2 offers more than just the main event. Whether you opt to compete with your own bike or the one supplied with a team of your choosing, you'll be able to tweak your bike. Adjustments to suspension, transmission, engine, brakes, wheels, and chassis, are reflected on an on-screen chart, showing differences in power, torque, and a multitude of stats to keep gearheads busy.
Pleasingly, Snaefell isn't the only venue for racing, with the title offering a mix of mostly fictitious courses around the United Kingdom and Ireland. Mercifully, Isle of Man gives you plenty of opportunities to master the landscape. From Free Roam, Quick Race, and segment options, you can familiarize yourself with every bend before facing embarrassment in online or offline multiplayer matches for up to eight players.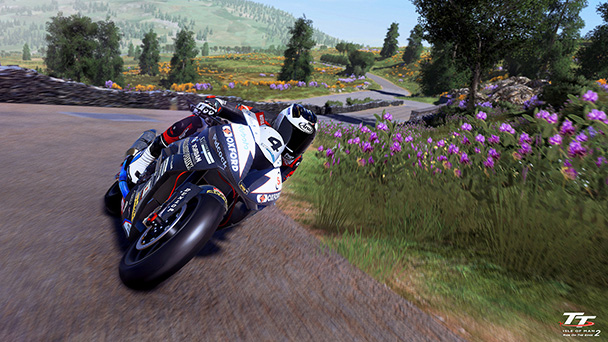 Conclusion
If you're able to get past the Mt. Everest-sized learning curve and AI bots that mindlessly plow into you from behind, TT Isle of Man: Ride on the Edge 2 is the decisive two-wheeled road racing title on Switch. It's a title that not for the faint of heart and likely you'll spend most of the first few hours rising asphalt instead of your bike. But stick with it and mastery comes along with the gratification of conquering the near-insurmountable. Considering the perilousness of the source material, this seems about right.
TT Isle of Man: Ride on the Edge 2 was played on
Switch with review code provided by the publisher. 
Review Overview
Summary : Like Kylotonn's port of WRC 8 FIA World Rally Championship, TT Isle of Man: Ride on the Edge 2 arrives on the Switch mostly intact. You'll sacrifice a bit of fluidity for portability, but otherwise the developer managed to pack all of the content of the PC version into this version.