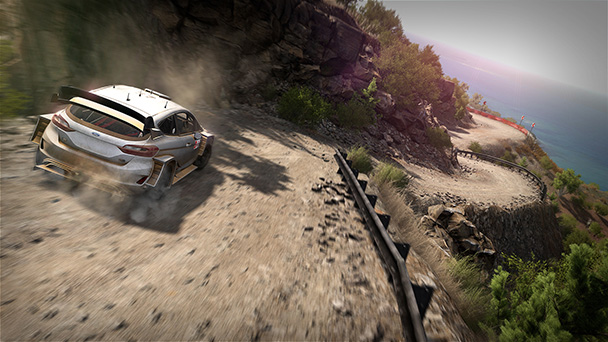 Pity the officially licensed WRC game. Despite continued advancement from a trio of developers across an eighteen-year span, the property has habitually remained in Colin McRae/DIRT's shadow. The series has rarely been substandard, demonstrating fleeting moments of achievement across its extended history. But it's also have been routinely overtaken by Codemasters' franchise. Save for DIRT: Showdown's tryst with arcade handling, pick-ups truck racing, Gymkhana, and destruction derbies, the Codies have habitually outraced their main competitor.
But a two-year development cycle has positioned Paris-based Kylotonn Games in a rather competitive position. Although WRC 8 FIA World Rally Championship reveals a few uneven edges, in several ways, the game is the better offering of the two.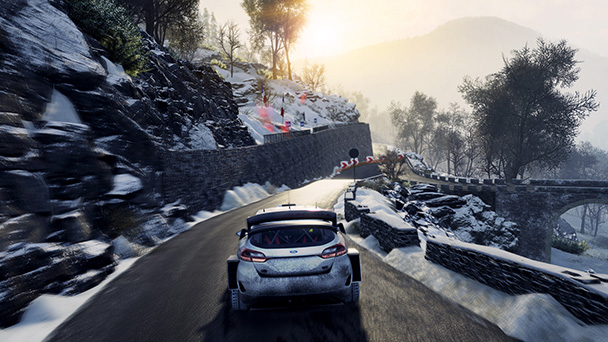 Right off the starting line, Kylotonn is eager to flaunt their improvements. Head into the Quick Play mode, select from one of the game's fourteen, real-world venues, and you'll be able to adjust the time of day and weather before starting a race. Expectedly, the former shows off the game's impressive lighting modeling. Tackle Turkey's Datça peninsula and you'll witness an uncanny glare as your driving lamps create a haze in the misty night air. The latter allows for dynamic weather changes, with emerging storms causing you to second-guess your tire choice. Unsurprisingly, the developers often showcase the extremities of their new weather, with challenges that send you skidding on Sweden's snow-buried paths.
For those seeking an enduring pursuit, WRC 8 lets you instigate a career mode, which brings all the popular role-playing-esque embellishments along. Here, you'll be pulling double-duty, laboring as both driver and manager for either a Junior WRC or WRC 2 team. Day to day decisions are handled through a calendar interface, where daily duties revolve around hiring a meteorologist or a mechanic. Each worker provides their own perks, like forecasting the weather or quicker repairs, but they all come with a payroll cost. While it lacks the complexity of a staunch simulation like Football Manager, you'll definitely feel the pressures mount as the team's performance is on the cusp of a lucrative sponsorship deal.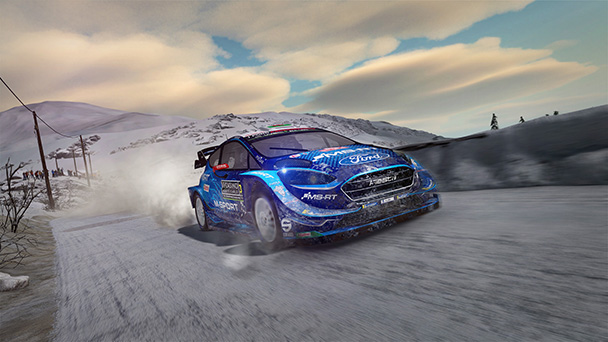 Stat-addicts might yearn for Kylotonn Games to double down and create an independent sim mode, staffed with AI drivers. But for this this year, you'll have to supplement your bean-counting with careening around cliffsides; driving is always required. That said, you can opt for season mode that dispenses with the business side of things, if you're just seeking the thrills of long-term competition.
The WRC games have sporadically struggled with their interpretation of driving physics, but largely this effort nails the thrills associated with flawless flinging your Citroën C3 around a hairpin. Undoubtedly, WRC 8 leans toward simulation and with a bit of practice (or any of the game's three discretionary, assistive driving aids) you'll be drifting around bends like Sébastien Ogier. Play with a controller, and you'll probably battle the tendency for overcorrection for a few hours. But if you have a steering wheel peripheral or learn to distinguish the game's articulation of load transfers, you'll be poised for a spot at the top of the standings.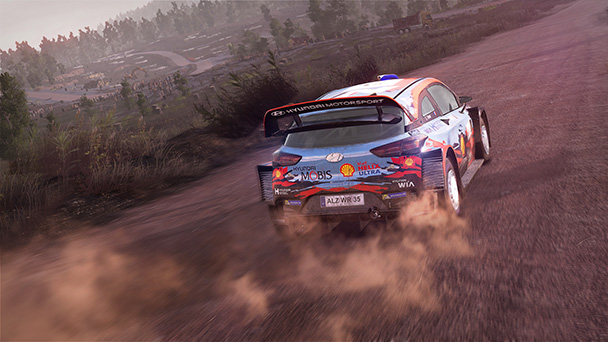 That said, there's still some obvious issues that can detract from racing. Clip part of the environment and your vehicle might spin like it's caught in a twister. Damage modeling could also use some improvement. Although there's some understated indication of crashing, what visually represented doesn't accurately reflect the changes to handling. While it's great to see an offering deliver split-screen racing, the asynchronous multiplayer has a few blemishes. Hopefully, details like knowing your current stating while competing and requiring all drivers to be at the ready can be remedied with a bit of patching. In the meantime, please don't be the driver making everyone else wait.
WRC 8's co-drivers aren't quite as good as DIRTs. They're a bit more robotic and focus solely on road conditions, eschewing any details about car damage. Intermittently, they're a bit slow on the pace notes and will end up issuing a warning as the front end of my Ford Fiesta is being launched off the side of the mountain. Success in rally racing hinges on the communication between co-driver and driver, but in WRC 8, you'll never fully trust your partner.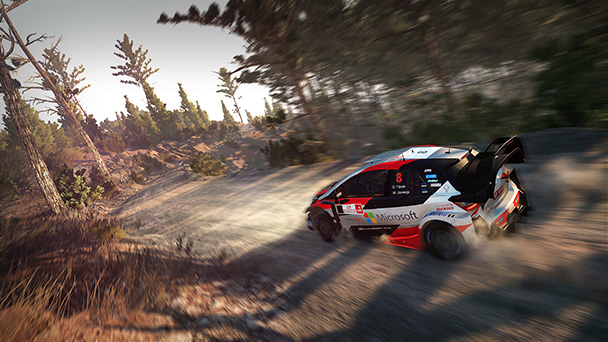 Reliance issues issue, you can depend on WRC delivering some spectacular recreations of actual stages. It's evident that the development team spend the last two years attempting to capture environmental details, which is evidenced in everything from Corsica's sections of aging asphalt to the rocks and boulders that line the periphery of Sardinia's stages. While texture draw-in is noticeable, small details like the realistic glare of sunlight filtered through tree branches are beguiling. The game attempts to juxtapose the beauty of nature against human design, but frequently WRC 8's cars don't exhibit the same amount of detail. Interiors are modestly modeled, making for an obvious area of improvement for the next iteration.
The WRC franchises have consistently had a subordinate showing at the podium. But coming off a two-year development period, WRC 8 FIA World Rally Championship is a mighty contender. While there's an inventory of minor issues and the decision to sell vehicles and crew members are DLC is always disconcerting, there's also an abundance of enjoyment to be found here. Rally simulations live and die on the recreation of the precipice of control, where the smallest miscalculation is the difference between triumph and a humbling defeat. Largely, WRC 8 succeeds in imitating that feeling, making it a worthy contender.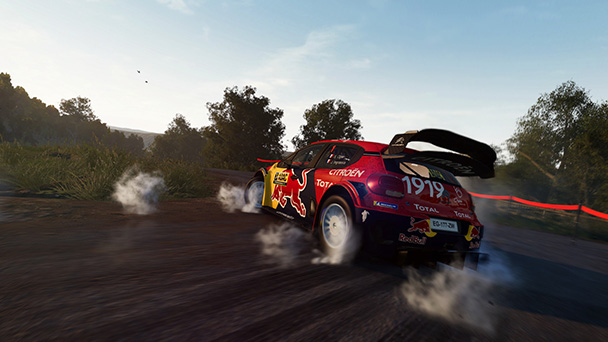 WRC 8 FIA World Rally Championship was played
on PC with review code provided by the publisher. 
Review Overview
Summary : Given WRC 8's performance, Codemasters' reign might be in jeopardy. FIA World Rally Championship isn't perfect, but it's incorporation of real-world locales, drivers, and teams and improvements give it an undeniable edge.