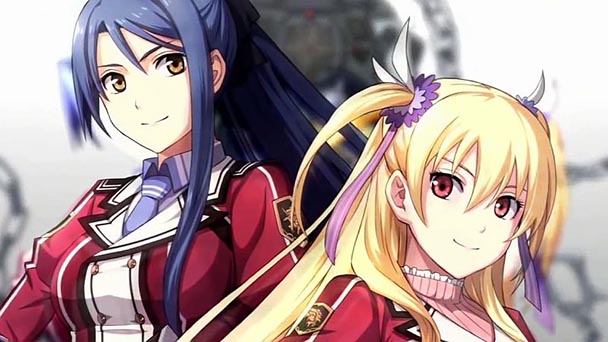 Only a few years ago, the console role-playing game seemed to be in peril, its existence whittled down to a few decisive hit points. Pundits predicted that a combination of escalating production prices, dwindling audiences, and a rise in mobile gaming would eventually form the fateful coup de grâce. But much like role-playing's resilient protagonists, the genre has bravely fought adversity, and is even enjoying a mild renaissance. From Persona 5, Tokyo Xanadu eX+, Dragon Quest XI: Echoes of an Elusive Age, to Death end Re;Quest, JRPGs might not have the massive following they once enjoyed, but they are hardly scarce.
As inspiring as quality is, it's the wave of quality that's truly invigorating, with many contemporary efforts riding a crest of craftsmanship. The latest example of this trend is Nihon Falcom's The Legend of Heroes: Trails of Cold Steel for the PlayStation 4, a title previously released for PlayStation 3, PS Vita, and PC. Building on their success with the incessantly charming The Legend of Heroes: Trails in the Sky series, Cold Steel persists Falcom's ability at cultivating engaging battle mechanics, an interesting cast of characters, and a game world which truly feels alive. While Estella and Joshua might not be around for this one, Trails in the Sky's verbose characterization, as well as a healthy amount of Persona 3-inspired mechanics, are likely to win the affections of role-playing aficionados.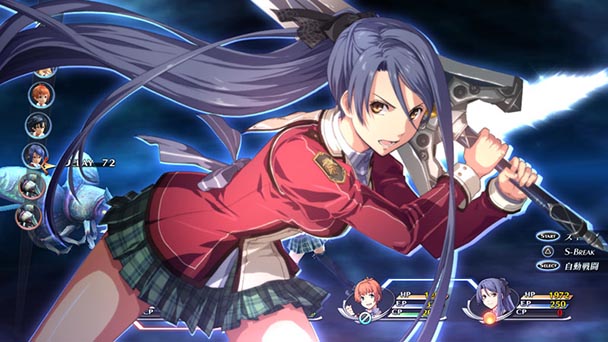 A Large Cast of Likable Characters
An extended prologue introduces players to the game's sizable cast of characters. Seen through the eyes of the amiable Rean Schwarzer, Trails of Cold Steel centers on the formation of Thors Military Academy Class VII. As a co-ed class comprised of both nobles and commoners, there's plenty of tension when the nine members are first united. Jusis Albarea, born in one of the four noble families of the Erebonian Empire continually bickers with Machias Regnitz- who's persistently resentful of the birthrights given to the ruling class. A slip-up during training puts Alisa Reinford in an embarrassing position atop of Rean, causing the young blonde to treat the protagonist with contempt. Then, there's Fie Claussell, who's an agile and fierce combatant, but continually shirks her studies and acts indifferent toward the rest of the class.
Like most RPGs, Cold Steel doesn't skimp on metaphor, with the frictions of Class VII replicated on a larger, geo-political scale that threatens to plunge the Erebonian Empire into civil war. Adeptly, the game manages to keep the multiple levels of conflict interesting. Even more remarkable, is the title's handling of its extended cast. While there's a slight reliance on trope for characterization, through expended exposition and dialog, Class VII's student body is given complexity and their social rapport that remains compelling through the title's 50+ hour playtime. Adeptly, Falcom delivers backstory for each member of its cast, weaving an intriguing tapestry of likable characters. For some, the game's tendency toward copious amount of inter-character conversations might be off-putting, but like Tales in the Sky, this is Falcom's method of world building for the series.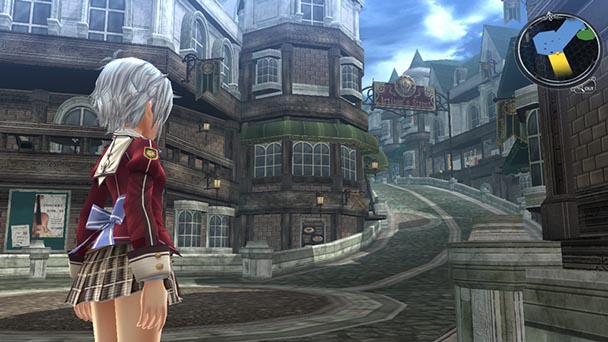 Reconnoitering and Rapport Building
Like Persona 3, your schedule is split between dungeon crawls and free time where social bonds can be nurtured. The former sends adventuring parties skulking through slightly spartan interiors, confronting the sporadic creature and even more infrequent boss. While rooted in RPG convention, Cold Steel makes a number of shrewd design decisions to ensure that combat doesn't plunge into tedium.
Beyond your basic physical attacks and ability to use items, each character has an arsenal of Arts and Crafts that are dominant enough to dumbfound any Etsy seller. The source of your Artistic arsenal is found in orbiments, small boxes given to each cadet where any obtained pieces of quartz can be installed, much like Final Fantasy VII's Materia system. Experimenting with different types of orbs produces a wide array of effects, it's up to players to exploit those perks, with 23 different status effects adding intricacy.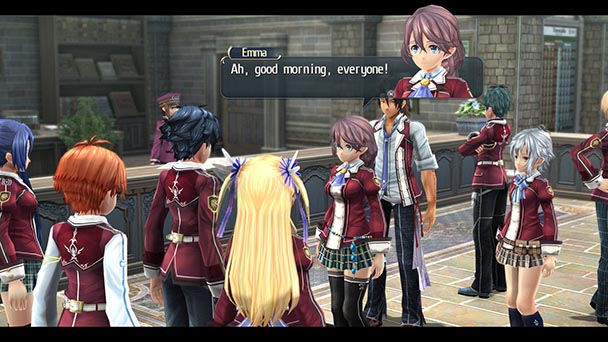 The Best Kind of Arts of Crafts
For most players, Crafts will be especially gratifying, with players able to summon a variety of area-of-effect kill zones that can deliver anguish to a group of adjacent enemies. Eventually, characters will learn the S-Craft, a strike that is not only exceedingly powerful, but can also be used at any time regardless of the turn order. Beyond two different energy pools for Arts and Crafts, the other significant difference is that Crafts are character-specific, where cadets gain access to authoritative abilities during the duration of the campaign. With quite a few elemental elements, learning the weakness of each type of monster endows Trails of Cold Steel with a pleasing dose of longevity.
Once back on campus, battling is complemented with bonding with your fellow cadets. Naturally, you don't have an unlimited amount of time to build rapport, with players able to build bonds with two or three characters. The limitation forces you to determine which friendships are the most essential, and since your affinity with different characters has a significant effect on combat, Trails forces some thorny decisions and forces you to live with them. Ream's role in the student council in the impetus behind a slew of optional side-quests. Given the magnitude of these errands, it's conceivable that dedicated players could stretch Trails of Cold Steel playtime past the hundred-hour threshold.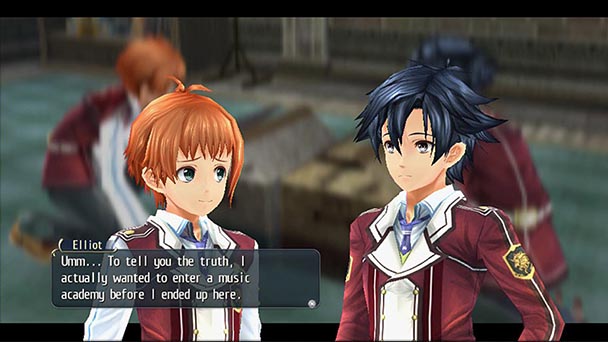 Good Looks and Even Better Sounds
Beyond the occasional austere environment, the title largely excels at Legend of Heroes' transition to the third dimension. Character design is especially pleasing, with each cadet sporting a richly detailed academic wardrobe, with attire that ranges from stylish blazers, slacks, leggings, and skirts. Likewise, Class VII members express a broad range of emotions, bolstering the game's sense of sentiment. Nihon Falcom's melodic dexterity shines here as well, with Cold Steel delivering a number of memorable pieces. Previous console iterations have faulted by forcing players to rely on an English dub. This version offers option for Japanese voice acting, mirroring the post-launch update of the PC version. If you do prefer English, XSEED was kind enough to significantly bolster the number of speaking lines.
As a contemporary role-playing game, players can expect many of the genre's modern amenities. Except for in the midst of dialog sequences, players can save at almost any time. Random encounters, a role-playing relic, have largely been removed, with visible enemies that can sporadically be avoided. Lastly, the addition of a multi-faceted, in-game encyclopedia is a worthwhile addition, supplying everything from a larger map, to a notebook system which details quests, character bios, dialog, and even battle stats.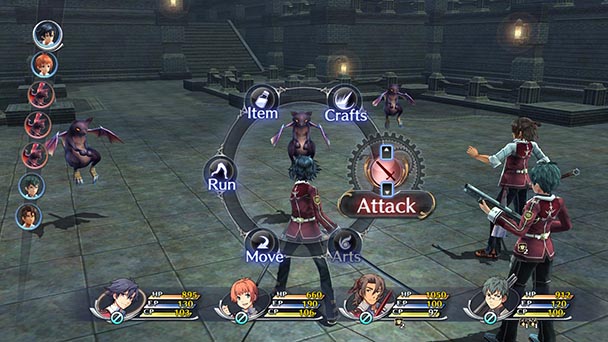 Cold Steel's Transition to PS4
The PC iteration benefitted by the handiwork of Peter "Durante" Thoman, who brought a tremendous amount of sheen to the port. Largely that's the case with this version as well, with runs at a rock solid sixty frames per second. Play on a PS4 Pro and you'll witness Cold Steel outputting at 4K if you have a capable television set or monitor. While some of the animation reveals the game's last-gen roots, image quality is virtuous.
For those without large amount of leisure time, the ability to fast-forward up to four times faster permits players to careen through the trade of blows in record time. Pleasingly, this doesn't alter the pitch during voice acting. Undoubtedly, this is a feature that should be mandatory in all role-playing games. Another nice perk in the presence of cross-save support, so if you still have your PS3 or Vita around, you can import save data from the cloud.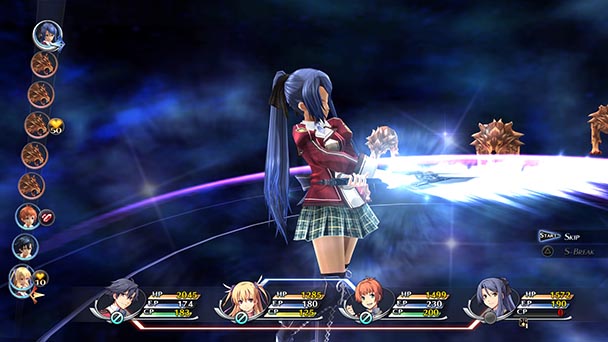 While the game's verbosity might not agree with all gamers, there's no denying that The Legend of Heroes: Trails of Cold Steel is one of the better role-playing experiences of recent history. Demonstrating Nihon Falcom's proficiency with the genre, the title's mixture of absorbing combat and poignant characterization is destined to delight fans. As long as the genre continues producing titles of this caliber, role-playing is poised to remain resilient.
The Legend of Heroes: Trails of Cold Steel was played
on the PS4 with review code provided by the publisher.
Review Overview
Summary : With The Legend of Heroes: Trails of Cold Steel, developer Nihon Falcom solidified their reputation as one of the premier role-playing production houses. Now PS4 players can enjoy the same mammoth time sink PS4, Vita, console owners played- courtesy of this altogether proficient port that brings back the original Japanese voice acting.