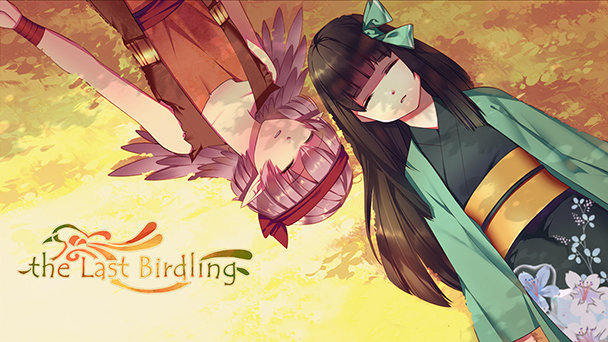 While it's inspiring when a developer's inaugural effort becomes an unqualified success, it's tremendously gratifying to witness the gradual cultivation of an artist's talents. The latter is especially true with InvertMouse (aka Marcus Lam), a visual novel writer who has managed to craft seven increasingly proficient efforts across the span of the last five years. With the Steam release of The Last Birdling, InvertMouse demonstrates his mounting mastery of the medium, crafting a tale teeming with poignancy and skilled character development.
The novel commences by introducing readers to Bimonia, the game's eponymous character- a fateful decadent of a species of avian creatures who are facing the threat of extinction. Not fully matured and with restrained flight abilities, she's typically under her mother's protective wing. But on the day Bimonia begins to push toward independence and explore on her own, she encounters a human girl named Tayo. After years of having her kin killed by humans, the young birdling is naturally apprehensive about the encounter, and ready to lash out at the interloper. But when Tayo responds with curiosity and kindness, Bimonia experiences a moment of dissonance, as she discovers that not every human is a bloodthirsty warmonger.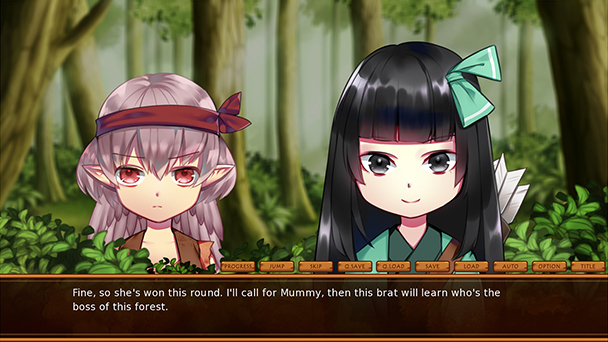 Bimonia's moment of mental discord is echoed by Tayo's own beliefs. Growing up, the young girl was taught that Birdlings were a wild and ruthless species- and preemptive killing is the only way to deal with them.  And Tayo's has her own reasons to be distrustful of the dominant mindset. Teased for not complying to social norms, she's unabashedly confident and strong-willed- two qualities that aren't typical for a female of her age. Disapproval also comes from her domineering mother, who still seems to be dealing with the death of Tayo's father.
As a coming of age story, The Last Birdling hits all the right beats, providing a proper impetus for the novel's pair of social progressives. Pleasingly, the title also endows the story with a number of satisfying literary techniques as well. Point of view is shifted between the two protagonists, endowing Birdling with a Rashōmon-like quality, as we view matters from each girls' perspective. Another effective device stems from the novel's jump cut, where the duo haven't seen other in years, but their meetings still reverberate in thought, and influence action.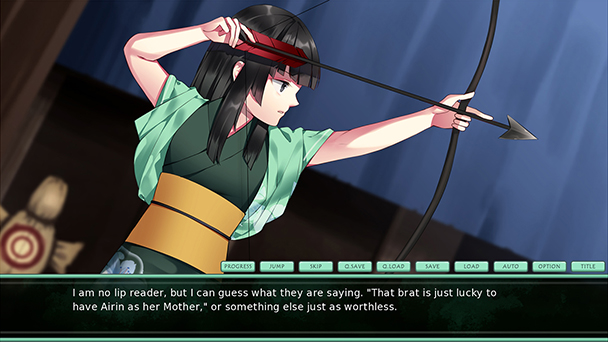 The shift is also accompanied by a tonal change, and The Last Birdlings' second half secures the novel's status as tragedy. For those who revel in bleak fiction, the novel won't disappoint, mining the same type of pessimistic territory as Watership Down. Here, InvertMouse plumb's some dark territory, with violence and description that are only hinted at in Birdling's early hours. The sole problem is that the main characters can be a bit mean at times, potentially impeding identification with readers.
Throughout the five- to six-hour journey there are about twenty decisions that will influence which of the five conclusions you'll see. Considerately, Birdling is completely transparent about your route through the story, assigning point values that are visible in a menu screen after each decision. Near the end of the plot is the major forking point, so its relatively easy to experience the entirety of the exposition.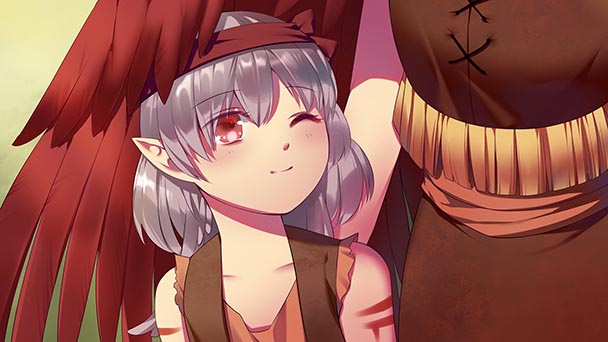 That kind of thoughtfulness extends to a few of The Last Birdling's other components. At any time, players can delve into a glossary that offers details description of the game's rich lore. Another enjoyable element is the novel's interface, which allows readers to automatically advance the story at varying speeds and well as backtrack to review a missed line of dialog. With twenty-four save slots, readers have the ability to record their progress at every key juncture.
Visually, The Last Birdling delights, offering a nice range of hand drawn character portraits and backdrops. While there's no an abundance of animation, small details like the flutter of Birdling ears help to make some scenes feel dynamic. Sonically, the novel soars, offering a range of melodic works that range from the plaintive piano-drenched title song to rhythmic pieces which help to convey the urgency of the situation. Largely, the novel's aesthetics are adept enough to recommend a purchase of the supplemental art book and soundtrack.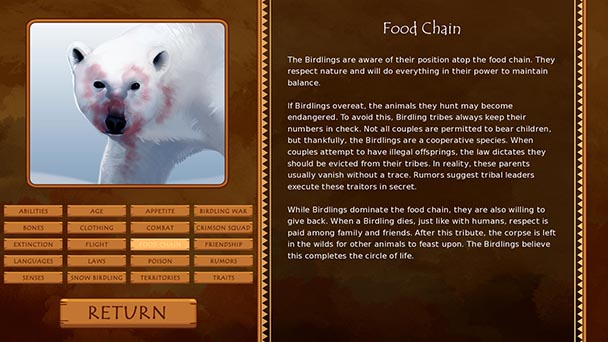 With The Last Birdling, InvertMouse builds on his abilities, offering a storyline and characters that are thoroughly compelling. As a tragedy, the novel is poised to unseal the tear ducts, cultivating sentiment with its two absorbing leads and a cast of intriguing secondaries. As such, those with even a passing interest in the medium are urged to seek out Birdling, and let your emotions soar.
The Last Birdling was played on PC with
review code provided by the publisher. 
The Last Birdling


Platform(s): PC


Developer:

 InvertMouse

Publisher:

 InvertMouse

Release date:

 August 31st, 2017

Price:

 $8.99, available via

Steam

, on sale for $6.74 through 9/6

The Last Birdling review
Review Overview
Story - 85%
Interface - 85%
Aesthetics - 85%
Content - 80%
Accessibility - 88%
85
85%
VERY GOOD
Summary : InvertMouse's latest effort also happens to be his best effort, delivering a soaring tale of friendship under the most straining circumstances.

User Rating:

4.15 ( 6 votes)