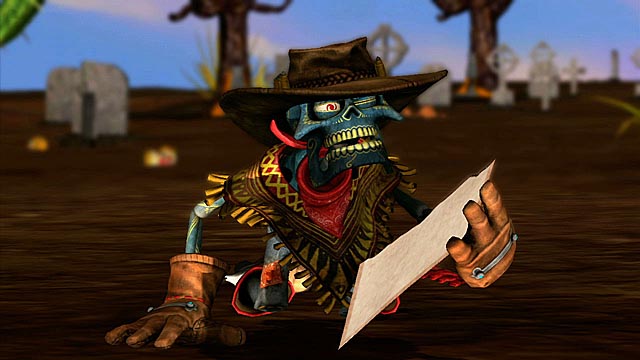 Like many children, a disproportionate amount of my formative years were spent watching cartoons. While most of this time has gradually dissolved into a nebulous memory of the Warner Bros. roster, 1953's Duck Amuck resists being lumped in with the more formulaic pursuits of Bugs, Elmer, Wiley and the Roadrunner. Pitting Daffy Duck against an off-screen artist who vexes the character at every conceivable opportunity, the film's willingness to break the fourth wall has insured its longevity. Years later, Duck Amuck remains a creative benchmark which other animated works are measured against.
In many ways, recent Xbox 360 release The Gunstringer is the interactive descendant of that classic Daffy short. While most studios would have been content with mere recounting the story of a squinty-eyed cowboy marionette, developer Twisted Pixel frames the game as a live performance. Cleverly, the extra degree of separation is rarely squandered- players sporadically get glimpses of an audience and receive cheers and boos in accordance with their actions. During one sequence which strikingly recalls Duck Amuck, a hand comes on-screen to set a group of tumbling boulders in motion. Even the coup de grace of boss encounters is elevated by high fives and a cascade of red roses, delivering the sensation of performing in front of an audience, even if the game is being enjoyed by a solitary player.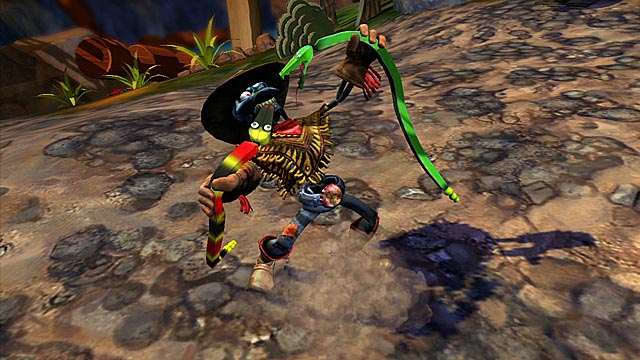 However, without a competent control method, all of this postmodern quirkiness would have confined The Gunstringer to a mere Kinect-enabled curio. Fortunately, once players acclimate to the title's 'pat your head, while rubbing your tummy' ambidexterity, they'll find that the game's input scheme borders on immersive. Playable while standing as well as sitting, the gamers's left hand moves the Gunstringer along the horizontal axis. While in the game's striding sequences, this maneuver is typically used to dodge environmental objects.  However, during the title's large-scale shootouts, a bit of lateral movement sends the protagonist out of cover. Disappointedly, the gesture used to peek around corners isn't quite as responsive as the running bits; which can be a bit frustrating when a cluster of dynamite sticks is being lobbed in your direction. Jumping is handled via an upward snap, solidifying the sensation that players are manipulating a marionette.
Meanwhile, the player's right hand controls the Gunstringer's trusty sidearm. With an index finger obligatorily outstretched like a gun, gamers can sweep the screen, locking on to any targets. Once any number of enemies are marked, a swift recoil-like motion, where players raise their hand to their shoulder dispenses a ballistic barrage. Most of the time, The Gunstringer feels like a motion-controlled interpretation of the Saturn game, Panzer Dragoon. Occasionally, the game will deviate to dispense a Donkey Kong-like barrel jumping sequence or offer a spirited duel-wielding deviation that pays homage to classic light-gun titles. Much like Twisted Pixel's Comic Jumper, variety is transmitted at a breakneck pace, rarely lingering on one type of action for long.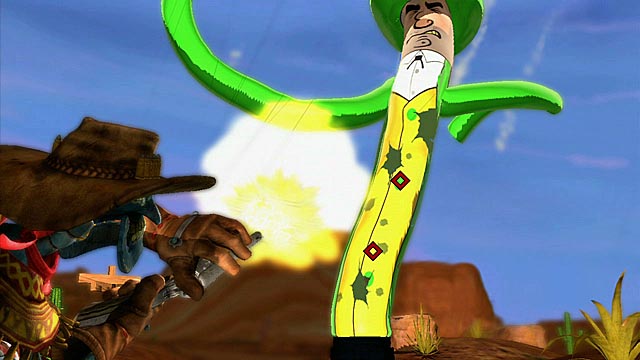 Whereas many contemporary titles artificially stretch out their playtimes, growing tedious long before the final credits roll, The Gunstringer carefully evades such tedium. Packed with impromptu tidbits such as amusing character bios which pop-up on-screen whenever a new adversary is encountered, it would have been hard to imagine the game's creativity transcending its six-hour playtime. Preemptively countering the claim that the title is too short, the developers packed the box with a cornucopia of content. From a comprehensive collection of unlockable movies, art, and commentary to a bonus game inspired by Mad Dog McCree as well as a Fruit Ninja Kinect code, The Gunstringer is bursting with supplemental material. To sweeten the deal, the game is being offered at a forty dollar MSRP.
Whereas many Kinect titles have felt like glorified tech demos, offering anthologies of disjointed mini-games, The Gunstringer artfully binds its variety of gameplay mechanics together. Crowned with a remarkable amount of verve, creativity, and polish, the game is precisely what Microsoft needs to maintain the momentum of their peripheral.