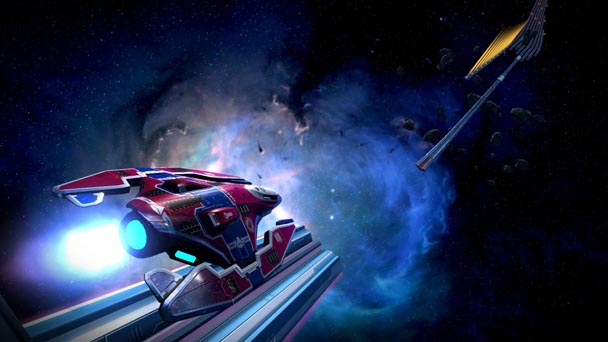 Longtime gamers may remember Liverpool-based Psygnosis, a prolific publisher/developer subsequently absorbed (and renamed) by Sony Computer Entertainment, and disbanded in 2012. Best known for acclaimed franchises such as Colony Wars, Destruction Derby, and Wipeout, the company's output had two trademark elements: visuals that would push platforms to their technological limits and a challenge level that could induce even the most patient gamer to hurl their controller toward the nearest wall. While a mention of their moniker ushers in melancholic nostalgia, there's also a bit of lamentation for all the input devices lost to the later stages of Shadow of the Beast, Assault Rigs, G-Police.
Formed from a number of ex-Psygnosis staff, Atomicom appears poised to continue the publisher's legacy for both splendor and strenuousness. Built on the foundations established in the PlayStation mobile title, Switch Galaxy, the two recently released PlayStation 4 and PS Vita renovations increase the graphical intensity, making the title's succession of fifty-five stages a supreme test in visual acuity. Allow concentration to waver for a millisecond and you'll likely find yourself lumbering to the finish line in each levels' sadistic succession of twists, loops, and relentless lane changes.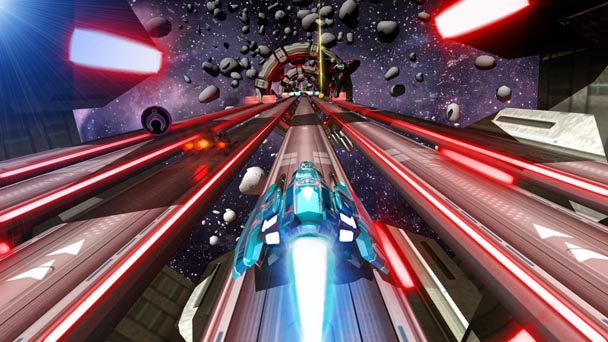 While adrenaline junkies will want to bypass the narrative and jump right into Switch Galaxy Ultra's sequence of tracks, a comic book-inspired storyline extends a bit of motivation. Tweaking well-worn tropes like the sci-fi scamp, Switch Galaxy Ultra centers on the mid-life provocations of Vince Vance, a racer whose life is marked by a perpetual shift between prodigiousness and pugnacity. Having previously experienced success, Vance isn't driven by glory, but rather each track's generous supply of Tantalum- an element that can power his prized ship's jump drive. Playing off the protagonist's permanently disobedient nature is Amur 'Bessie' Ness, the regal governing official behind the procession of interstellar time trails that serve as Switch Galaxy Ultra's main mechanic. Pleasingly, Ness' role is more than just tutor, with the character becoming the catalyst for playful banter during races.
Moving from one space port to the next, each venue hosts a track that's broken into three sections. The first and third segments containing winding, multi-lane pathways, filled with multi-hued barriers and power-up zones that refill the player's boost gauge. Steadily, the number of blockages increase, obliging players to either rapidly shift between lanes or pick up the occasional perk which allows gamers to crash through the obstacle without penalty. Alternatively, players can also purchase a barrier pass using-game currency allowing their ship to pass through blockades of certain colors.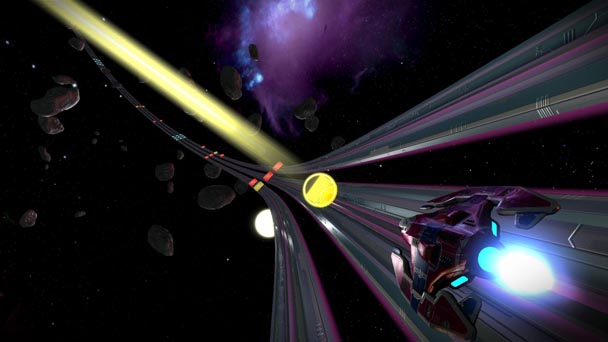 Each stage's middle section abandons the confines of a track, sending players through a tube in which they can move around freely. The object here is to collect all ten pieces of Tantalum as they whizz by. In Switch Galaxy Ultra's third segment, collisions not only slow down the player but also discharge the resource, which is needed to unlock later levels. Once the game's levels begin to increase in complexity- compelling gamers to weave around groups of barriers and determining which blockade to smash through, players have to determine to chase currency or Tantalum. This tension is further extended by Ultra's core mechanic which tasks gamers with finding a balance between pace and precision.
Although Switch Galaxy Ultra's components glide nearly seamlessly, there are a few issues which introduce a bit of friction. Players can use currency to purchase upgrades for the game's collection of six different vehicles, but distinction in each augmentation and new craft isn't substantially articulated. About halfway through the main campaign, players will likely to have revisit levels, as they'll find themselves locked out of ensuing stages. While it's not a devastating drawback, it does seem like an effort to artificially extend the duration of the game's campaign. Beyond the main undertaking, Ultra also offers a Survival Mode that offers gamers an interminable opportunity to extra credits. Additionally, the title extends a Multiplayer component, although the multiple attempts to secure competition ended with a futile search for adversaries.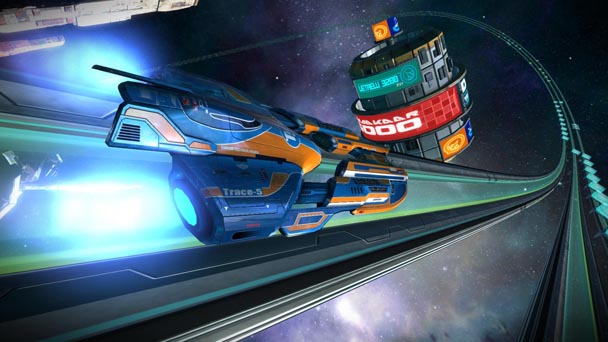 Undeniably, Switch Galaxy Ultra excels in its visual delivery, sending PlayStation 4 owners careening down snaking pathways with 1080p, sixty frame-per-second precision. Both ship models and tracks flaunt detailed texturing and sumptuous backdrops. While the PS Vita can't match the fidelity of its console counterpart, it's no visual slouch, with only the diminutive text of the comic pages spoiling the portable iteration's graphic delivery. Sonically, Ultra serves up an electronica-seeped soundtrack filled with throbbing bassline and sweeping synths, contributing a near-perfect complement to the high-speed competitions.
While Switch Galaxy Ultra might vaguely resemble the type of futurism that pushed the Feisar team toward the checkered finish line in Wipeout, the title is unquestionably its own game- abandoning exacting steering and antagonism with rivals for a high-speed sprint down coiling tracks. Crucially, developer Atomicom has adopted a resource gathering mechanic to ensure players don't hit an insurmountable level of challenge, allowing Ultra to be strenuous without becoming stymieing.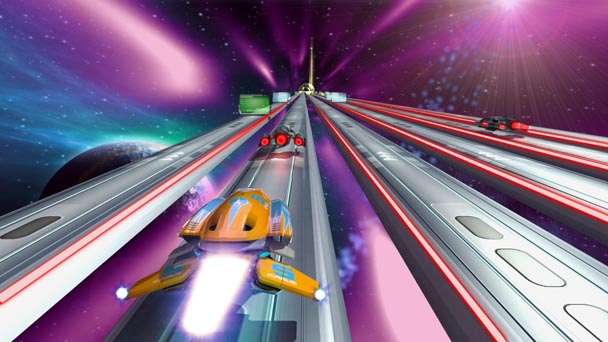 Switch Galaxy Ultra was played on the PS4 and Vita with review code provided by the publisher.
Switch Galaxy Ultra
Platform: PlayStation 4, PS Vita
Developer: Atomicom
Publisher: Atomicom
Release date: December 23rd, 2014
Price: $18.99 Cross-buy PS4/Vita versions.


Switch Galaxy Ultra review
Review Overview
Gameplay - 80%
Controls - 85%
Aesthetics - 85%
Content - 80%
Accessibility - 80%
82
82%
GOOD
Summary : Evoking Audiosurf and the frantic end-of-stage tube spike evasion of Tempest, Switch Galaxy Ultra is a consummate test of mettle and mindfulness, offering an absorbing journey to owners of Sony's newer systems.

User Rating:

4.31 ( 6 votes)