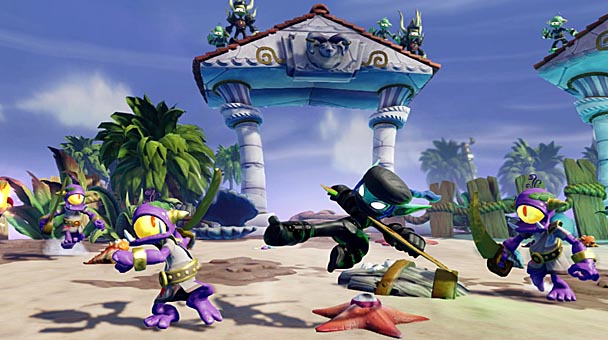 When Skylanders: Spyro's Adventure was released in 2011, the fusion of video game, figurine, and near-field communication (or NFC) was undeniably revolutionary.  Although pre-existing interactive franchises such as the LEGO or Bakugan titles had drawn inspiration from toys, these games lacked the subtle haptic element exhibited by real-world playthings. Both Skylanders and its sequel, 2012's Skylanders Giants were rooted in the tangible. Not only would the richly detailed statuettes appear in-game, but they could also be traded, or even transported to a friend's house, where each character retained its experience levels. Most importantly, they wouldn't disappear into the ether when a console was powered down. Instead, Skylanders rested obediently on the shelf, inviting admiration as the creatures waited to be brought to life.
Naturally, Skylanders' subsequent critical and commercial achievement inspired competitors. Both Disney Infinity and Pokémon Rumble integrated NFC into their games- with each title threatening to erode at the distinctiveness of the Activision property. The recent release of Swap Force represents a pivotal role in the series. Not only could Skylanders' success be threatened by emerging rivals, but a shift in developers had the potential to pollute the franchise. Cleverly, Vicarious Visions has scrutinized the tenets of the first two titles, delivering a follow-up which stands as the series' shining pinnacle.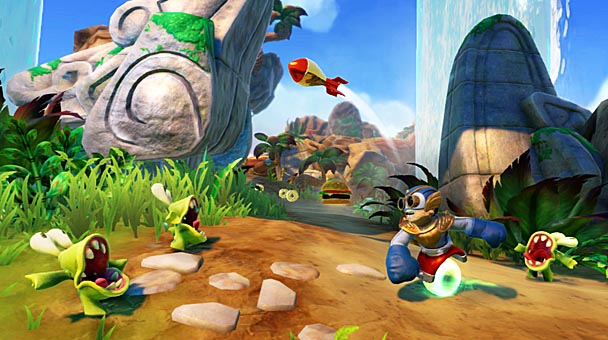 In theory, the central hook of Swap Force initially appears to be a bit underwhelming. The game's new collection of figures detach at the torso, allowing players to switch upper and lower bodies, creating new permutations of protagonists. Statuettes still lack the ability to be posed, but the new characters introduce a pleasing tactile element- connecting with a satisfying click, as small magnets pull the two parts together. The starter pack ships with two Skylanders- Blast Zone and Wash Bucker, with six swappable characters complementing them along store shelves. Ahead is a procession of ten additional figurines poised to preserve Skylanders' dominance through the holidays.  While the new collectables aren't as imposing as Giant's burly statues, they still trump the competition with a pleasing sense of detail and features which flaunt eye-catching illumination.
During gameplay, switching halves reveals the ingenuity of Swap Force's distinguishing mechanic. Whereas previous Skylanders titles leveled up a single entity, now players are tasked with advancing the progress of both parts- with upper bodies progressing through two tech trees and lower limbs ushering in their own array of upgradable options. As such, assembling a creature feels more personable, with players able to build beings adept at exploiting the elemental weaknesses of enemies. Expectedly, Swap Force continues the series tradition of gated areas, piquing the natural curiosity of players. Dual doors open with either a figurine comprised of two corresponding elements or a conforming cooperative duo- coercing solitary Skylanders fans to purchase more collectables. On the upside, these locked areas are unessential, although these alternative avenues do contain a wealth of stat-boosting trinkets. Should players succumb to the enticement, they'll find these regions consistently enjoyable- each offers a pleasing selection of engaging and polished mini-games.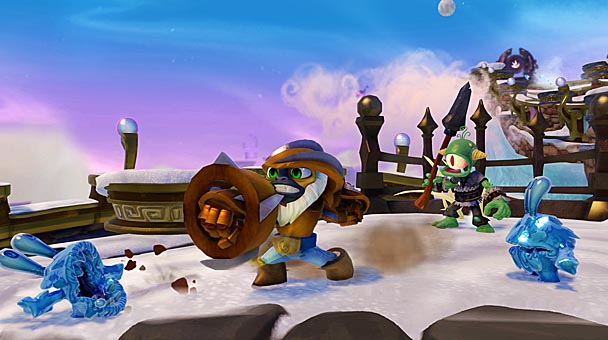 One of the core criticisms of the Skylanders franchise has been the lack of a jumping. With Swap Force, this exclusion is remedied, complementing the hack-and-slash combat and box-pushing puzzles with light platforming. Whereas teammates could become separated across the fountains which elevated characters to raised areas, now it's much easier for teams to climb in unison. The addition of jumping allows stages to offer verticality, adding a dimension of distinction across the game's seventeen environments. Another key change to the game is the reworking of the treasure unlocking mini-game, which now tasks players with uniting characters on a board-game like map. Regretfully, Giant's Skystones – enjoyable card-based diversion, has been inexplicably removed.
Multiplayer has received a handful of positive changes. Both loot and fruit is split among cooperative characters- removing any resentment surrounding hoarders. A handful of arena options offer duos an alternative method to level up their characters. For competitive types, the PvP component offers an absorbing way to test the mastery of dueling Portal Masters. Unfortunately, the two player options are limited to local play. Ideally, future versions would offer the option of online matches. At least Skylanders excels at scalability- the game's difficulty setting make the title accessible to a range which encompasses beginners, series veterans, and even pros looking for a strenuous challenge.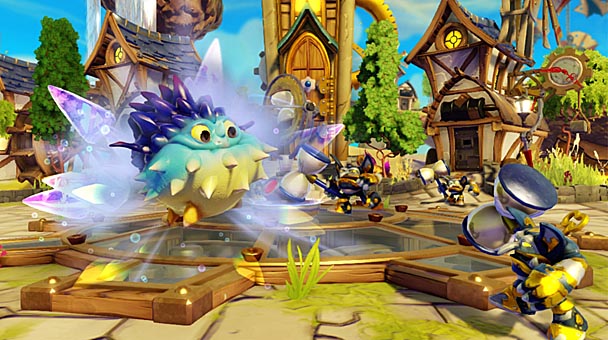 Scrutinizing the Skylanders
As titles such as Batman Arkham City: Armored Edition and Mass Effect 3 have demonstrated, Wii U ports can occasionally be lackluster efforts. Fortunately, that's not the case with the Skylanders Swap Force, which offers the same fidelity and framerate as the Xbox 360 version, along with several Gamepad-powered enhancements. For owners of multiple now-gen consoles, a recommendation of the Nintendo iteration is an easy suggestion.
Players can view the game either on a television or Gamepad screen (or even both, although sound is restrained to the TV), with no visible artifacting evident on the Nintendo controller. When playing on television screens, the Gamepad displays statistical data for the active character as well as mission question info, eschewing a trip into the menu system.
Regardless of what version players pick up, they can be assured that Swap Force offers a visual improvement over its predecessors. Not only do characters animate more fluidly (with first and second generation Skylanders receiving the ability to jump) but stages are filled with intricate environmental minutiae and detailed textures. One last detail: owners of previous versions will be forced to utilize Swap Force's new Power Portal, which has the capacity to simultaneously read the data from two of the interchangeable new characters.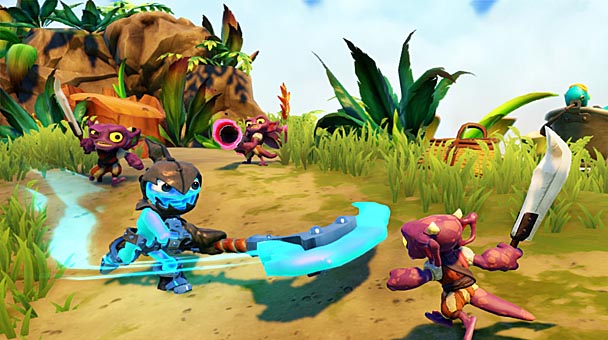 Outside of gameplay, Swap Force continues the Saturday morning-esque framing that has elevated previous installments. Beyond a narrative which seamlessly interlocks with the epilogue of Giants, the return of series voice talent like Patrick Warburon ensures that the change in development duties will be imperceptible to gamers. Although most should enjoy the rapport which drives the game's dialog, players who just want to gather loot and repel the game's array of antagonists can skip the cinematics without remorse.
Much like Pixar's output, Skylanders is the rare IP capable of captivating old and young, advanced gamer and apprentice. Swap Force admirably persists this pattern, delivering a fresh batch of interchangeable figures as well as a host of gameplay improvements. As usual, the core downside is the near-irresistible temptation of purchasing additional collectables in an effort to see all of the game's gated content.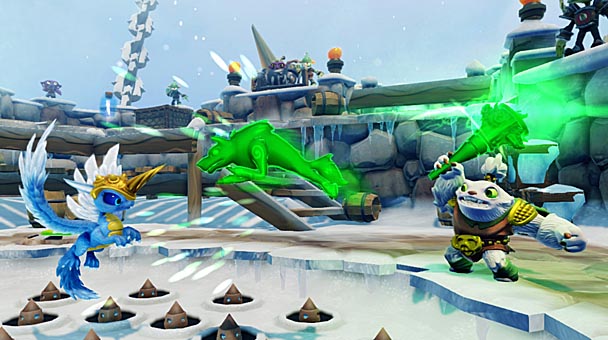 Review Overview
Summary : Skylanders Swap Force establishes a new peak for the series. The new interchangeable statuettes are great, but backward compatibility with the older figures is apt to rekindle a Skylander romance.