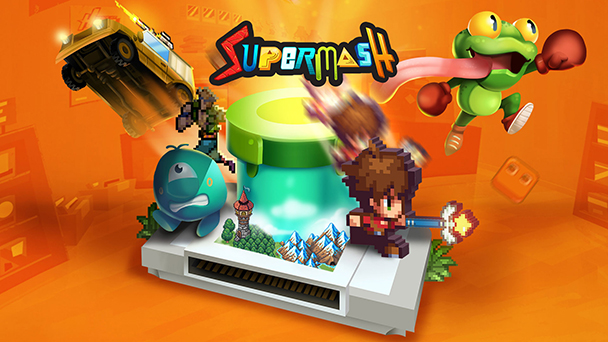 SuperMash is a clever concept, building its own games from two genres of your choosing. Occasionally, the mix delivers something playable, but often the results are a primitive jumble.
SuperMash
Platform:
Switch, PC
Developer:
Digital Continue
Publisher:
Digital Continue
Release date:
May 8th, 2020
Price:
$19.99 Switch, $24.99 PC via digital download
Availability:
eShop
,
Epic Games Store
In SuperMash, a simulated game console called the PlayType has two cartridges ports. Developer Digital Continue supplies players with six different virtual carts: shoot 'em up, metrovania, stealth, platformer, action-adventure, and role-playing. In or outside of the game's campaign, you can insert any two of these carts (or even two of the same carts) and the title spawns a procedurally generated amalgam for you to play. It's a brilliant and extremely ambitious idea, but one where frustrations are just as frequent as the fun.
The problem isn't rooted in SuperMash's source material. Each cartridge pays homage to some of the top games of the eight-bit era. From 1942, Metroid, Metal Gear, Super Mario Bros., The Legend of Zelda, and Final Fantasy, Digital Continue has cherry-picked from the gaming pantheon. But each of the aforementioned classics were meticulously crafted by innovators like Yoshiki Okamoto, Satoru Okada, Hideo Kojima, Shigeru Miyamoto, and Hironobu Sakaguchi. Every interaction, stage, music, and boss battle came together after months of effort and wasn't stitched together by a program.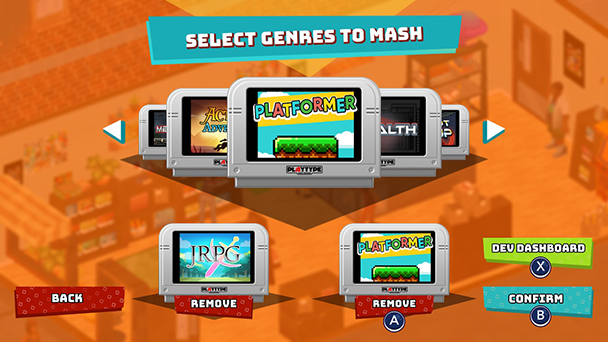 Unpolished Building Blocks
Instead, SuperMash use generic foundations for to build its game combinations. Hop into a vertically scrolling shooter and you'll tackle waves of two or maybe three types of enemies. While some opponents fly downscreen hoping to crash in you, most idly swim about, programmed to release projectiles at predictable intervals. Metrovania's characters jump without weight, with execution often feeling like something you'd find in one of those 600-in-1 bootleg consoles, rather than a genuine first-party effort. Sure, there's different weapons, but some of them exhibit only a few frames of animation. RPGs are especially bare-bones in SuperMash, pared down to turn-based battles and chatter with a few generic NPCs.
Mastery of different mechanics is a characteristic of the classics. Steadily, the best eight-bit games taught you technique, and tested your newly-developed abilities against an escalating tide of adversity.  Classic titles were additive, delivering a drip-feed of rewards to motivate your persistence.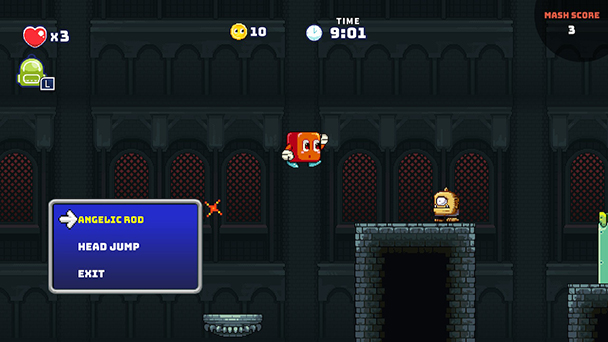 But SuperMash's motivations are quite different. You'll endure, captivated by the possibility of what kind of absurd intermingling you might see next. And for some players, this feat will be quite alluring. Most of the title's concoctions wouldn't find an audience, even as one of those four-cent downloads that sporadically appear in the eShop. But there's the occasional half-decent effort that captures your attention for a few minutes. These are never great experiences, but just witnessing SuperMash successfully make good on its premise is impressive.
Simplistic Goals Occasionally Irk
Naturally, without the benefit of human playtesting, issues emerge in most of its generated games. Occasionally, they're simple but vexing problems, like becoming stuck on a piece of environment in a role-playing town. Other times, the AI overestimates human abilities, what becomes especially noticeable when the game applies its "kill no one but a certain character" rule. While pacifism might work in a stealth game, it can be aggravating in side-scrolling action, where every enemy is gunning for you. Accidently kill one and the game will end immediately. Ugh.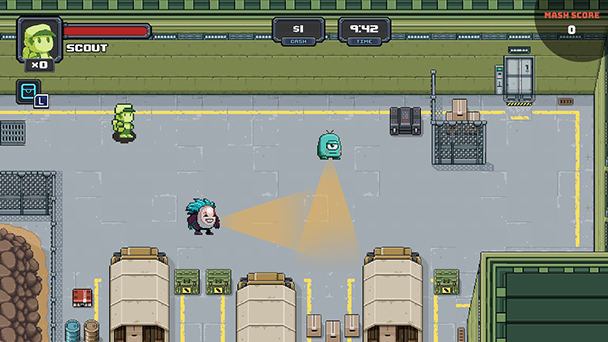 Beyond that goal, you'll be asked to locate an item or character, or eliminate enemies or gather a specific number of collectables.  Limiting the number of objectives probably helps the game produce its mashups, but it also means you'll tire at the repetition of duties. SuperMash even issues a warning that this is normal and seemingly, an inevitability of the game's aspirations.
The Goodness of Glitching
Interestingly, Digital Continue doubles down on this by adding glitching, both good and bad, to each game. These modify a game, doing eccentric things like spawning additional lives every time you kill an enemy. Yes, they can devastate a game, making efforts too easy or too hard, and you can't turn glitches off.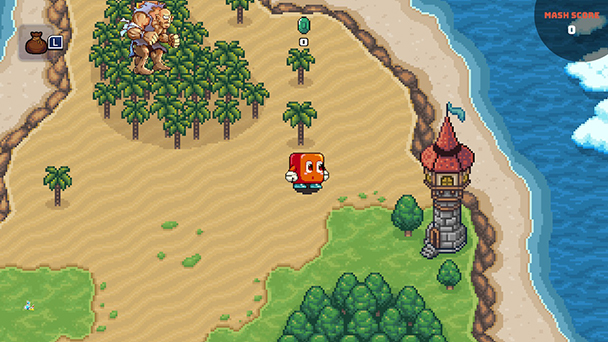 But they're also irrefutably interesting. An auto-scrolling platformer tasked me with collecting coins. While a straightforward execution of that goal might become tedious, the applied glitch spawned new foes. In execution, this meant bouncing atop of adversaries which released a geyser of coins and additional enemies. It was cool, but it also brought the framerate to a crawl. Occasionally, the glitches are quite imaginative. While playing a Metal Gear-like stealth game, an image make it look like the Switch's screen was cracking by an unseen force. After several violent thumps, a giant skull appeared on screen, blocking my view of the action and threatening to siphon away my health.
Card Collecting, too?
While SuperMash offers the ability to create quick random genre blends, a bit of direction is found in the game's campaign. Here, you'll play as the knitted cap wearing Tomo, brother of Jume. The siblings' game shop is struggling lately, and it up to you to reinvigorate things with the PlayType game system. Sure, there's not much exposition, but the store provides an interesting locale for the action, and as a plus, Tomo has one of the best walking animations seen on the Switch.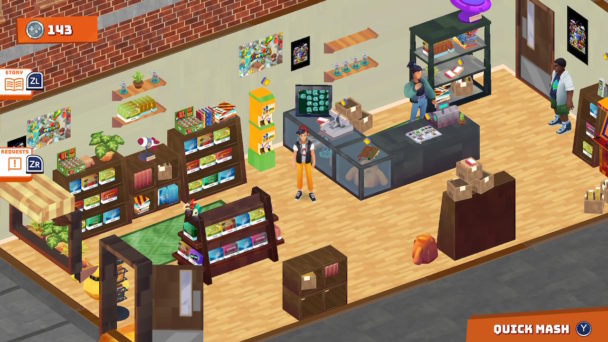 Fortunately, SuperMash spends a bit of time developing the context for each game. Instead of jumping right into the action, you'll be treated to a title screen showcasing the habitually madcap titles. Typically, there's a screen full of context, imitating the simple storytelling of the NES-era. Another remarkable element is the inclusion of Dev Cards, which extend a bit of control over the game's mash-ups. These are adorned with specific weapons, enemies, abilities, or protagonists. By using them before a mix is made, SuperMash injects them into the game. In execution, I found the hunt for these more compelling than the game's plotline. Another notable feature is the ability to share a mash-up's 'seed number', allowing friends to tackle the exact same fusion.
Conclusion
SuperMash's creations are simplistic, and occasionally broken, which is understandable given the title's ambitions. Yet, oddly I found myself revisiting the game, curious what would be Frankensteined. I'm quite curious about Digital Continue's DLC plans, which will add new genres, upping the range of creations. I'm also hopeful that patching could potentially improve the playability of SuperMash's output. There's definitely potential here, but I'm worried most players will be disappointed by the current state of things.
SuperMash was played on Switch with review code provided by the publisher. 
Review Overview
Summary : Unsurprisingly, SuperMash's genre-fusing efforts can't stack up against the classics. However, while the title's creations are rudimentary, the coding used to weave genres together might pique curiosities. Prepare to be engrossed by algorithms rather than actual play.