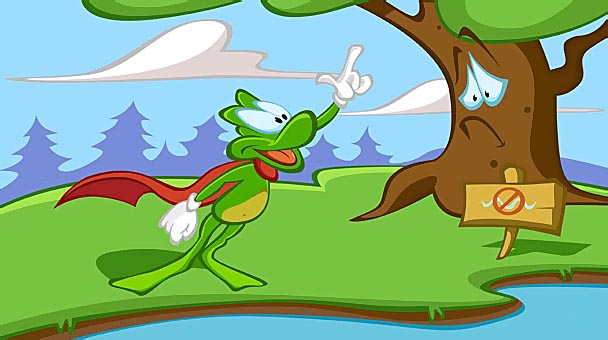 Robert's Take: Although globalization has created a near-universal experience for gamers in the Western world, this wasn't always the case. Mention the video game crash of the early eighties to a British thirty-something and you're bound to get befuddled looks. While 'Atari Shock' triggered a drought of console games in the U.S., our friends across the Atlantic were blissfully enjoying the steady stream of software available for their Amstrad computers. Similarly, a reference of Jet Set Willy, Elite, or even Mastertronic's budget games is unlikely to receive recognition from a retro-minded American.
Therefore, my U.S. compatriots, you're forgiven if the name Superfrog doesn't elicit placating pangs of nostalgia. Originally released for the Commodore Amiga in 1993 (when PCs established their foothold in the States) the title was rooted in platforming fundamentals of the era. Mechanics were limited to a head pounce, double jump- and once the appropriate power-ups were obtained- a glide maneuver and short-ranged offensive weapon. Superfrog carved its own identity through its environments- each of the game's twenty-four stages were massive eight-way scrolling playfields teeming with hundreds of collectables. In execution, the title was notable for its sense of autonomy. With dozens of secret alcoves in each level and a muted number of enemies, exploration was favored over confrontation.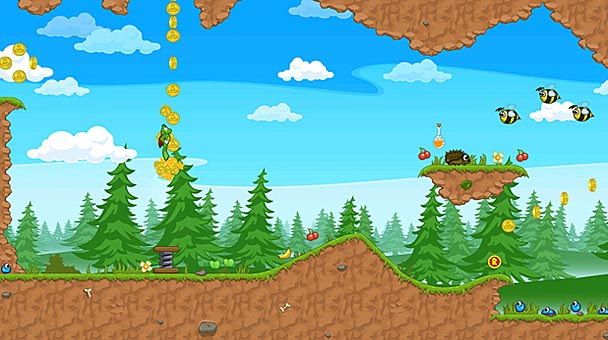 For those who do recall Superfrog, the recently released PlayStation 3 and PS Vita revitalizations do make a few concessions to contemporary gamers. Expectedly, Superfrog HD's visuals live up to the appended moniker, offering new character animations, consistently fluid refresh rate, and a camera that strives to frame the action. Notably, levels have been assuaged, with the subtraction of spikes allowing players to sprint and spring through stages without the constant fear of amphibian annihilation. The game's opening cinematic has been condensed and no longer is slowed by on the creaky load times of an Amiga CD or 3.5" floppy disc. Notably, the inclusion of a level editor is a pleasing supplement, allowing players to craft their own creations using bit maps from the game's six milieu. While cross-buy and cross-save functionality are both agreeable, it's a bit of a shame that players can't share their creations with a community.
Despite the game's potencies, a few warts mar Superfrog HD's otherwise smooth appearance. Boss battles are a humdrum affair, requiring only rudimentary patterns. For some players, these skirmishes might be made challenging by the lack of an enemy health meter. As it stands, a visual indications of damage are a bit too ambiguous. Lethality is also a bit vague: while prickly enemies peel off part of Superfrog's lifebar, spikes are altogether deadly- even when players have quaffed an 'invincibility' potion.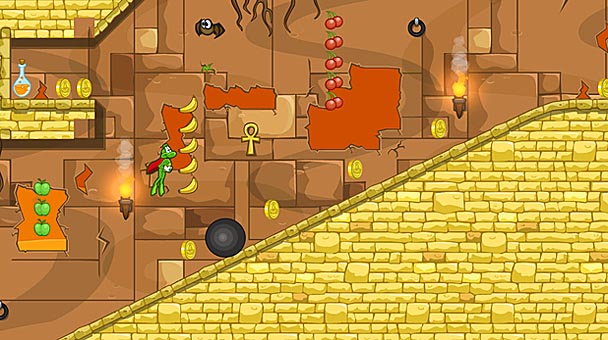 Yet, a remarkably reasonable $9.99 price point for both the PlayStation 3 and PS Vita versions helps to mitigate most of Superfrog HD's blemishes. With 24 redesigned levels, unlockable original stages, and a stage editor, the title extends a substantial amount of content to owners of both Sony platforms. Even for Yanks who can't distinguish Crazy Frog from Superfrog, Team 17's title is an amiable reminder of an age when the platformer ruled unopposed. Plok, Jazz Jackrabbit, James Pond and Chuck Rock, the bar has been set.
Eric's Take: There's an old adage that says "appearances can be deceiving" and it rings true with Superfrog HD. The game's first impression isn't a very good one. For starters, the name sounds like an educational Christian TV show for kids. Secondly, the Mario-thin plot is laid out over five storybook drawings that could give any free-to-play Android or iOS game a run for its money in the cheese category. And finally, Superfrog himself looks like a store-brand cereal box character mixed with the smugness of Bubsy the Bobcat. But below the surface lies a platformer that gamers young and old can appreciate.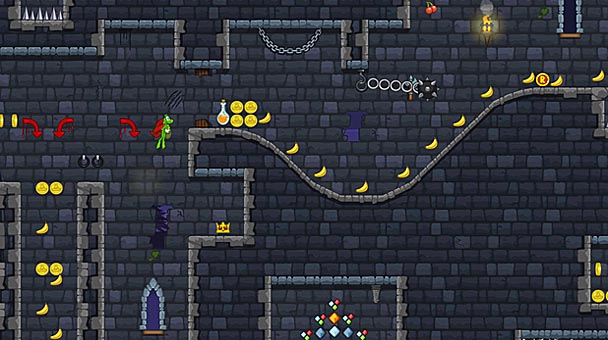 Superfrog is your basic, 90's-styled, 2-D side-scroller. The amphibious protagonist's abilities are limited to running like his name ends with "the Hedgehog", jumping like he's Mario on the Moon, slowing his descent from a jump with his cape, and throwing his pal, Spud, around like he's a baseball. Where the game stutter-steps a bit is that the last two of those mechanics are restricted to item pick-ups. For some unknown reason, Superfrog cannot use the cape that's on his back throughout the game without gathering a wings pick-up in each level. Spud, more understandably, needs to be found in every stage, as well. If the health bar drops to zero, you lose those two abilities until you find their pick-ups again. No one questions losing power-ups when you die in a Mario or Sonic game, but with Superfrog, it feels more like you're parting with an ability that never should have been restricted in the first place. The proof of this comes in the first boss battle, where the only way to win is by beaning the big, bad witch into submission with Spud.
What saves the web-footed superhero just in the nick of time is the level design. Layouts are characterized by hills, springs, spikes, and the genre mainstay; floating platforms. The way the pieces are assembled struck me as being heavily influenced by Genesis-era Sonic games. Like Sonic the Hedgehog, chances to run full speed ahead are abundant, yet the focus quickly returns to careful movement and precise jumping. Regardless of where the inspiration may come from, the end result is solid.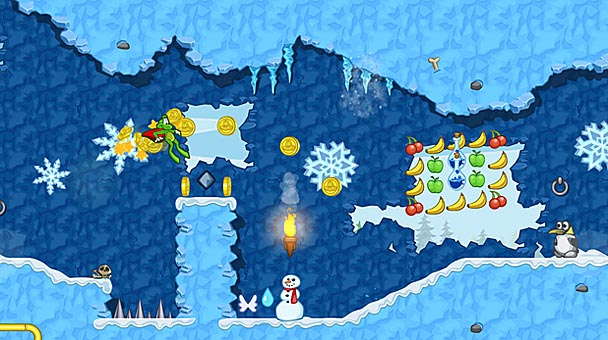 Stages are vast with plenty of opportunities for exploration and item collecting. Coins, fruit, gems, and other treasures are in great supply and scattered all over. Some of the items are hidden within the numerous secret rooms in each level. Brushing up against certain walls will trigger a collapse that reveals the pathway to these rooms and the chance to plunder their contents. Reaching the exit of a level will reward you with a couple of pulls on the handle of a slot machine, with the prizes at stake being modern remakes of old stages from the 1993 Superfrog Amiga game. And if those aren't enough, Superfrog HD packs a meaty, if cumbersome, level designer.
One area that left me as cold as the prince's blood is the presentation. The Superfrog character is just plain awful and unlikable. He comes across like so many of the trendy "cool" characters that snagged starring roles in side-scrollers during the Power Rangers decade. There's nothing even remotely interesting about him. Enemy designs are a little bit better, but not by much. Some baddies are so small that you can mistake them for scenery or item pick-ups. Sprite animation isn't as fluid as it could have been. At times, it barely looks better than a Flash game. Fortunately, the artwork looks decent, both, in HD and on the Vita's OLED screen.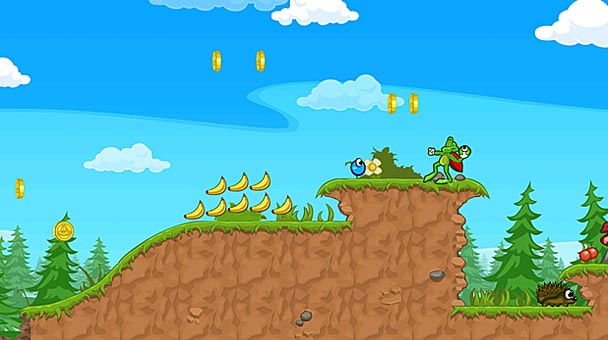 Review Overview
Summary : Tenaciously entrenched in the '90s, Superfrog HD is the interactive equivalent of Haddaway's radio hit, "What is Love"- embarrassingly unfashionable, yet resiliently entrancing after all these years.