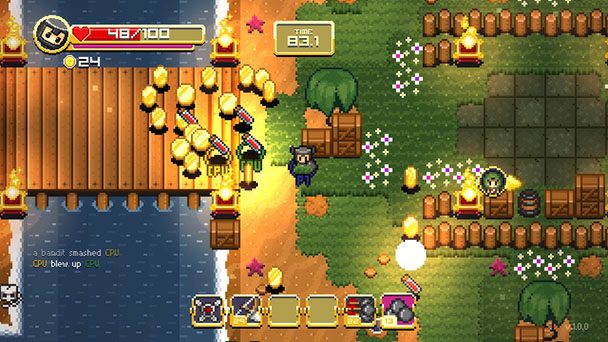 Recommended for Groups
Like many games geared toward local, competitive play Super Treasure Arena is fun with small groups. There's an absorbing sense of tension between the two dominant approaches to play. You can opt to grab currency yourself, smashing open chests and eliminating enemies to help pull ahead of the pack. Or you can be a jerk and kill your opponents. When you eliminate another player, that burst open like a piñata, spilling their assets all over and inciting everyone to pick up the dropped coins.
Although individuals can play with up to three bots, Arena just isn't as spirited when playing against the AI. Lacking behavioral or difficulty settings, the CPU-controlled challengers can be a bit too predictable. If they're offscreen, they'll likely leave you alone, but step into their field of vision and they'll come gunning for you. As such, Super Treasure Arena is recommended for solitary players. Unlike the PC iteration, the Switch version doesn't support online play, so you'll want to ensure acquittances have a copy before committing to a purchase. And even when you do find a few local contenders, you might wish that Treasure Arena offered a bit more depth.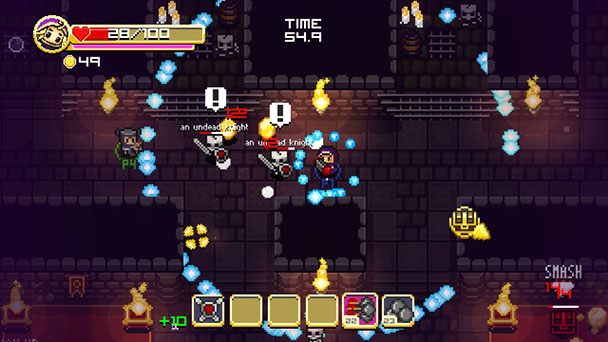 We Want Assets, Not Anecdotes!
Like many multiplayer-focused games, Super Treasure Arena doesn't squander much time with storytelling. Obviously, the accumulation of wealth and having more money that your rivals is the motivation here, with the player with the most coin winning a game. But the lack of plotline doesn't mean that the game's characters are completely generic. You'll have the option to select between five different classes. In the interest of maintaining balance, their basic abilities are all standardized, with only their appearances and special abilities generating distinction. From the Knight's shielding ability to the Ninja's ability to cleave through a foe in a single swing, these capabilities are vital for success.
While your specials will come in handy, you'll also rely on the weapon pick-ups that pop-up across each battlefield. From bows, shotguns, magic wands, and grenades, the quantity of weapon helps make up for each arm's constrained ammo supply. But pleasingly, you can stockpile different types of weapons, cycling through them with the Switch's triggers. Aiming is accomplished with the right control stick, permitting Arena to channel the intensity of a twin-stick shooter.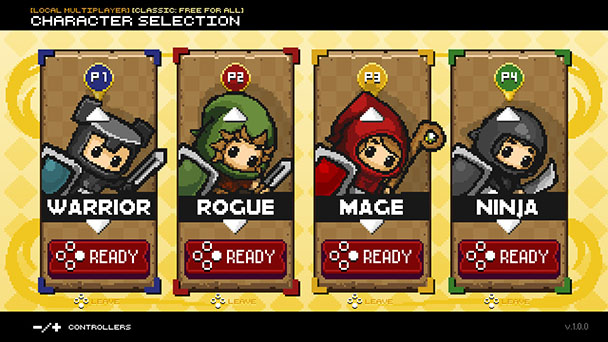 Two Modes of Play
As the name implies Super Treasure Arena's "Classic: Free for All" mode pits players against one another to collect as much wealth as possible. Disappointedly, there's no option for teams, which would have injected matches with additional strategy. But fortunately, the presence of "Treasure Run" does help. Here, you'll have to return the treasure chest to your base in order to collect the winnings. Like Fat Princess, carrying the loot slows you down considerably, making you an easy target for enemies.
With a dwindling timer and a persistent procession of rivals and antagonists, Arena's matches are intense. But the title also seems to have missed some of potential. While barrels dot the battlefield, they're used for decoration. Ideally, they could have detonated to injure adjacent foes. While each characters' specials enliven matches, the incorporation of elements like sticky traps, viruses that slow characters down, and dummies to fool your rivals could have cranked up the level of intensity.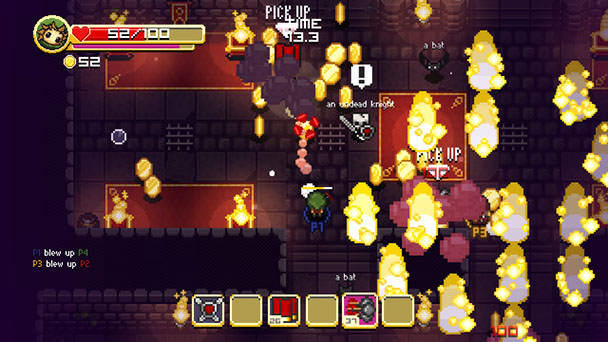 With a quintet of five characters, six maps, and a pair of game modes is a solid start, don't be surprised if you exhaust enjoyment in a few hours. Treasure Arena includes all of the essential ingredients for short-term enjoyment, but you'll likely be longing for the gratification of unlockables before too long.
Unlockables and Online Functionality Needed
Employing a pixelated visual style and a stirring soundtrack, Super Treasure Arena makes a rousing showing on the Switch. The title offers an engaging time for local groups, but the lack of online multiplayer or unlockable content tarnishes the long-term play value. While developer Vennril has many of the essentials for an energetic party game, a few components needed to be added before Arena reaches its full potential.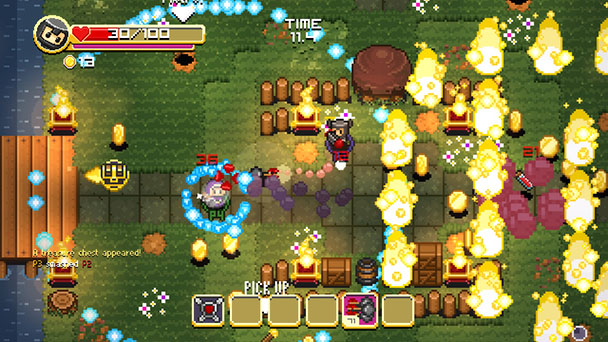 Review Overview
Summary : Before purchasing Super Treasure Arena you'll want to ensure you have a group of Switch-owning acquaintances who also own the title. Between the lackluster bot behavior and lack of online play, Treasure comes with stipulations.