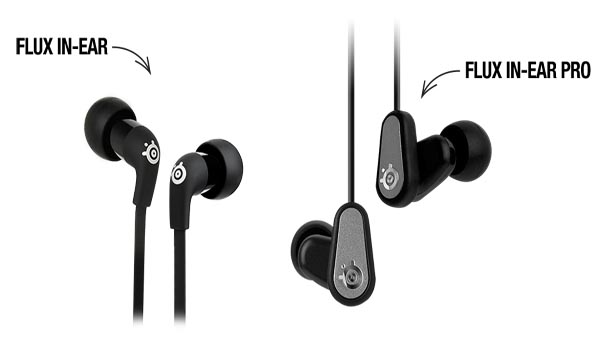 Often the purchase of a smart phone excludes any type of accompanying headset- a compulsory accessory for most users. Even when such a supplement is included, the bundled peripheral is typically of middling quality, urging owners to purchase a suitable replacement.  With dozens of alternatives found hanging on store shelves, finding a set which balances quality and economy can be a challenging task. SteelSeries, the Danish manufacturer of a plethora of gaming peripherals- from mice, keyboards, and gaming surfaces, offers two viable solutions: the $49 Flux In-Ear and $129 In-Ear Pro.
What's in the Box?
Despite the divergence in price, both Fluxes offer similar packaging and accessories. Shipped in a sturdy outer case with a corrugated cardboard interior, each headset is housed in a rugged container which should withstand the jostles of postal transit. Opening either box reveals the headset- along with two varying-sized silicon ear tips for the In-Ear and three foam and silicon tips for the In-Ear Pro. The size assortment is designed so that the device can fit snugly in varying sized ear canals. Lacking the acoustic enclosure made by most over-the-ear headphones, earpieces only deliver their full fidelity when seal is made on the outside of the ear channel. Agreeably, the selection of tips in both boxes should fit most users, although we would have appreciated a back-up set of inserts in case one of the appropriately-sized pieces should become lost.
Differences can be found in the manner each headset is worn. In the case of the In-Ear, the device's wire dangles over the earlobe in conventional fashion. For the In-Ear Pro, the cable can either hang in standard style or follow around the outer ear, with either method offering room for the larger drivers. Both headsets come with a handy carrying case. For the In-Ear, the holder is a faux-leather zippered enclosure, capable of keeping dust out of the headset. In-Ear Pro owners receive a deluxe egg-shaped carrier, complete with a netted interior pocket. Pleasingly, both sets eschew the tubular wire of most earpieces, favoring a flat cord which helps resist tangling. In execution, minor snarling did still occur, but we spent far less time unknotting SteelSeries' sets than with conventional cables.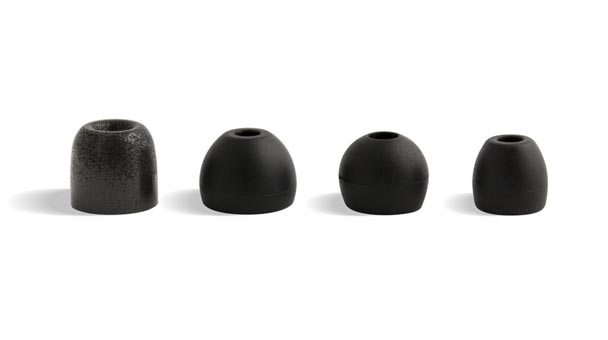 Performance Difference
With comparable build qualities, we began wondering if the In-Ear Pro would justify its substantially elevated price over the more reasonably priced In-Ear earpiece. A quick examination of performance specifications did demonstrate that the Pros enjoyed an advantage. Having an wider frequency response (20Hz-20KHz In-Ear vs. 15Hz-22Khz In-Ear Pro) and increased impedance (  19 Ohm vs. 26 Ohm) should improve the fidelity and clarity of the Pros, but would users be able to actually hear the difference?
We put the regular and deluxe editions to a blind listening test, asking a set of six volunteers to rate sound quality on a standard Likert scale. To simulate the variability of music styles a user might listen to, we tested each earpiece on a variety of genres: Adele's "Rolling in the Deep", Chicane's "Saltwater", Secret Base's "Kimi ga Kureta Mono" (The main theme from Anohana: The Flower We Saw That Day), "Awe of She" (Dizzy's theme from Guilty Gear X2) and well as raw audio from the Tech-Gaming podcast. Remarkably, scores were high across the board, with both the In-Ear and Pro earning consistently high marks. However, the highest scores were given to the In-Ear Pro, which testers praising the peripheral's ability to articulate sharp trembles and substantial bass. As a point of comparison, we asked our volunteers to also rate the sound quality of a $180 F.R.E.Q. 7 set of headphones. The Pro received a comparable score, while the SteelSeries In-Ear aggregate was just a bit lower.
After using both earpieces for a week we are pleased by the quality of both products. The In-Ear's output is sufficiently rich and evades the menace of distortion when used at elevated volume levels. Performance is geared toward the entire sonic spectrum, with little of the exaggerated bass that is used to promote middling peripherals (such as the overpriced Beats by Dr. Dre line). The Pro managed to perform ever better, with a clarity and punchiness that rivals the sound of our more pricey Klipsch and Sennheiser earphones. Although they can't quite match the crystal clarity of our Shure ESE535's, SteelSeries In-Ear Pro's also don't have the exorbitant $400 price tag.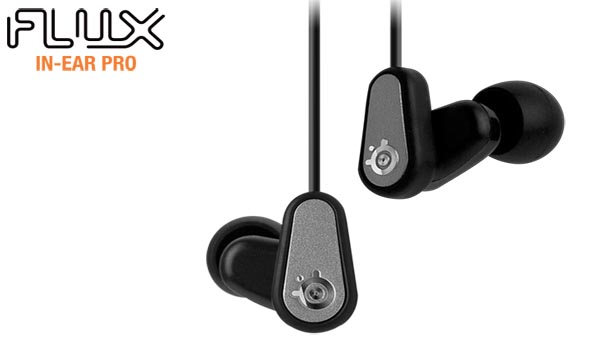 Microphone Check
Echoing the superior audio output of each Flux model is a first-class input quality, thanks to each headset's in-line microphone. Although the Pro offers a slight advantage in sensitivity (-44dB@1Khz vs. -38dB@1Khz) distinguishing between the two mics proved difficult for testers. Although volunteers did issue both Fluxes high marks, any technological advantage that the Pro had was imperceptible. Notably, both microphones offered only average noise reduction, with each headset picking up a good deal of the background noise when making a recording at a bustling Los Angeles Union Station train depot. Similarly, each omnidirectional microphone picked up the rustle of a string breeze when recording a conversation during a walk on a windy day.
Both the In-Ear and In-Ear Pro provide an in-line control button that is located a few inches from the left piece. When using a Samsung Galaxy Note 2 and iPhone 5, a press of the switch paused (and subsequently resumed) music. During telephone conversations, a press of the button would end a call. Although additional controls to mute the microphone or change music tracks would have been welcome, such a supplement would have likely segmented the Flux's audience.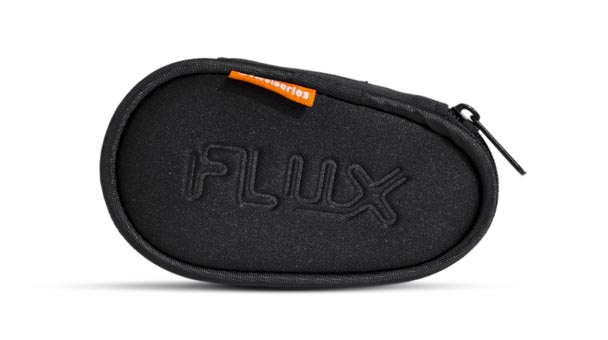 A Solid Connection
Plugging the Flux In-Ear into an OS X computer, iPhone, or Android phone is accomplished by inserting the straight, quad-poled, 3.5mm jack into the appropriate connector. For Pro owners, a few additional options exist. While Mac, tablet, and smartphone owners may insert the angled plug into a 3.5mm port, PC owners can use the breakaway connector to connect to the dual headphone and mic jacks common to desktops and laptaps. Regardless of linking method, both fluxes established a taut, secure union with other devices.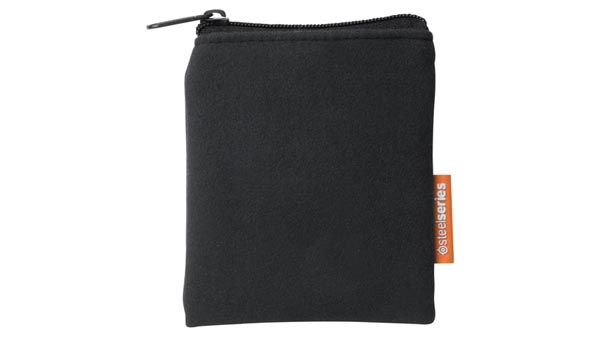 An Advisable Investment?
When pitted against comparably-priced headsets, the Flux In-Ear offers remarkable quality at a similar price, making the device a commendable purchase. For those seeking first-class aural quality, the Flux in-Ear Pro's upgraded output is certainly praiseworthy, and well worth the additional investment for ardent audiophiles. Either way, SteelSeries' Flux line is worth seeking out, and remarkably better than the bulk of low-priced headsets sold at most electronic stores and phone dealers.
Review Overview
Summary : At $49 and $129, The SteelSeries Flux In-Ear and In-Ear Pro aren't cheap, but do deliver audio quality consistent with their respective prices.