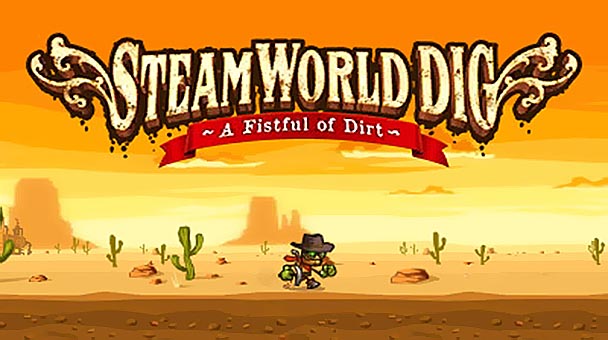 In an era when Pac-Man fever had yet to infect stateside gamers, Commodore PET users might be found playing MINER!, an excavation simulation that was published in Cursor magazine. Echoing games of the epoch, the purpose of Rod Longfellow's title was straightforward: players earned as much money as possible by tunneling through a quarry, collecting rare minerals and the occasional gold nugget. Although the goalmouth was clear, earning an income proved to be a surprisingly demanding endeavor thanks to the MINER!'s hazard-filled digging sites.
Extending the same core premise, SteamWorld Dig: A Fistful of Dirt undoubtedly draws inspiration from this nearly forgotten classic. Yet, once players begin burrowing through the title's procedurally-generated playfields, they'll discover that SteamWorld interweaves a number of prominent game mechanics- resulting in a title, which paradoxically, feels both familiar and fresh. If the idea of cleaving into subterranean settings has ever intrigued you, Swedish studio Image & Form Games has created an engaging formula that is inclined to leech away your leisure hours. Previously available on the 3DS, PC, Wii U, and Vita, the title receives a near-flawless Switch port to accompanying SteamWorld Heist, and the game's sequel in the hybrid's growing library.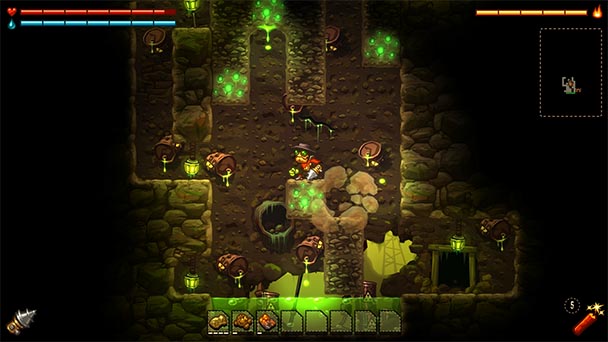 Players assume the role of Rusty, a steam-power bot who ventures to the town of Tumbleton to claim a quarry left from his departed uncle. On the surface, the dusty hamlet offers basic amenities- such as an assay office which pays currency for mined materials and a general store that offers a continual supply of dig-related sundries. Below, things aren't as approachable. The soil is home to snares such as unstable boulders and as player progress deeper- a steadily more menacing succession of robotic enemies.
SteamWorld Dig triumphs with a trio of understated virtues: a feeling of autonomy, a mild motivational push, and the game's superb sensation of permanency. Shirking convention, the game offers little in the way of guided tutorial. Instead, players are compelled to glean the secrets of success on their own. In fact, it's wholly possible for sloppy spelunkers to become trapped before they have even stepped foot inside the main excavation site.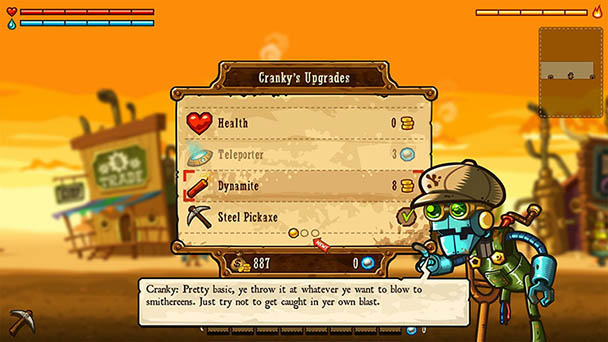 Fortunately, A Fistful of Dirt  never feels punitive, seizing half your currency and dropping your materials (inspiring retrieval) upon defeat. Much of the game's enjoyment stems from learning the relationship between environment, enemies, and tools, as players cultivate digging strategies and the best methods to deal with foes.
While SteamWorld Dig's mechanics allow players to explore at their own pace, the game still conveys a sense of urgency. Limits on the amount of materials Rusty can carry, such as dwindling supplies of light or water, ensure period trips to the surface. While in town, currency can be traded for tools which encourage deeper excavation, giving players a renewing impetus. While the underbelly of mines hold antagonistic creatures, deftly the game doesn't rely on combat to maintain a player's attention. More often, curiosity and the enticement of better gear are the only stimuli A Fistful of Dirt needs to hook players.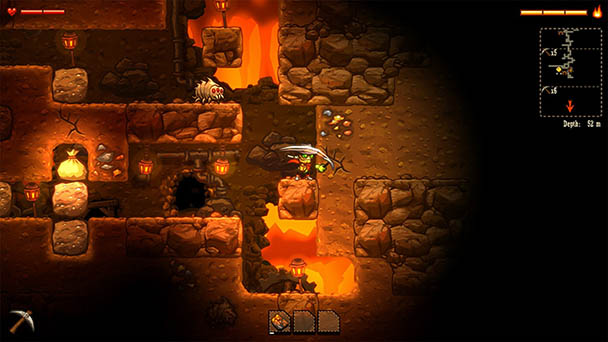 While a legion of middling Rogue-likes have taught gamers to be wary of randomly generated environments, SteamWorld Dig's algorithms are surprisingly adept. Commodities used to purchase special tools are entombed in thorny strongholds, while resilient rock formations turn mines into impromptu mazes. More proficiently, the game's feeling of perpetuity can be captivating. Since every block of earth that's removed is gone forever, players must be mindful of their excavation patterns, leaving contingency shafts for errant digging or environmental damage caused by enemies.
Although SteamWorld Dig's visuals are skillful, elevated by soothing earthly hues and a charmingly animated lead character, the game's sonic accompaniments aren't quite as competent. Character dialog sounds like robotic Simish, with Rusty and his comrades duplicating a handful of sounds, which seem a bit too loud in the overall sound mix.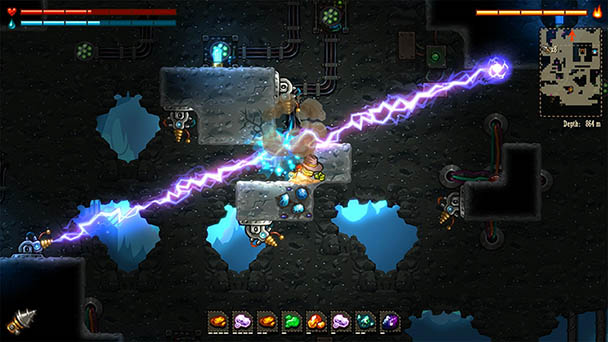 Luckily, conversations are succinct and occur infrequently thoroughly the six to nine-hour campaign. That said, the game's soundtrack does recycle with distressing frequency, reiterating up the same Morricone-inspired refrain throughout long stretches of gameplay. Collectively, these aural flaws are minor, barely blemishing the game's beguiling gameplay.
A proficient port of a nearly five-year-old title, SteamWorld Dig: A Fistful of Dirt earns an unreserved recommendation, especially if you haven't played on the game on another platform. Transforming an archaic turn-based title into a title that amalgamates simulation elements with sporadic bits of real-time action, the game feels consistently rewarding. Switch owners seeking a shrouded gem would be wise to unearth A Fistful of Dirt.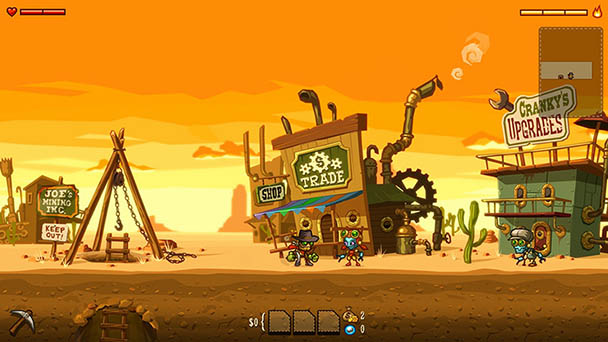 SteamWorld Dig: A Fistful of Dirt was played on the
Switch with review code provided by the publisher. 
SteamWorld Dig: A Fistful of Dirt

Platform: Switch, previously on 3DS, PC, PlayStation 4, PS Vita, and Wii U


Developer:

 Image & Form

Publisher:

 Image & Form

Release date:

 February 1st, 2018

Price:

 $9.99 via

eShop

SteamWorld Dig: Fistful of Dirt (Switch) review
Review Overview
Gameplay - 95%
Controls - 80%
Aesthetics - 85%
Content - 90%
Accessibility - 90%
Innovation - 85%
88
88%
Very Good
Summary : An indulgence for both the mind and restless fingers, SteamWorld Dig: A Fistful of Dirt is a rousing success, providing Switch owners with the gameplay that has delighted players across a variety of other platforms.

User Rating:

3.38 ( 2 votes)