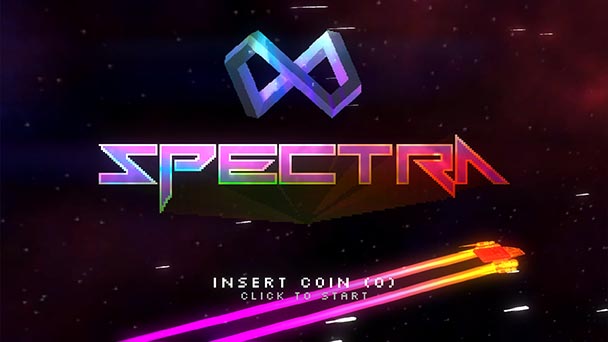 Videogames have are often celebrated as one the true interactive entertainment medium, this user-input with an appealing audiovisual presentation crafted a long-running popularity which endures to this day. A proper combination of these three elements make up the foundation of gamers' expectations in any title. Perhaps this is why Spectra did not resonate as strongly as it could have, featuring an amazing soundtrack and interesting visual design, but little in the way of control.
Spectra bills itself as a twitch racing game, but this definition is somewhat misleading considering there are no opponents, timers or even a finish line. Rather, it's closer to Audiosurf but with an emphasis on speed, tricks and multipliers.
Taking place in a Tron-like world, players can only move their craft either left or right as they navigate through an extremely narrow path. With no brake or accelerating functions, player input is limited though to the developer's credit, what little control we have is well implemented within Spectra's procedurally generated courses.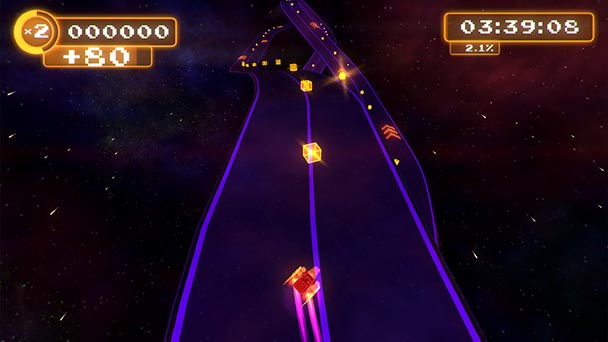 Gamers are given just over three and a half minutes for each race with the main task being surviving for three and half minutes while collecting as many points as possible. The latter is done collecting yellow blocks, performing tricks like grinding against an obstacle without crashing, and acquiring score multipliers by speeding over certain arrows on the ground. In this regard, Spectra proves an initially addicting experience. Acquiring and maintaining high multipliers is a stressful task, points gathered are not automatically lumped in with your score meaning any crash against an obstacle will cost you points and multipliers. It's not uncommon to rack-up an impressive record only to see it dissipate in a mere instant.
Though tracks are procedurally generated, they are not completely randomized. Each course consists of several pre-made sections but whose order may vary. As a result, races soon become familiar as locations start repeating between playthroughs. Sadly, this stirs Spectra's greatest fault: repetition. Being given a mere three minutes of racing time and still often finding repeated sections does not bode well for the touted procedural generation.
Worse still, Spectra isn't afraid of obstructing the player's field view only to then issue an obstacle, giving you an unforgiving reaction window. This is further hampered by the odd physics. Most times, colliding with an obstacle provided only a minor setback, reducing my speed and a slight direction change. Other times it would wildly throw the craft off-course and onto its doom. There seems to be little consistency as to how your ship will react, speed and direction don't seem to be the main factor, so it's uncertain if this is a bug or an intentional design decision.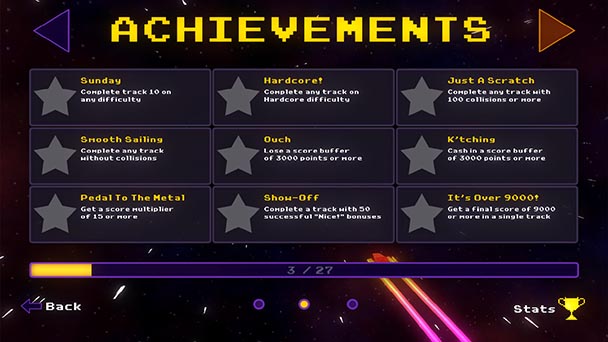 Its visuals feature an appealing Tron-like setting via use of transparent polygon/vector-like graphics. These are coupled with impressive lighting and basic but effective particle physics. Sadly, with no variation on the visuals, backgrounds and color schemes these become as repetitive as Spectra's gameplay.
If there is one aspect where Spectra fully delivers is its soundtrack, offering a total of ten songs by chiptune artist, Chipzel better known for his work on Super Hexagon. Taking familiar sounds from classic 8-bit computers like the Commodore 64, Zx spectrum and even Nintendo/Sega consoles, the music fits the unusual visuals and heightens the experience. Initially, only one track is made available with the rest being easily unlocked through gameplay.
Spectra held great potential but the end result is too simple for its own good. The gameplay is intriguing but it never evolves and is plagued be repetition as are its visuals. One could make an argument its main draw is in the scoring system and attempting to beat it, but with no online leaderboards this too fails to meet expectations. At least it offers a stunning soundtrack.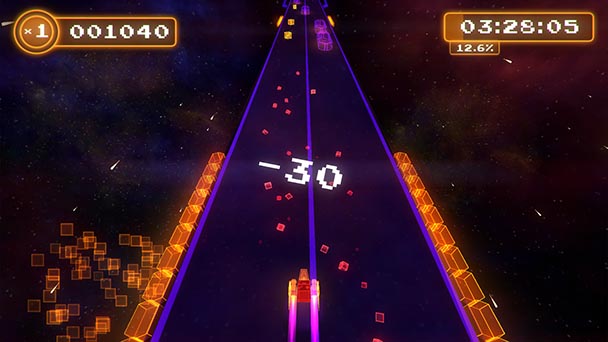 Spectra was played on the PC with review code provided by the publisher.
Spectra
Platform:
 PC
Developer:
Gateway Interactive
Publisher:
 Mastertronic
Release date:
 July 10th, 2015
Price:
 $7.49 regular price, $5.99 until July 17th via
Steam
Review Overview
Summary : Spectra is an initially engaging experience which quickly loses its appeal.