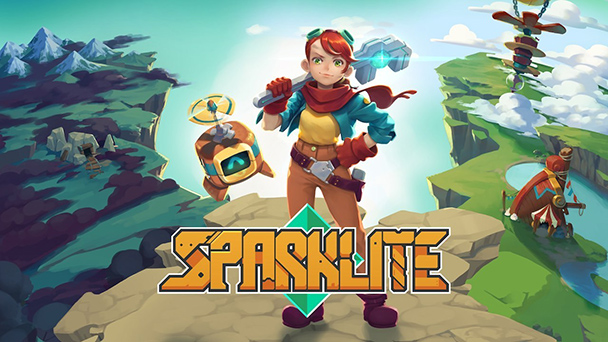 Indie developers have learned that layering roguelike elements into gameplay modeled after the classics can yield remarkable results. 20XX's injection of procedurally generated stages separated the title from a crowd of more straightforward Mega Man clones, while Sky Rogue's fights against randomized opponents meant dogfights were endowed with unpredictability.
Elsewhere, the inclusion of permadeath in Enter the Gungeon, Nuclear Throne, and The Binding of Isaac amplified the level of tension over most twin-stick shooters. Across these three roguelikes, mistakes often felt downright disciplinary, with carelessness requiring players to restart their trek from the beginning.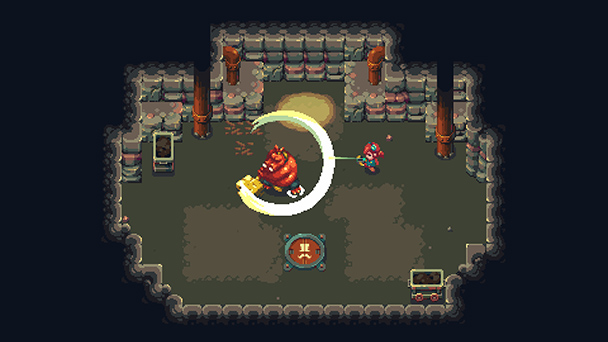 Could the template work when applied to The Legend of Zelda-like play? The release of Red Blue Game's Sparklite for the PlayStation 4, Xbox One, Switch, and PC demonstrates that Shigeru Miyamoto and Takashi Tezuka's masterpiece certainty serves as a sturdy foundation.
Over thirty-years on, discovering the different functions of a new tool still feels invigorating, as does the ability to venture out a bit further every time you augment your health gauge. Occasionally, Sparklite suffers when it can't capture the steady drip-feed of discovery, revealing the difficulty of rogue-liking Link. However, if you're able to overlook the doldrums that can sporadically emerge, Sparklite reveals flashes of fulfilment.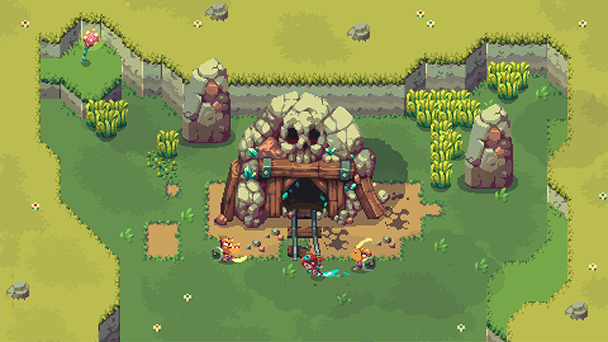 Unlike The Legend of Zelda's permanent overworld, Sparklite's randomized landscape receives justification through the game's succinct storyline. Excessive mining of the eponymous resource by The Barron has left the land of Geodia in a precarious state. Because of this, the terrain is acting defensively, shifting fragments of the landscape around, to keep the nefarious material marauder confounded. But if the Baron succeeds in gathering a collection of five stones, Geodia will be susceptible.
Pleasingly, there are minute details that help substantiate the set-up. Slice through a small bush like Link and it will miraculously regrow in a few seconds. Elsewhere, oversized pods filled with supplies dangle from the tops of tall plants which regrow when Geodia gets jumbled. The land's multitude of adversarial creatures will eventually respawn. There are signs of danger like lakes of orange sludge spilled across area, but Geodia's response is unmistakable.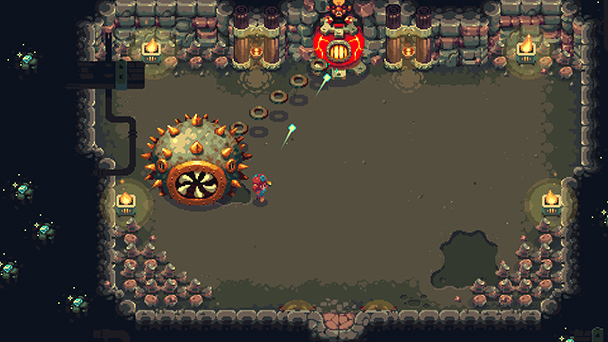 Further resistance emerges in the form of a plucky protagonist named Ada. After her airship is attacked by creatures, it begins falling downward, resulting in a crash landing on Geodia. Smartly, Sparklite doesn't spend too much time on exposition, letting Ada's actions define her character. While she'll meet a number of NPCs in need of assistance, they don't contribute much dialog either. Typically, the bulk of the game's storyline emerges after boss battles.
Like Link's trusty sword, Ada is armed with a useful multi-tool, that can swing at enemies or be charged, providing a hammer that can break stone obstructions. Combat across the overworld require players to study enemy behavior. You'll learn the proper position to attack small creatures that pop up like gophers and dash to avoid the furious rush from other foes. Naturally, when Sparklite fills the screen with a diverse selection of opponents, prioritizing and positioning can be fun.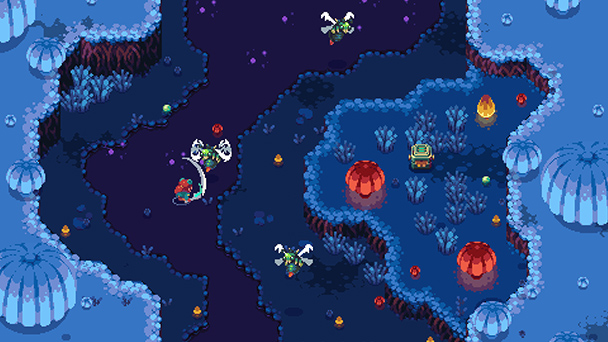 The reward for your troubles is a steady supply of sparklites, which serve as the game's currency. Back at your shattered home base, you can use them to purchase health upgrades, beacons that reveal positions of key elements on an overworld map, offensive and defensive buffs, and energy items that fuel the use of your sub-weapons. These arrive in the form of patches which must be positioned Diablo-style on an inventory grid. Randomly, you'll pickup widgets which can do things like restore health or create explosions.  But lose all of your health, and Ada will be returns to the crash site, stripped of any of these items.
While it's often pleasing when games use interesting systems for managing your possessions, Sparklite has a few issues to iron out. Occasionally, placing a patch had no effect which was disappointing after spending twenty minutes grinding for a new item. Another issue is the game's loot system. You can get caught up in Sparklite's late-game hours having to grind for a certain patch because of the game's randomized allotment system and exponential pricing.  On the upside, the ability to fuse lower-level patches into a more powerful one and even upgrade your patch board can restore a bit of lost motivation across Sparklite's five-world trek.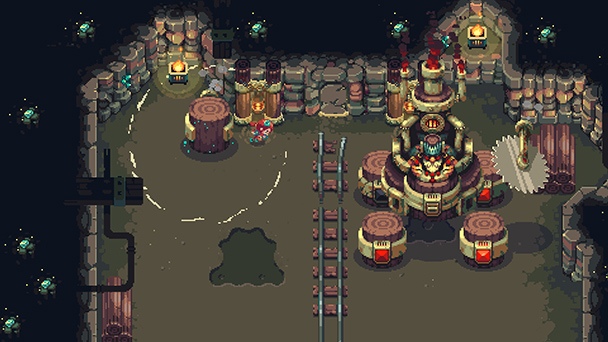 Drawing inspiration from Zelda, Sparklite offers dungeon to explore. These locales are where you'll uncover the game's five sub-weapons and face obligatory boss battles. But sadly, these undertakings lack the depth and enjoyability found in Hyrule's lairs. For one, the leadup to the showdown is often disheartening short, offering only a scant build-up of tension. The game's gadget dungeons are just as brief, with just a few rooms that will test your aptitude with each new item. Additionally, some of the actual sub-weapons just aren't that useful. While a tiny blimp with an explosive payload is fun to steer around like a remote-control car, its use is perilous since Ada is vulnerable when piloting it.
A respectable roguelike sidesteps stagnation by offering just enough empowerment to inspire players into chasing after the next mini-goal. This sentiment certainly happens during Sparklite's trek, as you'll undoubtedly be enfeebled by bosses or even the assemblage of adversaries that skulk each screen. But there are also times when the game's sense of progress is slowed, potentially agitating impatient players. Red Blue Games has the fundamentals down but needs to tweak a few elements so Sparklite can make good on its ambitions. If the concept of an optionally co-operative Zelda-ish roguelike sounds appealing, wait to see if the developer can iron out the launch kinks.
Sparklite was played on PC with review code provided by the publisher. 
Review Overview
Summary : Building on The Legend of Zelda's time-tested formula is a precarious undertaking that few have been successful at. Sparklite's inclusion of roguelike traits is quite clever, but a few balancing issues blemish the experience.