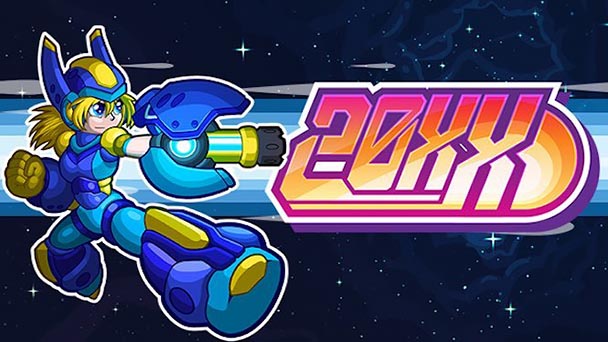 Compilations that bundle Mega Man's previously-released titles are plentiful. But in the past decade, the Blue Bomber's appearances have grown distressingly infrequent, with an eight-year gap between 2010's Mega Man 10 and this October's upcoming release. During this hiatus, several developers have tried to mimic Capcom's signature gameplay, with efforts ranging from respectable (Shovel Knight, Azure Striker Gunvolt) to reprehensible (Mighty No. 9).
Narrowly proceeding the release of Mega Man Legacy Collection 1 + 2 by a few days, 20XX merges the movement mechanics of Mega Man with rogue-like elements. It's an indisputably ambitious fusion of concepts and even after nearly four years in Steam's Early Access program doesn't quite feel fully realized. But that's not to say 20XX isn't entertaining. Those looking for a challenging run-and-gun platformer might find gratification between the odd fits of frustration.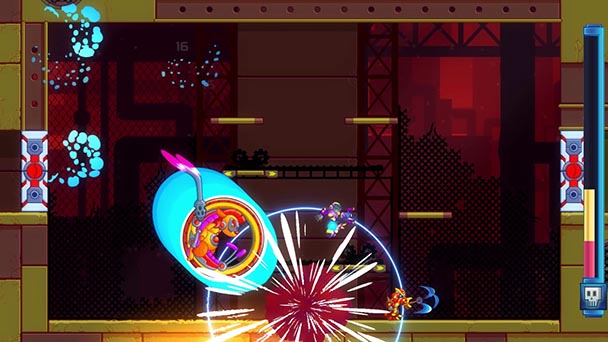 Ingenuity in 20XX is perceptible as soon as players begin the game. Replacing the traditional drab menu systems, you'll find yourself in a chamber which resembles one of the game's environments. Here, you can scamper around, play through the guided tutorial, check the leaderboards or switch between two protagonists, Nina or Ace. The former carries a chargeable blaster gun reminiscent of classic Mega Man games, while the latter shares similarities with Zero, wielding a Z-Saber-like blade.
Moving around the room, there are options to trade collectables for items that will spawn during play, add permanent upgrades to each character, or take items into your next run. At the top of the room are six different challenge modes, which range from daily, and weekly trials, to one where you can enter a seed value for the random number generator. In all, there are a plethora of options in 20XX, and the decision to permit your character to leap around and adjust variables proves to be an efficient and entertaining choice.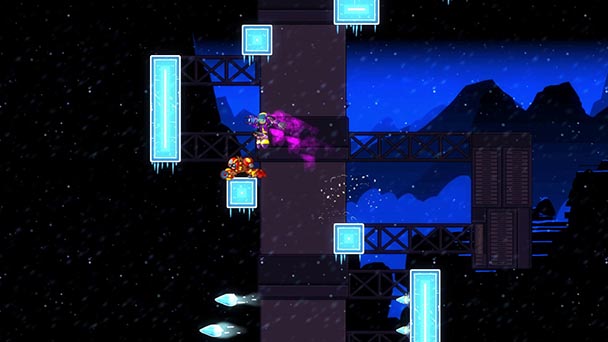 Following selecting from three different difficulties and a waiting protracted load time, 20XX lets players loose in the game's introductory zone, which leads up to the first, randomized boss. It's here that you'll get a taste of the game's ability to construct levels, with the stages built around familiar themes, from a sky zone with plenty of mechanical platforms to a flame lab with puddles of lava around the floor. Controlling either Nina and Ace feels intuitive with both characters leaping, boost jumping, and wall climbing with the same type of pixel-perfect precision exhibited by Capcom's famous franchise.
But don't expect your initial run-up to the first faceoff to be consistently easy. Sure, sometimes the excursion was easy-going with a few enemies and obstacles between the starting point and showdown. But most of the time, the short ramble was intensely demanding, requiring precisely timed jumps between moving walls with protruding flames. That variability can be a turn off, sporadically resulting in death that comes so quickly, it's completely demoralizing.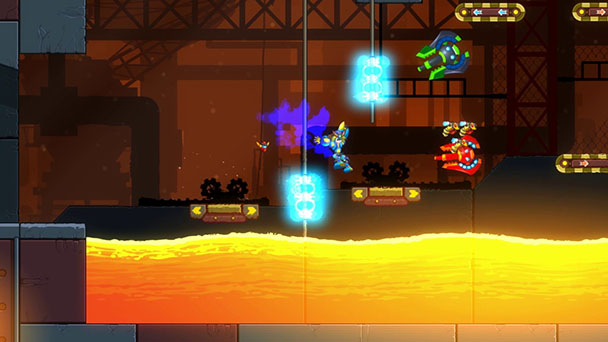 But occasionally, the random number generator will feign sympathy, making a succession of three or four boss kills fairly easy. But know that 20XX ratchets up the level of challenge to intimidating levels, steadily increasing the power of enemies, expanding the number of traps, and throwing obstacles they will likely cause an outpour of expletives. The silver lining is that almost every run rewards players with Soul Chips that can be used to purchase upgrades (if you don't spend them you lose them!).
Good runs also feel gratifying, with the occasional bit of loot dropped by enemies or found in boxes temporarily augmenting your ability set. While there is the obligatory filler, there are also some items that can truly assist your character, like boots which allow hovering when the jump button in double tapped. Unsurprisingly, defeating bosses rewards players with a their signature weapon, an imposing instrument only limited by your energy supply.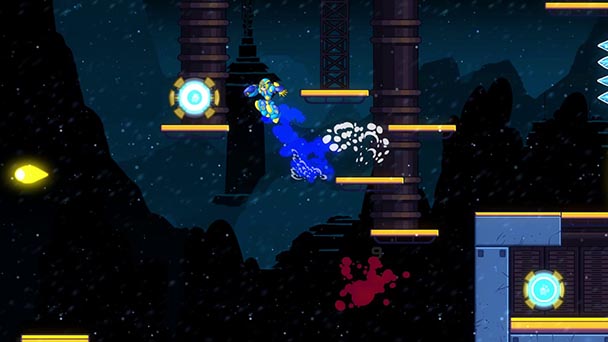 Although the comparison between Mega Man and 20XX is inevitable, the progress is fundamentally divergent. With Capcom's classic franchise, you must memorize each stage, knowing the location and method to deal with every pre-arranged impediment. 20XX, on the other hand, forces players to learn to be improvisational- to learn techniques that will help them persevere. For some that's going to be a contentious change. With Mega Man you would improve by observing, experimenting, and eventually overcoming. And while there's technique to be learned in 20XX, trial and error is no longer the dominant strategy.
But if you're able to approach the title like a rogue-like, foregoing the traditional trek toward the final boss, the experience can be satisfying- especially in short bursts. Like most rogue-likes, fulfilment will be rooted in the slow and steady improvements to your character, leading up to that one unhindered journey through a procession of swelling opposition.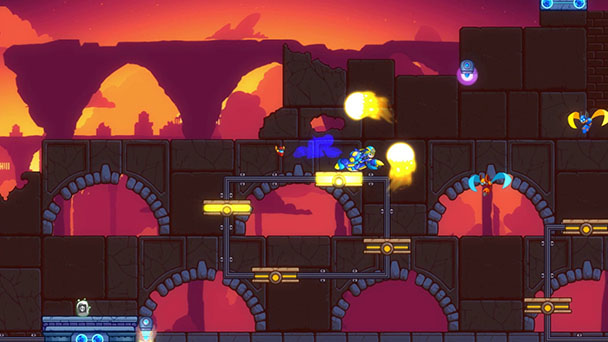 With the Mega Man Legacy Collections releasing this week and Mega Man 11 arriving in October, Capcom's trifecta might make you overlook 20XX. But if you are up for a consummate, long-term challenge considering giving the title a try. While it might look and feel like the Blue Bomber, 20XX follow its own randomized route.
20xx was played on the Switch with review code provided by the publisher. 
Review Overview
Summary : 20XX melds the mechanics of Mega Man and Mega Man Zero with rogue-like procedural levels. In execution, the fusion is surprisingly functional, although challenge hovers near the sadistic.