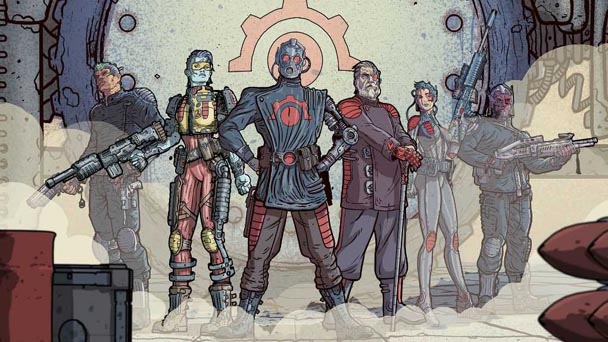 Oh, dystopia what has become of thee? Once you were a misanthropic metaphor for humanity, a place teeming with unremitting savagery, offering only the faintest glint of hope. But gaming has transformed dystopia into a succession of post-apocalyptic playgrounds that do little more than facilitate power fantasy. All too often, the persistent specter of menace, austerity, and brutality is devoid from contemporary gaming's construction of the wild wasteland.
But not in Skyshine's Bedlam, the PC title formed by a trio of industry veterans and a successful crowdsourcing venture. Here, player take a turn-based, post-Armageddon trek through a merciless desert, on a pilgrimage that recalls Max Rockatansky's undertakings. Once players select from one of the game's four factions (only humans are unlocked at first), they are given the group's peculiar armored dozer to begin their journey. Leaving the expiring resources and tyrannical rule of King Viscera, players assume the role of the Mechanic who's tasked with leading a combatant, civilians, and supplies into a Southern Shangri-La named Aztec City.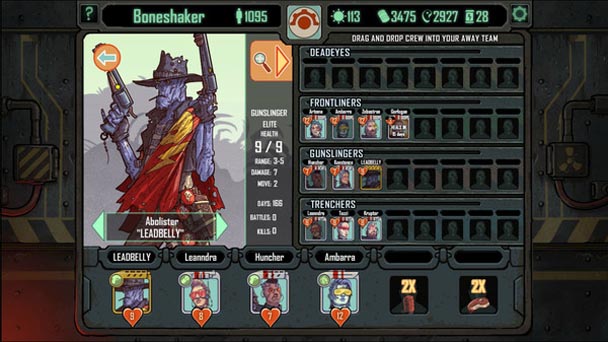 Initially, the trudge might seem feasible, with fuel tanks and food stocks filled to capacity. But as players select way-points from Bedlam's in-game map, things begin to fall apart, providing futility with a starring role. Resistance first appears as The Oregon Trail-style scenarios deliver both fixed and decision-driven events. But with little foreshadowing of their outcomes, players can attempt to refill their persistently dwindling petrol, protein, and power supplies- but all too often you'll experience a setback that can slippery slope right into cannibalism or even converting cadavers into low-grade gasoline.
Then there's combat that's so brutal, it can make a warlord weep. Steady skirmishes compel your soldiers to take down a groups on opponents via randomized match-ups. Before taking the battlefield, players select from three to six fighters, with all empty troop positions bestowing bonuses once the conflict is finished. Units are culled from four different classes, from susceptible, slow-moving Deadeyes that as the game's snipers, can inflict vast amount of damage, to speedy Frontliners, who lack range but compensate with an advantageous HP pool and quick movement. Alternatively, Gunslingers offer middle ground, able to swiftly relocate and dual-wield a pair of pistols, while Trenchers can use their shotguns to knock back encroaching enemies.  Pleasingly, Bedlam shirks the typical turn-order of most role-playing games, with each opportunity providing two chances for any unit to move or attack.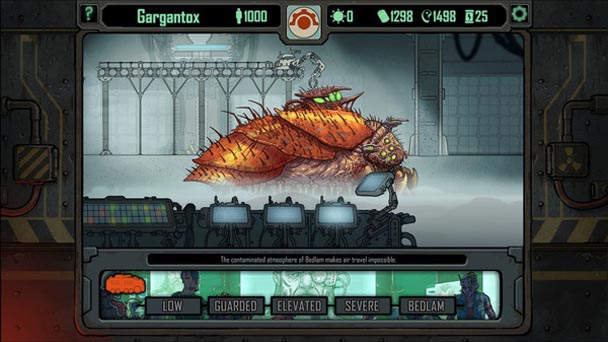 While it sounds like Skyshine's Bedlam gives you a toolset capable of dominating the combat area, catastrophe awaits at every turn. But tragedy will transpire for different reasons. At first, players might be over-confident in their tactical role-playing skills. Watching the optional tutorial video makes fights seems simple. However, in execution, there's a lot of unexplained nuances with firing lines, cover, as well as movement and attacking ranges complicating combat. What's more, it's all too easy to focus on attacking opponents, thus leaving the rest of your crew vulnerable. In essence, Bedlam's combat is an elaborate chess-game, with a single faulty decision resulting in the permanent death of several teammates. However, if you're lucky enough to survive, the game offers a few amenities, powering up your soldiers or even the recruitment of a defeated mini-boss.
Like chess, waiting for your challenger to establish a stance can prove disastrous. Gradually, a blitz meter builds and when it fills, enemy receive an additional turn- a change that alter the tide of war. That's in addition to faction-specific skills, with mutants recovering health or Rogue AI that can teleport around the map, one-shotting a veteran Deadeye and making even the most serene gamer rage quit amidst an explosion of expletives.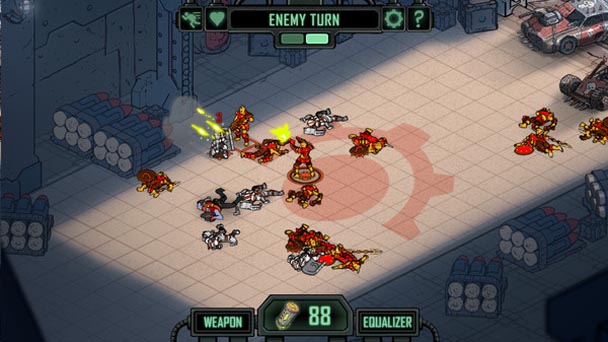 Currently, Skyshine's Bedlam could use a bit of balancing. While melee-oriented units are ideal for picking up the supplies that dot the peripheries of each gridded playfield, they're no match for ranged units. Try to tackle the journey to Aztec City. With a diverse group and you'll get chewed up by the ruthless desert dwellers every time. Your sole saving grace is the dozer, which is cable of special AOE attacks that can weaken foes. Of course, devoting power to these strikes means you'll lose the capacity to slow down the consumption of food and fuel. Unfortunately, that's the limit of the dozer's functionality, with the vessel shirking any mechanic that interprets vehicular combat.
While the sense of opposition can seem relentless, a spec of hope can be found in the title's delivery. Using The Banner Saga's game engine, Bedlam opts for a lighthearted look that conveys the feeling of a table-top game come to life. Using cell-shading to render its cast diminutive character models, the game extends a nice supply of morbidly amusing animations, with enemies vomiting green acid on allies or opponents shooting the skin right off party members. Sonically, Bedlam complements its visuals with a twangy soundtrack that wouldn't sound out of place in a Robert Rodriguez film.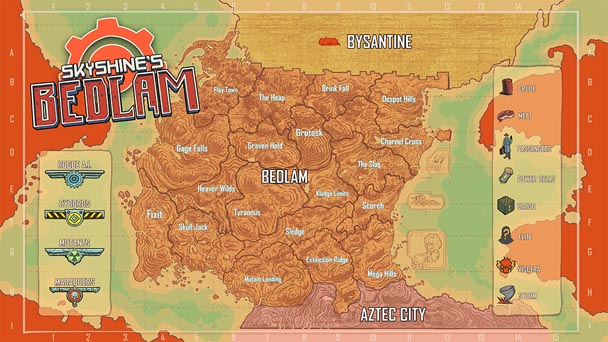 Dozens of games have contextualized Mad Max's ramble through the post-apocalyptic desert. Skyshine Bedlam offers a distinctive interpretation, founded in resource management and unforgiving turn-based battles. That's the upside, the drawback is that Bedlam's journey is darkly nihilistic, filled with random encounters where combatants are fated for fatality. Stick with it, and you'll eventually see Aztec City in a three-hour playthough, but not without losing hundreds of diligent soldiers. Although that didn't quite sit right with me, perhaps you'll enjoy this oft-deadly expedition through a remorseless dystopia.
Skyshine's Bedlam was played on the PC with review code provided by the publisher.
Skyshine's Bedlam
Platform:
 PC
Developer:
Skyshine Games
Publisher:
 Versus Evil
Release date:
 September 16th, 2015
Price:
 $19.99 via
Steam
Review Overview
Summary : Like FTL and Dark Souls, Skyshine's Bedlam will force you to learn through failure, gradually becoming better with each playthrough. Completion is a strenuous challenge, and isn't advised for the easily angered.