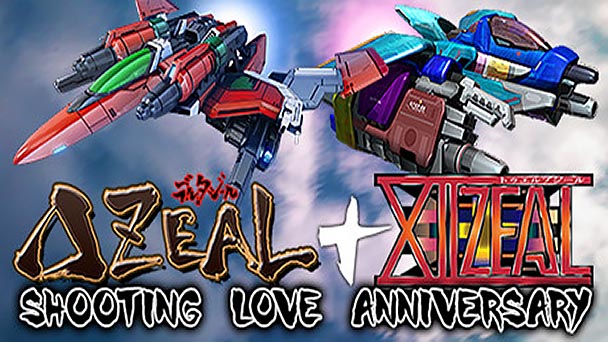 Not long ago, the shmup (alternatively referred to as STG) was a thriving genre, with publishers like Capcom, Konami, and Treasure releasing quintessential titles such as 1943, Gradius, and Radiant Silvergun.  But over time, the bigger companies abandoned the shooter, allowing specialized firms like Cave and Psikyo to produce their own projectile-dodging diversions. Regrettably, these organizations also moved to greener pastures, leaving the shmup's rich legacy in the hands of diminutive design teams.
Mirroring the contraction of the STG industry, Fujino Toshiaki has followed a similar trajectory. Once a programmer at Konami, the developer went independent, forming a largely one-man company that went out to produce two commendable shooters: XII Stag and G-Stream G 2020. Unfortunately, both titles never received a stateside release, condemning the games to pixel purgatory for the last twelve years.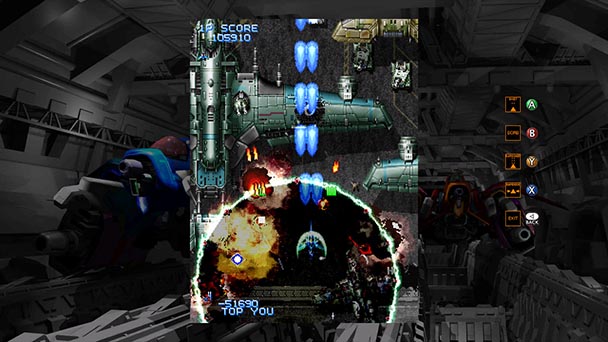 But thanks to the efforts of Degica, the company that brought efforts such as Escatos and Crimzon Clover World Ignition onto Steam, PC owners are now able to enjoy the digital evolutions of these near-overlooked vertical shooters. The release of the Shooting Love Anniversary Edition bundles both XIIZEAL and DELTAZEAL with the original soundtracks, offering an indulging introduction to two of Fujino's best efforts.
As with case of most auteurs, Fujino's design philosophies endow both games with distinction. Unlike the ostentatious weapon systems which create individuality for most shooters, originality simmers just below the surface. Both XIIZEAL and DELTAZEAL are teaming with intricate secrets that are only uncovered through vigilant study and dedicated replay. In the aforementioned title, I was able to rise my multiplayer during a battle with two ships. For my efforts, I was treated to an extra wave on foes as well as a stronger, now crimson-colored stage boss. This modification isn't exceptional, and dedicated players will want to dig in and explore each game's treasure-trove of mysteries during each title's concise half-hour playtime.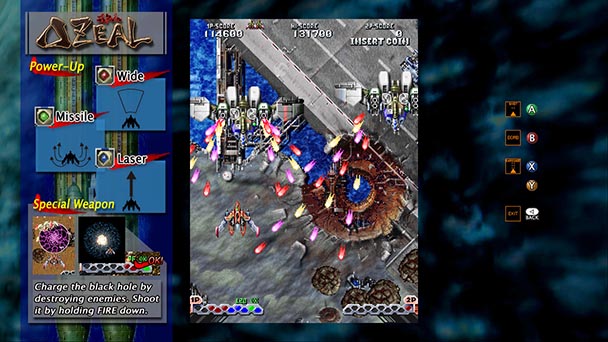 An emphasis on secrets doesn't mean that Triangle System has neglected to add nuance to their offensive arsenals. XIIZEAL's hook is the addition of a side firing weapon, which can be activated manually by moving the control stick back and forth. Like previous import-only console iterations, players can opt to utilize the Rapid Side Attack system, which swaps stick shaking for a button hold, potentially saving the lives of innocent controllers. Beyond a four-step increase to your main weapon that's accomplished by picking up rather obstinate bright blue orbs, XIIZEAL's other noteworthy element is found in its bombing system.
Detonated with a tap of a button, XIIZEAL's ship sends out an on-screen singularity. Players that enter the blast radius are protected, while projectiles or enemies caught in its field are converted to bonuses. As such, the game's bombs can either be used as conversional boss-belittling ordnance, or for score-chasers, a tool to inch up the on-line leaderboards.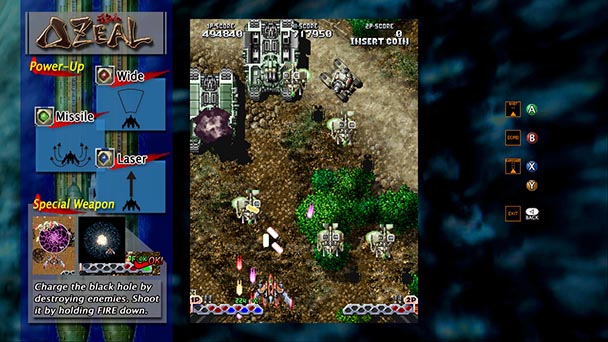 DELTAZEAL solves an age-old STG quandary, which has typically forced players to emphasize on a single type of offensive weaponry. Alternatively, the title allows the free collection of color-cycling power-ups, which are used to augment your ship's spread shot, laser beam, and homing missile systems. With three spots on the power gauge activated with each new life, and a maximum of ten slots, there's a nice opportunity for variety, as well as the prospect for adaptability as new power-ups emerge from defeated enemies. I execution, it endows DELTAZEAL's with a healthy dose of replayability, with players able to try different out different attack strategies.
While both XIIZEAL and DELTAZEAL shirk the showers of projectiles that are common to the bullet hell sub-genre, that doesn't mean either game is a pushover. If anything, difficulty is rooted in both the unpredictability of opponent AI as well as the intermittent speed of enemy bullets. In each game's favor is a small hit-bot for players as well as an unusually central one for many of the game's larger foes.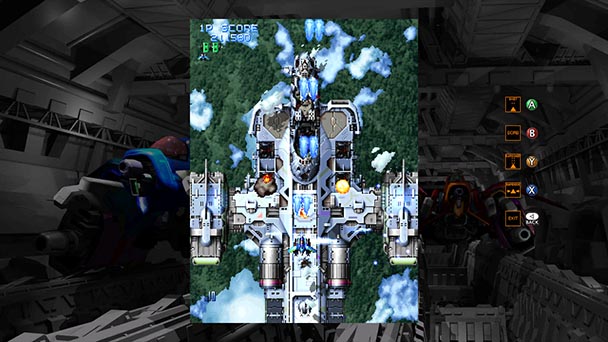 Fortunately, both games allow players to select from multiple difficulties levels and choose from a variety of other actions. While resolution is scalable, moving up to higher fidelities won't completely remove the pixilation that's present. To eliminate the borders that appear on widescreen displays, gamers can choose to play both games in tate mode, which automatically fills the screen. Pleasingly, both games don't require processing power to run, with XIIZEAL and DELTAZEAL operating at sixty frames per second on a modest AMD-driven laptop.
Genre enthusiasts are bound to welcome the Shooting Love Anniversary Edition, which gives stateside players a change to challenge two semi-obscure, but enjoyable STGs. What's best about both games is that the balance intricacy with accessibility, thereby extending an attractive value proposition. With any luck, the collection will sell well enough to coax Fujino-san to bless us with a game, allowing the shmup to expire with a bang, instead of a whimper.
Shooting Love Anniversary Edition XIIZEAL & DELTAZEAL was played on the PC with review code provided by the publisher.
Shooting Love Anniversary Edition XIIZEAL & DELTAZEAL
Platform:
PC
Developer:
 Triangle System
Publisher:
Degica
Release date:
 October 16th, 2015
Price:
 $15.99 via
Steam
, or XIIZEAL ($11.99), DELTAZEAL ($9.59)
Review Overview
Summary : For most stateside STGs fans, the Shooting Love Anniversary Edition is like stepping into a time machine and discovering two, unreleased Dreamcast-era shooters. While that journey may not be the fantasy of mainstream gamers, a select few with find the expedition nothing short of euphoric.