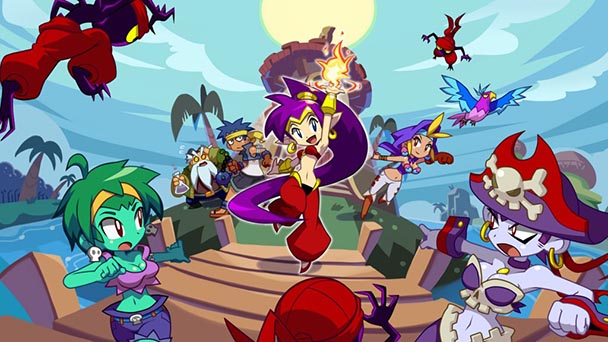 When it comes to gaming, crowdfunded efforts have a decidedly mixed record. For every success, there also seems to be an equal number of letdowns, with titles like Unsung Story, Project Phoenix, Mighty No. 9, and Red Ash either trapped in development hell or disappointing supporters at launch. Fortunately, the 2016 release of Shantae: Half-Genie Hero challenged this trend- with the $400,000 raised through campaigning enabling WayForward Technologies to craft a prodigious platformer. Apparently, fans seemed certain that the developers would deliver a worthwhile product, and even donated another half-million dollars to ensure the game's stretch goals were met.
With the release of the Ultimate Edition, Half-Genie Hero has finally reached fruition, with WayForward bundling the base game with all of the downloadable content that was subsidized by the post-Kickstarter efforts. The result is an impressive game amplified with some nice auxiliaries. As with most of these all-inclusive packages, it's certainly a remarkable value if you never played the original game. But if you did, you've probably already experienced many of the the best parts of what Half-Genie Hero has to offer.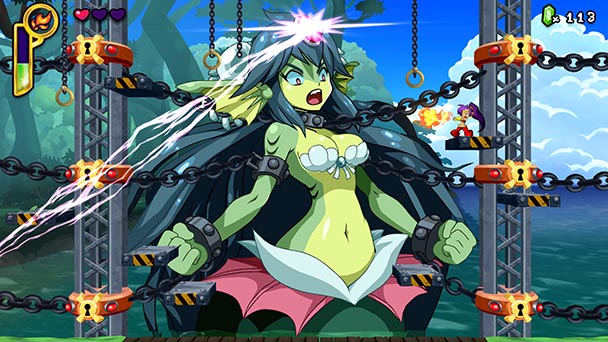 The bulk of the supplementals can be found in the Ultimate Edition's two expansions, entitled Pirate Queen's Quest and Friends to the End, respectively. The former makes reoccurring scoundrel Risky Boots a playable character, with the villain tasked with amassing five collectables across an equal number of stages. And while the premise purports to show the events of Half-Genie Hero from the "Queen of the Seven Seas" perspective, you'll feel like a second-rate scoundrel because you'll battle the same enemies that opposed Shantae.
Regretfully, the asset recycling doesn't stop with the monsters. Although Risky carries a gun that shoots different ammo types, her scimitar is nearly indistinguishable from Shantae's hair whip. Once she collects the five items, she essentially makes her way through the five levels again, this time with abilities that allow her to gather previously unreachable items as well as the crystals needed to open the expansion last stage and boss battle. Expect a sense of deja-vu to accompany the two-and a half hour jaunt. While the ability to select stage order, Mega Man-style, ushers in innovation, Risky really deserves her own custom levels.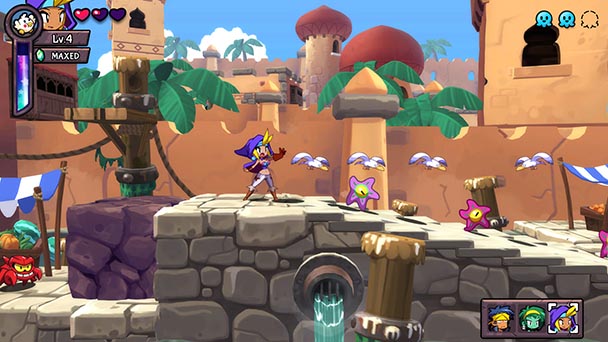 Partially, that's also the case with Friends to the End, which allows players to switch control between Bolo, Rottytops, and Sky. Again, you'll be playing through the same Half-Genie Hero stages, albeit with obstacles that inject a bit of puzzling into the platforming. Here, each of the characters have their own ability; Bolo can attach a grappling hook to suspected hooks, Rottytops can aim and toss her head to get past obstacles, while Sky can summon an avian platform. As such, players will use the triggers to cycle between friends, using their talents to bypass obstacles, echoing games like The Lost Vikings. In execution, it slows the pace of the game down, but it also works because it offers one of the more distinct deviations of the package.
That said, there is variation found in Ultimate Editions Costume Mode, which permit Shantae to adopt the likeness on a ninja, strip down to her bikini, or adopt the environment shifting abilities of Patricia Wagon from Mighty Switch Force. The first gives the Shantae a Ryu Hayabusa-inspired movement set, permitting the protagonist to throw shuriken and cling to walls, although she loses her dancing transformations. Beach Mode quickens the pace of things, with the addition of a mechanic where she's take damage if she's exposed to sun for too long. Finally, Police Mode gives the heroine the ability to phase parts of the environment. Press a button and translucent block phase in and out, potentially making platforms for those with quick reflexes or peril if Shantae is launched into the screen. Like the expansions, they're clever additions, but they are in need of dedicated stages specially designed for each costume.  Rounding out the supplementals are a Hardcore mode, which ramps up the level of challenge significantly, as well as Hero Mode, which gives players all of Shantae's powers from the start of the game.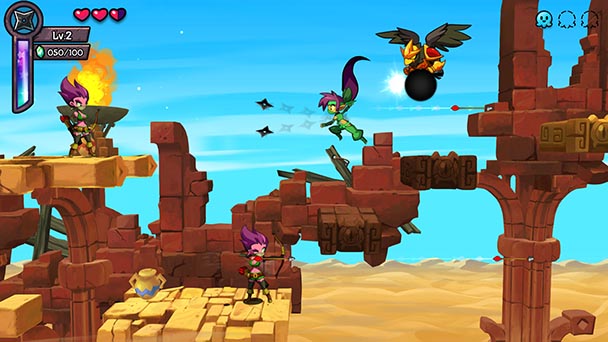 Of course, all of these appendages are icing on an already delectable cake. Although Half-Genie Hero is a bit shorter than Shantae's previous outings, there's still a wealth of enjoyment found across the game's stages. Although the Expansions and supplemental modes found in the Ultimate Edition are worthwhile, each could have elevated by new stages designed around them, instead of doing things visa-versa.
Shantae: Half-Genie Hero Ultimate Edition was played
on PC with review code provided by the publisher. 
Shantae: Half-Genie Hero Ultimate Edition
Platform: PC, PlayStation 4, Switch, Xbox One
Developer: WayForward Technologies
Publisher: WayForward Technologies
Release date: May 8th, 2018
Price: $39.99 via physical and digital download
Review Overview
Summary : Shantae: Half-Genie Hero Ultimate Edition makes an already delightful platforming experience just a bit more tantalizing with a healthy amount of enjoyable, although not essential extras.