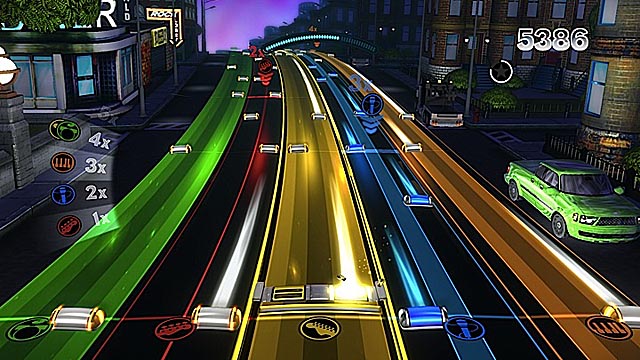 As both time and the death of Guitar Hero have shown, the Rock Band franchise is the king of the music game genre. From fully-functional guitars and basses to a working laser light show and fog machine, people just can't get enough of the rhythm juggernaut. Its music library has seen new content released on a weekly basis for, literally, years straight. Better yet is that the three-thousand-plus downloadable songs released over the Rock Band platform have all been forward-compatible, meaning that songs purchased for use with Rock Band 1 can be played in later installments. This downloadable content strategy is just one of the reasons why Harmonix's latest release is so enjoyable.
Out of the starting gate, Rock Band Blitz supports every piece of Rock Band DLC, including retail disc song exports and Rock Band Network tracks. If its DLC acan be played in Rock Band 3, it can be played in Blitz. Likewise, all of the twenty-five songs that come with Blitz are compatible with Rock Band 3. These aren't throwaway tunes, either. The eclectic setlist includes songs by the Foo Fighters, Maroon 5, P!nk, Elton John, Quiet Riot, Blink-182, Living Colour, and Queen. Regardless of musical tastes, most should be able to find something they like. Considering downloadable songs are usually two dollars a piece, fifteen for the group is a steal.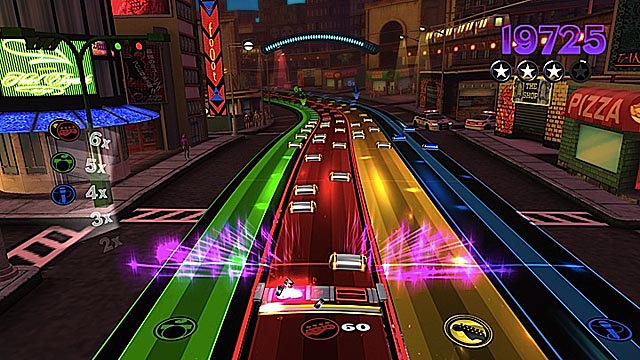 Don't let the 'Rock Band' name fool you, Rock Band Blitz plays nothing like the other home console entries in the series. For starters, it doesn't use any plastic instruments. Instead, Blitz uses the standard system controller for its gameplay. When notes scroll down the Audiosurf-like highway, you must tap the corresponding button. Unlike Frequency, Amplitude, or Rock Band: Unplugged, Blitz only has two note lanes per instrument highway. As someone who was never able to get into a comfortable groove with Unplugged because of its four-button interface, this move toward a simpler format was a welcome change.
Like traditional Rock Band, each instrument has a multiplier tied to it. However, with Blitz, things are a lot more frantic. As the highway moves, a multiplier icon hovers over a note in the distance that you need to catch up to by playing every note between you and it. Miss a note and the icon moves farther away. During any given section of a song, the multiplier can be increased a maximum of three times. Passing through one of the several mid-song checkpoints increases the level cap for all multipliers by as many times as all instruments were leveled. It's a challenging, yet fun, system that makes even the slowest songs intense.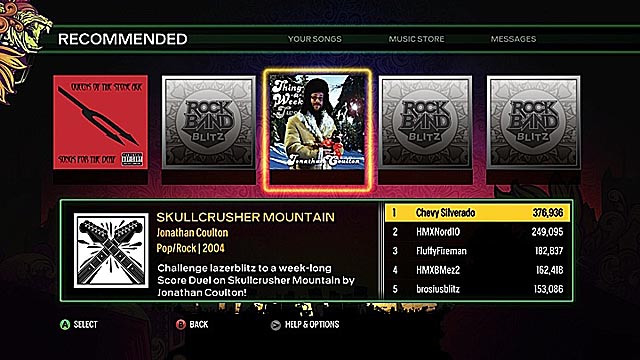 The pursuit of the elusive five gold stars rating has never been crazier thanks to the addition of Power-ups (their capitalization). Before a song loads, you're given the option of selecting Power-ups for three different categories; Overdrive, Note, and Track. These range from having an A.I. "Bandmate" take care of one track for as long as your Overdrive meter allows, to a pinball mini-game where every note the ball hits adds points to your score. There's a healthy bit of strategy required when selecting Power-ups. Choosing ones that will work best with the song you're about to play is an absolute must. For example; a down-tempo song with fewer notes should gel perfectly with the Jackpot, a triple-or-nothing Power-up where hitting every single note for a short period of time yields a sizable score bonus. The wrong Power-up combination can mean the difference between getting five gold stars or four stars.
Every time a song or Score War (a three day high score challenge between online players) is completed, you receive Cred, which unlocks new Power-ups, and Coins, the game's currency. Coins are needed to buy Power-ups for use during a song. This initially caused a problem where players would spend far more Coins on Power-ups than they would earn from the song. Thankfully, Harmonix listened to fan feedback and adjusted the Coin payouts on songs to one-hundred Coins for every star received. They also lowered the cost of Power-ups and increased Score War rewards. By changing these things, the frustration level has decreased significantly. If you're still having wallet troubles, there is another way to score Coins; Facebook. Rock Band World is a companion Facebook application intended to make it easier to brag about high scores, get into Score Wars, collaborate on goals with friends, and earn more Coins for Power-ups. Once a Facebook account is linked with Rock Band Blitz, your Facebook name will appear on leaderboards alongside your gaming handle. The idea of a social media Rock Band app is ingenious, but those who prefer to use services other than Facebook are left out in the cold.
Sadly, an old nemesis of gamers rears its ugly head in Blitz; "always-on" digital rights management. Coins, Cred, all Power-ups, and even your save data are all unavailable when playing the game offline. This is a massive blow to players lacking a constant Internet connection. Without those missing elements, there's little point in playing the game offline. Also worth noting is that if the connection drops out mid-song, all Coins and Cred for that particular run are lost. Harmonix has already had some issues maintaining the Rock Central service that Blitz connects to. While it was down, players were stuck with a hollow shell of a game.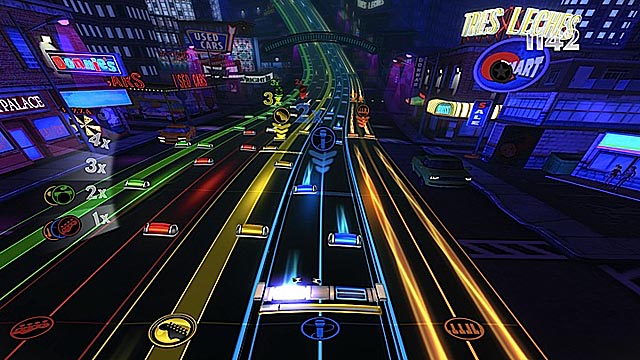 In the end, Rock Band Blitz's shortcomings are outweighed by its addictiveness. Once it "clicks" with you, you'll be hooked for quite some time. I expected to play it for an hour or so before returning to Rock Band 3 to get the true experience. In actuality, Blitz kept me up well into the late night/early morning hours on more than one occasion during launch week. With a couple of insult-lobbing, leaderboard-obsessed friends, the lasting appeal is almost limitless. Harmonix has defied the odds and managed to capture lightning in a bottle yet again.