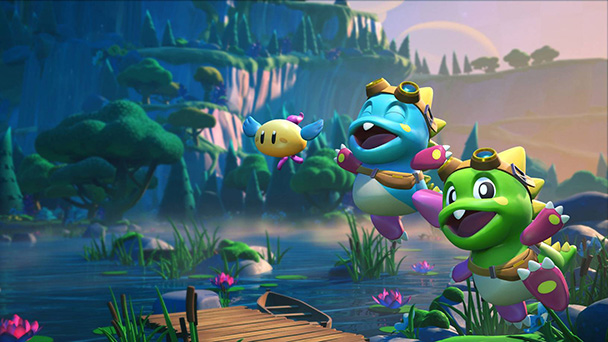 Puzzle Bobble 3D: Vacation Odyssey
Platform:
PlayStation 4/5, previously on Oculus Quest
Developer:
Survios Inc., Taito
Publisher:
Taito
Release date:
October 5th, 2021
PS VR
: Optional
Price:
$19.99 via digital download
Availability:
PlayStation Store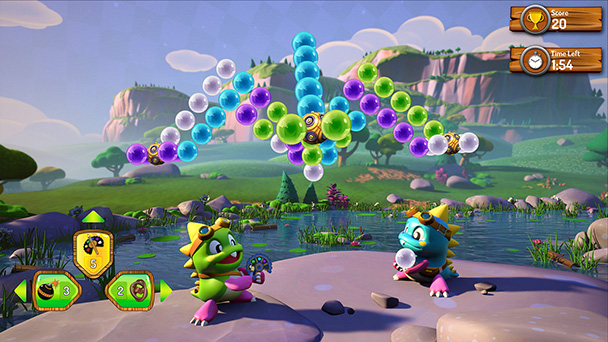 Few game characters are as dependable as Bub and Bob. The twin bubble dragons made an auspicious debut in 1986's Bubble Bobble. Thirty-five years on, the game still captivates, with its taut action-platforming and earworm soundtrack. But the duo's most popular work is undoubtedly Puzzle Bobble (mostly known as Bust-A-Move in the West). Here, Bub and Bob starred in an ingenious mix of match-three puzzle and billiards that spurred more than thirty sequels, ports, and adaptations. Unquestionably, the pair worked doggedly for that cameo in Arkanoid vs. Space Invaders.
With the release of Puzzle Bobble 3D: Vacation Odyssey the dragons finally earn a much-needed reprieve. Set against a collection of tropical backdrops, Vacation Odyssey eschews the traditional two-dimensional gameplay for a mechanic that will force you into thinking in three dimensions. Sadly, it lacks the simplicity and elegance of conventional Puzzle Bobble. After completing Vacation Odyssey's hundred-stage trek, you'll probably have little interest in revisiting this forgettable destination.
3D, or Not 3D, that is the Question
Puzzle Bobble 3D relies on the same basic color-matching hook. When you shoot bubbles, if they come into contact with two or more orbs of the same color, they will all disappear from the playfield. Gradually, you'll chip at the game's bubbles, so you can remove a special core sphere and complete the round. But instead of the flat grapevines-like bubble chains of the past, you're firing at objects that resemble elaborate chemistry models. To complicate things, every time you remove a bubble, the three-dimensional object rotates. Most of the time, you'll have to interact with the bubble cluster from that angle.
Puzzle Bobble 3D: Vacation Odyssey supports PS VR on the PlayStation 4 and 5, permitting players to aim and fire bubbles with Move controllers. On the upside, your get a first-person perspective on the puzzling, with your bubble slingshot loaded by cute dragon paws and a trajectory showing where your spherical projectile will land. But the screen-filling bubble shooter is a bit fiddly. Aim assist snaps your shot into position, but it's quite possible to target and shoot an adjacent bubble when the targeting system becomes jittery.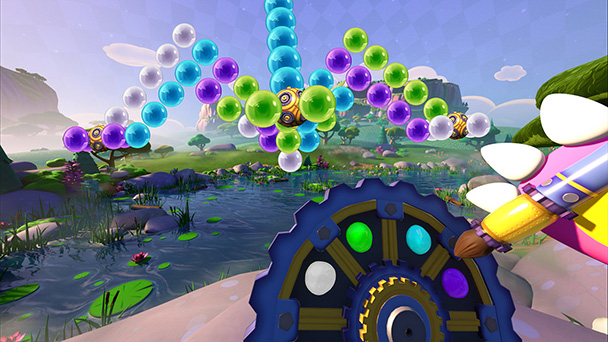 These Bubble Dragons Need to Curb Their Caffeine Intake
Woefully, playing with a conventional controller doesn't help things with the game displaying the same skittish flight path. While some might find the resistance offered by the DualSense controller curious, it felt gimmicky to me. And even with a regular controller, trying to bridge a connection between two color clusters is cumbersome. Vacation Odyssey applied a glow to bubbles that will be affected by your shot but seeing the status of ones that are deeper in the playfield isn't always clear. With regular Puzzle Bobble, a missed shot is entirely your fault. Here, it's often feels like the fault of the game.
Stages add tension by providing players with a specific number of bubbles or time limits. After about a dozen stages or so, you'll probably get your first taste of failure. Fortunately, Vacation Odyssey provides a trio of power-ups that can be purchased with in-game currency. From being able to freely rotate the bubble structure, paint the color of orbs, and launch bombs, each option is assistive. But they are also prohibitively priced, and you'll have to clear a succession of stages just to afford a single one. Alternatively, you can shoot at the birds that fly across some stages.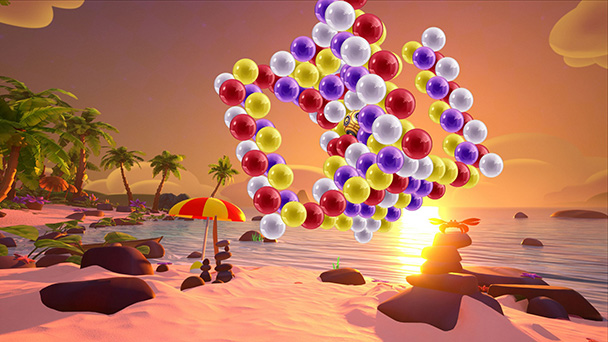 Conclusion
Beyond the main Story Mode, there's an Infinite Mode where you'll target bubbles as long as you can and a Dual Mode that offers some basic PvP competition. But neither of these variants remedy any of the foundational faults with Vacation Odyssey, so amusement will likely be short lived.
Given Bub and Bob's success over the last thirty-five years, its disheartening to witness a lackluster voyage into the third dimension. Playing Vacation Odyssey made me want to revisit some of their more memorable efforts and I had exponentially more enjoyment revisiting their PlayStation-era outings that I did here.
Puzzle Bobble 3D: Vacation Odyssey was played on
PlayStation 4 and 5 with review code provided by the publisher. 
Review Overview
Summary : Fan of Puzzle Bobble? You'd be better off revisiting Bub and Bob's previous jaunts rather than taking this gimmicky trip.