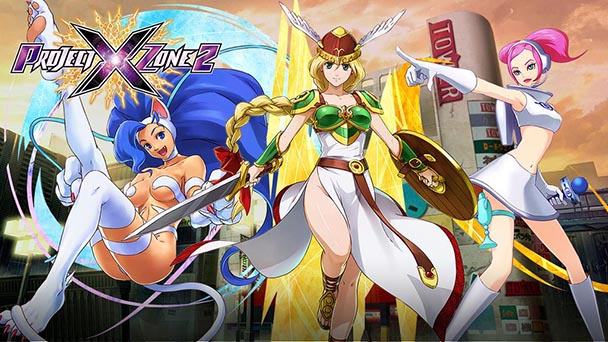 For many, "fan service" is shorthand for titillating elements- whether it's the inclusion of revealing attire or an instance of racy dialog. But it the broadest sense, the term refers to the presence of any audience indulging element. And in this sense, it's a fundamentally positive attribute. As long as fan service isn't so gratuitous that it becomes distracting, it demonstrates an advanced relationship between author and audience. After all, you can't really make fans happy unless you can truly identify the things they appreciate.
With the release of Project X Zone 2 for the Nintendo 3DS, Tokyo-based Monolith Soft (the Xenosaga series, Xenoblade Chronicles X) demonstrates a prodigious understanding of players. Sure, there's a bit of tantalization inherited from the source material, with Darkstalker's resident catgirl Felicia barely maintaining her modesty. Similarly, the dialog delivers the occasional double entendre or bit of conversational puckishness in an effort to keep the storyline from sinking into excessive seriousness. But largely, it's Project X Zone 2's amalgam of characters from twenty-two main franchises as well as its brilliant blend of turn-based and action-driven combat that will insure success with gamers. Especially, ones well acquainted with Capcom, Nintendo, SEGA, and Bandai Namco canon.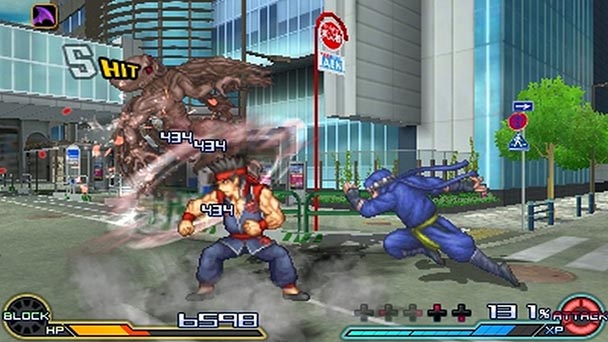 Undoubtedly, creating a narrative to unite the ensemble was a herculean effort; with characters existing across fantasy, futuristic, historical, and virtual contexts. The games's plot revolves around a clandestine organization known as Shinra investigating the enigmatic appearance of gold chains that permit travel across multiple dimensions. Like most high-concept ideas, Project X Zone 2 doesn't dwell on the details behind the giant cables, focusing on the incongruent and amusing interactions made possible by the set-up. Yes, this is a game where Phoenix Wright confrontations an enemy by objecting to its very appearance.
Fortunately, that's just a single insignificant reveal among a storyline that contains hundreds of wise cracks and call backs between the game's Pair Units. Essentially, these are duos either connected by game lore or conceived to highlight differences, echoing the banter of a buddy movie. Naturally, your level of appreciation hinges on knowledge of the source material. While there's gaming luminaries like Street Fighter II's Ryu and Ken, there's also a number of lesser known individuals like Nightshade's Hibana and Sakura Wars' Erica Fontaine. Much like the 2013's Project X Zone, familiarity also factors into long-term involvement. While the hardcore will be glued to their dualscreens for the duration of the epic trek, the less obsessive might find tedium in the title's waning hours. Although the presence of a "Crosspedia" can help fill in knowledge gaps, the resource won't be able to cultivate appeal for the source material.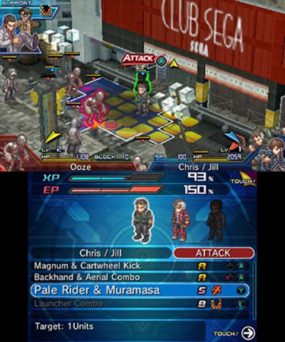 Look past that possible transgression and combat will easily involve players for extended periods. Utilizing basic strategy role-playing tenets, players position their teams across grid-based battlefields with the title clearly articulating movement and attack ranges. While striking an enemy head-on will induce damage, those seeking to maximize effectiveness will want to strike at a foe's side, or better yet, their back. Once an attack command is issued, the game switches to a sideview, mirroring the perspective of a fighting game.
Here, your Pair Units and Solo Units tackle aggressors, strives to chain their attacks to maximize damage, as up to five comrades beat rivals down. Effectiveness is rooted in strike selection and timing, with some assaults trading power to stun or poison enemies. While button mashing might get you through lesser conflicts, well-timed juggling is the key to success, supplying critical hits that really deliver the hurt. Fights are almost always pure visual spectacle with funny sprite animation and damage number flying off opponents, and most amazingly it all happens without a hint of slowdown. Beyond the visual perk, Project X Zone 2 is a consummate performer, flaunting well-detailed character portraits, adorable sprites, and attractive backdrops. Most noteworthy are the 3D effects, which raise menus off of screens, extending a futuristic effect.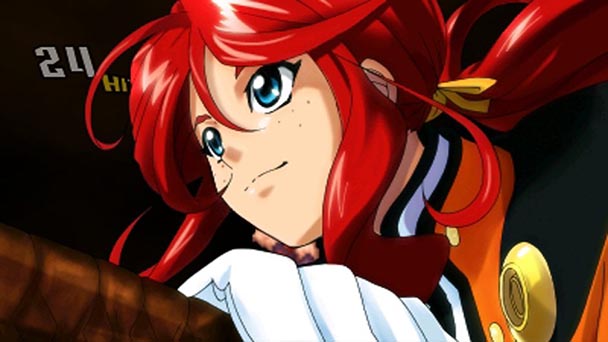 Agreeably, a number of changes have been made from the first Project X Zone. The old order system has been revamped into a straightforward system where players and enemies trade turns. During fights, players can utilize Mirage Cancels, where combatants can regain a portion of their attack gauge while slowing opponents down. The game's best addition is the inclusion of Character Points (or CP) which can be used to augment your attacks or learn new skills. Having more control over character growth proves to be a valuable addition, and you'll likely grow at attachment with combatants that you helped nurture.
For players who know at least half of the game's cast, Project X Zone 2 will be a rousing experience. Not only is it captivating to see the interaction of gaming notables, but the title's combat system in nothing short of enthralling, extending a masterful blend of turn-based strategy and real-time action. Coupled with eye-catching visuals and a captivating soundtrack of remixes, even Phoenix Wright would be hard-pressed to object to anything here.
Project X Zone 2 was played on the the 3DS with review code provided by the publisher.
Project X Zone 2
Platform: 3DS
Developer: Monolith Soft
Publisher: Bandai Namco Entertainment
Release date: February 16, 2016
Price: $39.99 via eShop or retail
Review Overview
Summary : With a dream team of gaming personalities, Project X Zone 2 is a must-play title for anyone with a fundamental knowledge of Japan-born games. If you meet that qualification, expect Monolith Soft's latest to possess a long-term residence in your cartridge slot (or SD card).