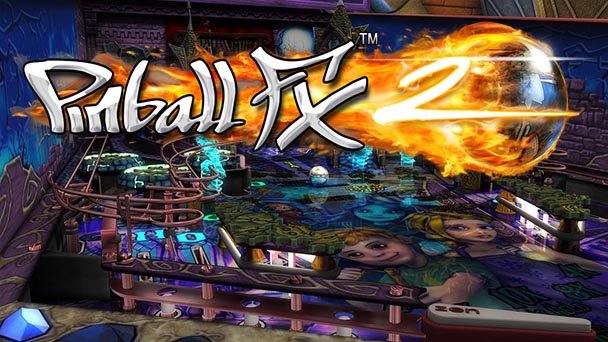 Since Pinball FX 2 first launched in 2010, the franchise has earned a fervent legion of fans thanks to its technical prowess. While eschewing a recreation of real-world machines, the series offered a mounting roster of fantastical tables that offered a stunning simulation of actual pinball. Elevated by a meticulous physics model, an unswervingly supple framerate, deft design decisions, and the inclusion of a number of licensed properties, its little wonder that Pinball FX 2 would achieve critical and commercial acclaim in the ensuing years.
Similarly, Zen Studios has worked diligently to ensure that its audience is appeased. For the releases of the PS Vita and PlayStation 4 versions of Pinball FX 2 the developer shunned short-term gains for long-term respect. Allowing players to import all the tables they purchased on the PS3 iteration to these new platforms kept the series' user base engaged. Of course, it also established precedent for adaptations on other hardware ecosystems.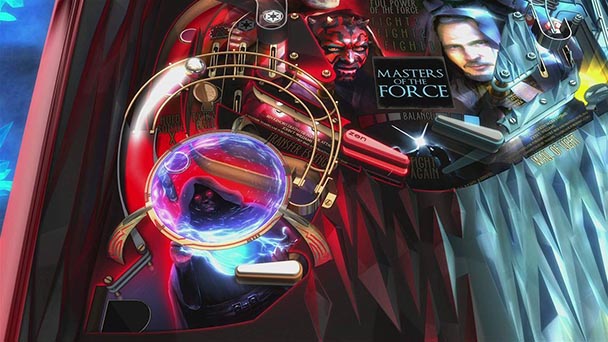 So when Zen announced that the Xbox One version of FX 2 wouldn't have the ability to transfer tables which were purchased on the Xbox 360, a minor mutiny erupted. Claims that Microsoft's infrastructure was unable to support cross-buy promotions did little to quell the situation- especially when it appeared that it was announced that the upcoming Dance Central: Spotlight would perform this commission. Mercifully, Microsoft and Zen Studio labored for platform parity, pushing the title's release back a few weeks. As it stands, legacy content currently can be imported, but newer tables like The Walking Dead are currently in limbo.
The good news is that Pinball FX 2 for the Xbox One plays just as well as the PlayStation 4 version, exhibiting a 1080p, 60 frame-per-second output. In fact, the only quibbles with the title are OS-related issues which Zen likely had little control over.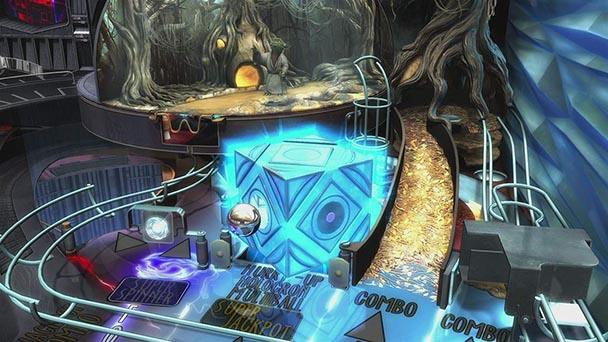 Take Xbox One's notifications, which pop up on-screen when achievements are unlocked, a game has finished installing, a friend has come online, or a Skype call is coming in. Unless players dig into their console's settings and turn these off, each pop-up will obscure the entire area around the drain hole for several seconds, liking leading to a lost ball. Ideally, Microsoft would allow developers to move notifications to other parts of the screen. Pinball FX 2's scant number of achievements are bound to be another sore spot with players. Save for Sorcerer's Lair (the game's free table) ten achievements and Deadpool's two goals, each of the game's remaining tables only offer a single achievement. Currently, the absence of online multiplayer competitions is a bit discouraging, although Zen has hinted that this deficiency would be rectified.
However, look past these problems and this iteration of Pinball FX 2 has some agreeable elements. Most noticeably, the game's menu system has been given a drastic overhaul. Taking a cue from Microsoft's Metro user interface, players using their controller triggers to scroll frames which either group tables into categories (new, Zen Classic, Marvel, and Star Wars) or show leaderboards and superscores.  Now, it's much easier to find a specific table and starting playing, while small icons reveal which machines have yet to be cheevio-ed. It's also gratifying to not have to watch the list of tables populate, moving each selection around.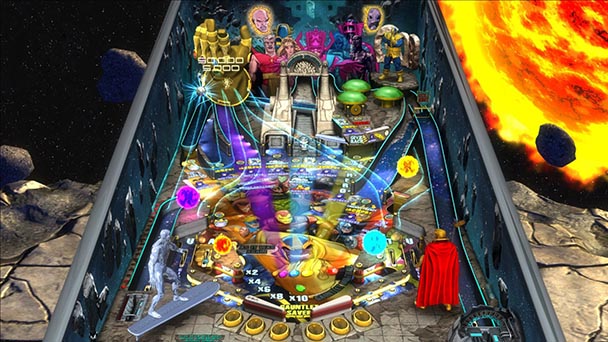 While wholly subjective, I enjoyed the reduced amount of resistance in the Xbox One controller when compared to the DualShock 4. One thing that's missing is a bit of haptic feedback to simulate the spring of a flipper, which was an option in previous FX 2 entries.
Following Zen's guidelines, table importation worked flawlessly, whether players are in the game or inside the Xbox Game Store. In order for digital entitlement to work, players must have previously bought the Xbox 360 table. Unfortunately, entitlement doesn't work in the opposite direction, so players are encourage to purchase content on Microsoft's elder hardware.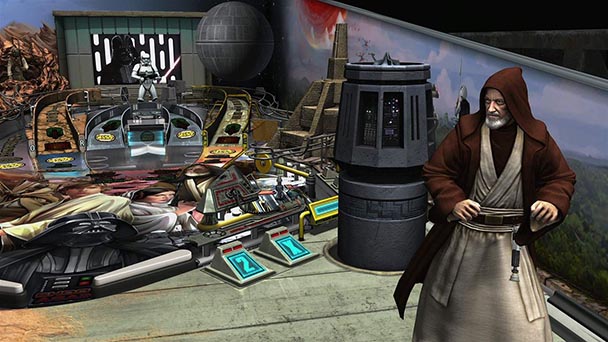 While the Marvel Pinball Pack, Earth Defense, Excalibur, and Street Fighter II machines aren't currently available, the developers assure gamers that they will be arriving soon. Strangely, Ms. Splosion Man isn't making the jump as are Zen's first set of tables, known as the Original Pinball FX Collection. But once, any of the thirty-six currently available tables are loaded, players will be able to easily discern the improvement in the jump across hardware generations. Visual fidelity has increased noticeably, allowing gamers to distinguish all the minute details in Zen's simulated machines. Likewise, responsiveness seems to have been boosted as well, with each trigger pull instantaneously activating a flipper. Largely, ball physics remain flawless, with the game articulating a convincing amount of weight, spin, and velocity.
Zen Studios diligence has led to another superior port of Pinball FX 2, save for a few minor shortcomings. Given the developer's past persistence, there's little reason to believe that issues such continued content sharing across platforms won't be resolved. Considering that the core platform and previously purchased content is free of charge, there's no reason why Xbox One owners shouldn't add the game to their download cue. Newcomers are urged to give the game and free table try, likely they'll discover the motives behind Zen Studio's continued success.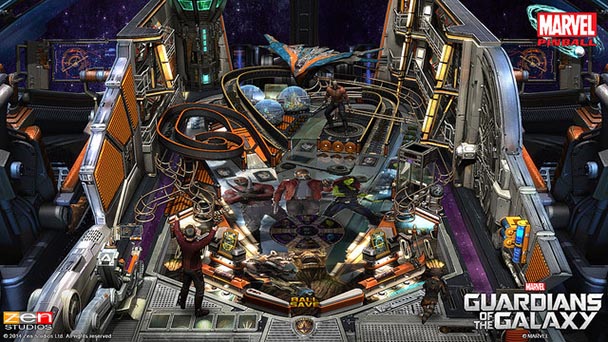 Guardians of the Galaxy and The Walking Dead Tables
Coinciding with both their release on other platforms as well as Pinball FX 2's debut on the Xbox One, the Guardians of the Galaxy and The Walking Dead tables are a double dose of score-chasing enjoyment built around the characters from two popular multi-media franchises. The former commences with the Escape from the Kyln scene from the film, as players start the game with a frantic multi-ball scenario.
The table's main goals involve a few of the Guardians- Star-Lord, Drax and Rocket battling Ronan, which is accomplished by hitting a target to activate the special mode, then sending the ball toward flashing objectives to unleash a series of score-escalating strikes. Gamora's spat with Nebula takes place on a mini-table that's filled with ramps and sinkholes. Those who prefer a table with a bit less clutter should appreciate Guardians design, as activating Wizard mode is a bit easier than most of Zen's machines.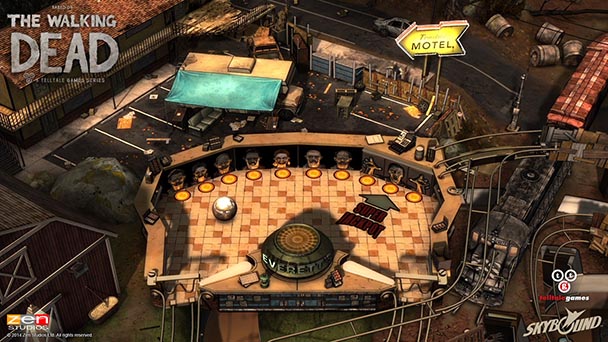 The central play mechanic of The Walking Dead table begins once players knock down a walker that's erupting from the playfield. After sending the reanimated corpse reeling, players then can select from five different missions which recall the type of ethical dilemmas presented by the Telltale series', such as deciding who to assist during a walker ambush. Pleasingly, the motif of survival makes a natural fit for pinball, as players send the steel orb careening toward score targets to simulate activities like gathering food or supplies.
While Zen Studio's previous attempts at inserting voice clips into the action have been a decidedly mixed bag, for The Walking Dead table, the developer obtained Dave Fennoy and Melissa Hutchison to reprise their roles as Lee and Clementine, which assists in capturing the feel of the original game. Similarly, the inclusion of key locations such as Hershel Green's Barn or Clementine's treehouse should delight fans of the show, while the table's deft design is strong enough to recommend the download to pinball fans with only a passing familiarity of the comic series, television show, or adventure game.
Pinball FX 2 was played on the Xbox One with review code provided by the publisher.
Pinball FX 2
Platform:
 Xbox One
Developer:
Zen Studios
Publisher:
Idea Factory
Release date:
 August 28th (US)
Price:
 Base Game and
Sorcerer's Lair
are free to download, Additional tables are priced at $2.99 and under.
Language(s):
 English text and voice
ESRB:
 Everyone
Review Overview
Summary : A few OS-caused minor blemishes mar Pinball FX 2's otherwise pristine port to the Xbox One. Otherwise, the game's recreation of the popular pastime is flawless.