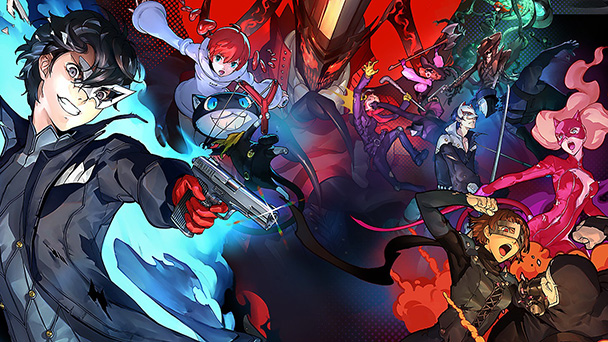 P-Studios could have developed a procession of direct Persona 5 sequels and we'd all be blissfully content. Persona 5 Strikers, take a bit of a chances complementing the conversation with action-based combat. Even doubters might experience an affirmative change of heart.   
Persona 5 Strikers

Platform:
Playstation 4 (reviewed), PC, and Switch
Developer:
P-Studio

Publisher:
Atlus
Release date:
February 23rd, 2020

Price: 
$59.99 via
PlayStation Store
,
Steam
or the
Nintendo eShop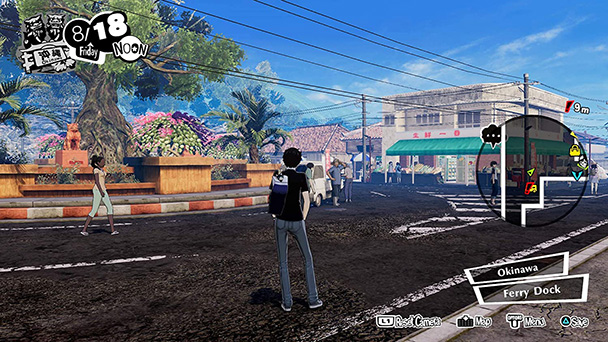 When Persona 5 Strikers was first announced last December, reactions were understandably mixed. While many players were eager to reunite with the Phantom Thieves of Hearts, the integration of combat from Omega Force's Warriors games was more divisive. Some love cleaving through enemy fodder across Dynasty Warriors and Samurai Warriors, as well as offshoots like Arslan: The Warriors of Legend and Berserk and the Band of the Hawk. But others view the Koei Tecmo-published titles as little more than vapid, button mashing marathons that are too reliant on formula. I unabashedly adore musou games, but I also know plenty of folks that have given the genre a go and walked away unconvinced.
As a collaboration between Omega Force and Persona developer P-Studio, Persona 5 Strikers has the potential to turn some of those negative sentiment around, especially for those beguiled by Persona 5's band of vigilante teens. Like the shift from real-time combat to turn-based fisticuffs in Yakuza: Like A Dragon, Strikers conversion was carefully thought out, integrating many of the subtleties that supported P5's 100+ hour trek. Even if you're a staunch JRPG traditionalist, there's enough expositional substance to make Strikers a delight. Sure, some of the social systems and calendar-based motivations are scaled back, but nearly everything else has been cleverly adapted.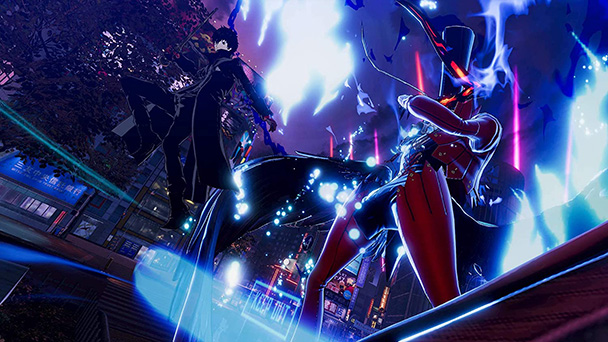 Three Words: Play P5 First
Set four months after the end of P5, Strikers' storyline reunites the Phantom Thieves as they plan their summer vacation. But their leisurely intentions are soon interrupted by a conspiracy where innocents are imprisoned and incapable of seeking out their desires. Although the metaphysical motivation replicates the impetus of P5, its rewards here are twofold. Not only is there a sense of satisfaction divided from helping those in need, but Strikers trek across Japan is the kind of digital tourism that feels quite welcome amidst an era of travel restrictions.
Be aware enjoyment of the storyline is connected with your familiarity with Persona 5. Sure, you'll appreciate the moment-to-moment interactions between characters like strong-willed protagonist (codenamed) Joker, and compassionate best girl, Ann Takamaki. But you'll left wondering why the decidedly feline-looking Morgana insists he's not a cat and can do things like change into a van. Strikers assumes you've witnessed each lead's character's development. As such, you won't find the satisfying arcs of P5, but more of a continuation of established rapport. But that's not to say that everything about Strikers feels original. But fortunately, these moments feel like callbacks to nod at fans, rather than an attempt at recycling material.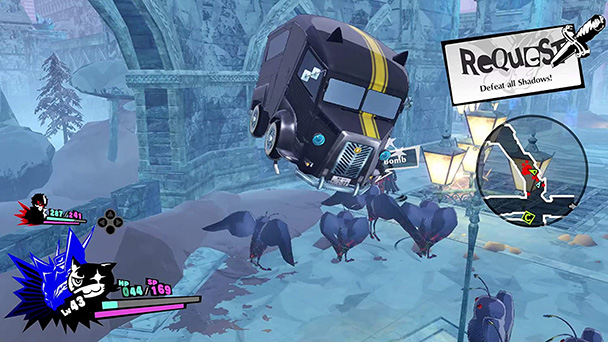 Persona 5 Strikers still tackles a multitude of significant ethical issues and manages to weave everything from the dubious sense of satisfaction from social media, the persistent scrutinization of politicians, to ruminating over criminal justice system. Depending on your read, the game might even have something to say about 'cancel culture' and people like Facebook CEO Mark Zuckerberg and Twitter co-founder Jack Dorsey. But smartly, it's ambitious enough to ensure game won't feel antiquated in a few years.
A Particularly Pugnacious Summer Vacation
Although Strikers combat revisits the chain combos of the Warriors series, the game integrates a number of clever new ideas. Combat is often initiated JRPG-style, with scuffles kicking off when bumping into a wondering foe, rather than the persistent battlefield scampering of the Warriors franchise. You'll create parties comprised on four different characters. While you can shift between the selected characters, the AI takes control of your other teammates. Expectedly, characters have their own styles, combos and finishers. Shadow elemental weaknesses means that you'll probably have a steady rotation of characters. Pleasingly, this helps fighting stay fresh across the thirty-hour jaunt.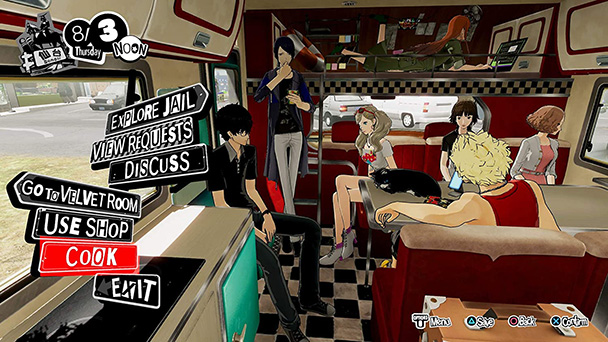 Personas come into play with a hold of shoulder button, temporarily pausing the action. Deciding on the specific summon and type of attack endow should be just strategic enough to satisfying turn-based stalwarts. For me, I found it beneficially broke up the cycle of combo tapping. Additionally, you can jump up to vantage point for a quick respite before bringing down the punishment on a crowd of foes. There's even a bit of stealth in the game, and if you can avoid detection by a Shadow, an All-Out Attack can help secure a victory. And while there's social links, time spent together in battle will build a bond meter, playing out dividends in the output of damage.
Unlike the mainline Omega Force games, enemies show a bit more determination. Even the lowest subordinates will toss out the occasional attack, ruining your rhythm if you're lax. Naturally, boss battles will test of management of meter, preparatory, and item management, the ability to read and exploit weaknesses, as well as your ability to predict when to dodge. Unsurprisingly, they are some of the best moments in the game, ratcheting up the level of intensity, and making sure your skills are sharpened. Rewards are worthwhile too, occasionally offering a mask that can be fused into new personas back at the Velvet Room.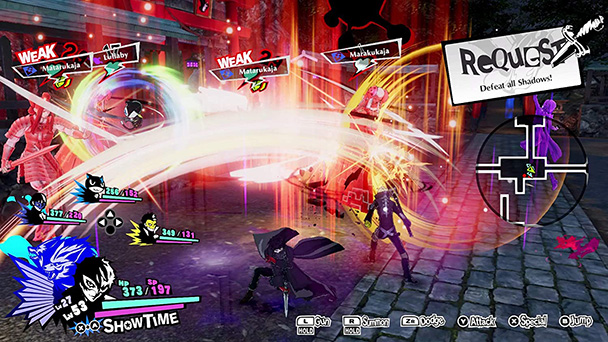 Vibrant Visuals, Jazzy Sounds
Pleasingly, Striker retains P5's style, sound and interface. While you'll begin in Shibuya, you'll eventually visit recreations of Kyoto, Sendai, Sapporo, Okinawa, Fukuoka, Osaka, and even for a summer firework show in Yokohama. Given that you won't have to worry about dwindling days of an in-game calendar, you're able to soak up the ambiance of each destination. Expectedly, character models, personas, and shadows look just as good as they did in Persona 5, extending a delightfully stylized appearance. That's also the case the menuing, which revisits the iconic look of Strikers' predecessor. Although many of Shoji Meguro's spirited compositions return and receive a remix, there's also a wealth of new tracks to complete the energetic combat.
Straddling the space between side-story and sequel, Persona 5 Strikers isn't just musou mixed in with the metaverse. Instead, there's plenty of expositional enjoyment found on the Phantom Thieves' summer outing. While the locations are enchanting and the combat intense, it's the story that truly elevates this outing. P-Studio has plenty of contemporary issues to deliberate on and each one help Strikers hit the mark.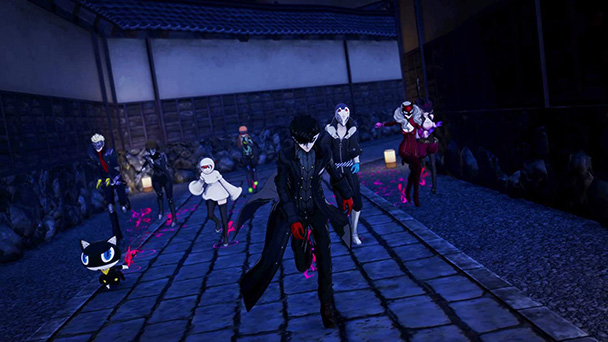 Persona 5 Strikers was played on PS5 with
review code provided by the publisher. 
Review Overview
Summary : As Persona 4 Arena Ultimax demonstrated, P-Studio doesn't mind tossing their characters into real-time fights. Again, decision is advantageous, bringing a dose of freshness to the franchise. But where P4AU didn't give us much narrative, Strikers provides fans with plenty of substance.