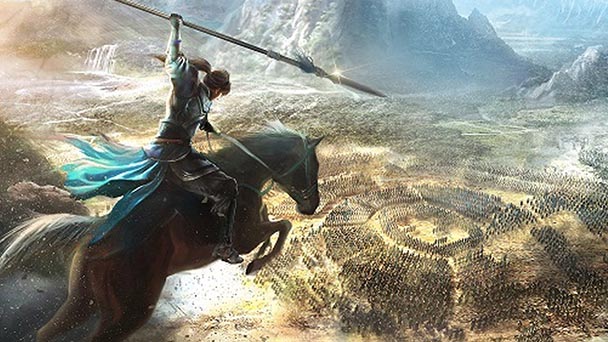 Undoubtedly, Dynasty Warriors it one of gaming's juggernauts, embodied by a prolific collection of games nearly as massive as China's own landmass. From the mainline entries, Xtreme Legends expansions, and the Empire offshoots that merged action with absorbed strategizing, the franchise has sold over eighteen million units. While developer Omega Force has subsequently crafted a number of different properties, none would have the impact of their interactive adaption of Luo Guanzhong's Romance of the Three Kingdoms.
But across each new iteration, there was a growing throng of critics and consumers who dismissed Omega Force's output as overly derivative. Despite several significant changes across each new entry, a raucous constituency asked for wholesale innovation. And with the release of Dynasty Warriors 9, the developers responded, offering one of the most radical changes since series moved from fighting game to a hack-and-slash. While many of the design philosophies in the game are commendable, all too often Dynasty Warriors 9 takes a step backward when it comes to execution. Unlike The Legend of Zelda: Breath of the Wild, which was able to successfully reinvent itself on its first effort, Omega Force's latest effort hints at an ambition that may only be realized in follow-ups.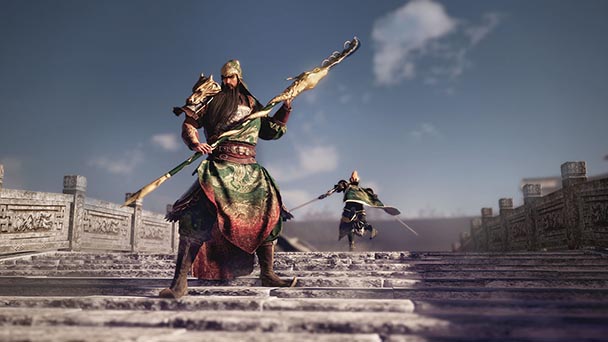 The decision to give Cao Cao and company a sprawling, open-world has both benefits and drawbacks. Previously, most Dynasty Warriors entries had labyrinthine levels, where you'd shuttle through a variety of locales, sporadically butting heads with the invisible walls that enclosed each environment. This time out, the game's thirteen chapters are situated on a sprawling landmass, traverible by food, horse, or even boat.
In previous entries, the winding landscape was busy with rival factions who would dart about busily, sporadically erupting into brawls when they met, like rodents in some type of scientific study. But Warriors 9 endows the game with a contenting sense of physical space, constructing an expressive atmosphere where land isn't just a stage for skirmishes. Now, there's a sense of buildup when you approach a giant fortress built on a hilltop, or a feeling of discovery when you uncover an isolated outpost or village. The game's day/night cycle and multitude of weather conditions add additional variety. While the coding doesn't quite sustain the method, there's a thrill with staging a furtive attack until the cover of a darkened sky.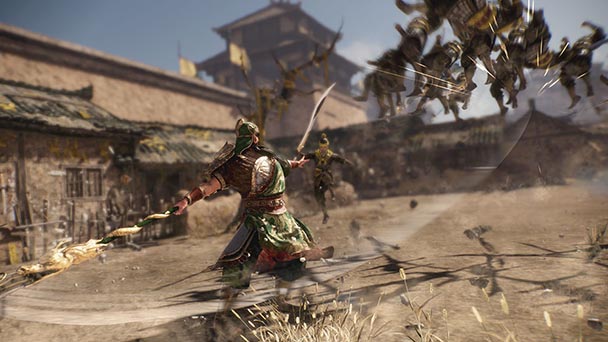 While there are moments of gentle tranquility when you can admire Warriors' reproduction of nature, there are of course instances where you'll want to bypass the scenery. As such, you can fast-travel to friendly and neutral regions when you're not in the mood for exploration or have harvested enough supplies to satisfy the requirements for crafting.
Nicely, Omega Force taps into our primal urge for shelter and sanctuary, permitting players to seize hideouts, outfitting them with furniture. Filling your dwelling with fixtures, isn't just for aesthetics either. Build a desk and you can compose letters to your fellow combatants. Role-play as a warrior-poet and you might even obtain a visit when you'll convene for tea, earning the possibility of a gift or a stat increase for your ally. While Dynasty Warriors 9's focus remains fixated on being able to cleave through crowds of foes, the option for a bit of a domestic-based diplomacy is a virtuous possibility, even if most gamers forgo the option.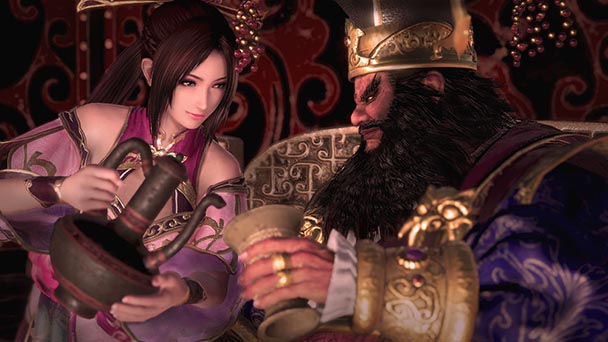 When you do trade blows with opponents, modifications to the combat system will undoubtedly be noticed. Largely, it seems that Omega Force wanted to move away from some of the button-mashing combos that the series is known for. Although the attack buttons on your controller will still get a vigorous workout, it's the right shoulder button that adds the most innovation. Used as a modifier for the face buttons, players can opt to stun, launch, or knock down foes. Whether opponents are downed, in the air, or just on the ground, flow attacks adjust to your enemy's state, permitting a rapid volley of strikes. The game's heavy attack now is situational, giving the ability to counter, backpedal, dash, guard break, and even finish opponents.
Naturally, the move to an open-world forced Dynasty Warriors 9 to adjust its mission structures. Now, players are given autonomy for each of the campaign's thirteen chapters. If you wish to head right toward the stages' conclusive fight, you can do so. But realize, that there will be a significant level gap between you and the final boss, making their defeat almost impossible. Instead, you'll want gradually build your strength, severing critical supply lines for your foe and bolstering both you and your allies strength.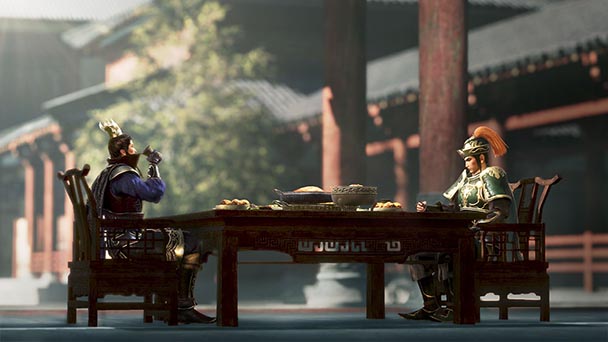 While the flexibility is a welcome addition, effectively allowing players to adjust the difficulty of their endeavors, there are some issues with implementation. Even with a launch patch, enemy AI is woefully feeble, making the old adage, "it's Lu Bu, do not pursue!" almost meaningless. Even with the difficulty on it's highest setting, key showdowns in Dynasty Warriors 9 can lack challenge. As such, the thrill of an underdog victory, a sentiment that worked so well in previous efforts, is largely missing here.
When the announcement of being able to use a grappling hook to slip into fortified strongholds was announced, it seemed as if a bit of Tenchu: The Stealth Assassin might make it was into the Omega Force's franchise. While the prospect is promising, realization is another story. All too often, enemies seem to barely notice an officer with a vibrant costume scaling the side of their stronghold, undermining what could have been an exhilarating longshot maneuver.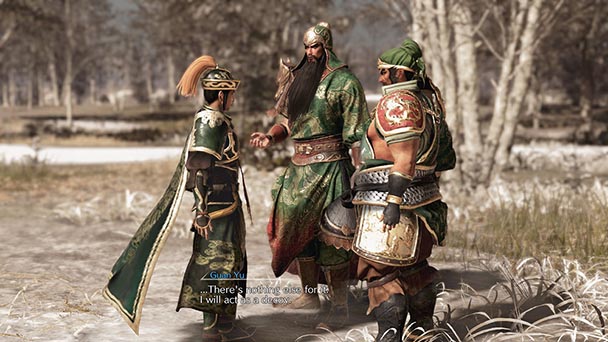 Yet, Dynasty Warriors 9 visuals are probably the element that will alienate most players. Fundamentally, this is one of the most visually inconsistent games on this generation of consoles. There are moments, when you'll perceive Omega Force ambitions. The Great Wall twists with meandering elegance and exudes grandeur. Ride a horse across its span, and you're in for a ten-minute trek.  Occasionally, flora looks majestic, whether it's the care given to the slight bend of a tree or a meadow of brightly colored flowers.
But sadly, that's not the typical experience. On the Xbox One, Warriors 9's textures are often missing or at least so low in resolution, that they appear impressionistic. The framerate is another critical issue. After enjoying a sequence of games that strove for fluidity, seeing this title habitually struggle to meet a thirty-frame-per-second threshold is disappointing. Undoubtedly, its not at the expense of draw-in distance, resolution or an attempt anti-aliasing, because the game exhibits fidelity only in front of players, and even that has a distressingly high amount of jaggies. On the upside, Omega Force is to be commended for finally depicting Dynasty Warrior's cast speaking Mandarin. If you've grown accustomed to the Japanese audio, that also an option- but if you value your sanity, stay far away from the atrocious English dubbing.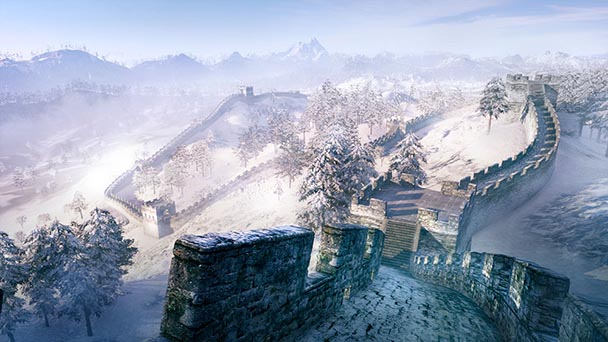 Spend hours traversing Dynasty Warriors 9's late-Han era China and you'll recognize Omega Force's ambitions. Fundamentally, they've changed the entire game instead of adding content or tweaking complements. In theory, the transformation is virtuous, offering an adaptation of the ancient text that's focuses on more than just hewing through hordes of soldiers. Build your homestead and take refuge the night before a decisive battle that begins and dawn, and you'll sense the studio's longing for the lyrical. But as it stands, realizing those ambitions were too much for the development cycle, sullying the action-driven gameplay that many are expecting. The Dynasty Warriors franchise has always longed to capture the valor rooted in long, drawn-out battles. While this entry is a stalemate, there's a sense of hope that Omega Force will turn the tide and validate the direction they're decided to take.
Dynasty Warriors 9 was played on the Xbox One
with review code provided by the publisher. 
Dynasty Warriors 9
Platform: PlayStation 4, Xbox One, PC
Developer: Omega Force
Publisher: Koei Tecmo Games
Release date: February 13th, 2018
Price: $59.99 via physical (PS4, XBox One) or digital
Review Overview
Summary : Unquestionably, Dynasty Warriors 9 is ambitious, completely renovating everything to combat to mission structure. But the developer's aspirations might have been too large, and as such, the game often looks and feels like its still in beta.