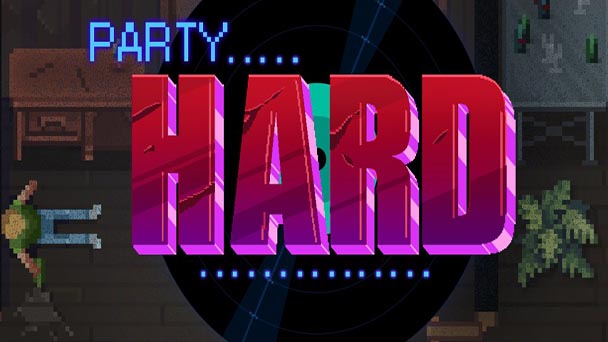 Art is often inspired by life, our own thoughts and experiences shape what we create. In Party Hard's case, it seems likely that at one point in time, its creators wished for nothing more than a good night sleep while a particularly loud celebration happened to take place nearby. This simple, yet unique premise brought us one of the more unique indie stealth games in recent years.
It's the early 00's and an endless barrage of parties have driven our main character over the edge. Wanting nothing more than a good night's sleep, he has now decided to take measure into his own hands by infiltrating any and all festivities and murder all guests in the goriest ways possible
College parties and keggers may be chaotic, but even the drunkest fratboy would summon competent authorities if a knife wielding maniac barged in. With that in mind, we must either covertly dispatch our targets or make their deaths appear like accidents. The first generally involves luring inebriated victims away from its main group and ending their life through a quick stab, it's messy, but it gets the job done so long as any corpses left behind are promptly hidden. However, this task suffers from repetition leading to a much more entertaining alternative; making deaths appear as though they were accidents.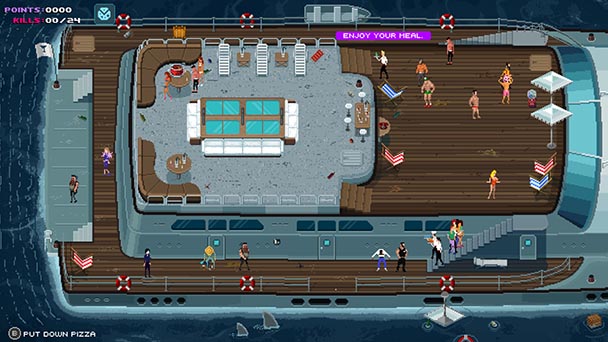 It's here Party Hard finds its groove; players may poison drinks, start fires, cut power lines, sabotage structures, and much more. Anything that may be used to kill will generally serve its dark purpose in the most spectacular ways. It's obvious all the death and destruction is meant to be taken in tongue and cheek, as avid horror movie buffs will doubtlessly come notice several clichés including a cameo appearance by a Friday The 13th's facsimile of Jason. Guests who come across a dead body or witness an otherwise horrific encounter can either panic or call the cops, sometimes both, when this happens, smart players will flee the scene so as to avoid being tied to any killings.
Fighting authorities head-on is futile, your best bet is to either avoid being labeled as the killer or lead them into your own set of traps. Gamers who are caught by the long arm of the law or perish while performing their next devious act will be forced to start anew. No matter how much blood paints the walls, party-goers will never leave their clubs, though they will still enter a state of panic. This weakened state of mind can be used to your own advantage; a large group who witness a horrendous death will turn on itself, accusing each other of being the killer, fighting to the death and even calling the police on one another.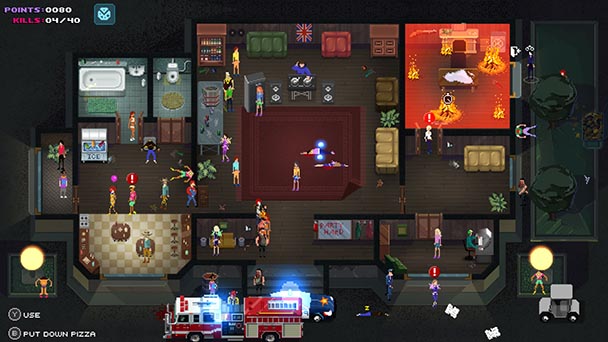 When a player repeats a stage, whether due to previous failure or by personal choice, there's a chance the map will change. Suddenly, there are different traps to spring and people will have alternate patterns. Perhaps now you'll have to find a way to sneak by a bouncer who will be more than happy to beat you up or maybe there's a new particularly gruesome way of maiming. Random events may also take place in which exterminators might crash the festivity to fumigate a room, thereby killing anyone in it. You can even experience your own 8-bit Sharknado where a tornado passes by a beach, absorbs all sharks in the water and promptly drops them onto the map.
While spreading mayhem, some objects, walls and windows may be broken, arousing action from a repair-man who shares more than a few similarities with a certain Italian plumber. Though he is generally harmless, our Mario doppelganger will have no qualms in sealing shortcuts or making life slightly harder for you. Phones may also be used to summon random guests, these may either act as new lamb for the slaughter,  or alternatively, may come in your aid by acting as bodyguards and selling items like bombs, smoke grenades and new clothes so as to dodge authorities.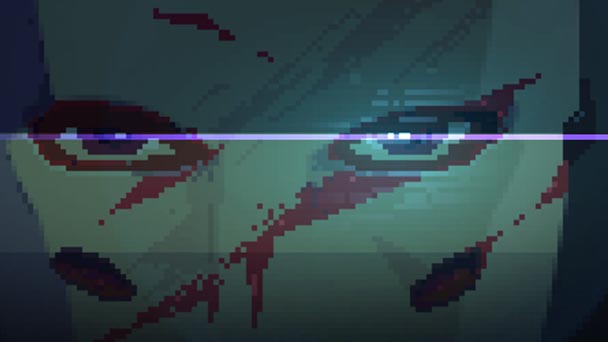 Sadly, as hilariously over-the-top as Party Hard's concept and execution are it suffers from a slew of issues, the most egregious of which comes in the form of gameplay bugs as it's not uncommon for guests to either become stuck in unpassable terrain. In one particular case, a guest magically began to slide around the map in tandem with my main character making it impossible for me to catch up to him.
Although Party Hard properly mirrors the pandemonium of party, it has the side effect of being too dependent on luck rather than strategy or careful planning.  Lastly, many of the later maps are surprisingly lacking in traps, forcing players to lure marks away and stabbing them, a task which quickly becomes repetitive. Some of the in-game text seems to suffer from translation complications and often comes across as "Engrish" though thankfully, this is a minor problem.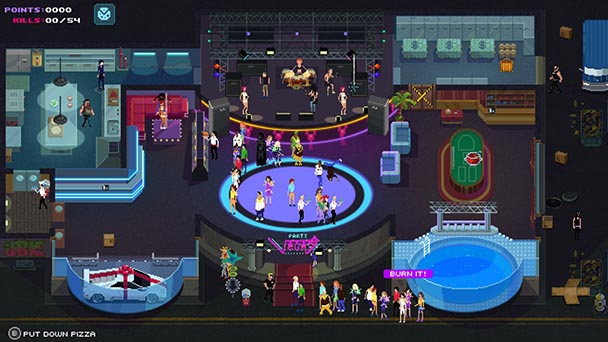 Between missions, we're prompted to a noir-style detective storyline. In theory, tells the tale of a detective tracking down our cocktail criminal, but they seemed to only vaguely connect to each mission. At least the gorgeous 8-bit visuals coupled with an entertaining dose of over-acting makes them a joy to behold.
Party Hard offers a unique take on the stealth killing genre, it's a brilliant concept with a solid execution. The occasional bugs and later maps may hinder the experience somewhat, but fans may appreciate this relaxed approached to the genre.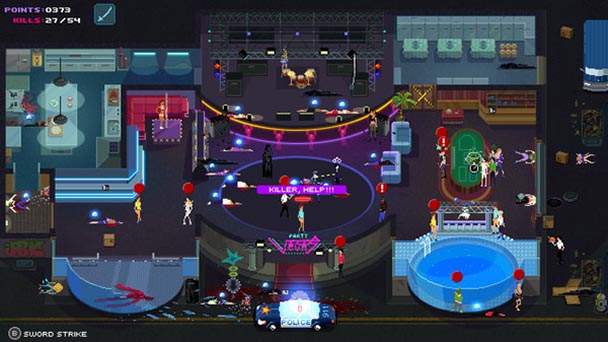 Party Hard was played on the PC with review code provided by the publisher.
Party Hard
Platform:
 PC
Developer:
 Pinoki Games
Publisher:
 tinyBuild
Release date:
 August 25th
Price:
 $12.89 via
Steam
Review Overview
Summary : A unique take on stealth assassination games coupled with a good sense of humor makes Party Hard an easy title to recommend.