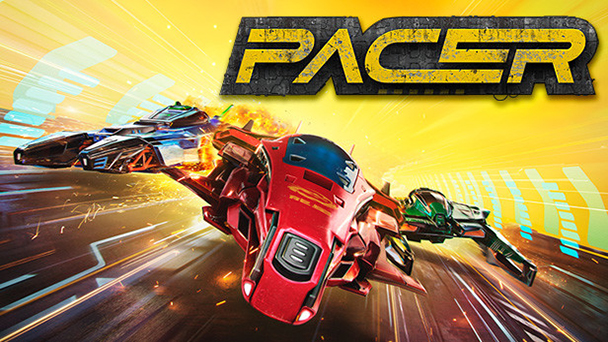 There have been a multitude of challengers poised to steal Wipeout's anti-gravitational crown. Pacer is undoubtedly one of the better attempts. Although there's still a few elements that could be refined, this is one aggressive contender.
Pacer
Platform:
PC, also on PlayStation 4, coming to Xbox One
Developer:
R8 Games Ltd
Publisher:
R8 Games Ltd
Release date:
October, 2020
Price:
$39.99 via digital download, $33.99 launch price through 11/12
Availability:
Steam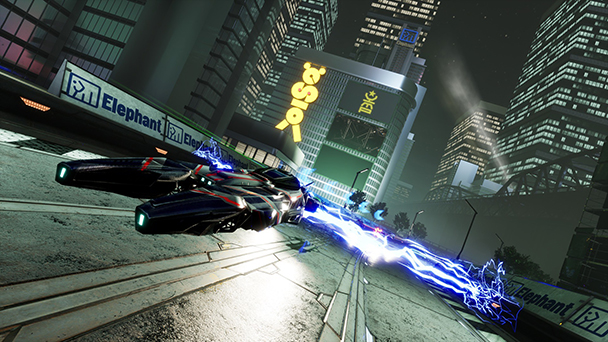 While 1990's F-Zero might have pioneered three-dimensional anti-grav racing, but 1995's Wipeout truly advanced the sub-genre. Set in a future where private corporations battled on an international stage, the attention to detail was mindboggling, with each faction having their own vehicular style and logo. Diehard fans could even track the evolution of each brand across the series' 200-year time span. Solidifying the sense of context was a club-ready soundtrack from artists like Leftfield, The Chemical Brothers and CoLD SToRAGE.
In the ensuring years, Wipeout received several sequels and a succession of rivals. Most of the later were forgettable efforts. Games like Pulse Racer, Fatal Inertia, G-Surfers, and HSX: HyperSonic Xtreme all supplied the obligatory corkscrewing tracks and thumping basslines but fumbled on other fundamentals. Few exhibited the finesse of Psygnosis' well-liked franchise. Frequently, competitors lacked the nuance of Wipeout, where navigation required practice as well as steely nerves. In other instances, the fastidious balance between racing and combat was upset.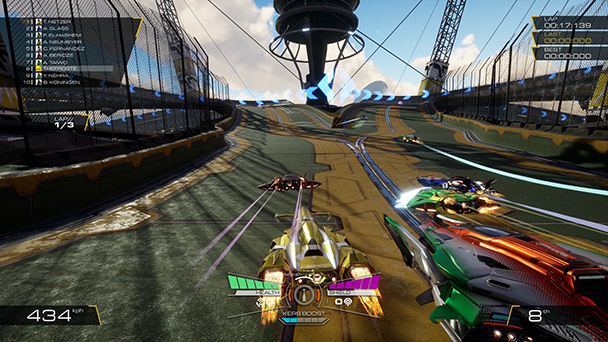 Racing Reborn
Certainly, it might be easy to dismiss Pacer as yet another uninspired Wipeout wannabe. Originally entitled Formula Fusion, the title was widely derided for a lack of content and the presence of multiple disheartening bugs. But developer R8 games, whose ranks include several Wipeout franchise alum, has noted player's criticisms. A few lingering issues still persist, but Pacer is easily one of the better modern anti-grav experiences.
Much of the game's success is rooted in its handling. Wisely, Pacer doesn't just mimic Wipeout's vehicular behavior. Here, turning speeds aren't quite as nimble. Although that might sound like a reprimand, the adjustment permits players to glide through soft bends without overshooting. When the sharper curves come along, you'll be urged to use your craft's airbrakes, initiated by a press of the DualShock 4's triggers. Yes, it feels a bit like drifting, especially the sense of satisfaction as you glide around a corner without losing momentum. Air-braking also re-charges your boost, so you'll want to limit the use of traditional deceleration.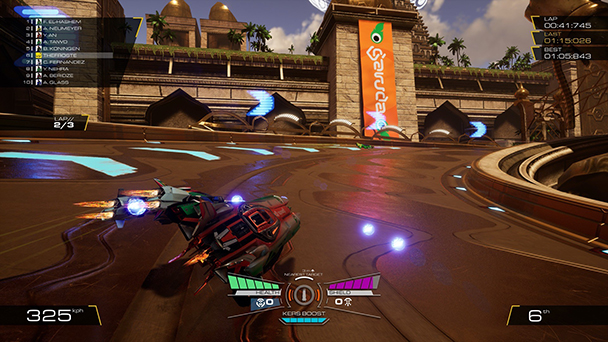 More Roman Candle than Quake Disruptor
Handling adeptly straddles the narrow space between accessibility and finesse. Early on, it's fairly easy to place competitively in races. But as you ascend the game's quartet of ship classes, speeds escalate and curves taper down to narrow passageways on some of the fourteen tracks. Rubber-banding is frequently an issue with the sub-genre. But if it exists here, it's dialed back to imperceptible levels. But don't expect AI rivals to drive with cutthroat resentment. Save for the occasional discharge of ordnance, they're a bit too pacifistic.
Weapons are an important part of the formula. Notably, they're not available persistently, with some races and modes focusing on no-contact rivalries. But it's here, Pacer makes its obligatory divergence from Psygnosis formula. You'll have control over loadouts and upgrades, with vehicles carry two weapon system that favor track control, disruption, defensive, and long-range strategies. Additionally, there a mod system, that bolster payloads, adding EMP capabilities to projectiles, improve lock-ons, or magnetize mines.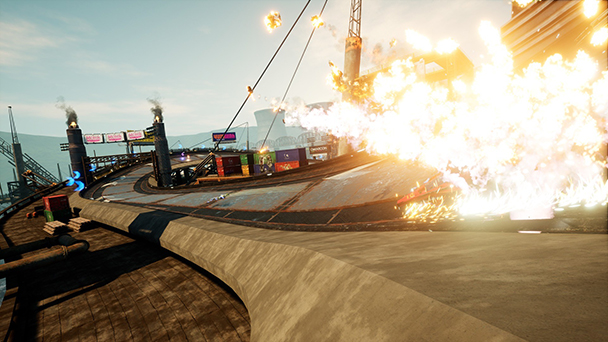 This decision not only adds variety but makes you feel like a researcher in Q's labs, trying out new weapons for 007's hovercraft. The sole problem is the lack of visual punch for many of the guns, mines, blasters, and warheads. Sure, filling the screen with explosions and particle effects might have been distracting, but as it stands weapons have little oomph.
Solid Framerates and an Impressive Sense of Speed
Mercifully, that's one of the few disappointing graphical qualities. On the PlayStation 4 Pro, the game delivers a fluid sixty frame-per-second output that stays steady even when you're in the middle of a field of competitors. Using Unreal Engine 4 that's been modifying to convey high-speed hovering, Pacer adopts a post- cataclysmic vibe, with tracks build around derelict, ivy engulfed structures. R8 doesn't do much world building but given the state of theatres and malls emptied by the pandemic, seeing repurchased spaces offers a tinge of hopefulness rather than signaling despair.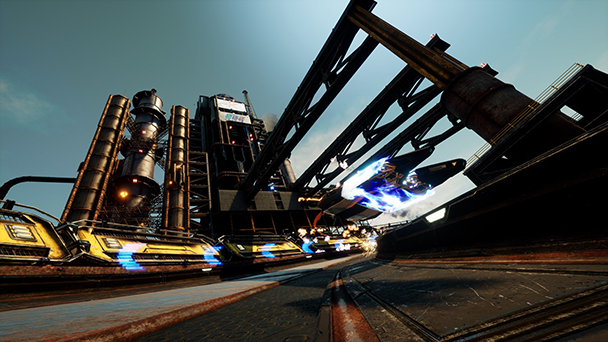 Track design is almost always a contentious issue for the genre. Pacer's stages can be tackled in forward and reverse, and at different times of day, stretching the collection of fourteen tracks about as far as it will reach. Certainly, all of the requisite twists and turns and changes to elevation are all here and accounted for, as well as the sidewall warnings of imminent bends. Often, Pacers favors thin path rather than the wide highways of some anti-gravs. This ups the requirement for precise navigation, and you'll likely spent some time cringing at the sound of your craft scraping against stage walls.
Ready for Competition
The presence of CoLD SToRAGE on Pacer's soundtrack might generate optimism. But it pains me to report that most of Tim Wright's compositions are rather bland and mostly sound like a musician trying to mimic the composer. Music in the original Wipeout felt fresh like discovering an underground nightclub that was pulsating with chemically enhanced energy. But now the steady beats and synth washes have lost their luster across years of replication. Perhaps that's why the soundtrack is buried too low in the default sound mix. On the upside, the selection of eight tracks is impressive.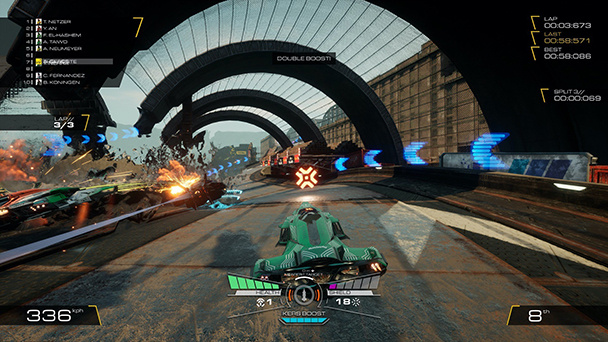 The game's other fault is no fault of the developers. At present, there's not much of an online constituency. Sure, there's usually enough of a presence to fill up most of the slots for a full ten-competitor match. Pleasingly, local split-screen is present for pair of players and there are seven different modes. From the Zones-like Flowmentum to the shrinking spaces found in Storm, Pacer thoroughly fixes its previous deficiencies.
Conclusion
There are moments were Pacer comes quite close to being the spiritual successor to Wipeout that we have all hoped for. Bolstered by a fantastic framerate and customizable craft and weapons, many of the foundations for success are evident. Yet, small snags ebb away at the game's aspirations. Fortunately, none of these are absolute deal-breakers. So, if you're able to overlook an emphasis of navigational precision, Pacer warrants a look.
Pacer was played on PlayStation 4 with review code provided by the publisher. 
Review Overview
Summary : Wipeout clones typically come in two forms. There's acceptable and downright dodgy. Pleasurably, Pacer ranks above the pack, offer an anti-grav experience that comes quite close as matching the exhilaration found in Psygnosis' magnum opus.