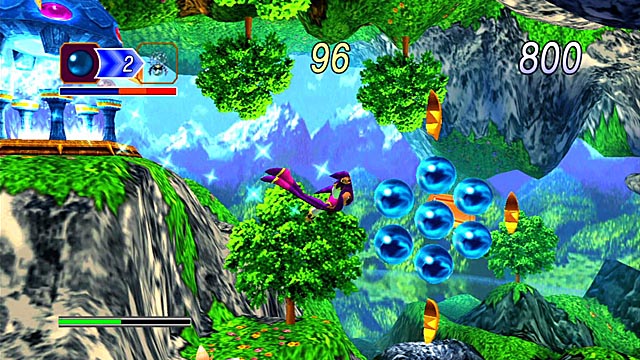 It's hard to have a conversation about the Sega Saturn without somebody bringing up NiGHTs into Dreams. Set aside the fact that the system had some of the greatest, most unique adventure and roleplaying games, which have since become lost to the void, people always want to bring up the 32-bit anomaly's mascot character. Many Saturn apologists raise NiGHTS onto a pedestal, as one of the great forgotten games of SEGA's past, but at the time, I never "got it." Sure, I understood that the Saturn needed a mascot to rival Mario and Crash Bandicoot, and I knew that Sonic wasn't filling that gap for whatever reason, but the spiralling side-scroller never really grabbed me the way that it seemed to grab my contemporaries. Well, SEGA got another at my affections with their release of NiGHTS into Dreams HD, and although the changes in the remake aren't phenomenal, the inclusion of the original game in its entirety gave me the opportunity to finally grasp what I was missing.
If you haven't played NiGHTS, the format will seem a little jarring. The game is ostensibly a side-scrolling collectathon that takes place over a three-dimensional landscape. At the beginning of each stage, the player becomes NiGHTS, a flying jester/fairy who can fly, but only in a set plane. Once enough spheres are collected, they are deposited into a machine that is holding an Ideya Sphere captive, and NiGHTS can move into a new track. If you run out of time as NiGHTS, you turn back into a child, who can move in all directions across the level, but is fragile, and won't have access to as many blue spheres needed to complete the level. There are about 4 tracks per stage and four stages per dream before you fight a boss. If you screw up on any one of them, you have to start the entire dream over again.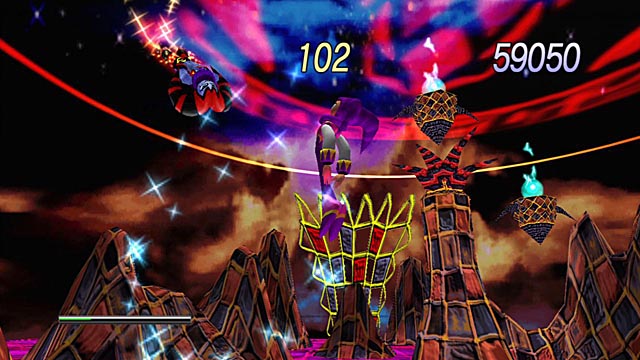 The HD remake is essentially a rerelease of the PS2 version, which never made it to the States. It allows players to choose between the newer graphics or the original Saturn textures, although 16:9 is only supported with the new textures. The HD textures are nice, but the original engine still shines brighter. NiGHTS was a game designed around the Sega Saturn hardware, and it really does look great in that context. When it's given a fresh coat of modern paint, the backgrounds and characters just look bland and uninteresting. The depth and contrast used in the Saturn version are still impressive today, and it really took me playing through both to realize that.
Even without the HD version, this release is worth the money. For finishing the game, players are rewarded by unlocking Christmas NiGHTS, which was originally only released as a promotional item, and has become quite hard to find. Now we can all enjoy those levels without having to dump our money on to eBay for something that deep down we know we could have gotten for free.