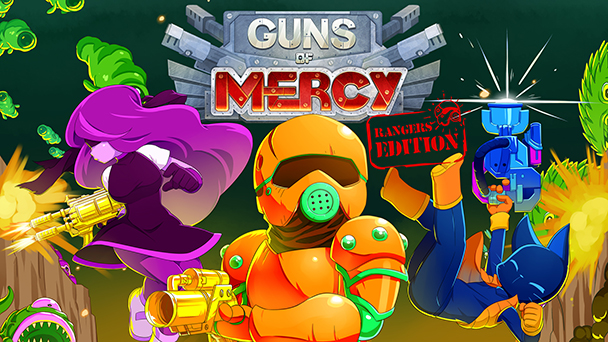 Guns of Mercy is one of those digital sub-$10 sleeper hits. Although play recalls the simplicity of early coin-op games, the inclusion of meta-game elements extend longevity.
Guns of Mercy
Platform:
Switch
Developer:
Storybird
Publisher:
PixelHeart
Release date:
January 10th, 2019
Price:
$8.99 via digital download, currency on sale for $4.94
Availability:
Nintendo
eShop
The motivations that drive our gaming habits varies significantly. Some seek the thrill of overcoming near-impossible challenges, while others crave the exhilaration of friendly competition. Then there are players who are infatuated by the drip-feed of steady progress. Whether it's a role-playing game or rogue-like, gratification often occurs quite gradually.
Certainly, that's the case with Guns of Mercy – Rangers Edition. On the surface, it's a simple shooter, harking back to Astrosmash (1981) and Centipede (1981). Like these two classic titles, your character is positioned at the bottom of the screen. You'll move back and forth, eliminating the multitude of enemies that linger above you and occasionally turn kamikaze. But instead of limiting the players to vertical shots, Mercy plays a bit like a twin-stick shooter. Using the Switch's right analog stick, you'll move a cursor to eliminate enemies who fly overhead as well as target the ones who inch toward you on your left and right.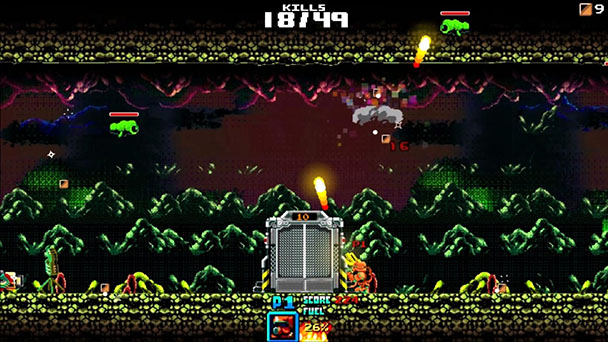 NSS (Never Stop Shooting)
Like many classic arcade games, you might wonder where the adversity is, during the first few moments.  But subsequent stages add increasingly numerous and deadly foes. Soon, you'll battle a screen full of assorted antagonists. If you're not shielded, a single hit ends the game. As such, you'll have to prioritize threats, taking out the deadliest opponents before shooting enough fodder to clear the level. Naturally, there are bosses, with eight showdowns before Guns of Mercy declares defeat.
Elevated by responsive controls (thank you Storybird for not requiring us to hold down the fire button) and a fluid framerate, it's the type of diversion that probably would have succeeded in the late Eighties. But when pitted against peers from this decade, the basic framework struggles to stand on its own.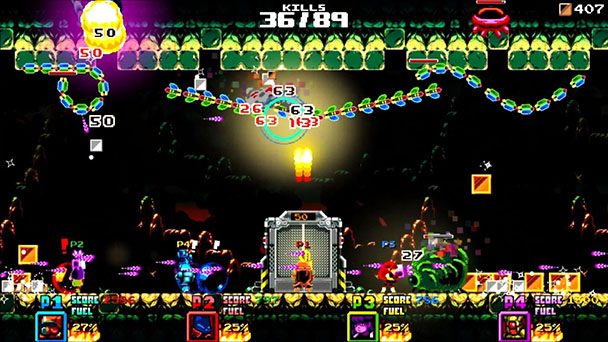 Deadly Dividends
But the game's reward system supplies longevity. Survive and you'll earn ample currency for upgrades. From new characters, weapons, abilities, an option to skip stages, and even different mechs that can temporarily turn the tables, there's no shortage of shopping opportunities. Although augmentation becomes exponentially more expensive (dulling the sensation of progress), early on, Mercy is addictive.
Much of that stems from the developer unwillingness to nerf you from the start. This drip-feel of improvements isn't new; it's a mechanic found in a myriad of mobile games. But all too often, it can feel like games provide you with a pea-shooter to make down the strongest of foes. Largely, Guns of Mercy doesn't do that. Save for a spread gun that can be weak against ground-based antagonists, your starting weapons feel potent and progressively grow stronger.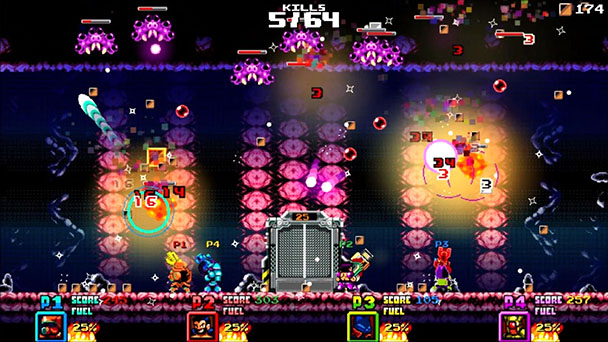 A Swarm of Shopping Options
Survive a few stages, and you'll almost always earn enough currency to elevate one element in your loadout. Magnets draw in resources, while a boost to Luck makes it more likely that gold and silver currency rains down from the skies. You might want to extend the duration of power-ups. These can be incredibly helpful, doing things like adding guns that fire horizontally to adding temporary turrets that target foes. Pleasingly, there's a sense of balance. I'd frequently switch weapons, hoping to find one that was overpowered. Mercy doesn't let that happen and you'll occasionally revisit lapses weapons to retest their effectiveness. Occasionally, this can pay off. One cloud-like boss offered up mild aggression by launching lightning bolts at players. But switching to another gun drained his health bar before he had much of a chance to defend himself.
Regrettably, there are a few blemishes that spoil the experience. As a port of a mobile app, gems are a secondary and largely superfluous currency, a holdover from in-app purchases. Fortunately, this 'Rangers Edition' removes to the need for any optional purchases, but the stingy allotment of these jewels is noticeable. Since some purchase require gems, it can sully the experience. Then there's the odd control scheme, which favors the Switch's plus key over the more traditional face buttons. You'll eventually grow accustomed to it, but the mapping seems rather arbitrary. Finally, if you want to start over, and perhaps replay the tutorial, there's no way to easily delete your save file from within the game. On one run, my character turned invisible, which brought my momentum to a halt. But on the upside, the Rangers Edition brings multiplayer for up to four local participants. I could see this being a lot of fun for friends or families.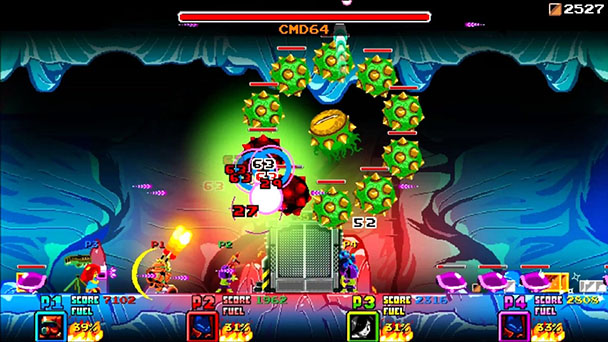 Conclusion
Sure, Guns of Mercy might look unassuming in screenshots. But in execution, it's an adept blend of old-school arcade play and rogue-like metagame. Although you might not expect to get hooked, those with a weakness for augmentation, just might get locked in Mercy's sights.
Guns of Mercy – Rangers Edition was played on
Switch with review code provided by the publisher. 
Review Overview
Summary : Fans of retro shooters like Space Invaders, Centipede, and AstroSmash are Guns of Mercy's main targets. You won't find story but you will find stages of entertaining shooting action and enough incentive to welcome replay.