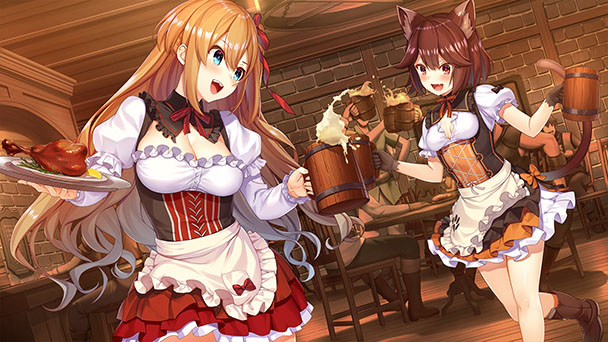 From an anthology of the first three titles in the SaGa series, a trio of Taito titles in Space Invaders Forever, and a remake of beloved Saturn shooter, Panzer Dragoon, this week is brimming with retro releases. For those uninterested in retro classics, fear not. Titles like Cyberpunk 2077, PixelJunk Eden 2, Medal of Honor: Above and Beyond  look to bring fresh experiences.
Header art: Fantasy Tavern Sextet -Vol.1 New World Days-, PC
PlayStation 4
Brigandine: The Legend of Runersia (physical $49.99, $74.99 & digital $49.99)
Cyberpunk 2077 (physical & digital, $59.99)
MXGP 2020 (physical & digital, $TBA)
Space Invaders Forever (physical & digital, $29.99)
The Walking Dead Onslaught (physical & digital, $39.99 PS VR)
Switch
Accidental Queens Collection (digital, $14.99)
Alt-Frequencies (digital, $7.99)
Autumn's Journey (digital, $4.99)
Boot Hill Heroes (digital, $9.99)
Collection of SaGa Final Fantasy Legend (digital, $19.99)
Dark Grim Mariupolis (digital, $4.99)
Evolution Board Game (digital, $19.99)
Five Nights at Freddy's: Help Wanted (physical, $29.99)
Indivisible (physical, $39.99)
Jigsaw Fun: Piece It Together! (digital, $9.99)
OctaFight (digital, $5.99)
Persian Nights 2: The Moonlight Veil (digital, $14.99)
PixelJunk Eden 2 (digital, $9.89)
Shakes on a Plane (digital, $19.99)
Redout (physical, $39.99)
Space Invaders Forever (physical & digital, $29.99)
Splashy Cube (digital, $3.99)
SYNTHETIK: Ultimate (digital, $14.99)
Tanuki Justice (digital, $11.99)
Warplanes: WW1 Sky Aces (digital, $9.99)
Xbox One
Colossus Down (digital, $17.99)
Cyberpunk 2077 (physical & digital, $59.99)
Gears 5: Hivebusters (DLC, $19.99, included with Game Pass Ultimate)
MXGP 2020 (physical & digital, $TBA)
My Hidden Things (digital, $6.99)
Panzer Dragoon (digital, $24.99)
SiNKR 2 (digital, $3.99)
SYNTHETIK: Ultimate (digital, $14.99)
PC
Alba: A Wildlife Adventure ($TBA)
Anta ($10.04)
BeachHead 2020 ($TBA)
BOMJMAN ($TBA)
BOOM Bound ($TBA)
Cyber Crush 2069 ($TBA)
Cyberpunk 2077 ($59.99)
Dear My Friend ($TBA)
Fantasy Tavern Sextet -Vol.1 New World Days- ($TBA)
Medal of Honor: Above and Beyond (VR, $TBA)
Orwell's Animal Farm ($8.99)
Rise of Three Kingdoms ($TBA)
Seek Girl VII ($TBA)
Slave Princess Sarah ($TBA)
Spice and Wolf VR 2 ($22.49)
Robert's Pick: I'm sure Cyberpunk 2077 is a thoroughly entertaining title. But multiple reports of bugs have me worried about the experience. Nothing pulls me out of the open world quicker than a glitch that prohibits the completion a quest. As such, I'll eventually hang out with Johnny Silverhand but not before CD Projekt applies a few patches.
Instead, I'll be playing Slave Princess Sarah, a curious little game that combines 8-bit visuals, a soundtrack that sounds like Kenji Ito's contribution to early Mana games, and a bit of "H" content (via a free patch). Had this arrived in the '90s, I would have thought it was a gift from the gaming gods. In 2020, it's a gratifying dose of nostalgia that recalls an era when games arrived without a need for repair. Similarly, both Space Invaders Forever and Collection of SaGa Final Fantasy Legend looks like it might find a home on my Switch memory card this week. But now, Matt's made me second-guess shooting those twin-tail aliens.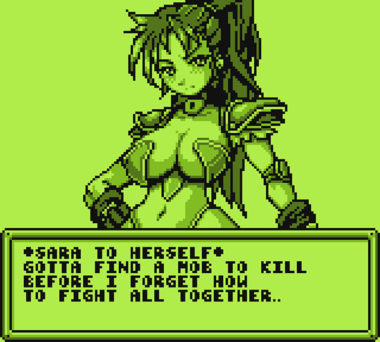 Matt S' pick (Editor, DigitallyDownloaded): Cyberpunk 2077 is the big release this week, of course, but right now, the discourse around that game has soured and gone toxic to the point that I want to tell it to go stick it where the neon don't shine. As for the game itself, somehow this has become a wildly controversial thing to say, but I do honestly feel that if a game is called "Cyberpunk" it's fair to expect it to belong to the cyberpunk genre. So far, after a solid eight-hour play session, either this game has the biggest bait-and-switch ahead of it, because it has spent its entire introduction being the exact opposite of what it's meant to be, or it's simply the case that it's more neon glow than actual cyberpunk. But who knows? I haven't written my review yet, and God knows there's a lot more of it to work through. Perhaps things will turn around.
One final note: it is unforgivable that after spending tens of millions of dollars over seven years to make the developer still couldn't give me a twintails hair option, though. What the hell, CD Projekt?
On the happier side of the spectrum, Space Invaders Forever lands on PlayStation 4 this week. Space Invaders is my all-time go-to retro game, and even though I have it on Switch already, you can bet your bottom dollar that I'm double dipping. There is something so enduringly hypnotic about those patterns of little aliens menacing their way down the screen, to a steadily-escalating march rhythm. It's alien, it's hostile. It's intense. It's ultimately entertaining, but Space Invaders is a useful reminder that you don't actually need a $100 million budget to make a compelling game.
Also if you squint hard enough one of the aliens totally has twintails hair.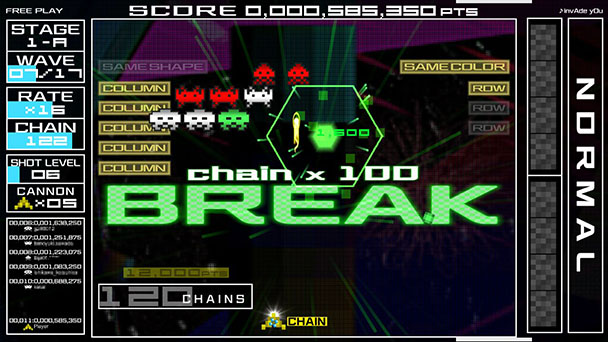 Ryan's Pick: As much as I want to buy a ticket to Night City this week, I'll be at the sad empty tavern "The Stray Sheep" instead. Known to never shy away from a slapstick love harem, I feel like Fantasy Tavern Sextet -Vol.1 New World Days- will provide me with all the deus ex machina that I will need this week. While Nietzsche would never approve of the way things are resolved in VN's, I believe anime fans will thoroughly enjoy venturing down the quirky cast's paths.
Using their coined "E-mote" engine, qureate has some impressive animated visuals for the character bust-ups and in general the art is high quality. I must note that this series does let you know in the game description that there is some H in the game as well, by specifically calling it 'H'. Is H a household term? At least they are up-front about it. A second cautionary note states that you should not play this game at work due to nudity, so I do commend them for the full disclosure. Lastly if a visual novel is not your fancy, I must echo Robert's pick with Slave Princess Sarah. It definitely reminds me of the original Gameboy games of the past. Throw in some aforementioned H, and I think it equally is a solid choice.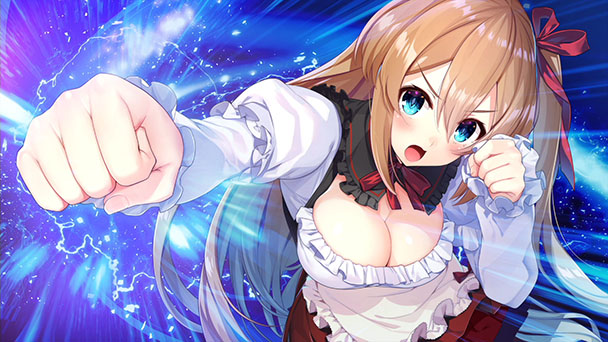 Matt C's pick (editor, Shindig): I can remember, in my younger days, trying to play Final Fantasy Legend (aka Makai Toushi SaGa, a game with no connection to Final Fantasy until its Western release was renamed for the sake of brand recognition) and just hating it. This was far from the Final Fantasy I knew and loved, especially as someone who got introduced to the series through Final Fantasy VII and went down the rabbit hole of older games later on. These days, I have a real soft spot for SaGa and feel more ready to meet Final Fantasy Legend on its own terms, without the loaded expectations that the name brings.
How convenient, then that Collection of SaGa: Final Fantasy Legend comes to Switch next week! Bundling together the first three SaGa / Final Fantasy Legend games originally released for Game Boy, but with a handful of handy conveniences like a high speed mode, it's sure to be a great way to revisit SaGa's roots.
I've also got my eye on Alba: A Wildlife Adventure, the latest game from ustwo games (the folks behind the excellent Monument Valley). A chill game about exploring a mediterranean island, documenting its wildlife, and trying to save it from a growing litter problem sounds like exactly what the world needs right now.