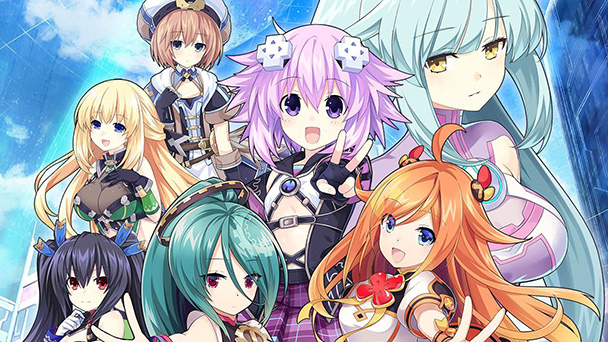 Neptunia Virtual Stars sends the goddesses through environments filled with everything from confectionary delights to social media frights. This time out, the gang is accompanied by a host of Virtual YouTubers, who fit quite flawlessly into the franchise that's exceedingly media literate.
Neptunia Virtual Stars
Platform: PlayStation 4, coming to PC
Developer: Compile Heart
Publisher: Idea Factory International
Release date: March 2nd, 2021
Availability: Physical and Digital
Price: $49.99 via retail or the PlayStation Store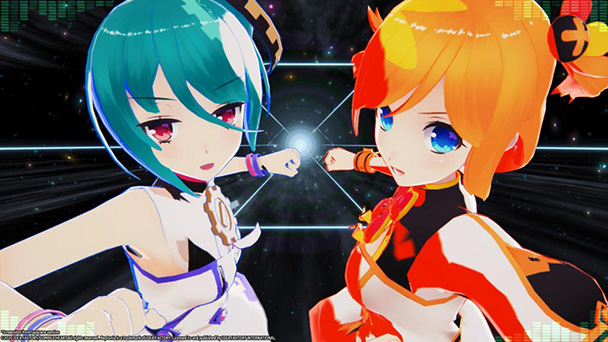 Compile Heart's Hyperdimension Neptunia franchise is recognized for its anthropomorphized characters, which each represent different gaming consoles. Certainly, Tsunako's character design also makes a striking impression, flaunting a style that blends vividly hued kawaii, a hint of mechanized futurism, and an extra helping of suggestiveness. But it's the Toshima-ku team's devotion to otaku culture that truly helps the property stay relevant.
From 2013's Hyperdimension Neptunia: Producing Perfection's foray into the musical idol industry, MegaTagmension Blanc + Neptune VS Zombies' sendup of exploitation cinema, Cyberdimension Neptunia: 4 Goddesses Online's incursion into MMO-style adventure, and Megadimension Neptunia VIIR's inspiration of a virtual reality component, both mainline entries and series spin-offs have explored gaming trends as well as tangential pursuits.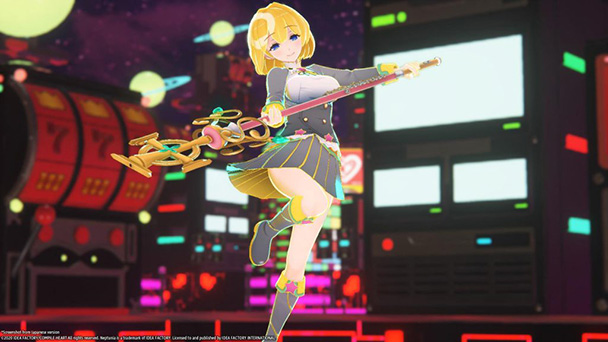 Nep, Me, and You
With the release of Neptunia Virtual Stars, Compile Heart dispatches NepNep and the fellow goddesses into another new territory. This time out, the PlayStation 4 title plumbs the growing popularity of virtual YouTubers, commonly known as Vtubers. Whereas streaming sessions were once exclusively hosted by real people, a growing worldwide development sees anime-like personalities presenting gameplay.
Since Kizuna AI's debut five years ago, the popularity of Vtubers have exploded, with many following in the path of Hatsune Miku and branching out into advertising. Another remarkable trait with Virtual Stars is that worlds and mini-games are themed after types of video genre, referencing everything from mukbang to TikTok-worthy dance routines. But someone tragically, many featured elements have an ancillary role in the game. While actual Vtubers make appearances in special attacks and on loading screens, Compile Hearts made sure they didn't steal the spotlight from Nep, Noire, Blanc, and Vert. Instead, you'll seize control of the two members of the fictionalized duo, Mewtral, who are named Me and You.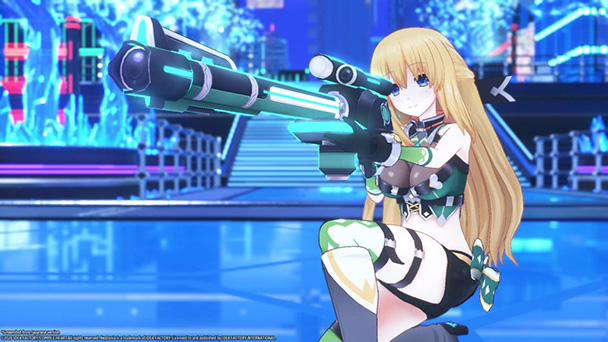 Antis and Panties are a Winning Combo
Virtual Stars leans a bit heavier than most Neptunia titles for visual novel-style storytelling. While players seek action might be put off by the decision, story-minded series stalwarts should appreciate the witty repartee. Neptunia's new realm of Virtualand is a haven in diversionary entertainment, filled with what the game refers to as 'content'. It's the kind of world that Google's execs probably dream about at night, where videos can help quell the pangs of loneliness with Vtubers who act as surrogate friend.
But this kind of utopia has its critics. Antis are Virtual Stars' version of trolls, who persistently spread negativity and threaten the future of Virtualand. As such, when the Goddesses head to the game's version of the Tokyo Game Show to experience the latest advancement of VR technology, they're transported to this the planet Emote, fulfilling the distress call sent out by the goddess Faira. Expectedly, NepNep and the girls play the role of saviors as they attempt to save the planet from extinction.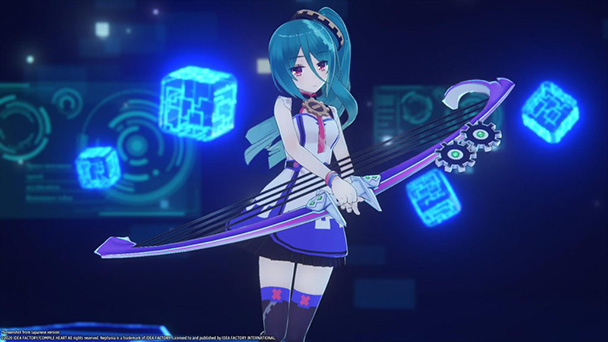 While some might fault Virtual Stars for leaning on trope, the interplay between the different personalities remains endearing. From Nep's infectious enthusiasm and slight airheadedness to Noire's tsundere-leanings, you don't have to know the entire Hyperdimension Neptunia storyline to have fun. But you should at least know their basic personalities types and quirks. While I didn't expect to find Me and You as endearing, their tsukkomi and boke (straight-laced and funny) shtick complemented the Goddesses chatter exceedingly well. But I also can't help but feel the game has a number of missed opportunities. Seeing everyone's favorite dog-girl, Inugami Korone, doing things like explaining Human Centipede to NepNep could have been golden.
Personal idiosyncrasies aside, it's difficult to find fault with the game's madcap approach to storytelling. Persistently creative and capricious, Virtual Stars' plotline eludes obviousness. Much of the enjoyment stems from not expecting the game's next reference or plot direction. And in keeping with the franchise's fondness for allegory, Stars' can be read in different ways, as the game's cast cure the Antis of their cynicism. Don't dwell on the negative, the writers remind us, when there's so much to enjoy.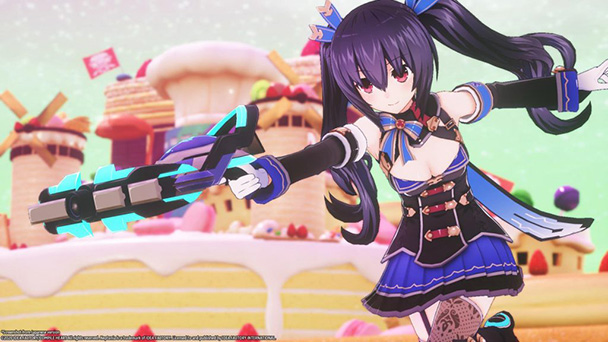 Ah, Shoot (or Swing)
You'll probably need to adopt that kind of radiant optimism when facing Virtual Stars' combat. Here, the Goddesses employ ranged weapons, while the Vtubers dish out melee punishment. In execution, the former vaguely feels like Earth Defense Force, as you balance getting enough space from enemy mobs with aiming a reticle. The latter channels the kind of conflict you might in a generic action brawler, as you dish out normal and heavy attacks while periodically dashing to avoid damage. The central issue is found in the tuning of enemy resiliency; it constantly takes a few too many shots/strikes to eliminate foes. Although finishers are a lot of fun to use and you can switch between combatants, conflict lacks the kind of creative mechanic that helps offset tedium.
A multitude of side-quests are present. But largely, these task you with the same kind of fighting, likely producing fatigue. Sure, Virtual Stars extends additional nuances to mask monotony with everything from a roulette game amidst combat to the MV Battle System which provides stat bonuses (or penalties) during different phases of a background song. And there's BeatTik, a simplified rhythm game where music videos you create reward you with new items. But given the leniency of the game, which showers players with healing items, these components feel more extraneous than essential. Make sure you're the type of players who relishes mastery of every gameplay system before committing to Virtual Stars.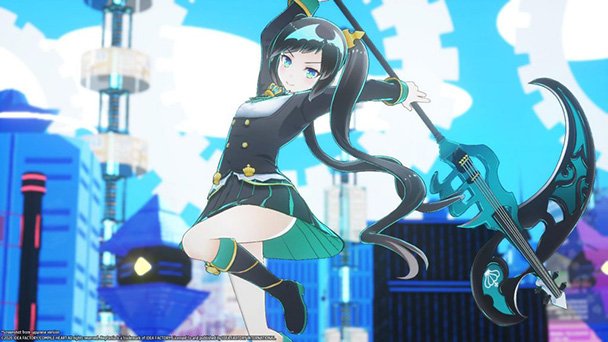 Conclusion
Given the presence of actual prominent Japanese Vtubers, it's not surprising that Neptunia Virtual Stars lacks an English dub. Hearing renowned personalities with English voice-acting would have jarring. But on the upside, the game's localization is adept, with a script that seems to preserve some of the wordplay found in the source material. And while Tsunako has gone freelance, Katsuyuki Hirano does a skillful job at maintaining the series' visual charms. Sonically, the game recycles some classic melodies in with new material. Arguably, the aural winner is the opening and closing themes, performed by Mewtral's voice actors.
Nearly everything about Neptunia Virtual Stars is pleasing, save for one of the game's most crucial components. Woefully, combat is underwhelming, even when it's supported by a multitude of different gameplay systems. While shooting and striking will be wearying before long, a superb script and a cast of colorful personalities help detract from the drudgery. Neptunia Virtual Stars isn't the best series spin-off, but NepNep's enthusiasm can turn the staunchest Anti into admirer.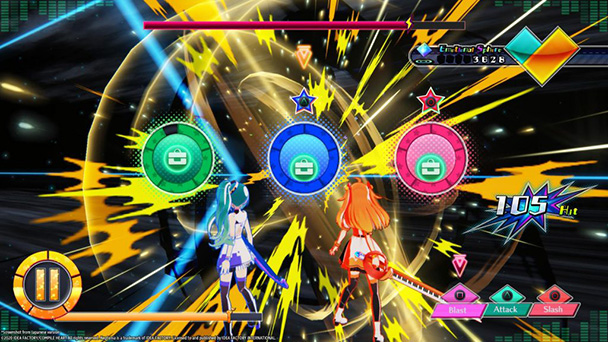 Neptunia Virtual Stars was played on PlayStation 4
and 5 with review code provided by the publisher. 
Review Overview
Summary : With Neptunia Virtual Stars, nearly everything except for skirmishes is satisfying. For some that might be a deal-breaker for some. But enthusiasts of the franchise's brand of fan-service and comedy, the offense might be overlooked.