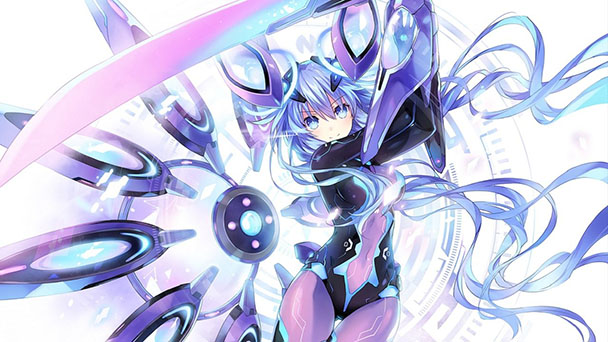 For many, the potential of virtual reality remains unfulfilled. Sure, the peripherals extend a multitude of engaging experiences, from Robo Recall's furious first-person firefights to Thumper's rhythm-fueled rush down a snaking highway. But save for the release of Summer Lesson in Asia, the dream of having waifu occupy our headspace remains tragically unrealized. Games have occasionally flirted with the possibility of simulated interaction with virtual beings (and yes- I'm talking about something more ambitious than the menu options of VR Kanojo and Honey Select Unlimited, you magnificent pervs!).
Regrettably, Megadimension Neptunia VIIR's biggest selling point- being able to converse with lifelike representations of Nep Nep and the girls, might not meet expectations. The rest of the game doesn't utilize an HTC or Oculus headset, so venturing into your simulated room involves putting on the cumbersome peripheral at regular intervals. And once you do get your head inside the hardware, the conversations are glaringly one-sided, with the goddess' giving their thoughts of food, games, or items you can place inside the VR room. Occasionally, they will answer a question, requiring players to shake their head or nod in response, which is the pinnacle of VIIR's interactivity.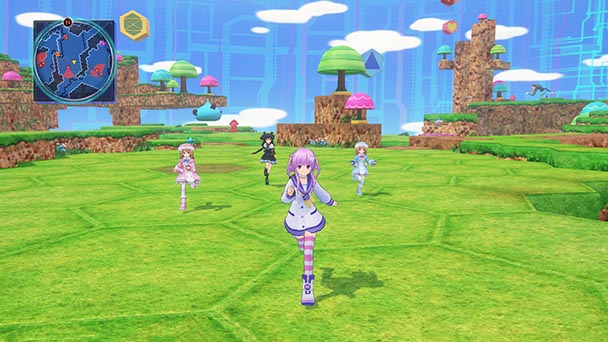 For some, Compile Heart's resistance to skim down the slippery slope of playful sexuality might be another missed opportunity. The Neptunia games have always included playful puckishness, from seductive Live2D-powered jiggle to a game camera that can be craned to glimpse a peek of panty. But save from Blanc's tasteful nightie, the goddesses are uncharacteristically demure.
Yet, despite the limited conversational choice and atypical prudence, there is something charming about seeing the girls rendered in simulated three-dimensional space. Mercifully, a compatible VR headset isn't required for these bits. The illusion of characters appearing right in front of you might be missing, but at least those who haven't purchased the peripheral won't feel like they're missing any content.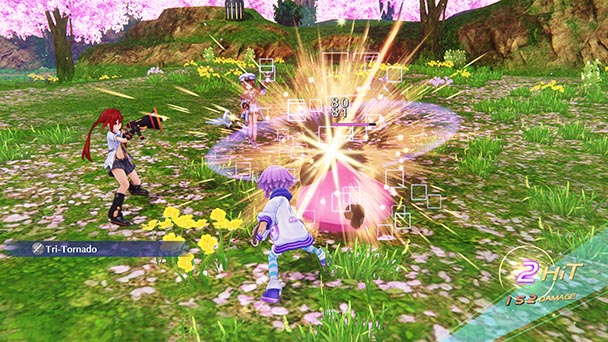 But move past Megadimension Neptunia VIIR's most conspicuous component, and there's plenty to enjoy, with Compile Heart applying numerous tweaks to 2016's Megadimension Neptunia VII. While asking the Idea Factory faithful to double-dip might be a slight stretch, Japanese role-playing fans those who missed the original PlayStation 4 or PC versions will undoubtedly appreciate the game's ample amount of content.
Officially conceived as a trio of standalone titles (confirmed by the game's different title screens), Neptunia VIIR is split into three different acts. Each chapter takes place in a different dimension, offering its own distinct cast. Initially, Neptune and Nepgear are transported to an alternate dimension which resembles a devastated Planeptune. There, the duo runs into Uzume Tennohboshi, who obviously represents SEGA's Dreamcast, complete with a swirling logo on her necktie and a VMU-like communicator strapped to her wrist. Although Uzume's outward appearance is stern and uncompromising, the girls sense contrivance when the crimson-haired CPU transforms into Orange Heard, revealing an HDD personality that's cordial and childlike.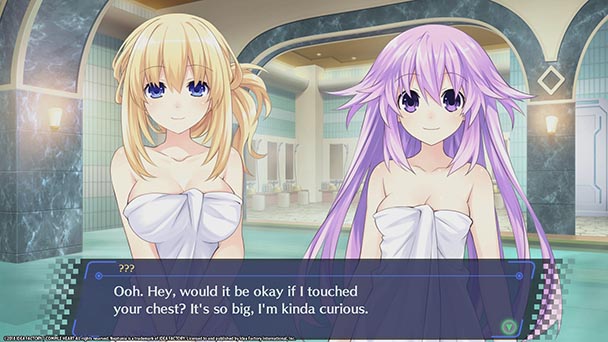 For the game's second act, Idea Factory and Compile Heart exhibit their expertise for transforming corporations into quirky characters. Here, the game gives a gentle ribbing toward Bandai-Namco, Capcom, Konami and Square-Enix. Expectedly, each Gold Third member is vying for dominance across Gameindustri, resulting in gags that revolve around Metal Gear Solid dialog, LovePlus-style dating sims, and alternate forms which recall Sephiroth's solitary, black wing. For dedicated gamers, spotting all the allusions will be delighting, especially when they're dispensed with rapid-fire delivery. The sole downside revolves around the structure. While Neptunia VIIR's middle chapter concludes with a congregation of cast members, shifting between small teams during the bulk of the campaign feels like a prolonged exercise in delayed gratification.
Unsurprisingly, the game's third act does a commendable job to linking the two previous journeys, endowing the game with an appropriately rousing finale. Like the two proceeding acts, conversations feel more restrained, with fewer of the loquacious interludes that disrupt dungeon skulking. Sure, there's still the occasional longwinded interchange without payoff or the sporadic need for CPUs to shirk their clothes for an impromptu communal shower- but largely the game tries to adhere to its narrative structure.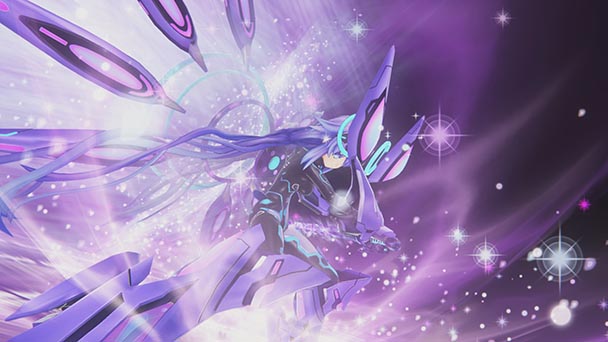 Battles mechanics don't veer wildly from the systems established by 2012's mk2. Combatants begin fracases in customizable party formations, with a time line establishing turn order between comrades and creatures. Upon each character's turn they can move a predetermined distance, as they try to enclose enemies in a translucent zone that depicts their melee range.
One of the bigger changes with VIIR is that parties are healed after every encounter. This decision makes the game significantly easier, lessening the burden of stocking up on healing items and the gradual attrition of health leading up to boss battles. And save for the latter, the change makes the majority of VIIR a bit too easy, diminishing the tension outside of the showcase confrontations with towering baddies. Another advantage with this release is an overhaul of the tutorial system, lessening the tedium of the game's play-pausing guidance.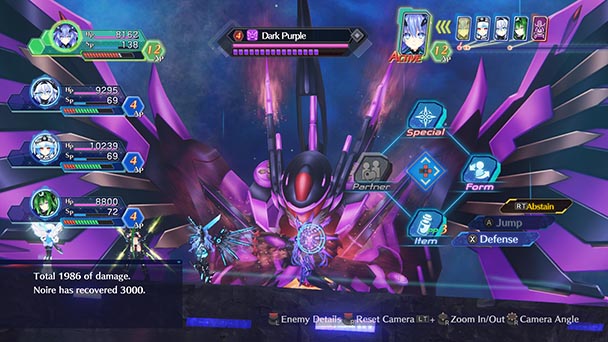 With VIIR, saving is done automatically, which helps maintain the flow of the game, as departing a dungeon to record your progress was often a tedious affair. Cleverly, this kind of efficiency isn't reflected by the changes to the game's battle system, which swaps the breezy combos of Megadimension Neptunia VII, for mechanics that favor a bit more strategy. Before, you'd sporadically customize your combos in the game's menus, typically dishing out damage until your Action Points expire.
Now, players can opt to use a special skill, or when they opt for a combo, there's a decision to execute fewer actions to bank some of your AP. In execution, it can slow the pace of battle, but for many the tactical options outweigh any changes to pacing. Now, party placement is only half the battle. You're also tasked with managing a number of resources to ensure effectiveness, whether it's boosting the power of multiple consumables or even deploying a counterattack. Similarly, the way characters level-up can has been overhauled, granting players more freedom, but also requiring them to be mindful of the direction they push protagonists. Interestingly, VIIR quietly favors archetypical roles, so don't be surprised if the goddesses find their way into healer or tank duties.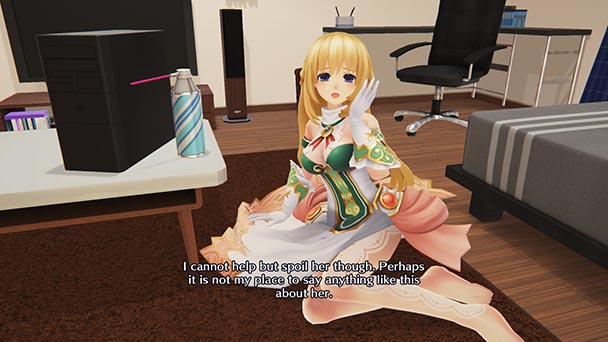 On the PlayStation 4, Idea Factory opted to increase the game's visual quality, offering advantages increasing the attractiveness of combat and permitting an entire party of members to be visible during exploration. As such that meant VIIR reverted to a 30fps delivery, which also helped the game maintain a steadier framerate. On PC, the base game (sans VR) can run on a basic GPU and with cards like a GTX 1060 or 1070, the title provided a near flawless 60fps output.
Oddly, Megadimension Neptunia VIIR's virtual reality segments aren't the game's expected showpiece. While they suggest what's possible when Gameindustri's goodness appear right in front of you, a shortage of interactivity make these segments a novelty. Instead, you'll enjoy VIIR for its skillful overhaul of Megadimension Neptunia VII. From combat to party members who are visible during exploration, the changes are substantial and will be tantalizing for any diehard Nep-head.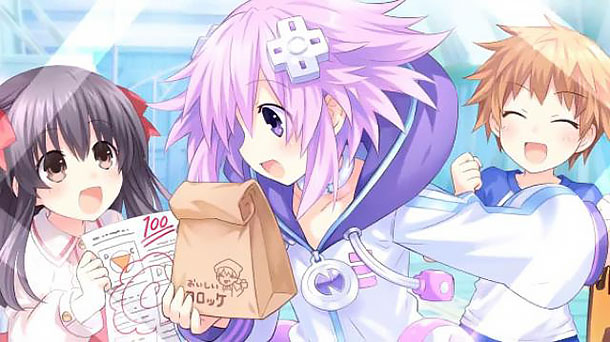 Megadimension Neptunia VIIR was played on a PC with an
Oculus Rift headset, with review code provided by the publisher. 
Review Overview
Summary : While the virtual reality bits are cool, you'll appreciate Megadimension Neptunia VIIR for its numerous tweaks, which do everything from lessen the need for grinding to endow combat with additional strategies