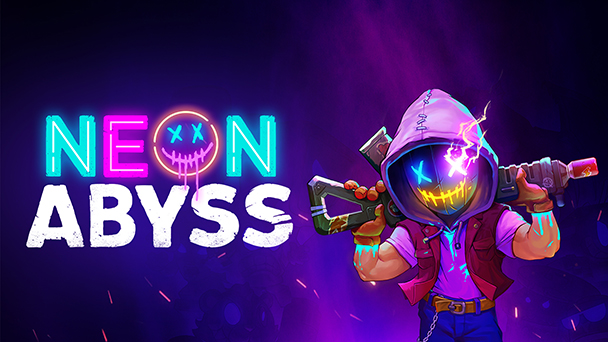 Take the variability of The Binding of Isaac but re-interpret the title as a side-scrolling shooter and you'll have a good idea of what to expect from Neon Abyss. While the concept isn't completely original, in execution, there's enjoyment to be found.
Neon Abyss
Platform:
PC, Switch
Developer:
Veewo Games
Publisher:
Team17
Release date:
July 14th, 2020
Price:
$29.99 via digital download
Availability:
Steam
,
Nintendo eShop
The old warning about having too much of a good thing undoubtedly applies to twin-stick shooters with roguelike qualities. Don't get me wrong, I thoroughly enjoy the sub-genre, with efforts like Hyper Parasite, The Binding of Isaac, and Neon Chrome getting recurrent play. And there's also a throng of second-tier titles that have entranced me for a few hours, before facing stagnation my hard drive. Given this surplus of titles, any new effort must provide an abundance of polish or provide plenty of deviation from formula.
With the release of Neon Abyss, Xiamen-based Veewo Games (Super Phantom Cat) very narrowly misses both conditions. But like many action roguelikes, there's fun to be found as you discover different weapons, accessories, as well as learning the best tactics to defeat adversaries. But occasionally, the random number generator can live you underhanded. When this happens several times in a row, Abyss can be a bit demoralizing.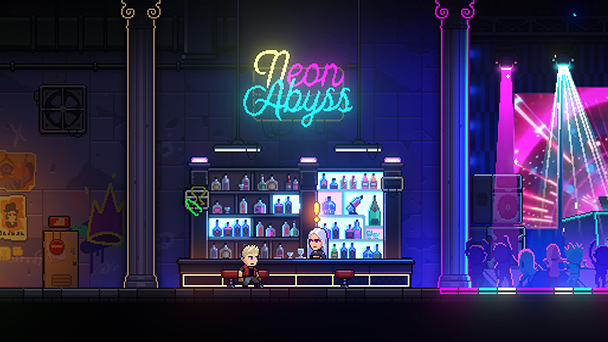 A Punchy Cast of Playables
Like Exit the Gungeon, Abyss adopts a side-scrolling perspective of the action. Free of complicated backstory to slow things down, you'll seize control of one of ten playable characters, that range from playful stereotypes like Saya, the katana-carrying schoolgirl or James, the suit-clad hitman who duel-wields a pair of automatic rifles. Expectedly, each have their own starting stats and item loadouts, as well as distinctive aptitudes like the ability to dash or fly when they are low on health. After passing a bartender who provides unlockable perks and a dancefloor that showcases your character's cavorting, you'll descent into the eponymous void.
Inside the abyss, you'll find procedurally generated rooms. These vary in size from single screen boss chambers to zones that will horizontally or vertically scroll the screen. Although some rooms are rather pedestrian with blends of springboards, destructible boxes, and destructible objects, others are more ornate. One of the most eye-grabbed locales are item rooms. Here, a soaring statue adorned with neon reflects on a pool of water, contributing a spiritual ambience. Employing a pixel-art aesthetic, Neon Abyss is filled with curious little details, and environmental highlighting that makes good on its brightly hued moniker.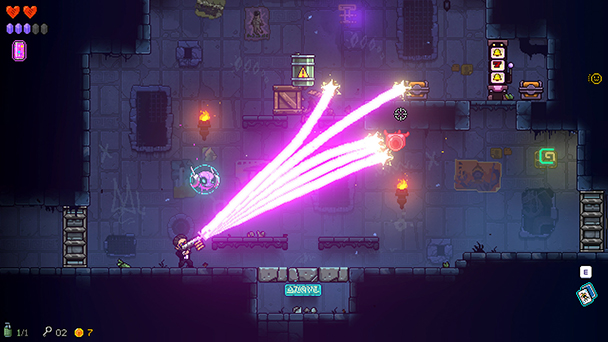 Adequate Action
Initially, Neon Abyss is quite enjoyable. The game's controls are mostly responsive, permitting players to leap across platforms, take aim and fire at the enemies that spawn as you enter a room. Since grenades are an infrequent commodity that are often required to access treasure chests, a trajectory marker would be welcome. All too often, a marginally mistimed jump or miscalculation in distance can squander these items.
Beyond gunning down foes, satisfaction arrives from several approaches. First is the game's arsenal of quirky weaponry. While you'll start with a pedestrian armament, persevere and you'll encounter guns that fire spinning light beams or projectiles that boomerang back to you, effectively doubling your offensive punch. Sure, there's the occasional rifle that's more trouble than it's worth, but the experimentation provides variance to each run. Additionally, you can stack items. While the result often adds to the visual cacophony when you enter an enemy-filled room, you won't regret the assistance each either of gear provides.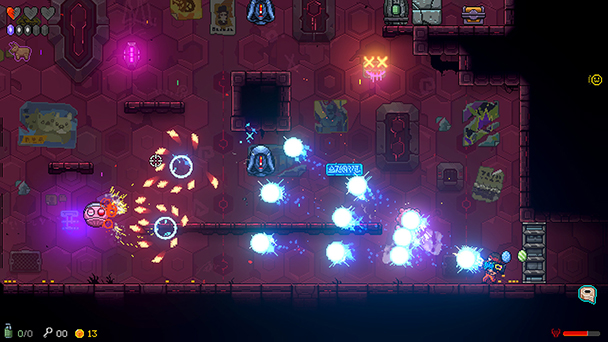 Taking a Crack at Hatchlings
Intermittently, you'll discover small eggs that follow you around, not unlike Yoshi's Island. When you clear a room, there's a chance that one will hatch. Sometimes, you'll get nothing, but if you're lucky, a small pet will accompany you around, augmenting your arsenal is some random way. They'll often evolve as well, contributing helpful perks that helps counterbalance the game's ever-escalating difficulty. Testing your mettle are boss battles where leaders will try to ram you one moment, when send out a bullet hell-like shower of projectiles the next. Rather than the pedestrian showdowns marked by enemy tells, Abyss' altercations are a bit more dynamic, keeping players on their toes.
Beating one of the game's bosses rewards points that can be used to unlock permanent renovations, ensuring a sense of progression across each subsequent run. These aren't the typical stat boosts. Instead, you'll encounter new characters, room types, and other variations. The first one you'll liberate is an interesting platforming/piano-playing mini-game. Although this level of creativity wavers, there's the thrill of not knowing what's coming next. Some might appreciate the game's sly references to pop culture, which add additional incentive to seeing all the game's unlockables. But like any entry in the genre, once you've seen everything on display, Neon's radiance begins to fade.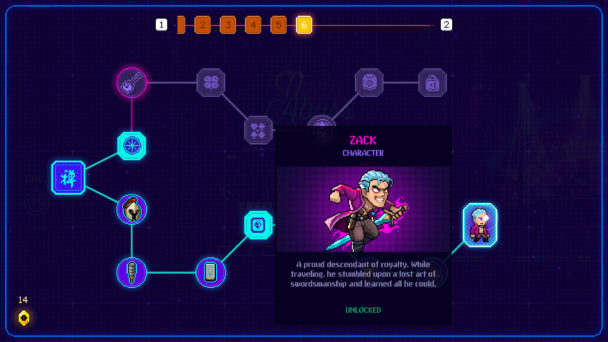 Unpredictability is a Consummate Challenger 
Although variability can be a virtue, intermittently it works against Neon Abyss. Like any roguelike with a heavy emphasis on randomization, chance might issue you a powerful gun and a pack of hatchlings that fill the screen with projectiles. But other runs won't be as favorable, and you'll feel underpowered when taking on the game's succession of bosses. Some might enjoy the arbitrariness of it all, but others could grow frustrated when five consecutive attempts don't provide enough hearts to refill your health or extend peculiar guns with limited ranges. But when you do find a good run, Neon extends a seed code, allowing others to experience the exact same setup of rooms, guns, and items.
Neon Abyss' biggest challenge stems from enter a crowded sub-genre. If there weren't as many solid twin-sticker shooters with roguelike elements, it would undoubtedly garner more attention. But detached from its competitors, Neon is a thoroughly satisfying and only infrequently provoking experience. Anyone who is a fan of these capricious action, should give the demo a try.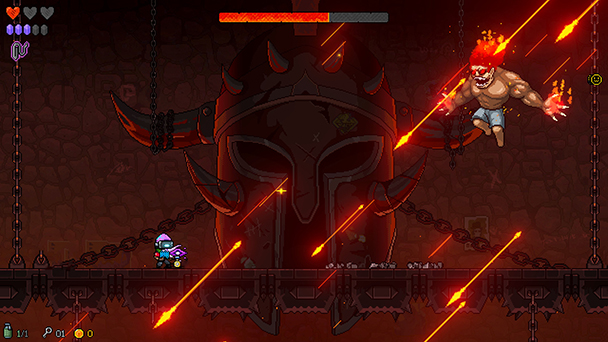 Neon Abyss was played on PC with review code provided by the publisher
Review Overview
Summary : With a plethora of pop culture references, and a multitude of different munition types, Neon Abyss will keep you running, gunning, jumping, and hatching eggs for hours. You'll encounter the sporadic scorn of a random number generator, but there's just enough appeal to help overcome the hindrance.