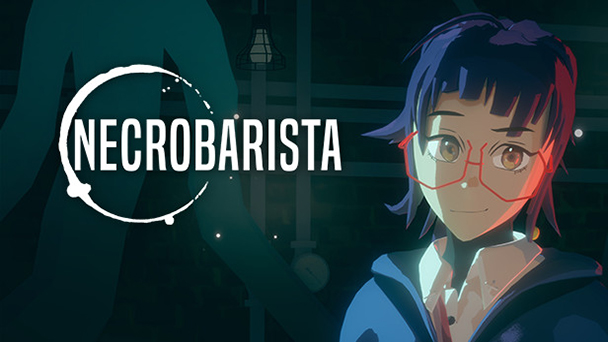 With a dynamic visual delivery and a shrewdly pared-down cast, Necrobarista channels the intimacy of a stage play within the medium of a visual novel. It's a remarkable feat that truly pushes the medium in a new direction.
Necrobarista
Platform:
PC
Developer:
Route 59
Publisher:
Route 59, Coconut Island Games, PLAYISM
Release date:
July 22nd, 2020
Price:
$19.99 via digital download, launch price of $16.99
Availability:
Steam
Necrobarista wants to change your perception of the visual novel. Instead of the typical tidy narrative told through character portraits, Route 59's inaugural offering is much more ambitious. Set in "The Terminal", a hip, Melbourne café, the novel delights in the exhibition of diminutive details.
Occasionally, the game will let you freely roam around the environment, perceiving intricacies at your leisure. And that's exactly how the novel opens, as you move down a quaint street, past sidewalk signage that conveys coffee house rules, and once inside, a gleaming tree, and wood-filled interior. Interactive entertainment often flaunts lifelike contexts, but The Terminal, with a full menu posted on the wall, feels especially convincing. Like the homes in Mamoru Hosoda's Summer Wars and Mirai, it's a meticulously modeled and memorable enough to linger in your thoughts, letting you mentally explore its spaces after you're stepped away from the screen.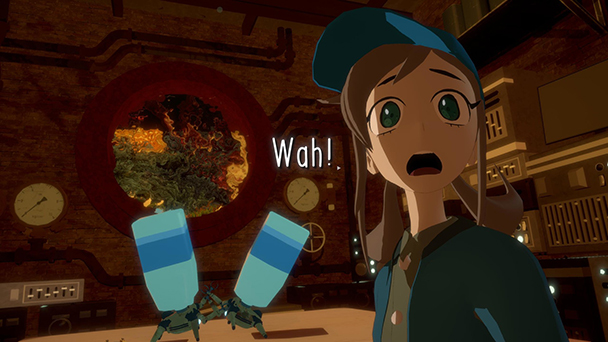 If Looks Could Kill
A constrained number of locales certainly works to Necrobarista's advantage. But sporadically, you'll step beyond the café's main flooring, into new areas, some of which are quite dazzling. Instead of the customary text box, the novel positions dialog in empty spaces around the screen, adding another layer of storytelling. Try to resist capturing a screenshot, Necrobarista dares, knowing your weakness for a clever line.
Elevating the sense of wonder are the game's characters. Charmingly drawn with exaggerated facial expressions, the game's artwork references Studio Trigger's Kill la Kill and Little Witch Academia. But instead of a few dozen poses for character models like many visual novels, Necrobarista's positioning rivals feature animation. Each is posed to communicate their emotional state and sporadically, animate with sumptuous fluidity. Cinematography in games can often be rather utilitarian, but Necrobarista's extreme close-ups and attention-grabbing camera-angles seize your attention. Occasionally, you'll even have a bit of control over the perspective, with mouse movement gently shifting the angle of the scene.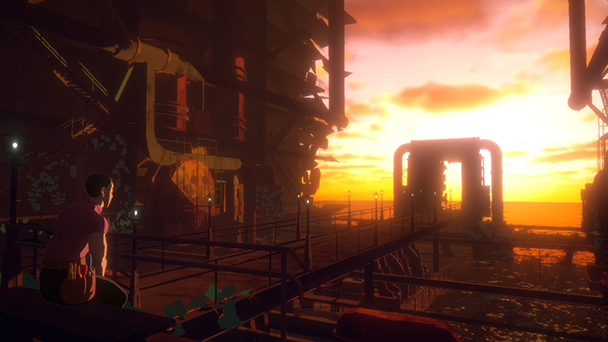 A Mesmerizing Five-Hour Journey
The tale is spread out across ten episodes that are roughly 20-30 minutes in length, further linking the game to animation. Pleasingly, Necrobarista's storyline is less about the events, but more about the beguiling characters. Initially, you'll meet Maddy, a purple-haired, spectacled barista who runs the Terminal. Reveals come at a deliberate pace, but you'll soon understand she's in some kind of quandary. While affable one moment, she can let stress get the best of her the next. Route 59 undoubtedly understands that characters need realistic flaws, and as a reader we are be drawn in eager to glean the foundation of these imperfections.
'Barista's other characters are just as fascinating. There's Chay, the former owner of The Terminal, who also happens to be a necromancer. Most novels might have become ensnared in the spectacle of bringing back the dead. But Necrobarista is too smart for that, finding appeal in the entanglement of relationships rather than the mere explanations of science. But that's not to say there's not a lore or logic lurking in the backdrop. Angela, a thirteen-old year-old girl with a metal arm and intense coping mechanism has a trio of reanimated animals. These communicate between episodes providing oddly comic relief, but also hint at some aspects of 'Barista's refined world-building. Another plus is Necrobarista's depiction of diasporic characters. While Maddy and Chay are both Asian-Australian, they're both delightfully 'normal' characters in a peculiar position. The novel resists stereotyping, exoticizing, or drawing gratuitous attention to their ethnicity.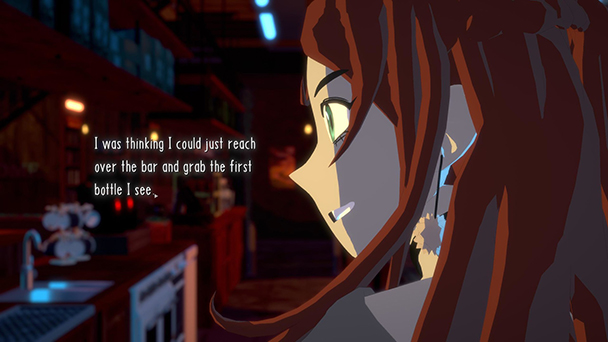 A Double Shot of Acceptance
Going into detail about the plot would be callous. But suffice to say, if you're hoping for some light existentialism, Necrobarista doesn't disappoint. In the novel's opening moments, a character named Keshin wanders into The Terminal and is told he died and can spend twenty-hour in the coffee house. Initially, blindsided by the news and eager to learn more about his death, acceptance takes hold as he spends some of his final hours helping Angela. While Necrobarista shirks preachiness, it's likely to make you contemplate what you spend time doing. Any work that prods us into deliberation is a winner in my book.
But that's not to say the novel is free of stumbles. Although things move at a good pace, the presence of a trio of character is one chapter feels a bit superfluous. In the end they have a minimal impact on Necrobarista's narrative. Although, it's hard to fault the visual novel decision for a more direct, albeit linear storyline, some might find the lone instance of interactivity a bit awkward.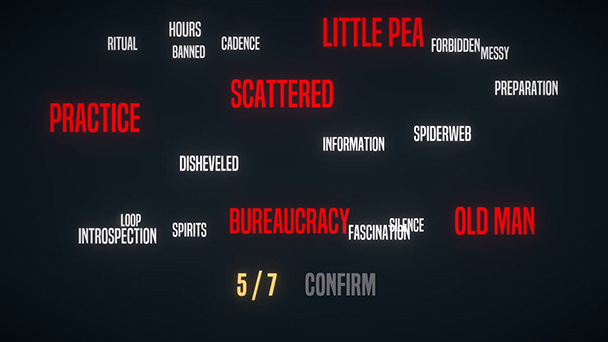 Occasionally, dialog with be displayed with highlighted words. Click on those of these for a brief explanation of the term, which might be useful if you're not acquainted with Aussie slang. At the end of the episode, you'll be asked to choose seven of these term from a word cloud. Discover a connection and you'll unlock small short stories that flesh out the plotline. It's an interesting idea, seemingly designed to reward readers who absorb every detail. But in execution, it can be a bit arbitrary.
Conclusion
It would be a disservice to not mention Kevin Penkin's (Norn9, Made in Abyss) soundtrack, which adds a later of sophistication to Necrobarista. From plaintive piano-driven melodies, moody numbers with a Hammond organ, each composition emphasizes the novel's relaxed ruminations, heated conflicts, as well as the restless uncertainty of our final hours. Here, visuals, text, and sound synergize, and you'll probably linger on a moment, snubbing the button press used to advance. When the conclusion imminent, you'll want to appreciate the beauty of it all, much like Keshin.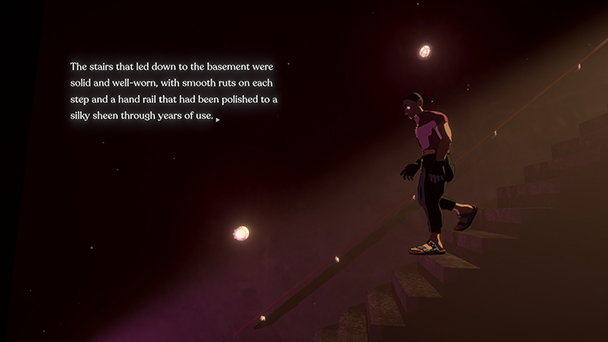 Necrobarista was played on PC with review code provided by the publisher. 
Review Overview
Summary : Many visual novels involve a multitude of locations and characters. Ingeniously, Necrobarista feels like a pedantically written stage play, putting the focus on the interdependent relations of a small cast. This approach, coupled with a visual direction that shuns monotony, makes this one of the best visual novels of the year.