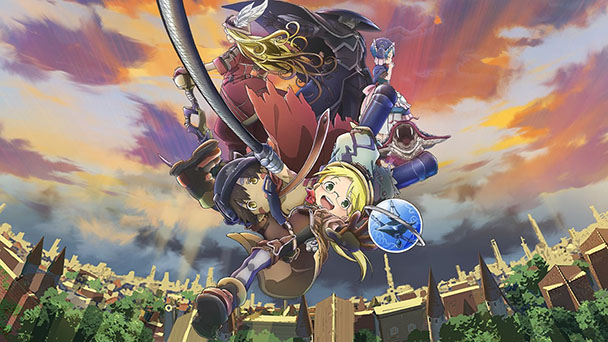 When works are adapted for other media, there's always the risk that something will be lost in the process. Certainly, that's a possibility with Made in Abyss: Journey's Dawn, which is twice removed from its source material. Akihito Tsukushi's ongoing manga debuted in 2012, subsequently spurring an animated series directed by Masayuki Kojima five years later. With Journey's Dawn, the first eight episodes of the anime have been edited into a theatrical film, offering a succinct trek into Tsukushi's imaginative realm. Since much of Made is Abyss' success centers on its elaborate world-building, any abridgement threatens to undermine the property. Fortunately, the strength of the storytelling shines through this condensed adaptation.
The two-hour and fifteen-minute film opens with the rare bit of additional exposition, as a seasoned Cave Explorer nicknamed Lyza the Annihilator laments over her explorational triumphs while rubbing her pregnant belly. A jump cut advances us a decade, where we're introduced to her energetic and good-hearted daughter Riko. Following her mother's footsteps, Riko is a Cave Explorer, who spends her days plumbing the mysterious depths of the abyss looking for magical artifacts while evenings are spent residing at the Belchero Orphanage.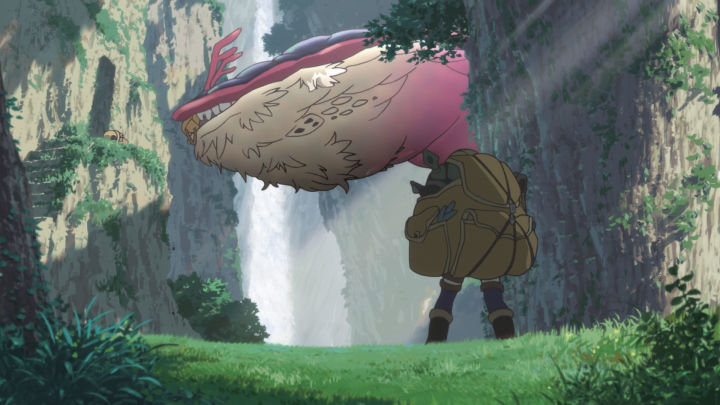 With a visual style that incorporates cherubic characters, you might mistake Made in Abyss for a light-hearted explorational excursion. But there are a number of distressing subtexts that linger in the backdrop. Despite interesting architectural details like a classroom where students sit in a vertical grid of desks, Belchero Orphanage reeks of Dickensian destitution where the burden of labor rests on children without a traditional family. Occasionally, you'll witness glimpses of abuse, where Riko's room once served as a torture chamber. There's even a fleeting glimpse of the protagonist enduring corporal punishment. Like The Sky Crawlers, it's heartbreaking to see a society force its fragile members into life-risking situations. And because of that, it's difficult not to feel for the film's brave leads.
Soon, Riko decides to descend into the film's eponymous chasm to find out more about her mother. She's accompanied by Reg, an amnesiac, half-robotic boy with an extending arm, who yearns to know more about his own background. Many works woud have been content to mine their contrasting and comparable personalities for straightforward comedy. But Made in Abyss depicts the pair in a gratifying complimentary relationship, that depicts a sibling like bond one moment, and hints at the possibility of a romantic one the next.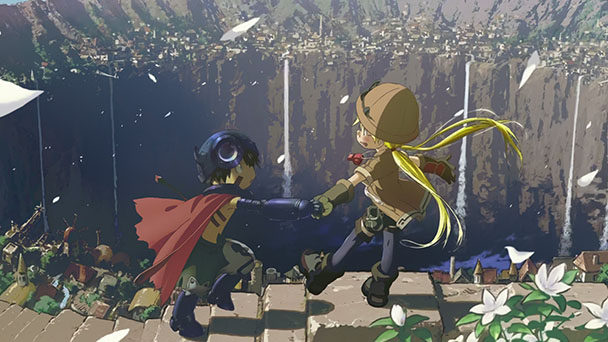 Riko's occasional recklessness puts her and those around her in danger. But the stoic Reg is ready with either sage-like advice or a powerful energy beam to assist. In return, Riko's spirited demeanor obviously motivates Reg, and when all of his energy is expended, she takes care of him in a compassionate manner. As such, they're an entirely likeable duo and it's rather enchanting to watch them depending on each other as the pair descend down the abyss.
Yes, there are a few moments where Made in Abyss: Journey's Dawn's dialog justifies the PG-13 rating. But the sporadic incorporation of humor is poised to make teens and adults laugh, offering a momentary reprieve from the voyage downward. If you're familiar with Japan's more lenient attitude toward sexuality and discussions of bodily functions, you'll appreciate the tension breaker. But those with a more puritanical point-of-view might find elements slightly objectionable.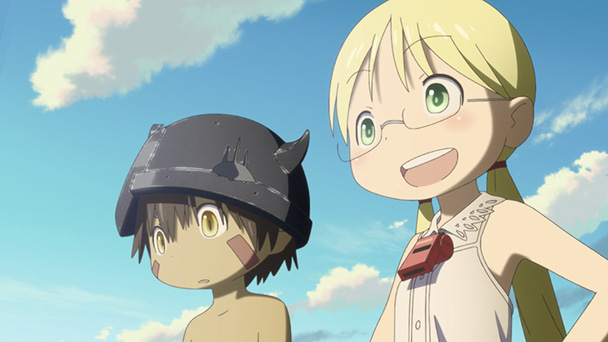 One of Journey's Dawn irrefutably positive qualities is found in the depiction of the abyss and its surrounding area. From the dense patchwork of cabins resting on the great chasm's rim to The Inverted Forest where trees eerily hang from the ceiling and lilypad-like flora create a strange stratum, there's a constant sense of wonder during Riko and Reg's descent. Unsurprisingly, adversity abounds, inducing anxiety whenever an otherworldly creature emits an ominous warning.
Visually, Journey's Dawn milieu deserves a viewing on the big screen. Although there's the occasional instance of animation that lacks fluidity, the majority of the film offers an array of environmental delights. Kevin Penkin's score incorporates a multitude of motifs, complementing moments of tranquility with plaintive piano-driven melodies or tense standoffs with driving rhythms. While the subtitled release offers top-tier Japanese voice acting and an adept translation, the dubbed version is undermined by a few secondaries who turn in mediocre performances.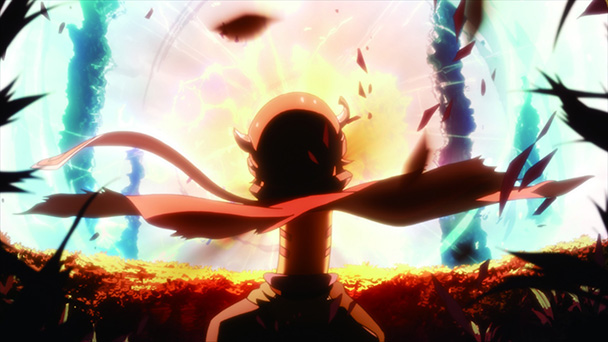 Those who appreciate meticulous world-building are encouraged to seek out Made in Abyss' series. But for those seeking a less time-intensive adaptation of Akihito Tsukushi's work will undoubted relish Made in Abyss: Journey's Dawn. If you do opt for the latter, you'll want to clear your calendar for the upcoming release of Wandering Twilight which will pick up right where this cliffhanger ends.