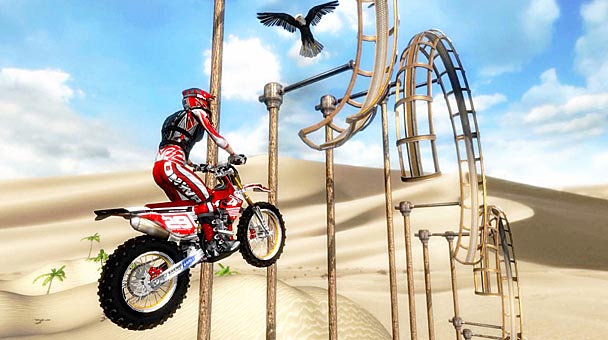 What is the concept? Much like Trials HD, Urban Trial Freestyle, and countless clones in the Apple App and Google Play Marketplaces, Motorbike pits players against a procession of increasingly taxing obstacle courses. While the apex of adversity varies from title to title, nearly every game in the genre begins by familiarizing players with a streamlined control scheme. In this respect, Motorbike faithfully follows form- tasking gamers with shifting the weight of the riders (strangely called 'pilots' in the PS3 version) with the left analog stick, while simultaneously using the face buttons to accelerate and brake.
Gradually, mastery of this pared-down input method opens up an arsenal of navigational tricks- as players are tasked with performing wheelies, stoppies, and even springing over obstructions. Eighty preloaded courses await either individuals or duos, while a track editor and community sharing component purports to add limitless variety. Unfortunately, nearly every element of this port is so shoddily produced that Motorbike's greatest challenge doesn't stem from any the game stages, but rather restraining your temper when you realize that you've just purchased a vastly overpriced, under-performing port of a smartphone game.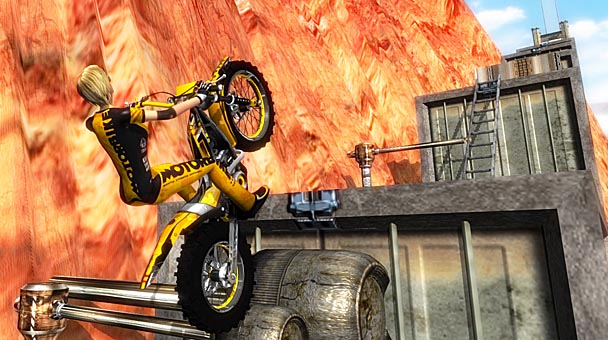 What are the game's strengths? Functionally, the PS3 version of Motorbike mirrors its predecessors, offering an adequate selection of game modes. Beyond the aforementioned single player campaign, local pairs may participate in an odd cooperative mode. Here, gamers may ride over each other when there are in close proximity. While this would seem to allow bikers to use their comrades as stepping stones- in execution, the weight of the motorcycle kills the other player, sullying any feelings of collaboration. Competitive mode is more straightforward- with the screen divided into top and bottom playfields as the two ghost contestants race to the finish.
What are the game's weaknesses: Much of Motorbike's problems sprout from the title's selection of course items. An early level challenges riders with traversing over a car. Whereas there's a smoothness to navigation in games like Trials HD and Urban Trial Freestyle, with Motorbike, players get stuck in every hollowed out window frame. A few feet later, there's a jutting boulder and giant tire on the track. Getting over these obstructions is far more frustrating than it is fun, which is a widespread problem through the game's collection of stages. Items are rarely secured to the environment, which not only divulges problems with the game's sense of weight, but makes many stages feel like a poorly constructed, user-made LittleBigPlanet level.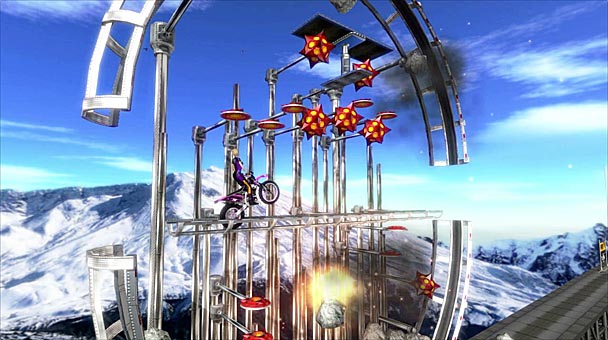 Another core issue with Motorbike is the title's menu system, which was directly ported from the smartphone iteration. Navigation is handled through the directional pad, which doesn't sound like much of an issue, but becomes grating when the menu system is clearly designed for a touch screen. Constructing a course with the level editor is particularly counter-intuitive; after thirty-minutes of dedicated study I abandoned my aspirations of building a simple progression of jumps.
As unforgiveable as these transgressions are, Motorbike's worst offense is its performance.  With the game targets a 60 frame-per-second output on my Samsung Galaxy Note 2, the PS3 version struggles to reach half that. Two player matches dissolve into slideshow territory while created courses with any type of elevation sputter along. In those rare moments when the title hits a refresh rate in the high twenties, screen tears are unmistakable. Beyond the anomalies, texture glitches are ubiquitous, while backdrops are decided low-resolution. The final deal breaker is Motorbike's unmistakable lack of playtesting, crashing two different PS3s multiple times. If there's an upside to the console freeze, it's the silencing of the game's soundtrack- which bears a string resemblance to royalty-free interpretations of '90s grunge.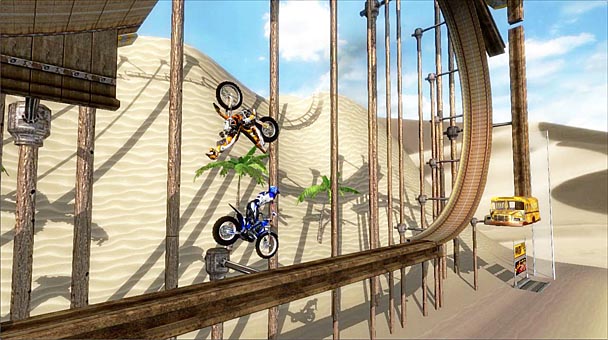 Is it worth the money? At fifteen dollars, Motorbike is appallingly overpriced; I couldn't recommend the title for a small fraction of the price. Subordinate to similar physics-based Xbox Live Indie titles, players are cautioned to steer clear of this woeful wreckage. For the morbidly curious, both the App and Google Play Store offer a demo of Motorbike. Download if you must, pilots.
Review Overview
Summary : As a substandard port of a middling smartphone game, PS3 owners are encouraged to steer clear of Motorbike. Either Urban Trial Freestyle or Joe Danger is a far better choice for a physics-based freewheeling.