With the graphical output of Android smart phones approaching the capacities of dedicated portable systems, there's just one persisting problem with gaming on a wireless: control methods are often woefully awkward. Sure, a touch screen may be advantageous for the tower-defense or turn-based strategy genres, while gyroscopic input offers an adequate method for controlling racing titles. Yet, for most arcade-like action games, developers rely on the virtual directional pad. Beyond robbing a bit of screen real estate, this type of control system lacks the tactical feedback of an actual controller. For anyone with large hands, the simulated D-pad can be exceptionally unwieldy- obliging gamers to divert their eyes to ensure their thumbs are fixed on the diminutive on-screen circle.
Currently, a number of makeshift solutions exist. Several third-party apps allow gamers to utilize their existing Wiimotes or DualShock controllers. Admittedly, this can be a rather inelegant resolution- while I've been able to get these workarounds to operate on a Nexus 7 after the purchase of a OTG cable, syncing up with an HTC Inspire has proven futile. Purportedly, a number of inexpensive Bluetooth-enabled mini-controllers may be imported from Hong Kong, but I've read mixed reports on both the quality and functionality of these devices.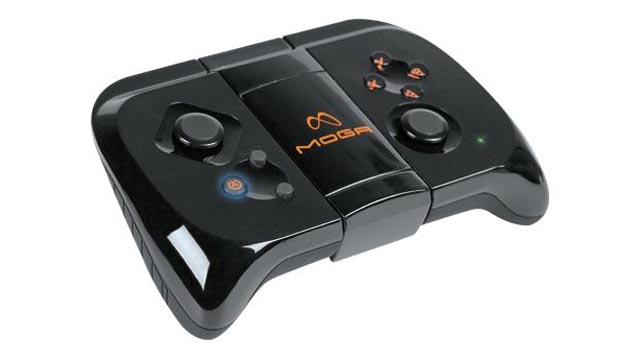 One emerging alternative is PowerA's MOGA Mobile Gaming System, a pocket-sized peripheral with a good amount of promise. Unlike most ersatz solutions, the MOGA offers a pair of analog sticks, which approach the fidelity and comfort of a dedicated console controller. The upside of this solution is that when developers integrate PowerA's middleware, gameplay in titles such as The Dark Knight Rises HD rivals the experience of playing a game on the 3DS or PS Vita. Woefully, the complexity of analog functionality means that keymapping isn't likely to be offered. For the time being, the MOGA only interfaces with games available in its accompanying Pivot app. Fortunately, a handful of high-profile publishers such as Namco-Bandai, SEGA, Gameloft have extended support, potentially inspiring others to follow suit.
As soon as players unbox the MOGA, they'll notice the unit's perceptive design choices and solid build quality. In execution, the peripheral delivered between 15-19 hours of playtime from two AAA batteries, which are sensibly offset in each side of the controller to offer even weight disbursement. Beyond the twin sticks, the MOGA also has a quartet of face buttons arranged in a typical diamond formation, along with start and select keys and a pair of triggers mounted on the back. Although each key exhibits a solid weight and throw distance, the 'ABXY' buttons on the front of the MOGA delivered a bit too much aural feedback, giving a substantial click with every press. While players dismissive of the PSP's analog 'nub' might be bothered by the flat form of the controller's sticks, I suspect more will bemoan the sluggish centering speed.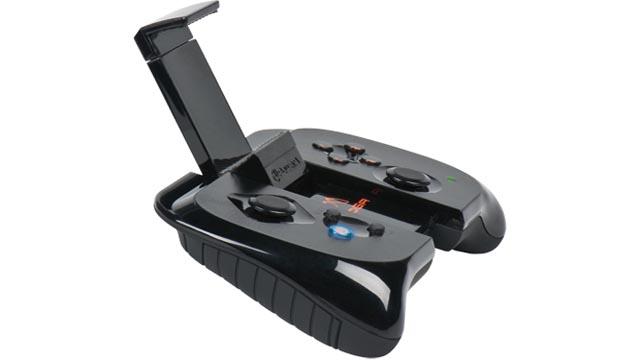 Launching the Pivot app brings up a clean, responsive interface which displays your MOGA-compatible purchases along with a storefront which extends links to both Google Play and Gameloft's storefronts. Pleasingly, pairing the unit to a Samsung Galaxy S III and Nexus 7 proved to be problem free, with the app quickly recognizing the controller. Throughout thirty hours of use, the unit did lose its connection twice- an incident rate that's consistent with the mice, ear pieces and keyboards which use the same Bluetooth frequency.
Lifting up the middle section of the MOGA reveals a clip used for holding a smartphone. Elegantly, the fastener feels secure, giving a comforting (but never finish-marring thanks to the rubberized inserts) vice-like grip around a variety of wireless sizes. The sole setback is that volume control proved to a bit difficult to access on some handsets, with the clips resists opening to a state where phone and controller are flat. For tablet owners, the clip can be conveniently retracted, reducing the size of the MOGA's footprint.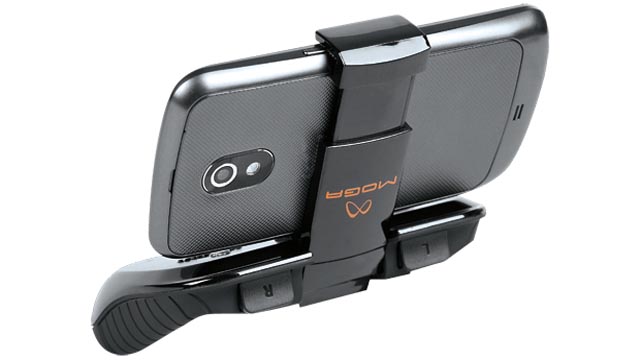 In execution, The MOGA greatly improved the degree of control for a variety of games. Sonic CD, a game that requires quick, precise jumps was wholly transformed, offering a dazzling recreating of the console experience. Gratifyingly, the title even flaunted the MOGA's feedback abilities, vibrating as Sonic shifted between eras. Similarly, The Dark Knight Rises HD become much more enjoyable, substituting the often awkward character control into a wholly intuitive affair, completely invigorating the experience. N.O.V.A. 3 transitioned from unwieldy to instinctive, its auto-aim feature becoming markedly conspicuous with the MOGA's increased level of precision. Less successful was MOGA's handling of racers, both Asphalt 7: Heat and Riptide GP failed to convey the sensation of analog fidelity, with the later demonstrating a debilitating case of understeer.
Although some launch kinks still need to be smoother over, the MOGA Mobile Gaming System shows a great deal of potential. If the peripheral can win over the support of emulator developers, the device would be a requisite purchase for Android owners. As it stands, if PowerA can wrangle a handful of additional developers, the peripheral is easily worth its $50 purchase price.
Product Specs for the MOGA Mobile Gaming System
Manufacturer: PowerA
OS Compatibility: Android 2.3+
Launch Date: October 21st, 2012
MSRP: $49.99
Accessories Included: Two AAA batteries, carrying case
Battery Life: Approximately 18 hours