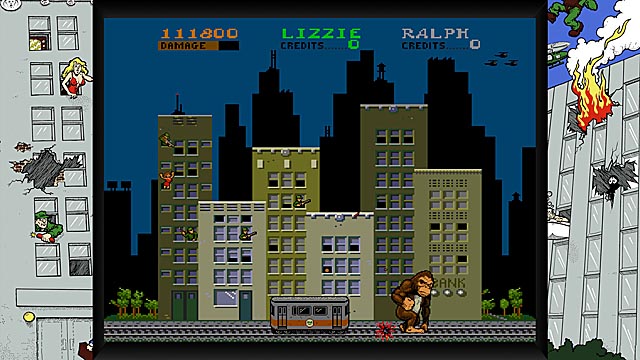 Across the previous two generations of console hardware, collections of cherished coin-op games were commonplace. Then, digital delivery came along and, save from the superb Sonic's Ultimate Genesis Collection, shifted the paradigm from disk-based compendium to a piece-meal approach. Online outlets such as Xbox Live, the PlayStation Store, and the tragically short-lived Game Room service, appeared to have made the arcade anthology obsolete. While this shrank the barrier of entry, making the cost of owning an individual game to as low as three dollars, it also sullied the sense of unity provided by owning a single, cohesive compendium offer supplemented by historical material.
As such, the release of Midway Arcade Origins feels remarkable, giving Xbox 360 and PlayStation 3 owners a collection thirty-one games culled from the era of Cosby and Cabbage Patch Dolls. With emulation duties handled by Backbone Entertainment, a developer who has handled console ports of games such as Ultimate Mortal Kombat III and Frogger, the compilation's coding is adept. Less pleasing is the scarcity of ancillary additions, making Origins' assembly of arcade games feel a bit emaciated.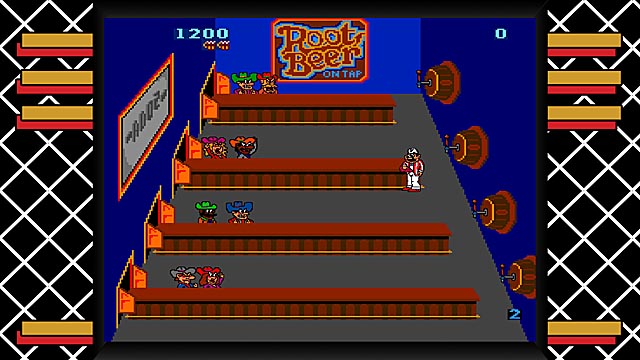 The anthology launching point is 1980's horizontally-scrolling shooter, Defender, which many consider as one of the seminal title's in the golden age of arcade history. Designer Eugene Jarvis' oeuvre is modestly represented in Arcade Origins, with Robotron:2084, Stargate (aka Defender II) and Smash TV on the disk. Regrettably, NARC and the Cruis'n series are omitted; perhaps destined for a follow-up omnibus. Luckily, the output of Brian Colin and Jeff Nauman (known as the principal designers at Game Refuge) fares better- with Rampage, Arch Rivals, and Xenophobe included in the collection. Several titles that the duo had a hand in, such as Satan's Hollow and Spy Hunter, as well as Spy Hunter II also round out the disk.
Reflecting Midway's 1996 acquisition of Time-Warner Interactive, a number of Atari arcade titles are poised to please aficionados. Games such as 7200, A.P.B., Championship Sprint, Marble Madness, Pit-Fighter, Rampart, Super Sprint, Toobin' and Xybots nicely complement the remaining titles, offering a reverent retrospective of gaming during the Reagan years. Undeniably, Midway Arcade Origins' best offerings are the games produced during the waning days of the 80's. Super Off Road (née Ivan 'Ironman' Stewart's Super Off Road) holds up amazingly well, as does pseudo-Smash TV sequel, Total Carnage.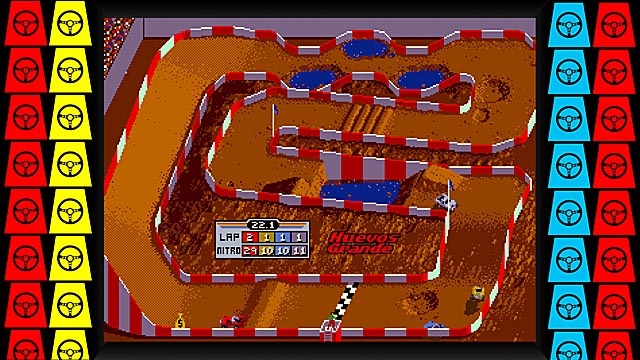 Apart from some curious organizational choices, which places Bubbles in the 'platform' genre and considers Toobin' a 'driving' game, Midway Arcade Origins' interface gives players quick access to the roster of titles. Players have the ability to mark their favorite titles as favorites for the collection's revolving, intuitive menus. Access to difficulty-varying DIP switches is often uneven in these types of packages. Mercifully, the compilation allows players to tweak these settings in the Free Play option, while maintaining the integrity of the original arcade experience for the game's off-line and online leaderboards. One strange quirk: on the PS3 iteration, a brief loss of internet connection abruptly required me to sign back into the PlayStation network, disrupting the flow during an unmistakably offline game.
Most of the Midway Arcade Origins' default control schemes work well. Championship Sprint, Super Off Road, and Super Sprint's adaptation from steering wheel to stick proves to be particularly well-programmed, allowing tight turns without ever feeling twitchy. Skillfully, the collection's 'insert coin' function is intuitively mapped to the "X" button, unlike many anthologies that arbitrarily assign it to a trigger or select button. For those that prefer to customize their input methods, Origins' typically allows some flexibility. One constraint is that gamers can't assign a function to multiple buttons, allowing, for example, all the triggers on a DualShock controller to deliver an imperative, mutant-murdering smart bomb in Defender. The other is that players can't adjust sensitivity. As such, Marble Madness' transition from trackball to analog stick can make the orb feel rather flighty in its default setting. For button-mashers like Gauntlet and Gauntlet II, a rapid fire option would have been welcome. Regrettably, Midway Arcade Origins' lacks this basic feature.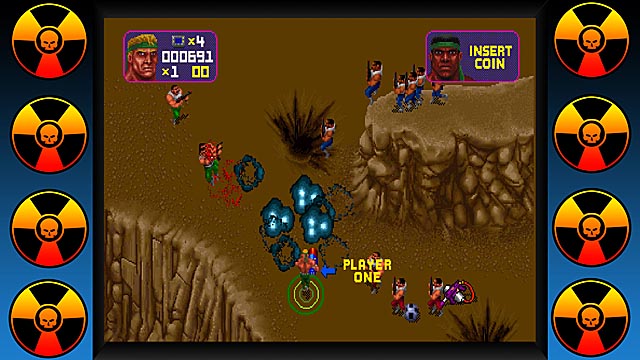 Visually, the title bestows two different visual filters which purport to either to reduce jagged edges or produce a slight smoothing effect. In execution, they both deliver a slight blurring effect; while some might appreciate the aesthetic, purists will want to keep the disk's setting on 'sharp'. Audio emulation can be especially contentious, and while Midway Arcade Origins does an admirable job recreating the staccato drone of a respawn in Joust or a ship's explosion in Defender, the overall aural output seems a bit light in the bass range. Still, for arcade-era enthusiasts, hearing "red elf shot the food" in Gauntlet is apt to stir a whirlwind of salient memories.
Considering the disks' moniker, players might assume that Origins provides insight into the impetus behind each game in the collection. Midway's previous compilations included developer interviews, historical information about each coin-op, archival footage, cabinet and marque art, as well as promotional flyers. Save for a truncated amount of trivia which scrolls by on the bottom of a pause screen, the disk has a disheartening shortage of anecdotal info.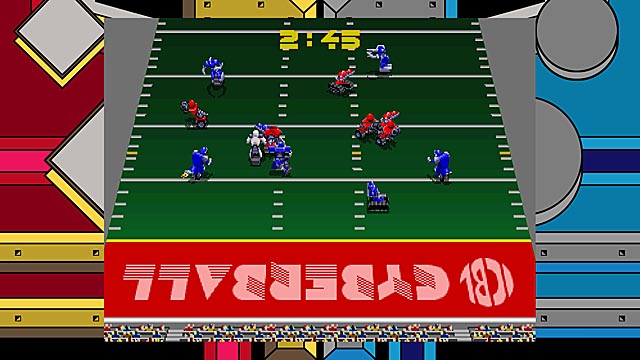 While all of the games on the Midway Arcade Origins disk have been released previously- both in the trio of last-gen Midway Arcade Treasures disks as well as on Xbox Live and the PlayStation network, playing these titles might be problematic for owners of now-gen consoles. From the lack of backwards compatibility extended by the Xbox 360 and current-model PS3s, to the delisting of titles available for downloadable purchase, obtaining these classics can be tricky. At less than $1 per game, the Midway Arcade Origins is a suitable alternative, although the lack of historical supplements means that the definitive collection representing Midway's coin-op era has yet to be compiled.