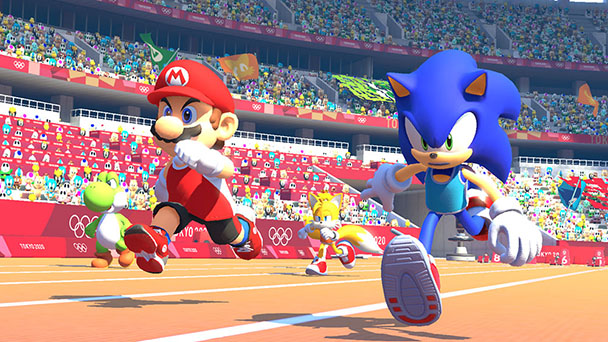 The 2020 Olympics kick off on July 24, 2020. But that doesn't mean that you have to wait nine long months to enjoy spirited competitions between challengers from across the globe. On November 5th, 2019 SEGA will release Mario & Sonic at the Olympic Games Tokyo 2020, which brings a comprehensive collection of actual events, dream events, and even retro throwbacks set during Tokyo's 1964 Olympic games. Pleasingly, the game isn't just packed with content, but also offers an indulging amount of polish.
Undoubtedly, comparisons will be drawn to Konami's Track & Field, the 1983 arcade game that delivered one of the earliest interpretations of summer games events. But savvy players will remember SEGA's own adaptations. DecAthlete (known in the EU as Athlete Kings) and Winter Heat moved away from the kind of button-mashing mechanics that reduce the life expectancy of controllers. Instead, success favored precision and timing, adding a bit of sophistication.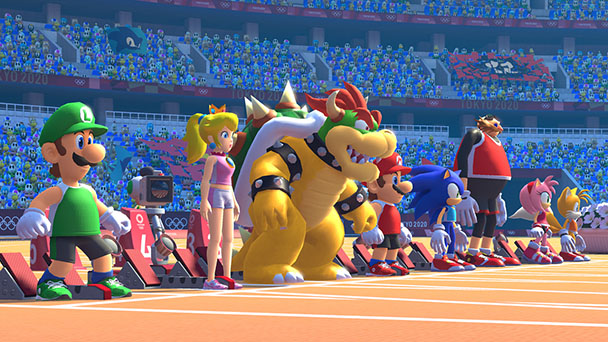 Unsurprisingly, that's the approach SEGA employs for Tokyo 2020. While an event like the 100-yard dash still includes relaxed button pressing to simulate the cadence of running, victory really hinges on charging before the starting pistol is fired, a precise take-off, and the proper timing of a burst of super dash before crossing the finish line. Error on any of the mechanics and you'll be at a serious disadvantage for a podium finish.
Balancing accessibility with intricacy is a persistent struggle for this kind of game compilations. But Mario & Sonic strikes a suitable balance. Skateboarding, for instance, does away with the complicated trick systems popularized by the Tony Hawk games. Here, simple stick presses and well-timed button presses execute aerials, grinds, and manuals- all of which gradually build up your super meter. Once that gauge is filled, you're able to perform more stylish 'super' stunts. While it's obviously not intended as a full-fledge skating simulation, it's gratifying enough to play several times in succession.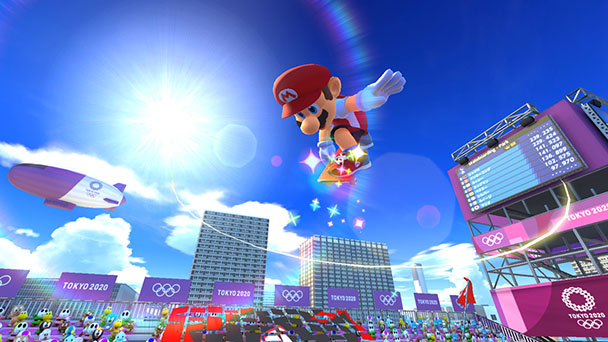 But you're not always locked into traditional control schemes. Seizing on the adaptability of the Switch, you can also opt to play events with a detached Joy-Con in each hand or split them up for multiplayer matches. Expectedly, this changes the feel of events. While motion input isn't all that accurate (which seems to be a hardware, rather than software issue), it does introduce a bit of physicality into the proceedings. Competitions with friends is just as energetic as you might anticipate, but smartly, Tokyo 2020 also courts individuals, with the inclusion of a story mode.
Dream Events have always been a favorite for SEGA's Olympic franchise, and it's no different here. Three different events, racing, karate, and shooting extend imaginative interpretations of different sports, adding deeper mechanics and depth. The former incorporates element of Sonic's snowboarding runs, with a downhill heat with ring collection, stunting, and plenty of boost pads. Karate seems geared for heated multiplayer matches, where kicks and punches knock opponents down, claiming squares on a giant gridded square. Shooting seem poised to be a favorite, drawing inspiration from Bizarre Creations' The Club. Moving around a ancient castle, players fire at bullseye targets, trying to keep scoring combos growing. Twice, kites are released, fulling the rivalries between characters.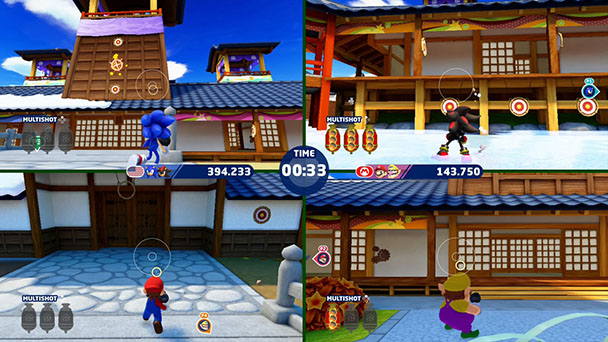 Although Tokyo 2020's collection of 21 sports, 3 Dream Events already feels hearty, it's augmented by ten Tokyo 1964 events. Celebrating the last Summer Games held in the world largest metropolis, these opt for an eight-bit vibe, with characters and mechanics right out of the NES era. If you're worried that these recreations might be too simplistic, you might be surprised by how compelling some of these mini-games are.
Pleasingly, Tokyo 2020 flaunts the refinement that players might expect from a SEGA and Nintendo collaboration. Backdrops are picturesque with busy stadiums filled not only with cheering fans, but plenty of game references, like Chao visible on the sidelines or the floating Sonic, Mario, and Toad Inflatables hoovering over the top tiers of the stadium. Play aims for a TV-style presentation, simulating a multiple camera set-up, while Olympic Logos and themes add a bit of authenticity.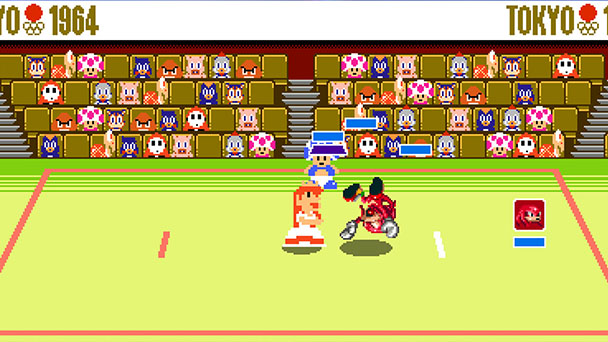 The Mario & Sonic at the Olympic Games series has always been a winner, extending the type of quality expected by the union of two famed franchises. Tokyo 2020 ups the ante even more, with a robust collection of recreations that scales admirably between soloists and small groups. Expect a full review for the game's November launch.