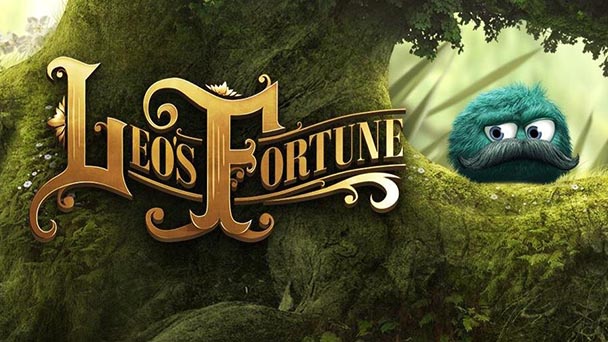 What is the concept? Neo-Freudian criminologists believe that a large percentage of lawbreakers want to get caught. The theory is particularly useful when discussing the behavior of nearly every video game villain. Either divulging their weakness to the player, or when hiding- leaving clues to signpost their whereabouts, antagonists seem to subconsciously seek apprehension and defeat. Such is the case in Leo's Fortune, a well-received mobile title that's recently made its way to Windows, Mac, PlayStation 4 and Xbox One platforms.
The game's prologue introduced players to Leopold, a teal-colored, mustached, fluff-ball with a nebulous Eastern European accent. When Leo discovers his stash of gold coins has been pilfered, he leaps into action, following the trail of currency through twenty main stages and a quartet of bonus levels. Naturally, his trek isn't completely tranquil, with each zone filled with both environmental complications as well puzzles that need to be solved.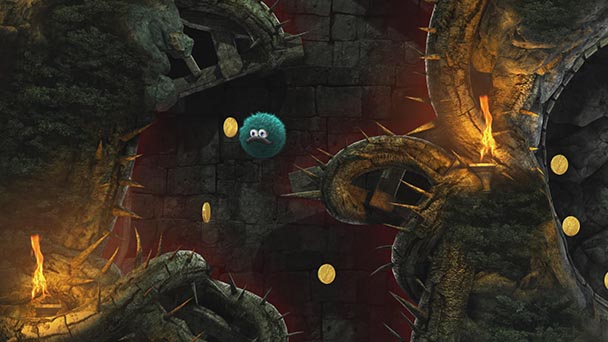 What are the game's strengths? When Leo's undertaking appeared on mobile, the game's control scheme was remarkably adept, extending swipe-based input, virtual control pad, or support for compatible controllers. Thankfully, the latter method has been preserved for this port, allowing players to nimbly navigate each locale. Beyond switching direction with a tug of the analog stick, button presses allow the protagonist to inflate- which can be used to either jump over obstacles or hover serenely through the air. Meanwhile, deflation when airborne will send Leo hurtling to the ground- essential when the fuzzball has to interact with elements on a pivot. When underwater, Leo can drive himself downward, before inflating and subsequently launching above the surface.
When the capable control method is combined with clever level design, Leo's Fortune truly shines. Much like Sonic the Hedgehog, Leo maintains momentum remarkably well, allowing players to lithely coil around serpentine loops and curves before launching into a perfect trajectory to collect a chain of gold coins. Smartly, the game's puzzles aren't too complicated, thanks to Leo's limited ability set, ensuring the action never slows for more than a moment.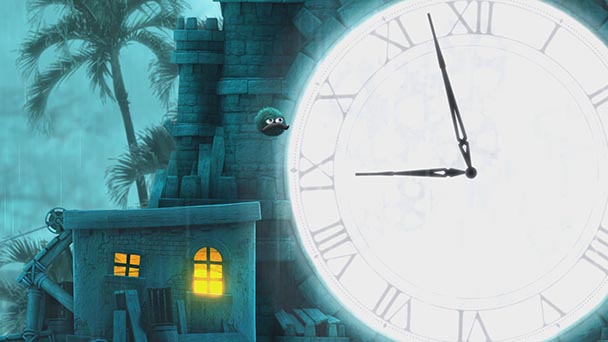 What are the game's weaknesses? Although the game's level design evokes the ingenuity of LittleBigPlanet's best stages, Leo offers little of the comical emotion demonstrated by Sackboy. While black-and-white cinematics offer an impetus to the protagonist's pursuit and short voice-clips deliver a sense of sentience, Leopold offers scant expression. Ideally, he'd display a range of facial expressions or at the very least move his moustache when speaking. But, his range of animation is startlingly limited, prohibiting the protagonist from joining the platforming pantheon.
For some players, the lack of enemies and boss battles might be a sticking point. Leo's journey is entrenched in defensive play. While the non-antagonistic approach will find supports, other may bemoan the feeling of fragility cultivated by a perilous world. One sticking point that might irk all gamers in the title's sporadic tendency toward trial and error. Typically, the game signifies danger by making things spikey and treacherous looking. But every once in a while the game's doesn't always signify danger. As one the end of level goals is completing a stage without losing a life, there need to be no ambiguity in communicating menace.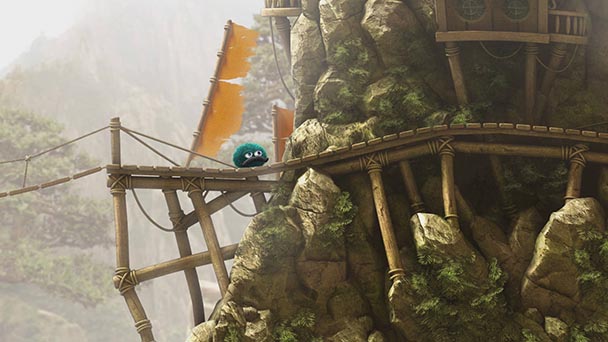 Is it worth the money? At two dollars more than the asking price of the mobile version, this iteration of Leo's Fortune is a worthwhile purchase. While the game's graphics were already impressive on touchscreens, here the visuals been upscaled to 1080p, allowing players to immersive themselves in environmental detail. Pleasingly, the game's Danny Elfman-esque remains intact, supplying melodic harmonies which always seem to hint at the danger ahead. Once players complete the main campaign, they'll gain access to a hardcore mode tasks completion of the entire game with a single life. Although not revolutionary, the variant doesn't add an iota of longevity to the game.
Leo's Fortune was played on the Xbox One with review code provided by the publisher.
Leo's Fortune
Platform: Xbox One, also on PlayStation 4, PC, and Mac
Developer: 1337 & Senri LLC
Publisher: Tilting Point
Release date: September 11th (Xbox One), September 8th (PS4, PC, and Mac)
Price: $6.99 via XGS

Review Overview
Summary : Leo's Fortune is an affable and affordable platformer, ideal for genre fans who missed the enjoyable title on mobile.