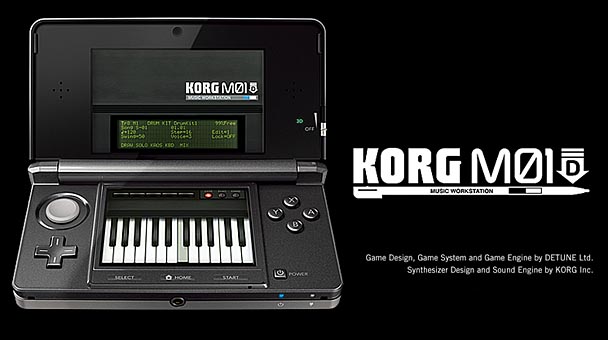 Although music creation suites are common on personal computers, they're a bit of a rarity on dedicated gaming devices. Traditionally, the ones which have surfaced- titles such as eJay Clubworld, Magix Music Maker, MTV Music Generator 2, and Beaterator have utilized a sample-based system for composition. While this simplifies composition by allowing players to drag and drop pre-recorded sounds, this building block method doesn't relinquish complete control to budding musicians. As such, musicians are typically bound to the musical textures supplied by the software. An alternative technique was used by 2008 Nintendo DS release KORG DS-10, which admirably simulated one of the most popular analog synthesizers of the '70s and '80s.
Both KORG DS-10 and its DSi-based successor, KORG DS-10 Plus garnered a diminutive but faithful following. Spearheaded by Nobuyoshi Sano (a frequent composer for the Tekken and Ridge Racer franchises), the cartridges favored technological accuracy over accessibility, meticulously recreating the nuances of the KORG MS-10 synth. Although each title required a temporal investment from owners, the dividend of having a pair of $450 synths that could fit in your pocket, easily outweighed the burden of study. With the release of KORG M01D, Sano-san and the team at DETUNE shrinks another beloved   instrument into a diminutive, 382 block download- providing a stunning recreation of one of the world's most popular digital synths.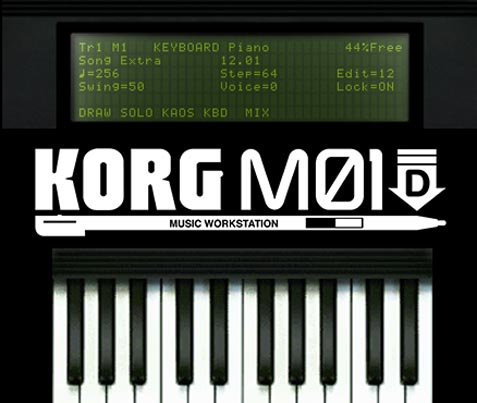 Like its predecessors, KORG M01D emulates the experience of buying an actual workstation. Although DETUNE could have included an introductory overview, the only tutorial is found in the title's digital manual. Fortunately, the 3DS allows users to browse through the e-booklet without exiting the main application (an online version can be found here.) Although the lack of interactive introduction might inconvenience musical neophytes, owners who have fiddled with sequencers such as FL Studio (née Fruity Loops) or Cubase, will immediately comprehend KORG M01D's intuitive creation process.
Altogether the title provides a palette of 342 sounds, arranged into three different sound backs. The M1 library delivers the workstation's original collection of rich, evocative sounds which became an integral element for 90's house music. A respectable selection of the Korg 01/W's sounds also are available- as well as a selection of new presets specially created for KORG M01D. While later workstations provided 32-note polyphony output, M01D splits with difference, playing up to 24 simultaneous voices. Thoughtfully, the title displays a running total during playback, so musicians can scale back any advanced compositions which push the program into sound clipping. While M01D's output obviously can't compete with the fidelity of contemporary workstations like the Kronos, the 3DS faithfully captures the timbre of the M-1, offering an admirable reproduction of Korg's sample and synthesis system.
Thanks to KORG M01D's intuitive interface, composition is a comparatively easy task. Sequencing uses the 3DS's touch screen, allowing a few stylus pokes to select up to eight simultaneous instruments or note placement across up to 99 'scenes'. Pleasingly, editing is a breeze- with owners able to copy, insert, or delete scenes with the assistance of a toggle button.  Like its predecessors, note input can be made either on a grid-based sequencer, on-screen keyboard, or via KAOSS mode which uses the touchscreen for note, chord, or drum entry. Here, sliding the stylus horizontally changes the pitches (across user defined keys and scales) while vertical variations alter the duration of notes; additionally, the simulated KAOSS Pad can be used to enter drum patterns.
DETUNE made sure that the 3DS' advanced capabilities weren't overlooked by KORG M01D. Data exchange allows users to upload and download their compositions, while StreetPass functionality allows participants share a song with an adjacent 3DS owner who also owns the title. For musicians hoping to take their compositions even further, the ability to export MIDI data pushes song information onto SD cards. Although eyes will consistently remain on the touch screen, KORG M01D even includes a bit of 3D output, inlaying the LCD screen on the simulated M-1.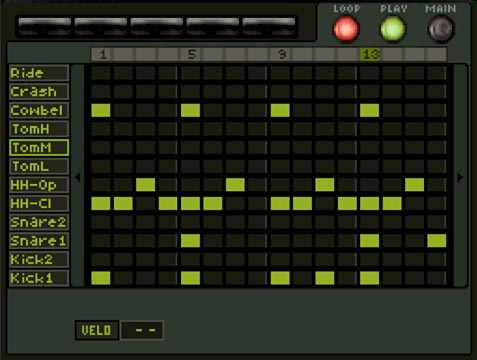 Available since 2010 as a cartridge-based product to Japanese 3DS owners, it's great to see KORG M01D be made available to American and European territories at a reasonable cost of $34/€24.99/£19.99. While the application is admittedly niche, KORG M01D's interface is so user friendly that the only impediment to song creation is one's own musical prowess.
Review Overview
Summary : KORG M01D is an affordable application which turns your 3DS into a sound studio. The only thing that's missing is using the circle pad to alter pitch and modulation.