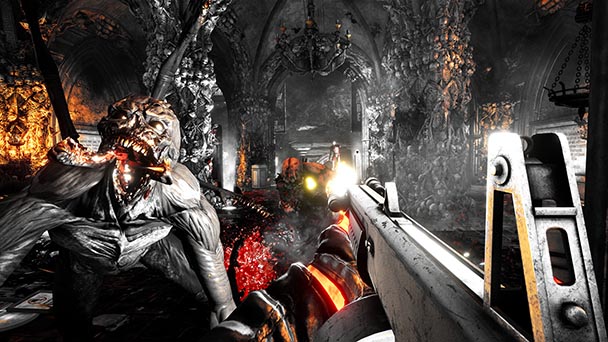 Some say the key to success is specialization. With the release of Killing Floor 2, developer Tripwire Interactive seems committed to that prudent adage. When the Roswell, Georgia-based studio released the original Killing Floor mod in 2005, the term 'horde mode' wasn't even part of the gaming vernacular; Gears of War 2 would eventually popularize the style of gameplay three years later. But Gears and a slew of other shooters like Call of Duty, Halo, and even Team Fortress 2 would not only offer their own interpretations of wave-based assaults, but each cultivated an audience by including different gameplay modes as part of a larger package.
But save for the inclusion of Versus Survival, a player-versus-player component where participants get to mutate into Floor's monstrous menagerie of Clots, Gorefasts, or even Patriarchs, the sequel opts to sidestep such components like a dedicated story-based campaign. But beyond the initial thrill of defecting to Team Zed, Versus Survival might not hold your attention for too long.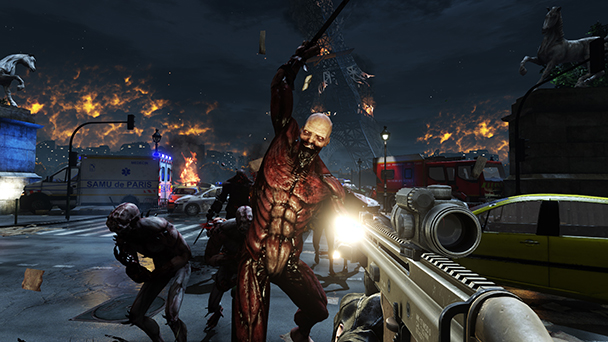 It turns out that giving players control of the Specimen army was a thorny task. Despite fifteen months in Steam's Early Access program, Killing Floor 2's versus matches still have balancing issues with Zeds almost always winning the match. Controlling the horde isn't without its issues. Even if you have a favorite creature, like the projectile-vomiting Bloat or the Grinder- a menacing beast with fleshing shredding blades for appendages, you don't actually get to choose your combatant. Instead, the game makes a halfhearted attempt at team parity, often putting you in the role of a weak Gorefest armed only with a couple of mundane melee attacks. It's little wonder than less that ten percent of servers were hosting Versus Survival matches during the time of this writing.
Whereas competitive play still needs work, cooperative play is where Tripwire has focused their efforts. In execution, Killing Floor 2 retains the same riveting structure as its predecessor. Play starts with an onslaught of spawning specimen, who pour out of the level's recesses like water erupting from a fissured dam. Once the horde has been quelled by a group that's typically between one and six participants, pods open- allowing players to squander their blood money on armor, ammo, and new weapons. Then, it's quickly back to a Zed killing, endowing the game with a satisfying cadence that sporadically punctuated by a raging boss battle or a bit of bullet time- where the game feels like a ruptured piñata raining down tasty head-shot candy.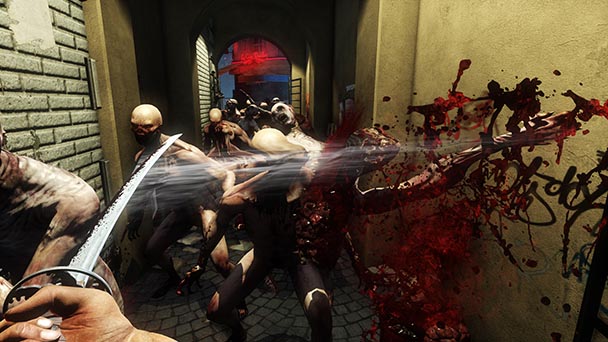 Play often replicates the first techniques used in the first Killing Floor. Expect your team to stick together, with players dedicated to distinct tasks like tackling crowd control, pounding fiercer threats, and some offering medical assistance to allies. Choke points and recesses remain especially deadly, with enemies able to surround, stupefy, and quickly surmount a reckless team. Working collectively is imperative, and you'll learn the importance of keeping your healer alive or protecting sharpshooters fixated on defeated larger enemies. This becomes especially important on the title's higher difficulty levels, where opponents not only display a bit more intelligence, but the stats are tuned to make these enemies more resilient.
Much of Killing Floor 2's enjoyment stems from its phases of intense chaos and the exhibition of over-the-top violence. The game's collection of melee weapons and firearms is substantial, with each feeling distinctive in its output of damage. From dual pistols that require players to estimate trajectories to flamethrowers that emit a steam of molten mortality and even microwave guns that can swell and pop opponents, finding a favorite can be favorite. Just as importantly, each weapon is rendered in meticulous detail, with guns flaunting realistic reload animations and divergent firing sounds.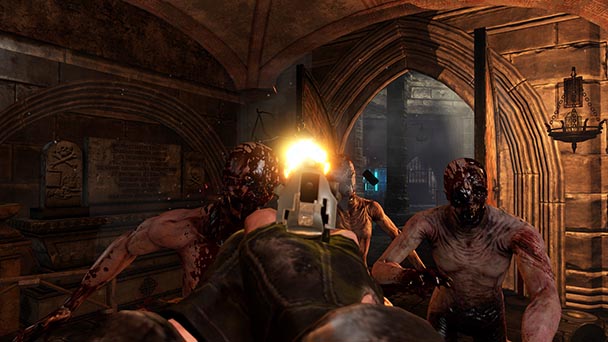 Gore isn't just a cosmetic component in Killing Floor 2. From afar, spewing viscera lets players know they are slowly besieging Specimens. As fallen opponents accumulate across stages, enemy blood forms a sort of heat map, revealing zones of fierce Zed butchery. For players with a beefier rig, the ability to turn on Nvidia's FleX functionality adds liquidity to the dismemberment, allowing Bloats to burst into a satisfying splash of entrails. Visually, other elements fare just as well, with each of the game's twelve maps showing a pleasing amount of detail once the resolution is cranked up. Undoubtedly, the Floor's showstopper is the Burning Paris map, where a flaming Eiffel Tower establishes an iconic context for all the bloodshed.
Getting back to specialization, the game makes a number of changes to its progression system, compelling gamers to stick with a vocational trajectory. Gone are the different methods of advancement for each perk (inexplicably used to refer to 'classes' in the game), with leveling up accomplishing though a unified system. Every five levels, the game allow players to choose from a statically upgrade, and although advancement is gradual, the dividends aren't pithy. But due to the amount you'll invest in each perk, you'll probably not want to experiment and try new roles out but instead focus on min-maxing your main Zed killer.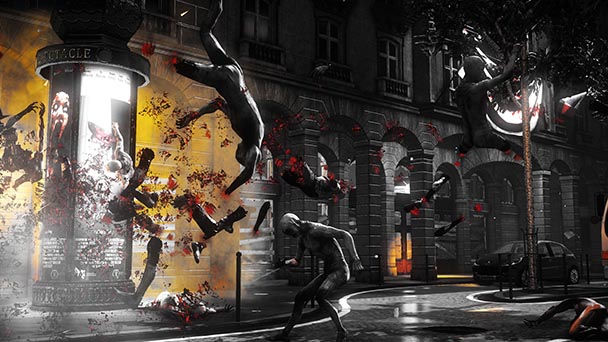 Outside of Versus Survival, complains are few. Sure, Survival mode is slightly repetitive, but there are enough incentives to keep committed players bathing in bullets and blood for weeks. One component that should be expanded are the number of boss characters. With two elevated adversaries, you'll quickly long for a few more signature showdowns. Undoubtedly, some will bemoan the addition of paid DLC into Killing Floor 2 offering eye-grabbing weapon and character costumes. But with servers that automatically load free-user generated content, its pleasing that Tripwire still allowing for straightforward access by the modding community. Hopefully, someone will recreate the Akihabara-themed content that propelled me to try the first game.
While the game's competitive component is still a work in progress, Killing Floor 2's main draw is undeniably compelling. Uniting with a group of boisterous players and reducing each Zed wave into mounds of crimson pulp remains entertaining, even when fighting the horde for the umpteenth time. Much of it hinges on the social experience- with a single-player component capable of leveling up your selected perk, but feeling a bit lifeless.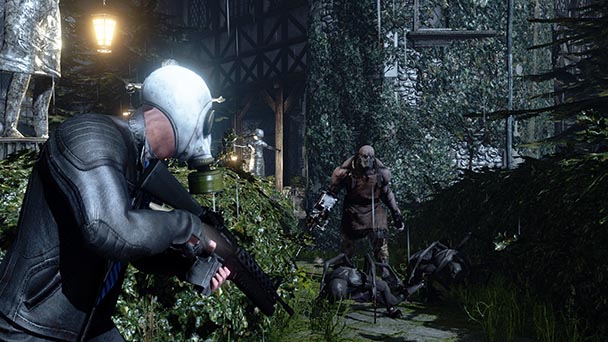 Killing Floor 2 was played on PC with review code provided by the publisher.
Killing Floor 2
Platform: PC, Also available on PlayStation 4, Xbox One
Developer: Tripwire Interactive
Publisher: Tripwire Interactive
Release date: November 18th, 2016
Price: Regularly $29.99 via Steam, currently on sale for $22.49
Review Overview
Summary : Killing Floor 2 shines in survival mode, with you and up to five mates massacring monstrosities as if the fate of the world truly hinged on your success. But those hoping to seek revenge as a Zed might want to wait things out- at present the game's competitive mode needs work.