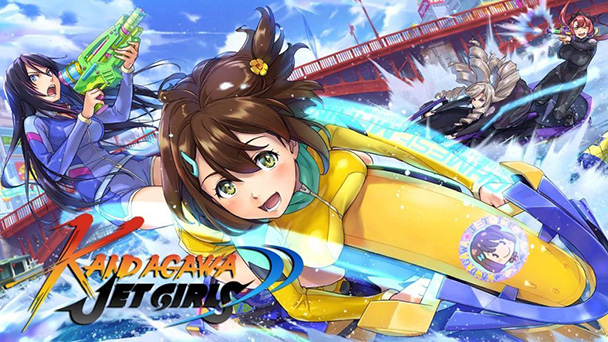 Although there's several play modes and a roster of appealing characters, Kandagawa Jet Girls is light on challenge and a sense of speed. Much like the anime, this is an adequate effort that's capable of entertaining for a few days but lacks long-term appeal.  
Kandagawa Jet Girls
Platform:
PC, PlayStation 4
Developer:
Honey∞Parade Games, SHADE Inc.
Publisher:
XSEED Games, Marvelous USA
Release date:
August 25th, 2020
Price:
$49.99 via digital download
Availability:
Steam
,
PlayStation Store
Summer is the time for aquatic recreation. Whether you're into swimming, surfing, paddle boarding, or just hanging out at the beach, water park, or creek, the balmy days of August are often spent around water. But for many, that's not the case this year. With the pandemic devasting public health, many of us can't enjoy the traditional seasonal pastimes. Well, at least at real life. Virtually, the world remains wide open.
The release of Kandagawa Jet Girls on PlayStation 4 and PC, permits players to visit a near-future Tokyo. Set against perpetually azure skies and everblooming sakura, you'll race across dramatized tracks on rivers like the Kanda and Sumida. Courses have integrated memorable landmarks, so you'll traverse past Asakusa's giant lantern or spy the Tokyo skytower jutting from the backdrop. Just don't expect to race across Jet Girls' eight tracks with breakneck rapidity. Unlike aquatic classics like Wave Race 64 or Hydro Thunder, Kandagawa Jet Girls doesn't deliver much sense of speed.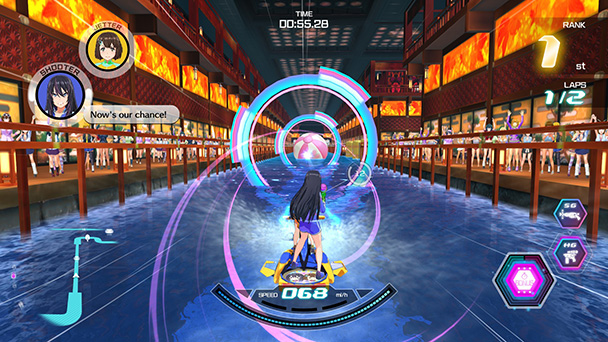 Two Girls, One Jet
Make your way through the game's fourteen-lesson, interactive tutorial and you'll discover a sophisticated array of mechanics. The fundamentals are all accounted for, allowing competitors to power drift, perform stunts, and boost. But the two-girl teams aboard each jet allow players to simultaneously steer and shoot. As you're careening around corners, launching from jump pads, and steering toward power-ups, you'll also fire a water cannon at your fellow racers. Given the protected pace of your jets, the simultaneous operation of both jobs is viable. But the slower speed and lack of wakes is poised to frustrate players seeking taut thrills.
There's technique to be found, with environment's like Ichigaya's serpentine waterways spurring you into mastering the perfect powerslide. And shooting is used than more than just slowing opponents. You'll find water-activated gates, giant beachballs that produce smaller offspring when shot, and a host of items that produce currency when blasted with your super soaker. Although stunting is limited to a few positionings of the analog sticks, the payoff is an adorably cute animation of jetter and shooter.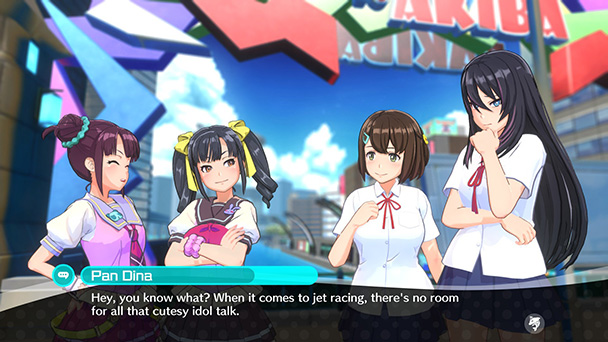 This Time, The Clothes Stay On
Unlike the other part of this multimedia franchise, you'll be shooting at translucent shields that will decelerate crafts when the defenses are completely depleted. That's quite a bit different from TNK's anime series, where clothes are ripped from competitors. But given Sony's purported standards, its probably the most Kenichiro Takaki and the team at Honey∞Parade Games can get away with.
Fortunately, Kandagawa Jet Girls is still sexy. From an opening animation that displays a buxom girl squeezing into a wet suit to the suggestive stoop of each rider, there's the sense that Honey∞Parade still feels that fan-service is the icing on mildly tempting sheet cake. Removing the curvaceousness and jiggle physics would relegate Jet Girls into a serviceable, but undistinguished extreme sports title. While the traditional wardrobing component allows players to change and admire attire, there's no gropey interactions with any of the girls anymore.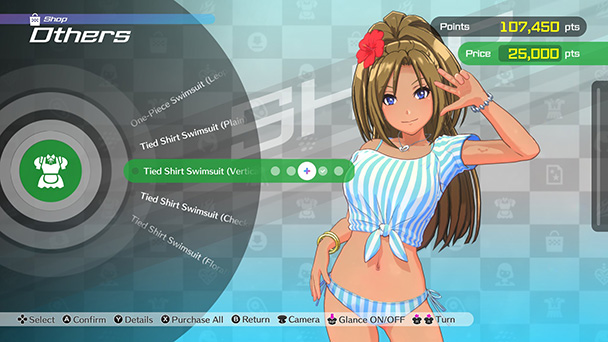 A Multitude of Modes
What you will find is the multitude of modes that were customary to Takaki-san's Senran Kagura series. Head into the game's story mode and you'll find seven different routes, each focused on a different team. With about a dozen chapters and Live2D-style animation conversations are better than you might expect. But they also compel familiarity with series to reach their full potential. Sure, the interplay between Rin and Misa is the type of playful rapport-building you're probably witnessed dozens of times before. But there's undeniable pleasantness about the interactions, whether it's from Rin's Nagasaki dialect or from influencer gals in training, Yuzu and Manatsu.
One of the core issues in the game's Story Mode is the absence of difficulty; even novices will spend most of each race with a robust lead against the other teams. This tends to nullify the game's weapon system, spoiling the risk-reward of immediate boosting or building up your ESD gauge for a heavy-handed weapon attack. Free Mode permits players to tweak the competence of the game's AI. But move it up, and you'll be forced to upgrade your Jet rather than master the minutia of racing. On the upside, there are a few mini-games. They're simple tasking players with quick-time events or a bit of button-mashing, but they do payoff enough currency to purchase that wetsuit or costume without too much repetition.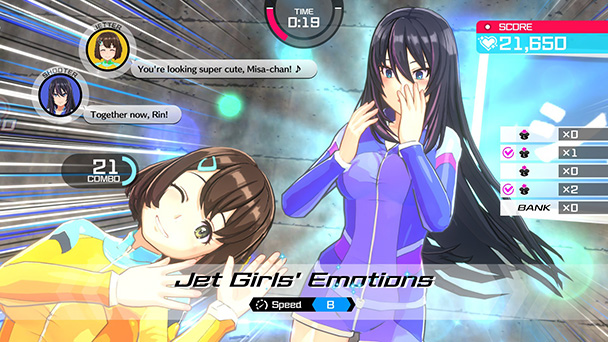 Conclusion
Sporadically, games running on the Unity Engine exhibit visual sacrifices or long loading times. Fortunately, that's not the case with Kandagawa Jet Girls, which demonstrates a comprehensive commitment to polish. On PC, the game arrives with a launcher that permits players to adjust elements like resolutions (720p-1080p), framerates (30,60,120,144, and unlimited), anti-aliasing, as well as attributes like shadow quality, bloom, and depth of field effects. While Jet Girls might not exhibit speed, it's brightly-hued milieu and enchanting character art and modeling are every bit as proficient as the work in the Senran Kagura franchise. Some might argue that Kandagawa bests the ninja-girls, by flaunting a multitude of different body types. Although the music offers the typical upbeat melodies to help drive the action, it's the game's voice acting that's the real aural star.
From playful writing to eye grabbing visuals, Kandagawa Jet Girls nails the secondary qualities. But when it comes to delivering intense, jet-skiing action, the game isn't as proficient. Sure, you'll have a bit of fun with Rin, Misa, and the rest of the girls. But with a notable lack of challenge, don't expect the enjoyment to last past the season. This is a cheery summer fling, that you'll probably forget about in the fall.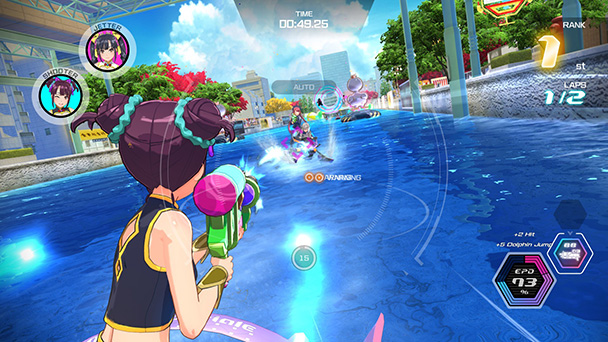 Kandagawa Jet Girls was played on PC with
review code provided by the publisher. 
Review Overview
Summary : As the interactive companion of the anime, Kandagawa Jet Girls offers most of the sights and sounds of the series. But without the suit purges and much racing challenge, you'll want to deliberate before entering the competition.