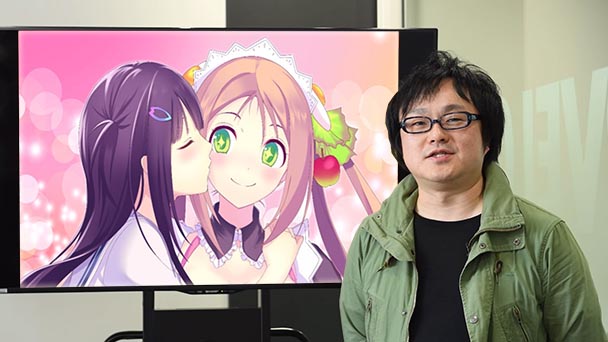 Like Sandro Botticelli, Sir Peter Paul Rubens, and Edgar Degas, Kenichiro Takaki is infatuated with the female form. As the producer behind titles like SENRAN KAGURA, and VALKYRIE DRIVE, Takaki-san and his teams have created worlds where erogenous zones jiggle with pendulous grace, as combatants are locked in intense conflict. We had a chance to speak with Takaki-san about the upcoming PC port of VALKYRIE DRIVE -Bhikkhuni-, launch prices, and who the auteur would cast in a live-action adaptation.
Tech-Gaming: VALKYRIE DRIVE shares a few similarities with Senran Kagura. What team members are shared by both properties.
Kenichiro Takaki: In actuality, the VALKYRIE DRIVE and the SENRAN KAGURA games were developed by different teams, but I myself worked on both, and created the base concepts for the game and characters. Throughout development of both titles we focused on two main ideas, the first being 'the Content in the game should be sexy, but not overly serious and must contain an element of comedy and light-hearted humor', and the second being 'The game itself should be easy enough for everyone to understand', so tastes and atmosphere in these games may appear very similar.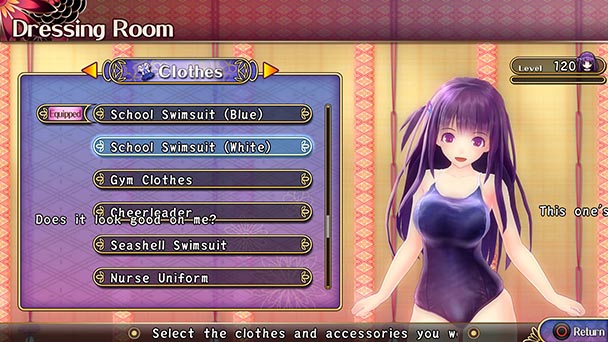 T-G: VALKYRIE DRIVE: Bhikkhuni's plot centers around Liberators and their supporters, Extars. What was the impetus behind giving VALKYRIE DRIVE this kind of hierarchy?
Takaki: The SENRAN KAGURA games focus on battle and communication, with each team containing five characters on average, and in more recent games we've added many more characters with even livelier personalities, but that has also meant that the focus on each character becomes shorter and less-personal. I (and also other SENRAN KAGURA fans too) have gradually come to feel sorry about this aspect.
So when developing VALKYRIE DRIVE, I decided to create a new way of thinking when creating the story drama by describing more about the relationships and the minds of the characters. In Japan, it is a very popular trope to have a cast of 'Top' and 'Bottom' for a pair of characters and the thought of the character in the 'bottom' role taking initiative in the battle scenes was a very exciting proposition.
There was one idea that never came to fruition but sadly I couldn't make it happen, but I wanted to make it possible that each pairing of characters, rather than the defaults, would each have a unique weapon mode, but due to their being seven characters, that would mean many unique and possible combinations to contend with outside of the defaults.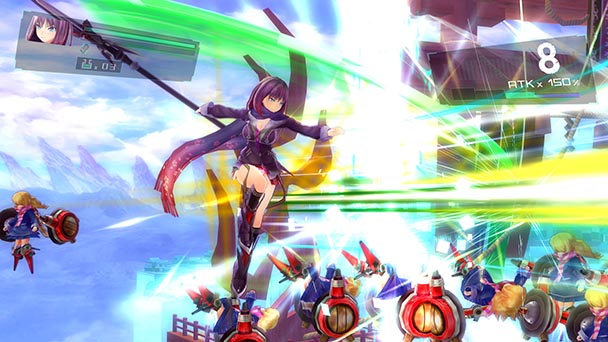 T-G: How difficult was it to bring a Vita title onto PC? How long did the effort take?
Takaki: It wasn't too difficult as during development the team was thinking about making a version for PC right from the beginning of development. All in all, it took us around 3 months to get the work done without too much rushing.
T-G: Obviously, those naughty modders might try to remove some of the game's modesty-protecting lens flares. Are there plans to try to protect the cast's discretion for the Steam version?
Takaki: We don't have any plans to restrict this sort of behavior, however I feel that it has elegancy in hiding the cast character's bodies rather than exposing them all because there is room for imagination, although I admit that it may be a typical Japanese thought…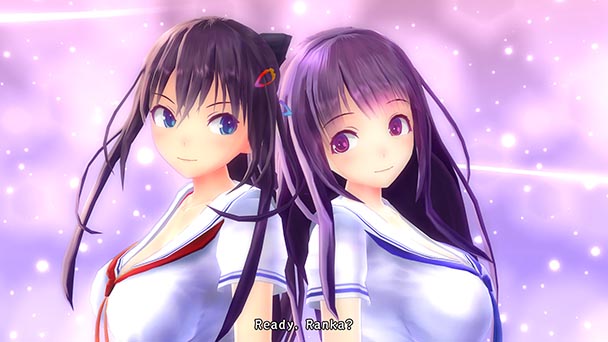 T-G: What kind of enhancements were made to the PC version?

Takaki: The main improvement is the addition of supporting full 1080P and 60FPS gameplay. The movements of the characters have become much smoother so fans can enjoy much more refreshing action gameplay.
T-G: Has a launch price for the PC version of VALKYRIE DRIVE -Bhikkhuni- been determined?
Takaki: Yes, we are planning to launch the title worldwide in two separate packages, one with just the base game priced at £22.99, €29.99, $29.99 and ¥2,980.00, and the other with all of the previously released downloadable content combined with the base game at £29.99, €39.99, $39.99 and ¥3,980.00, we are also planning a launch week discount as well.
(Editor: VALKYRIE DRIVE – Bhikkuni- will launch on Steam June 20th, 2017. There will be a 10% launch week discount, a a 25% discount for owners of SENRAN KAGURA SHINOVI VERSUS)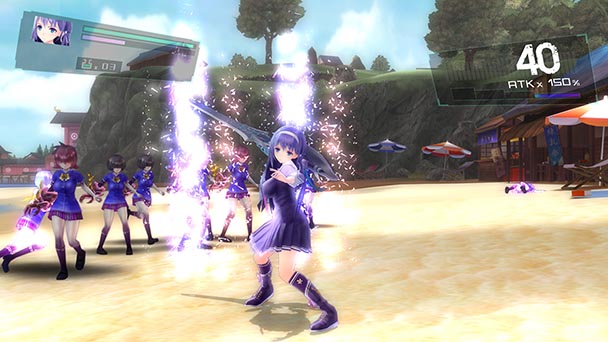 T-G: Let's say you had the opportunity to make a film based on the sun-drenched exploits of Bhikkhuni Island. If you could cast any stars from Japanese or US cinema, who would land the leading parts?
Takaki: My favorite female actress is definitely Ms. Chloë Grace Moretz, I would actually like to make a new character specifically for her and see her act cutely if I could cast her as a leading role.
Tech-Gaming would like to thank Takaki-san, as well as CJ Melendez for their participation.