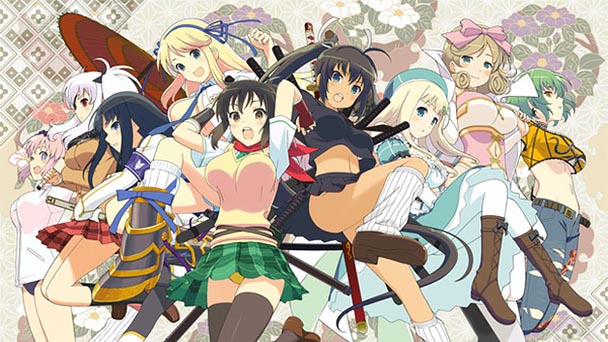 Just a few years ago, enjoyment of Japanese role-playing and action games meant a compulsory console or portable purchase. But gradually, publishers like SEGA, Nippon Ichi Software, Koei-Tecmo, and Bandai-Namco began porting their titles to PC, permitting Steam users to appreciate adored titles like Valkyria Chronicles, Disgaea, as well as entries across the Dynasty Warriors and Naruto franchises. With the floodgates fractured, the outpour seems to be increasing in volume, as evidenced by XSEED's release of Senran Kagura Shinovi Versus onto Steam.
Recalling the mischievous mechanics that underscored last year's PC port of Akiba's Trip: Undead & Undressed, Shinovi Versus's clothes-ripping is accomplishing by schools of contentious ninja clans. Again, duals of disrobement are matters of circumventing shame, where vitality is measured by the relative modesty of a characters' attire. But, neither game will be mistaken for high-brow allegory, as it's difficult to consider the mix and pugilism and pantsu anything more than indulgent fan-service. But that's not to say that Shinovi Versus is without merit; between the game's competent Dynasty Warriors-esque combat and ambitions for character development, there are a number of eminent elements that are poised to please open-minded players.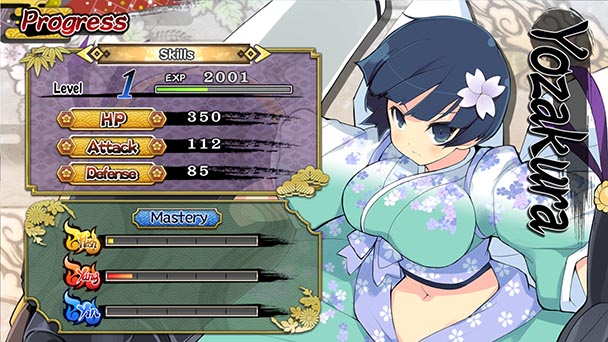 Mercifully, the game's exposition isn't quite as skimpy as its protagonists' wardrobes, with an introduction conveying a heated rivalry between a quartet of all-female shinobi schools. The underlying premise may seem a bit skeletal, but Shinovi Versus certainly tries to flesh out its roster of kunoichi, offering optional side missions which help to delineate and develop each character, establishing appealing, if tropey motivations for each protagonist. The one downside is that most of the info is presented through continuous screens of text, with the sporadic motionless protagonist in the backdrop. Undoubtedly, animated portraits would have helped players connect with the characters.
The game's main campaign places players in a hub room, where they can tackle essential missions, shop, and change their costumes, or chat with their fellow ninja.  The liberal amount of money earned during each undertaking can be used to purchase basic uniforms, lingerie that's revealed when characters take damage, as well as the shinobi costumes that players wear when they initiate a transformation which allows for more aggressive attacks. Naturally, there's also a bevy of accessories to customize the look of the game's collection of twenty pugnacious maidens, extending essentials like cat ears, bunny tails, and odango. Gamers with a susceptibility for gambling will appreciate Senran Kagura's lingerie lottery, where they can wager earned zeni to win undergarments from that are ranked from "meh" to "climactic". Naturally, the more money you're willing to risk, the less fabric you're likely to obtain.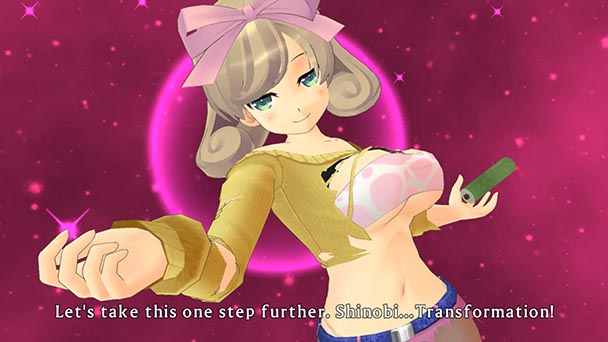 Likewise, players can adjust the difficulty level of each stage, elevating the level of challenge for the possibility of earning more experience and currency. Revealing the title's portable origins, levels are succinct, offering ten to fifteen-minute multi-stage missions which typically conclude with a boss battle. Playing through Shinovi Versus' comprehensive tutorial will familiarize players with the fundamentals of combat, imparting the games arsenal of ground and air attacks, as well as dashes which also allows the protagonist to cancel out of an attack. Meanwhile, the game's aforementioned Shinobi Transformations are capable of turning the tide of battle, with a press of the left trigger changing the uniform of the protagonist, extending a new repertoire of attacks, and refilling the health bar.
Against most minions, combat proves fulfilling, with players able to bowl over a bevy of foes with a simple combo. But once enemies issue projectile attacks or a boss appears, Shinovi Versus' battles can verge into the vexing. While blocking is an effective technique against ordinary opponents, it's useless against airborne foes. What's more, bosses with humongous health bars have the ability to stun or juggle the player, which can lead to aggravation when players are unable to retaliate with a transformation or even parry. While players can upgrade their offensive and defensive stats to even the balance, doing so involves a bit of level grinding. And even when players feel as if they have the statistical upper hand in battle, Shinovi Versus' camera does a half-hearted job of framing the action, forcing players to keep an effective perspective while evading a constant stream of incoming assaults.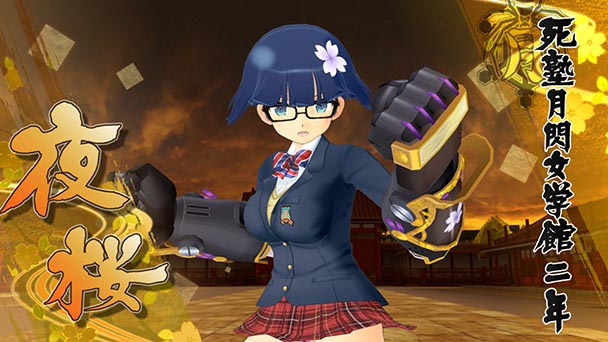 Save for the oscillating level difficulty, combat can be enjoyable. Characters level up at a brisk rate, adding extra moves to their arsenal or abilities like health regeneration, which can help overcome tougher opponents. Undoubtedly, Senran Kagura's fisticuffs are visually pleasing, with inflicted damage depicted by a tearing and removal of clothes. Like many ecchi games, there's no actual nudity, with adhesive bandages covering nipples and g-strings obscuring character's backsides. That said, Shinovi Versus is unabashedly lascivious, with massive mammary glands that jiggle and oscillate hypnotically. But there's one nagging blemish on the game's otherwise amusing on-screen action: there's a noticeable lack of diversity in Shinovi Versus' character models, with every character having the same body type. On the upside, this version gets all the DLC that was put out for the Vita, extending a wealth of costumes, accessories, hairstyles, missions, as Naraku and Kagura; the only really omission is the lack of the gorgeous digital art book that came with Kagura Millennium Festival edition.
At least, the title delivers graphical variety in other areas, with a gratifying mixture of antagonists and attractively-rendered environments. With textural detail is a bit middling, even on high resolutions the game is capable of solid sixty-frame-per-second delivery with midrange GPUs. Save for a few blemishes, Shinovi Versus' localization is accomplished, offering subtitled text for the game's Japanese voice-overs. Overall, the game's only real technical issue are the frequent load times, which seem like a holdover from the portable iteration.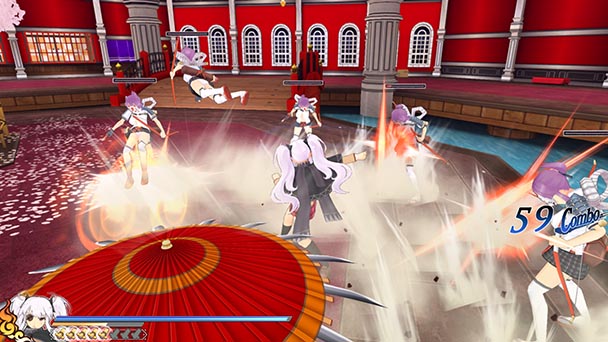 Entering Senran Kagura's dojo allows players to challenge up to three opponents online. While the game's community is still small making matchmaking a sluggish process, the title offers gamers a nice supply of options, allowing for a variety of different rules, win conditions, and participant levels for each match. In execution, bouts are generally lag-free, but a lack of character balancing means that online sessions are ruled by certain dominating characters.
Although Senran Kagura: Shinovi Versus isn't free of flaw, competent combat, character developer, and unabashedly ecchi elements make the game an acceptable addition for both fans of the franchise as well as aficionados of bawdy battlers. Much like the Dynasty Warriors series, missions might seem homogenous, but appeal can be found in the cultivation of Shinovi Versus' cast of twenty characters.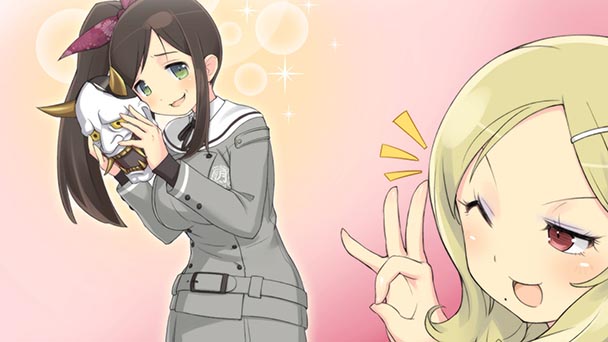 Senran Kagura: Shinovi Versus was played on the PC with review code provided by the publisher.
Senran Kagura: Shinovi Versus
Platform: PC, previously on PS Vita
Developer: Tamsoft
Publisher: XSEED Games
Release date: June 1st, 2016
Price: $29.99 via Steam, on sale for $26.99 through June 8th
Languages: Japanese voice, English or Japanese text
Review Overview
Summary : Mixing musou-driven combat with a playful pageant of boob and butt shots, Senran Kagura: Shinovi Versus might work Social Justice Warriors into a lather, but in execution, the title is more comical than condemnable.