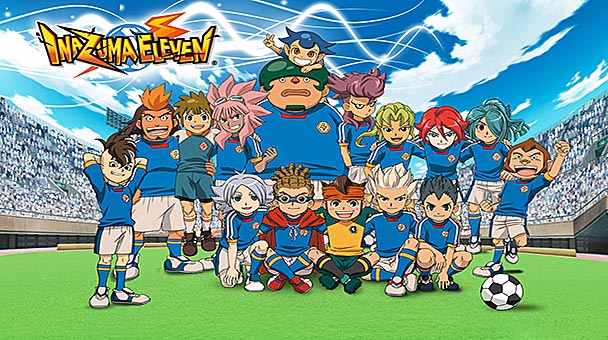 Across the past few seasons, the FIFA and Pro Evolution franchises have gradually integrated light role-playing aspects into their football simulations. However, this alluring amalgam is hardly new- developer Level-5 has been deftly blending the two genres since the debut of Inazuma Eleven in 2008. While Japanese, and later European gamers, have been enjoying the charming mash-up on the DS, Wii and 3DS platforms, stateside gamers were unable to step out onto the game's pitch without paying a hefty import surcharge.
The release of Inazuma Eleven onto the American eShop solves this oversight, offering an affordable 3DS adaption of the original game. Although the title's modest sprites and low-poly player models divulge its origins, there's still plenty of enjoyment to be gleaned from taking the Raimon Middle School to the regional and national championships. Obviously, both footie fans and rabid role-playing aficionados will appreciate the game's quirky qualities, but what might not be apparent, is that Inazuma Eleven's formula echoes many of the engaging particularities of the Pokémon series.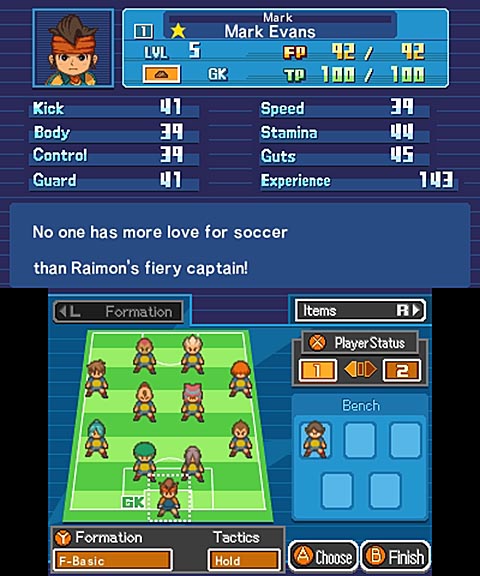 Prototypical RPG dialogs sequences introduce players to Raimon's plight- once home to the victorious Inazuma Eleven team, the sport has fallen out of favor with the student body, replaced with sumo, baseball, tennis and other extracurricular activities. Enter Mark Evans, the grandson of Inazuma's imperturbable goaltender. Stirred by a book bequeathed by his ancestor, the stalwart student seeks to form a new team, with the hope of bringing glory back to his school.
This backdrop could have been the impetus for insubstantial chatter, but Inazuma Eleven plumbs the pathos of secondary school- incorporating musings of loss, bullying and uncertainty into the proceedings. The title also score points for not letting these issues devolve into rambling orations. Despite the often serious subject matter, Eleven keeps the conversations succinct. Fortunately, the game's tone isn't always melancholic- there's enough cheerful conversation to balance the somber elements.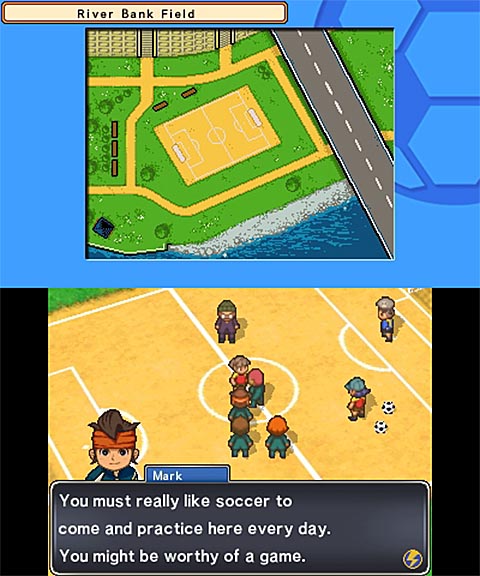 Like most role-playing games, the essential goal of Inazuma Eleven is to build the ultimate team. To accomplish this task, players will spend the bulk of their playtime recruiting students, building up their stats, and periodically testing their progress by playing matches against a progressively capable procession of opponents. With a thousand possible players to scout and strengthen, Eleven certainly channels the collect-a-thon compulsion of Pokémon. Players are even prodded into scouring school alcoves by the lure of treasure chests filled with energy-replenishing beverages and ability-improving sportswear. Whereas role-playing occasionally force players to comb and communicate until they find the trigger which advances the plot, Inazuma typically offers multiple signposts to keep gamers on track.
Although all matches use similar mechanics, different types of competitions assess the abilities of players. Once a scout is recruited, four on four scrimmages are used to persuade the potential transfer. In lieu of random battles, clubs will task your team with regaining possession of the ball, tackling a rival, or scoring a goal within a preset time frame. The title's showcase bouts are in the form of full eleven on eleven matches, providing an ultimate examination of football fundamentals.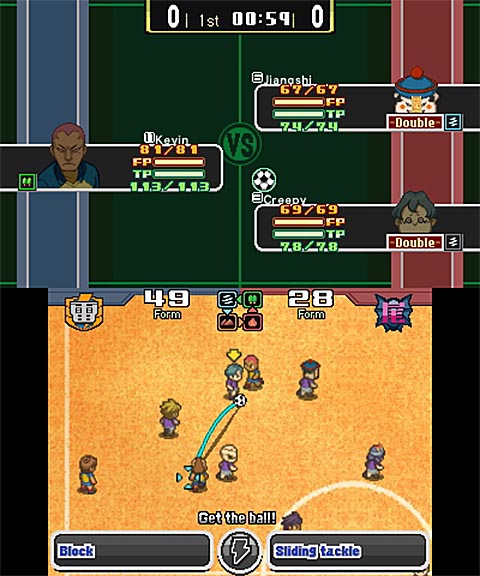 A trip to the pitch performs like a combination of real-time strategy game and menu-based RPG battles. After positioning their athletes with the stylus, players draw routes for their team members, while a tap on the touchscreen can either pass or put a shot on goal. Once the path of rivals intersect a challenge occurs- briefly pausing the action and prompting players to choose from a safe or risky maneuver. The outcome is determined by statistical calculation and player decision, which is usually predicable- save for when the ball picks up momentum after a challenge, too often heading out of play. That said, any semblance of realism is thrown out once players are powered up, giving access to special moves like Hurricane Kicks, Dragon Shots, God Hands, and Heat Tackles, making the game feel like an interactive interpretation of the 2001 film, Shaolin Soccer.
For many, Inazuma Eleven's bigger offense will be when the game requires a particular outcome for the sake of the storyline.  As such, merely outscoring your opponent won't result in success. Instead, you'll have to win the match on the developer's terms, like having a specific player score the go-ahead goal. Although this technique allows for a sturdier sense of narrative, the loss of autonomy during matches can interfere with the game's otherwise satisfying sense of engagement.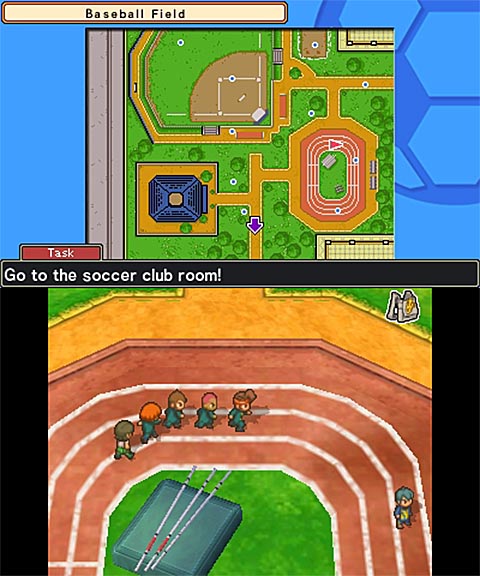 Save for this minor transgression, Inazuma Eleven's ten chapter storyline is steadily enjoyable- thanks to the game's adept amalgam of sports and RPG components. With a fifteen hour playtime, this title easily warrants its twenty dollar price tag for fans seeking a distinctive and diverting role-playing experience.
Inazuma Eleven was played on the Nintendo 3DS with review code provided by the publisher.
Review Overview
Summary : Inazuma Eleven took six years to land stateside, the wait was largely worth it. Hopefully, we'll get a chance to see additional iterations.