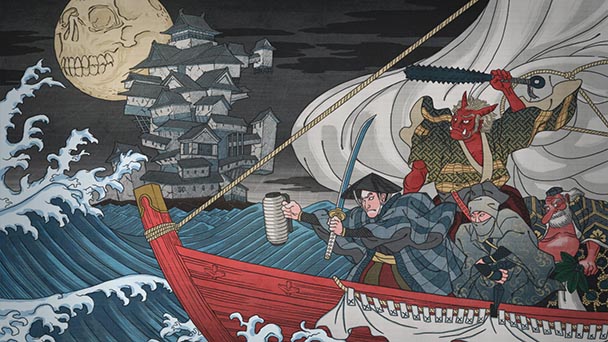 The first-person dungeon crawl is an remarkably fertile genre, typically extending engrossing interpretations of Dungeons & Dragons-inspired, party-based prowls. But occasionally, skulking through homogeneous hallways and battling the same fantasy-themed enemies culled from Monster Manuals can induce tedium. Those yearning for a change of venue might want to investigate the unnerving passageways found in Hyakki Castle.
Asakusa Studios' inaugural release offers a competent, yet initially confounding, trek through darkened corridors teaming with ensnarements and enemies. Movement takes place on tiled increments that are auto-mapped, mirroring the dungeon crawl's grid-paper based roots. Like a number of entries in the genre, combat is in real time, with cooldown timers regulating the attack speed of your allies. But beyond the fundamentals, Hyakki Castle carves out its own niche amidst a mildly saturated field.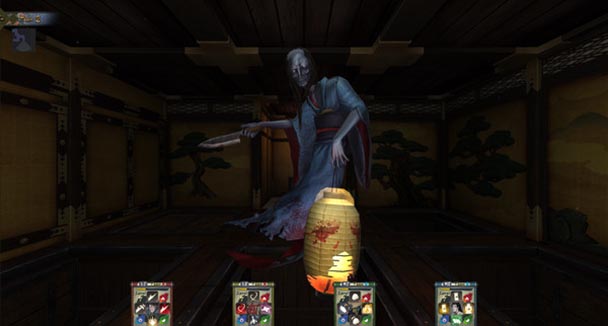 The one immediately noticeable deviation is the incorporation of millennium-old folklore. Hyakki Yagyō is a motif in Japanese mythology, embodied by a parade of a hundred different yōkai. Legend states that anyone who came across the procession would either parish or be spirited away, unless protected by the rarest of handwritten scrolls. Unsurprisingly, Hyakki Castle incorporates this assemblage of apparitions, with spirits roaming each alcove of the castle.
Unlike the typical orcs, slimes, and kobolds that populate most dungeons, Hyakki Castle's corridors are filled with dread-inducing yokai. Sure, the stronghold's lower levels have some basic enemies like bats and rats, but venture on and you'll find ghastly specters carrying glowing chōchin (lanterns) and nightmare inducing nure-onna, which are maidens with the body of snake. Unlike the line-drawing interpretations of these creatures that often appear in books, Hyakki renders them in realistic fashion, ratcheting up the eeriness. Undoubtedly, the yokai are the star the show, overshadowing the diminutive portraits of your adventuring party.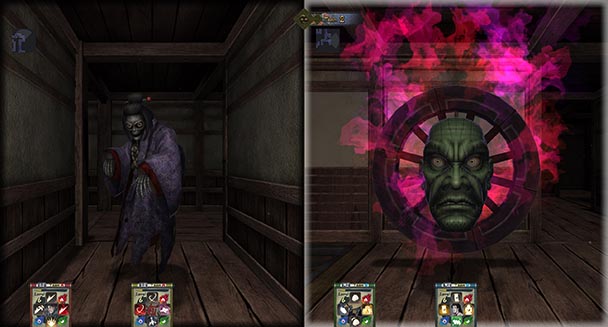 Another digression is Hyakki Castle's two-team approach, where players will split their party at regular intervals. Most dungeon crawls are built around the concept of team synergy, where heavy hitters, ranged attackers, magic users, and healers all are imperative members of your party; lose one you'll often struggle to advance. But Hyakki habitually upsets that feeling of safety in numbers, requiring one team to step on a floor-based plate switch while the other advances. During combat, detachment can be a valuable tactic, with your A-team able to flank an enemy engaged with your B-team. While a seemingly minor departure from convention, when you are forced to break your team up, there's a sense of vulnerability that hangs over exploration.
Early on, the feeling of susceptibility is augmented by Hyakki Castle's standoffish approach. Before players begin to explore, they are tasked with creating a party of four explorers. But beyond basic stats, the game does little to divulge the traits of each class and species, as well as the capacities offered by each unit's skill tree. Distressingly, this attitude also extends to play, with the title doing little to explain party switching, the rudiments of combat, or active skill usage. Even reading the health of your party members can be a bit counterintuitive given the user interface's inclination for minimalism. Although the game offers controller support, the general lack of on-screen assistance means that the first few hours of exploration will be dominated by experimentation. While these woes gradually dissipate a few hours in, impetuous players may want to watch play-throughs to acquire the basics.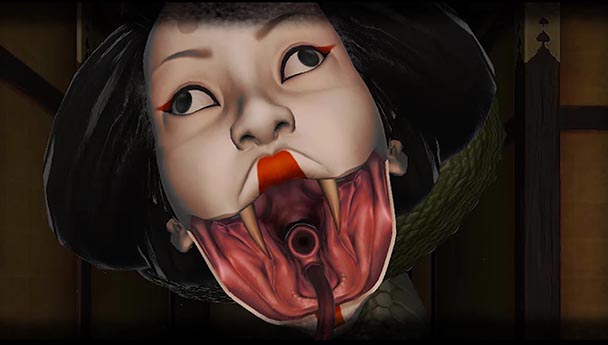 But once the fundamentals of party management are mastered, a journey through Hyakki Castle's creepy interiors becomes enjoyable. Gradually, mapping the locale becomes gratifying, while the frequency and difficulty of encounters create an adept amount of adversity. Throw in some clever puzzles, an ukiyo-e inspired aesthetic, and a capable engine, and the game becomes a solid addition to the genre.  Those seeking a dungeon crawler with distinction or those with an interest in Japanese folklore will want to consider the title.
Hyakki Castle was played on the PC
with review code provided by the publisher. 
Hyakki Castle
Platform: PC
Developer: Akakusa Studios
Publisher: Happinet
Release date: November 14th, 2017
Price: $24.99 via Steam, currently on sale for $19.99
Difficulty: Moderate

Hyakki Castle review
Review Overview
Gameplay - 80%
Controls - 70%
Aesthetics - 85%
Content - 80%
Accessibility - 60%
75
75%
GOOD
Summary : With a Hyakki Castle presents an intimidating exterior, once players learn the nuances of the game's user interface, exploration of interiors becomes rewarding, fueled by a host of yōkai culled from Japanese mythology.

User Rating:

4.04 ( 9 votes)